Andrew Luck vs. Robert Griffin III: Is There Really a Loser in This One?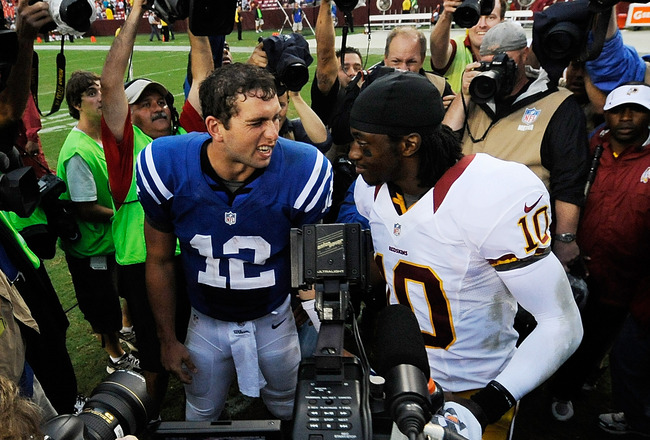 Patrick McDermott/Getty Images
Before the start of the season, we all had high expectations for the much-anticipated rookies Robert Griffin III and Andrew Luck. Still at Week 5, they have yet to disappoint us.
The 2012 No.1 and No. 2 draft picks have kept analysts talking and comparing them to one another. But anyway you compare them, it does not change the fact that they are both amazing athletes.
The Teams That They Are Changing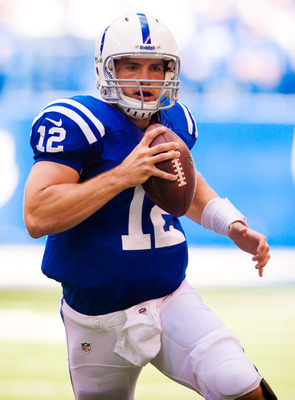 Michael Hickey/Getty Images
Both Luck and RGIII were drafted to teams with unsuccessful 2011 seasons. The Indianapolis Colts ended their season with a 2-12 record, while the Washington Redskins had a 5-11 record.
This season has had a different trend. The Colts are 1-2, but that does not give Luck enough credit. He's been under constant pressure after taking over when Peyton Manning left. Luck's been able to work with his running backs and wide receivers, even when the offensive line fails miserably.
The Redskins have finally found what they have needed for over five years: a solid quarterback. The Redskins have struggled in the past with having a quarterback that is able to take control of the field. There is no question that RG3 is the quarterback for them. That became clear in last week's game when his headset went out right before the game-winning drive, and it did not even bother him.
Both Have Impressed Their Coaches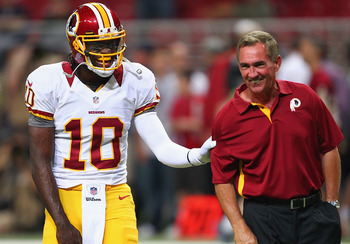 Dilip Vishwanat/Getty Images
Both players have impressed their coaches on and off the field.
Head coach of the Redskins, Mike Shanahan, has been boasting about RG3 and the rest of his team whenever he gets the chance. Mike Jones of the Washington Post reported that Shanahan said, "I think it's a combination of a group of guys coming together. Not one person does it by himself. Robert has done some things that normal rookies normally don't do."
Colts quarterbacks coach Clyde Christensen has also expressed how impressed he is with Luck. Kevin Bowen on Colts.com reported Christensen saying, "That's probably what I've been most impressed with is that he makes a mistake and he fesses up to it, 'Boy I screwed that up, I messed that up, I'll get that right,' and then he fixes it."
What They Have Done Thus Far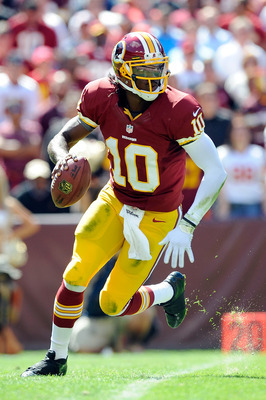 Patrick McDermott/Getty Images
Okay, so what have they each done so far this season?
RGIII has thrown 1,070 yards and has had four touchdowns so far. Griffin has not just had a great throwing game; he's also done a great job running the ball. The Redskins have done a great job of using all of Griffin's skills. They have made their offense even more unique by incorporating a running game into their West Coast offense.
Luck has had 846 yards and five touchdowns thus far, and they have only played three games. He's done a good job of adjusting and finding time to throw the ball when his offensive line fails, but imagine what he could do if they strengthen the line.
There is no doubt that both of these quarterbacks will be in the spotlight for a while, but there is not a way to say if one is "better" than the other. Both are extremely unique, and it's too early in the season to predict what successes each of them will have. For now, they both look like solid quarterbacks who have limitless potential.
Keep Reading

Indianapolis Colts: Like this team?