Southern Hospitaliy: How to Exploit AFC and NFC South Matchups for Fantasy RBs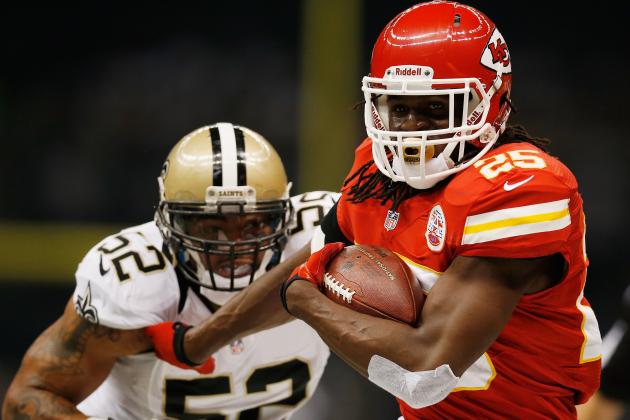 Chris Graythen/Getty Images

Come on in, average NFL running back. Get comfortable. Make yourself at home. Grab a couple of touchdowns out of the fridge, and be sure to take some yardage with you when you get ready to leave!
Such is the life of a fantasy running back facing a team in a South division of the NFL—that's AFC and NFC.
Six of the top eight and all four of the top four most generous fantasy defenses (in terms of points allowed to running backs) play in either the AFC South or the NFC South.
For the purposes of this article, the Tampa Bay Buccaneers play in their own "division," the NFC Southeast. They're too good to be lumped in with these other guys in the NFC South.
For the same reason, the Houston Texans also have their own "division," also known as the AFC Southwest.
Now, if your fantasy running back is facing any of the "remaining" teams in the NFC and AFC South divisions, you might want to give added consideration to starting him for some nice production from his position.
Those teams include the Indianapolis Colts, Atlanta Falcons, Jacksonville Jaguars, Carolina Panthers, New Orleans Saints and Tennessee Titans.
At the end of the slideshow will be a list of rushers with the most remaining matchups against the featured squads. Perhaps they might just be prime trade targets...
Here's why you'll want to start your fantasy rushers against each of these defenses.
Begin Slideshow

»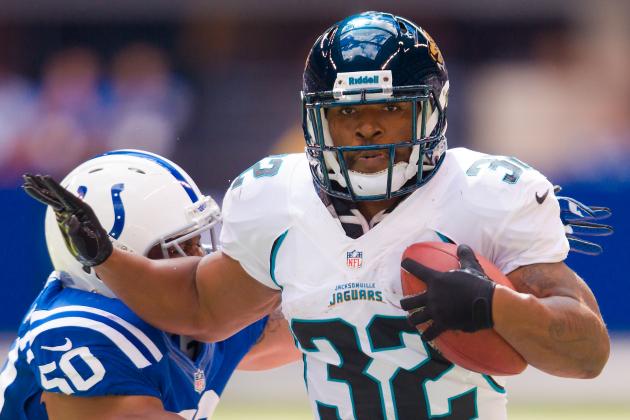 Michael Hickey/Getty Images

Unfortunately, the Colts will be unavailable to contribute points to your fantasy running back slot in Week 4. They'll be on a bye.
But they have been a very favorable matchup for two of the first three weeks against the run this season. Ironically, the Indianapolis defense has been most effective against the best running back in the game.
It allowed just 60 yards on 16 carries to Adrian Peterson in Week 2.
In Week 1, against the two-headed rushing attack of Matt Forte and Michael Bush, the Colts allowed 28 carries for 122 yards and three touchdowns. They also gave up three catches and 40 yards to Forte.
Maurice Jones-Drew went nuts against Indianapolis in Week 3, taking 28 carries by himself for 177 yards and a touchdown. He added two catches for 16 yards on two targets.
The Colts' next three games are home against Cedric Benson's Green Bay Packers (Week 5), at Shonn Greene and Bilal Powell's New York Jets (Week 6) and home against Trent Richardson's Cleveland Browns (Week 7).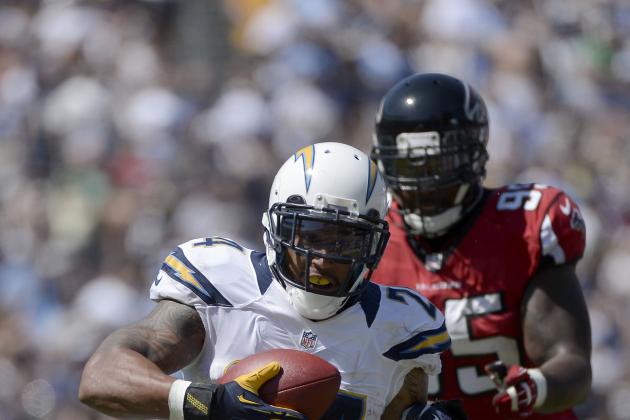 Donald Miralle/Getty Images

The Falcons have been giving up points in bunches to opposing running backs. It's a little risky to play a back against them if the running back's team isn't determined to run the football because Atlanta puts points on the scoreboard.
But guys with offensive priority will see major production against the Falcons this season.
Jamaal Charles ran for 87 yards on 16 carries in his first game back from a torn ACL. Willis McGahee rushed 22 times and caught both of his targets for 124 total yards and two scores in Week 2.
Jackie Battle and Ryan Mathews combined for 99 yards on just 13 carries in Week 3, and the San Diego Chargers lost that game 27-3.
The Falcons surrendered five catches and 32 receiving yards to Mathews as well.
Atlanta plays the Carolina Panthers in Week 4, visits Alfred Morris' Washington Redskins in Week 5 and will welcome Darren McFadden and the Raiders in Week 6.
Fortunately, all of those teams like to get the ball to their running backs.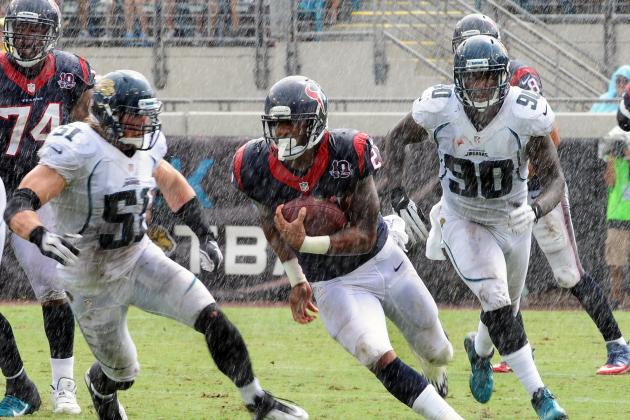 Al Messerschmidt/Getty Images

Jacksonville, like Atlanta, faced a running back starting his first game after a torn ACL. The Jaguars gave up 84 yards and two touchdowns to Adrian Peterson on 17 carries in Week 1.
He also caught a ball for three yards on one target from Christian Ponder.
In a divisional clash with the Texans in Week 2, the Jaguars defense allowed 244 total yards and three touchdowns on a ridiculous 50 total touches (10 receptions) to Arian Foster and Ben Tate.
Maybe that's why MJD ran wild in Week 3.
Meanwhile, the Jaguars defense allowed 101 total yards to Donald Brown in their second straight divisional game against the Colts.
The Jaguars have a bye in Week 6. Their next three games are home against BenJarvus Green-Ellis' Cincinnati Bengals, home against Matt Forte and Michael Bush's Chicago Bears and on the road against Darren McFadden's Oakland Raiders.
Streeter Lecka/Getty Images

Aside from the perseverance and skill of the runner in question, the Carolina Panthers may deserve the most credit for the breakout performance of Andre Brown of the New York Giants.
On Thursday night in Week 3, Brown scored twice on 20 carries, collecting 113 yards in the process. He also caught three passes for 17 yards.
Doug Martin ran for 95 yards on 24 carries in addition to four catches for 23 yards in Week 1 at home against the Panthers.
The New Orleans Saints barely even used their running backs to run the football in Week 2 against Carolina.
But they got yards.
Pierre Thomas racked up 110 on just nine carries, getting 33 more on four catches.
Mark Ingram scored a touchdown and gained 53 yards on 16 carries.
Darren Sproles didn't even get a carry, but caught 13 balls for 128 yards.
That's a combined 324 total yards (163 rushing, 161 receiving) and a touchdown on 42 total touches in one single game.
Imagine if just one or even two backs were getting all of that work! That's why I consider both Michael Turner and Jacquizz Rodgers as worthy of a start in Week 4.
The Panthers face Marshawn Lynch's Seattle Seahawks (Week 5) and DeMarco Murray's Dallas Cowboys (Week 7) sandwiching their Week 6 bye.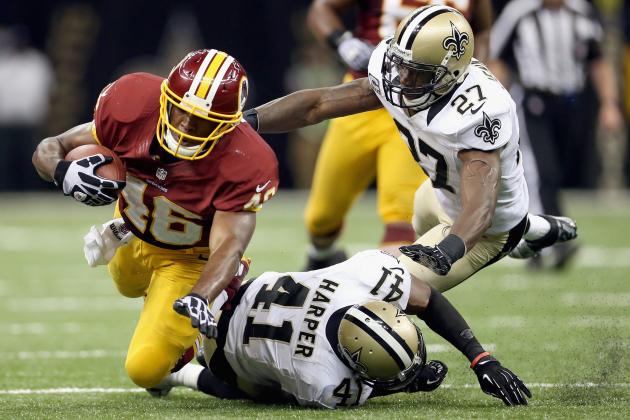 Ronald Martinez/Getty Images

The Saints have been run over, around and through in the 2012 season.
Rookie Alfred Morris took 28 carries for 96 yards and two touchdowns in his first career start.
After the Carolina Panthers' Week 1 rushing debacle against the Tampa Bay Buccaneers, DeAngelo Williams and Jonathan Stewart combined for 120 rushing yards on 25 carries against the Saints in Week 2.
Williams rushed for a touchdown, while Stewart caught a ball for a 17-yard score of his own.
And then there's Jamaal Charles.
In an impressive comeback year (to say the least), Charles touched the ball 39 times against the Saints in Week 3. He carried it 33 times for 233 yards and a score.
He caught it six times for 55 yards.
The Saints' horizon includes Cedric Benson's Green Bay Packers (Week 4), Ryan Mathews' San Diego Chargers (Week 5) and Doug Martin's Tampa Bay Buccaneers (Week 7).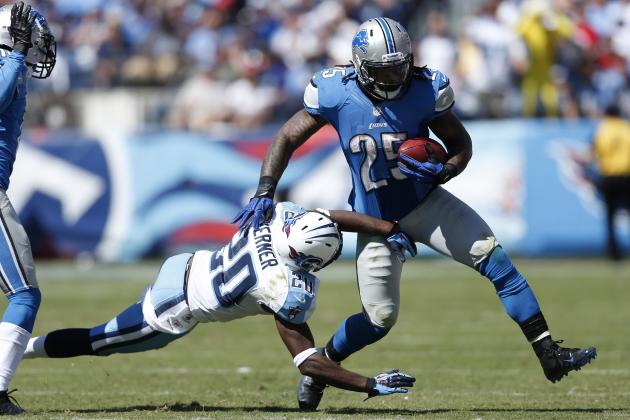 Joe Robbins/Getty Images

The Tennessee Titans have allowed a 100-yard rusher in two of three games this season.
But that's not all.
In Week 1, Stevan Ridley of the New England Patriots added a touchdown to his 125 yards rushing on 21 carries. Ridley also caught two passes for 27 yards.
Jackie Battle scored a pair of touchdowns on Tennessee in Week 2. He had 69 rushing yards on 14 carries.
Curtis Brinkley, also of San Diego Chargers fame, added 43 yards on 18 carries and four catches for 23 yards.
Facing the Detroit Lions' Mikel Leshoure in his first career start, the Titans allowed 100 yards on 26 carries and a touchdown. Leshoure also caught four passes for 34 yards.
If only the guy on their team ran like that.
Tennessee goes on the road to Arian Foster and Ben Tate's Houston Texans in Week 4, Adrian Peterson's Minnesota Vikings in Week 5 and sees the Pittsburgh Steelers in Week 6.
Maybe that's the week that the Steelers decide to roll out Rashard Mendenhall.
Ronald Martinez/Getty Images

Five Remaining Matchups
Arian Foster and Ben Tate, Houston Texans
Doug Martin, Tampa Bay Buccaneers
Four Remaining Matchups
Michael Turner and Jacquizz Rodgers, Atlanta Falcons
Cedric Benson, Green Bay Packers
Darren McFadden, Oakland Raiders
Chris Johnson, Tennessee Titans
Three Remaining Matchups
C.J. Spiller, Fred Jackson and Tashard Choice, Buffalo Bills
Jonathan Stewart, DeAngelo Williams and Mike Tolbert, Carolina Panthers
Matt Forte and Michael Bush, Chicago Bears
DeMarco Murray, Dallas Cowboys
Mikel Leshoure and Kevin Smith, Detroit Lions
Donald Brown, Indianapolis Colts
Maurice Jones-Drew, Jacksonville Jaguars
Reggie Bush, Daniel Thomas and Lamar Miller, Miami Dolphins
Pierre Thomas, Darren Sproles and Mark Ingram, New Orleans Saints
Shonn Greene and Bilal Powell, New York Jets
LeSean McCoy, Philadelphia Eagles