NFL Power Rankings: Philadelphia Eagles and the Biggest Disappointments so Far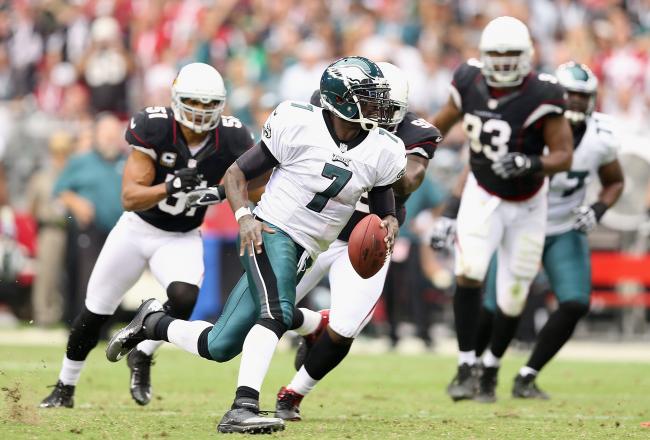 Michael Vick and the Eagles have succeeded in spite of themselves.
Christian Petersen/Getty Images
Optimism sometimes just doesn't cut it. It may be early in the year, but there are teams that are already falling short of expectations.
This year was shaping up to be the year of the referee. Although it has been reported (via USA Today) that an agreement has been reached in principle, in an ideal world, the replacement officials would be at the top of this list and every list with the word "disappointing" in it.
However, even though the referees have had an impact on a lot of the games, they can't be blamed for everything that goes wrong. Poor performance from teams is just as noticeable—and just as worthy of attention.
Here are three teams that need to overcome their slow starts and get their seasons back on track. These aren't teams who were expected to be poor; instead they are teams who just aren't living up to their potential.
Fresh off a disappointing "Dream Team" season, the Eagles were earmarked again this year as a dark horse contender for the Super Bowl. They had a good draft and seemed poised to make a run at the big game.
Even though their 2-1 record suggests that this is still a possibility, they have won in spite of themselves.
Michael Vick is always marked as the key to the Eagles' success ahead of the year. The important factor is regarded to be his health, as his injury record makes him less than reliable. It's well known that Vick will put his body through whatever it takes to win the game, but his athleticism can't cover everything.
This time around, it's his determination to throw interceptions that has underlined the team's poor performances. Almost losing to the Cleveland Browns isn't as bad as losing, obviously, but there was no triumph to be gained from the victory.
The pass rush has also performed worse than expected. Last year, the Eagles' front line had 12 sacks in the first three games and looked like a dominant force in the NFC East.
Over the same period in 2012, they have only produced seven sacks. There was talk of setting an NFL record for sacks at the beginning of the year, but that currently looks like last year's "Dream Team" boast.
Everyone was excited about having Peyton Manning back, but there was always that doubt that wouldn't go away: what if he wasn't as good when he returned?
Manning on a bad day is still a very good quarterback, there's no doubt about that. But this isn't what we have seen from him and the Broncos so far.
Instead, the Broncos have looked disjointed, as if they don't quite understand what is expected of each other or what the playbook requires them to do.
Peyton Manning's performances have caused some people to doubt his abilities.
The defense has been forced to make all the plays to keep the team in the game, when the expectation was that Manning would reignite the offense and keep the defense off the field for longer periods.
It's not the time to panic, as Manning will grow with his receivers and start to look more like he did in Indianapolis. However, the season rolls by quickly, and a 1-2 start isn't the way it was supposed to go.
The doubts remain about Manning's arm strength, as well as his ability to absorb hits throughout the season. A fast start with a healthy Manning was vital to the Broncos's success this year.
Rather than welcoming back one of the greatest quarterbacks ever to play the game, the phrase "the old Peyton Manning" has instead become a fixture during Broncos games.
It was always going to be tough with Sean Payton suspended, but no one really expected the Saints to be this bad. If you did, you can start picking my lottery numbers.
Drew Brees signed his monster contract and returned to the fray, but he hasn't been himself, either. Held to under a 50 percent completion rate by the Redskins, he wasn't granted the time to make his throws and had to improvise much more than he would have liked.
Will the New Orleans Saints make the playoffs?
He still threw for over 300 yards and three touchdowns, but it was harder than it should have been.
Brees has kept his team in each game they've played so far, but he needs help. The defense is getting murdered out there, and the Saints just can't hold on to any sort of lead. Ranking 30th in points conceded—an average of 34 ppg, via TeamRankings.com— isn't going to win you many games.
New Orleans needs a remarkable comeback in order to look like a playoff team. A lot can be accomplished with a stellar offense, but the postseason already looks like a step too far.
NFL Week 4 Power Rankings
1. Houston Texans
11. Seattle Seahawks
13. Denver Broncos
14. Philadelphia Eagles
17. Detroit Lions
20. Buffalo Bills
21. New York Jets
24. Miami Dolphins
25. New Orleans Saints
26. Tennessee Titans
28. Oakland Raiders
29. St. Louis Rams
32. Cleveland Browns
This article is
What is the duplicate article?
Why is this article offensive?
Where is this article plagiarized from?
Why is this article poorly edited?

Philadelphia Eagles: Like this team?