49ers vs. Jets: 10 Keys to the Game for San Francisco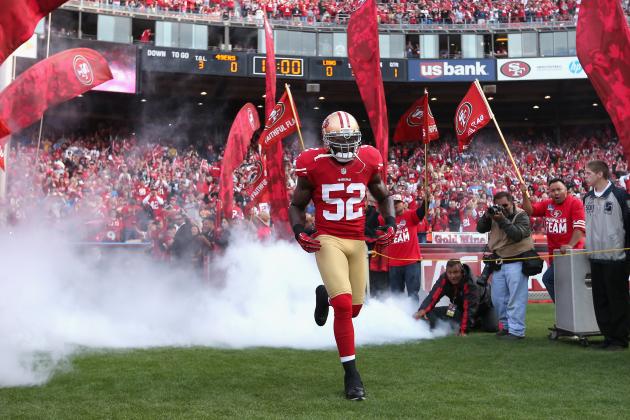 Ezra Shaw/Getty Images

It's been a unique start to the NFL season, unlike any one in recent memory. With replacement refs, rookie QBs and missing pieces of ears, 2012 has made a unique imprint already.
The powers in the NFL have also been fluctuating, shifting to a new era of teams. The New Orleans Saints, Green Bay Packers and New England Patriots have a combined record of 2-7. While the Atlanta Falcons, Houston Texans and San Francisco 49ers have a combined record of 8-1.
The Niners are coming off a loss to Minnesota in Week 3, where they looked completely out of character and caught off-guard. On the road, San Francisco is setup to rebound this week against the New York Jets in the Meadowlands.
Far from the Bay Area, the 49ers will be looking to prove that last week was a fluke—a glitch—something that won't happen again—not without a fight.
As the Niners prepare for an NFC vs. AFC dog fight between two 2-1 teams, here are some things that San Francisco can do to put themselves in position to win on the road in Week 4.
Begin Slideshow

»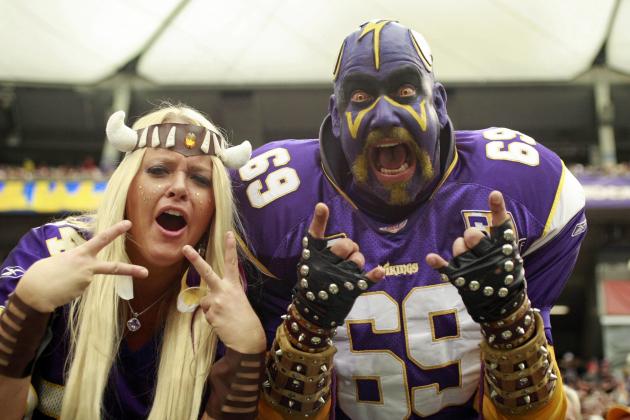 Bruce Kluckhohn-US PRESSWIRE

Coming off the Week 3 loss to the Vikings, the 49ers need to have a short memory. They cannot dwell on what happened, but instead should be focused on reestablishing their identity.
On-lookers will be able to tell if the loss is still bothering them by how the 49ers look out of the gate. On both sides of the ball, they need to play fast, physical and mistake-free. San Francisco is a team that tends to set the tempo early, and if they can do that, it will show they have moved on.
The worst thing a loss can do is linger and affect future performance. The Niners need to play better football than they did in Week 3, so it will be about starting from scratch. They need to have the same mentality, focus and desire from Weeks 1 and 2.
From the coaches to the players, San Francisco has to have a short-term memory on Sunday.
Harbaugh told 49ers.com:
You have a loss, you get that bad taste in your mouth, there's only one mouthwash that can really get that taste out. That's coming back and preparing and coming out and being victorious this week. That's the challenge for us, that's where we'll put our mindset.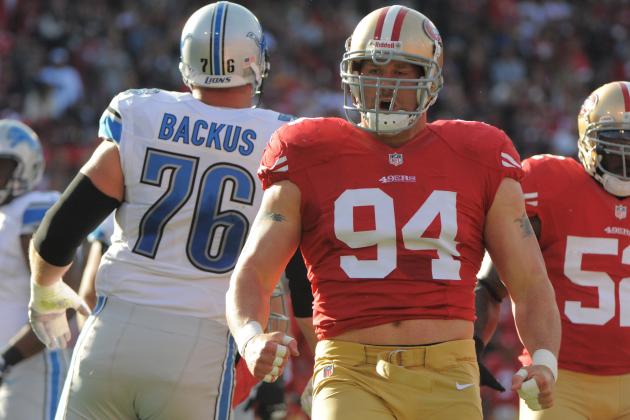 Kyle Terada-US PRESSWIRE

The New York Jets have a couple solid players on their offensive line, but there are holes that still make them susceptible to above-average defensive fronts. Aside from D'Brickashaw Ferguson and Nick Mangold, the Jets have had average performance and instability along the offensive line.
San Francisco's defensive front played an uncharacteristic game against the Vikings, and could be in for a huge bounce-back game. This is a group with a lot of talent, and when they're firing on all cylinders, there are few other units comparable to them.
In Week 4, a lot of responsibility falls on the shoulders of Justin Smith.
He's a one-man wrecking crew that can collapse protections and control gaps as good as, if not better than, anyone in the league. Smith was not much of a factor in last week's loss, and could be in for a big game. If he can find a rhythm against the Jets, it could be a sizable advantage for San Francisco.
Outside of Smith, Ricky Jean-Francois and Ray McDonald have to show up. They need to push the Jets line backwards and dictate running lanes to provide an advantage for the linebackers. It will take a full effort on their part to pressure and stop the run, but they're certainly capable of it.
As a cohesive unit, they can be extremely disruptive, as a trio of chaos-causing madmen. San Francisco's defensive line needs to outwork their opposition, deteriorating offensive plays at their core.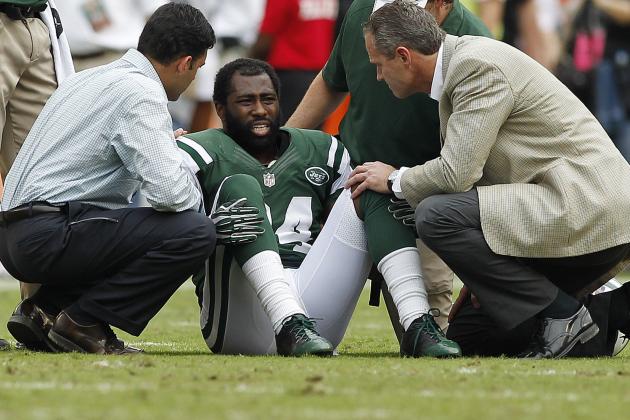 Robert Mayer-US PRESSWIRE

In the Jets' Week 3 matchup against the Dolphins, All-Pro cornerback Darrelle Revis tore his anterior cruciate ligament (ACL), rendering him inactive for the remainder of the season. This is a crushing blow for New York as Revis was their far-and-away best player.
The Jets will be forced to start Antonio Cromartie and Kyle Wilson as their No. 1 and 2 corners.
These two have the experience and potential to be an effective tandem by season's end, but they are likely to experience some growing pains early on. The 49ers should be looking to take advantage of this timely opportunity.
San Francisco has yet to really cut it loose with their wide receivers—a position group in which they invested quite a bit of time and money this past offseason. Greg Roman needs to get creative and provide Alex Smith with some mismatches to take advantage of.
The Jets corner depth no longer matches up with the 49ers depth at receiver.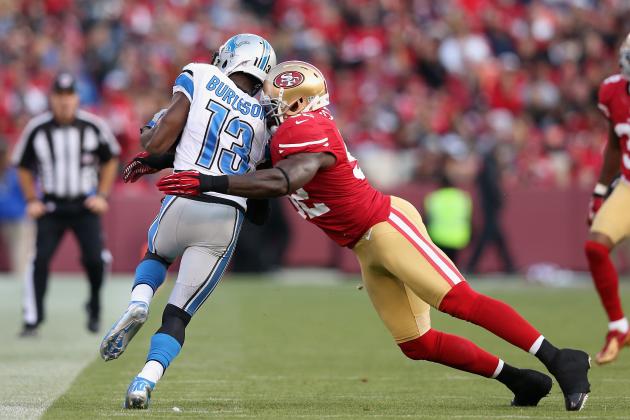 Ezra Shaw/Getty Images

The 49ers know hitting and blocking are keys to setting the tempo, but it's got to be done right off the bat. San Francisco has to come out fast in the first quarter, establishing dominance in the game. They can start hot with a fierce special teams tackle, a defensive 3-and-out or a quick score on offense.
But early on, the Niners want to be beating guys to the punch.
The 49ers have won games recently with that approach. They just outplay teams fundamentally and bring the lumber whenever they get a chance. Since that is their M.O., we'll know San Francisco is in control if they set the tone.
On Sunday, look for the 49ers to make a big play early.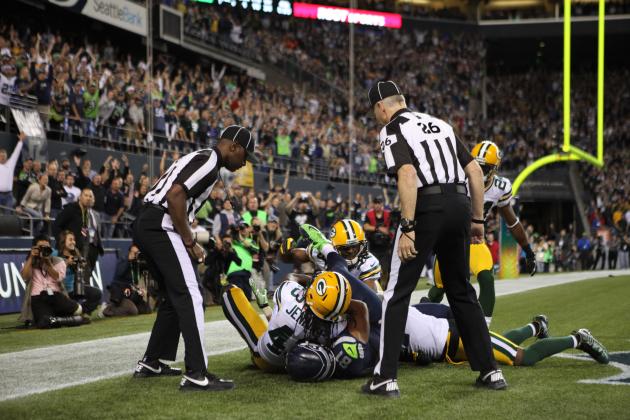 Otto Greule Jr/Getty Images

Following Monday Night Football's national debacle, the powers that be decided to get together this week and expedite the process. It looks like the NFL may have its regular referees back for this weekend's slate of games. And even with them returning, the 49ers need to play to win, and not leave anything in the hands of the refs.
The NFL player lockout affected the performance of players, and one could assume the officials may be a little rusty upon their return.
San Francisco needs another statement game, and they can do that by going out and winning this game outright. With a relentless approach and pinpoint execution, I want to see the 49ers play the entire game like they are playing from behind.
And that does not necessarily mean an abundance of passing plays, but rather wanting to see that urgency and hunger we've seen this team play with as of recent. And most of all, it's important for them to play smart and not give the officials an opportunity to call something.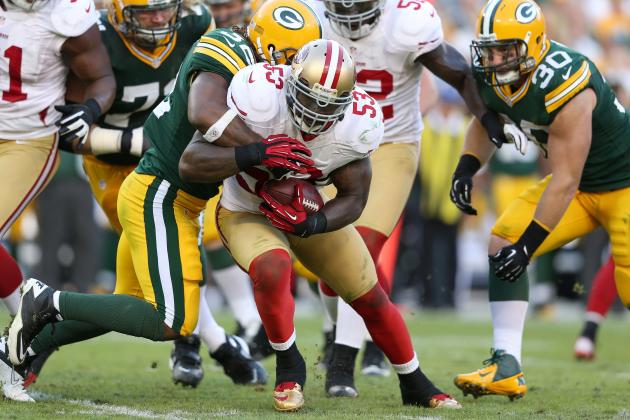 Andy Lyons/Getty Images

San Francisco needs to reestablish their identity by blocking and tackling like the best in the business. All three phases of the game demand fundamental execution in order to be successful, and it's been a winning formula for the 49ers in particular.
They've made a living protecting and attacking the football. The team that Jim Harbaugh has established is a team that does not beat themselves, unlike the 2003-2010 49ers. Harbaugh's rookie campaign as the Niners HC yielded great results.
That carried over into the first two games of 2012, but there was a brief regression, particularly in Week 3.
The 49ers have turned the ball over four times already this season, and the defense has not been getting takeaways with the same frequency as 2011. There needs to be a return to fundamentals in this game—doing the little things that made them successful a year ago.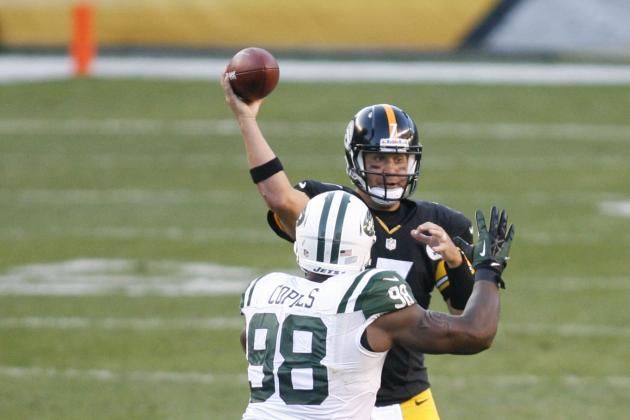 Charles LeClaire-US PRESSWIRE

With Darrelle Revis out for the season, there is good reason to believe the Jets pass rush will suffer. They have been greatly aided by Revis' presence and ability to take away half the field, allowing more time for rushers to get pressure on the opposing quarterback.
San Francisco can afford to be patient on offense and let things develop. Offensively, the 49ers should feel encouraged to call plays with extended routes. The Niners can utilize double-moves, delays, deep breaking routes and complex screens.
Quarterback Alex Smith could have extra time in the pocket on Sunday.
Niners offensive coordinator Greg Roman could benefit from calling plays with route designs that go downfield. We've been waiting for this offense to manipulate defenses with two elite players that demand quality attention in Randy Moss and Vernon Davis.
These are two athletes, that when sharing the field, can manipulate coverages and cause headaches for safeties. With the creativity from the San Francisco offensive staff, they can essentially manifest blown coverages by calling particular route combinations with Moss and Davis.
This plays into our next slide, where we discuss opening up the playbook.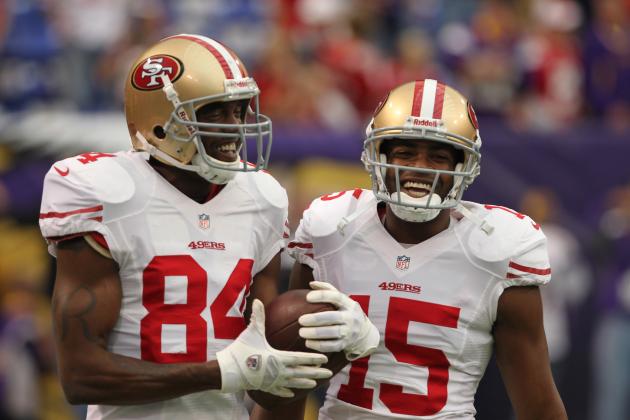 Brace Hemmelgarn-US PRESSWIRE

I frequently credit this team with being one of the more offensively creative bunches in the league. But every so often, they get stuck in neutral with overly conservative play-calling, which sometimes situationally, does not make any sense.
In 2011, the 49ers were slow to reveal their playbook, but that was a different situation all together. San Francisco was installing a new system and did not want players to be overwhelmed. That should not be an issue anymore.
It's hard to name one other team in the league that limits themselves within their own playbook. San Francisco needs to recognize that it's the regular season and wins count right now.
The Niners are going to need all their resources to optimize their winning percentage. So this is not even a direct request to get Randy Moss more involved, but the general emphasis that they should be more creative going forward, especially since they're talented in that aspect.
It's time to unleash this offense.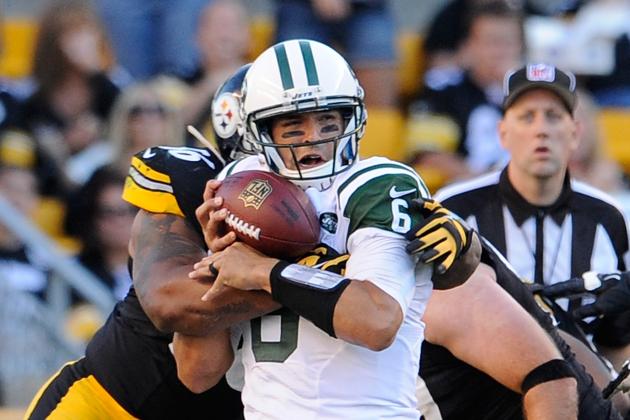 Joe Sargent/Getty Images

There has been very little of Tim Tebow in this Jets offense in 2012.
For the 49ers, the focus should be on starting quarterback Mark Sanchez. The defense has to get after Mark Sanchez, and even if they only have one sack against him, QB hits are crucial. Sanchez is not a caliber quarterback who is going to triumph and overcome if he's seeing out of his earhole.
If Sanchez takes a beating, the Jets will crumble.
The 49ers defense can also take advantage of Sanchez's tendency to make bad reads and force throws. Vic Fangio should have his unit disguising coverages and sending exotic blitzes. Outside of Aldon Smith, if the Niners can get guys like Patrick Willis and Carlos Rogers shots at the quarterback, it would force Sanchez to keep his head on a swivel and likely hear footsteps.
San Francisco also should not neglect the weaknesses in Jets offensive line.
If the Niners can cause him to have one of his typical Mark Sanchez "bad days," the game is San Francisco's to lose.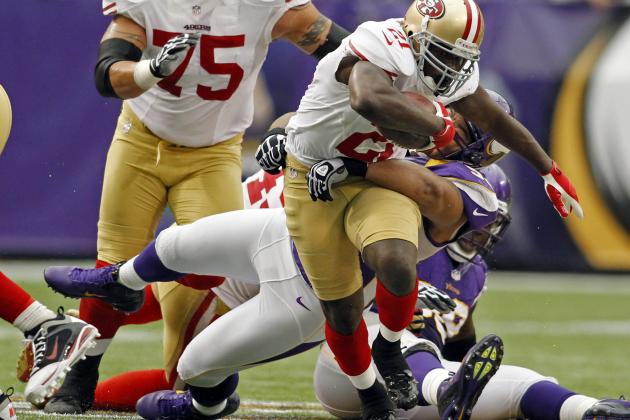 Bruce Kluckhohn-US PRESSWIRE

The Niners need to come with the hard-nosed, versatile Bay Area run-attack the fans all know and love. On those beautiful sunny days where you don't know who you'd rather have in, Frank Gore or Kendall Hunter, because they are both eating up defenses for chunk yardage.
The offensive line has to generate push, create lanes and control their defenders. The guards in particular need to do a good job of getting to the second level and neutralizing the linebackers; Bruce Miller can help in that aspect as well.
I maintain that if Frank Gore breaks the century mark, the 49ers will win this game.
On the defensive side of the football, the 49ers need to contain the Jets offense by cutting the plays off at the head. And that happens by winning the battle up front. The Niners need to play downhill like they are trying to push the Jets offense backward.
Furthermore, they need to attack the ball-carrier with that style of play. The defenders need to play fast to the football and wrap up.