Breaking Down Why Tyson Chandler Is Invaluable to the New York Knicks' Success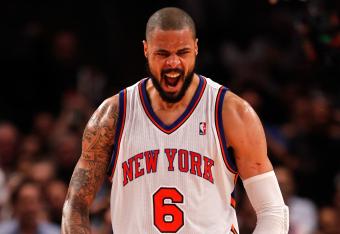 Jeff Zelevansky/Getty Images
It's not unusual for a defensive dynamo to be the lynchpin of an NBA-championship squad. Bill Russell wrote the book on it (and then some) during his remarkable run to 11 titles in 13 seasons with the Boston Celtics between 1957 and 1969. Ben Wallace picked up Russell's defensive torch and ran with it all the way to the top in 2004.
And Tyson Chandler—while surrounded by the offensive artistry of Dirk Nowitzki, Jason Kidd and Jason Terry—transformed the Dallas Mavericks from Western Conference also-ran to league champion in 2011.
The New York Knicks bet the farm on Chandler to do the same with Carmelo Anthony and Amar'e Stoudemire by his side when they inked him to a four-year, $58 million deal last December. That ended the prospective pursuit of Chris Paul and (potentially) Dwight Howard and left the Knicks with a hodgepodge of a roster that went 36-30, was bounced in the first round of the playoffs by the Miami Heat and had Phil Jackson, a former Knicks loyalist, shuddering at the thought of coming out of retirement to right the ship in the Big Apple.
Not that any of this was Chandler's fault. All he did was put together the most efficient (if not the best) all-around season of his 11-year career. He checked in at ninth in rebounding and 15th in defensive rating (points scored by the opposition per 100 possessions when a given player is in the game), led the league in field-goal percentage and offensive rating (points scored by a team per 100 possessions when a given player is in the game), and ranked among the league's best centers in points per possession, according to DraftExpress.
More importantly, he anchored a defensive unit that leaped from 21st in the league in 2010-11 to fifth in 2011-12, and he earned Defensive Player of the Year honors in the process. In accepting the award at season's end, Chandler quipped that he couldn't have done it without the poor defense of his teammates:
While Chandler's comments were made in jest, they did contain a distinct nugget of truth—the Knicks fared far better as a team defensively than their personnel would suggest, thanks in no small part to Tyson. He played alongside Carmelo and
Amar'e
—two of the worst frontcourt defenders in the NBA—and was witness to a revolving door at point guard that featured
Toney
Douglas, Jeremy Lin, Baron Davis and Mike Bibby.
Each of those PGs would be more likely mistaken for a matador than a lock-down defender.
As a result, Chandler spent much of his time cleaning up the messes made by his teammates on the defensive end, and he did so in generally spectacular fashion.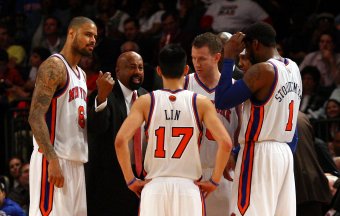 Chris Chambers/Getty Images
So spectacularly, in fact, that the Knicks were a top-10 defensive squad even while Mike
D'Antoni
, a coach known for everything but stopping the opposition, was still on the bench. Once
D'Antoni
split and Mike Woodson took over, the Knicks went 18-6 and climbed into the top five defensively.
Defense, then, has been and will be the key to New York's ability to win games and contend in the ever-improving Eastern Conference. For all of their offensive firepower, the beasts of the East (i.e. the Miami Heat and the Boston Celtics) still butter their bread on the defensive end.
And if the Knicks hope to challenge for conference supremacy, they'll have to do the same from here on out. Hence, Chandler, being the Knicks' biggest proprietor of defensive prowess will be that much more important in the team's journey to cement a spot among the East's upper echelon.
Of course, scoring will be important and remains something of a problem at Madison Square Garden. While scaling the defensive ranks, the Knicks also saw their offensive efficiency tumble from fifth to 19th.
Much of New York's regression in this regard stemmed from the "clumsy" roster construction of which the Zen Master spoke on HBO's Real Sports. That is, in effectively swapping out Chauncey Billups for Tyson Chandler, the Knicks only compounded a logjam that was borne of Anthony's arrival in the Big Apple in March of 2011. The addition of Chandler saddled the Knicks' starting lineup with a third player (along with Stoudemire) who preferred to hang around the middle of the floor.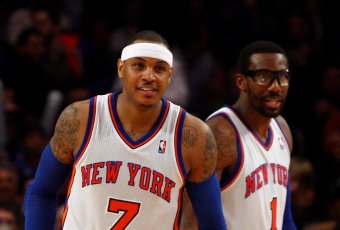 Chris Chambers/Getty Images
But unlike 'Melo and STAT, Chandler doesn't need the ball in his hands to be a force on that end of the court. He's a superb screen-setter, pick-and-roll finisher and offensive
rebounder
as is, and he should be even more potent offensively—which is saying something, since Chandler challenged
Wilt Chamberlain's single-season field-goal mark
in 2011-12—with the help of Hakeem Olajuwon, whom the Knicks have enlisted to smooth out the wrinkles between their Big Three. As "The Dream" told
ESPN's Chris

Broussard
of Chandler:
"He's got great timing and reflexes. I haven't seen him use any moves of his own, though. But there's no way a guy with that kind of talent and timing should not have effective moves. So I want to teach him some moves so he can use all of that talent. If you add some moves to all the talent and energy he's got, it will open up a whole new door for him. That's what he should be looking to add to go to the next level."
Which player will be most integral to the Knicks' success?
Indeed, if Tyson can be something more than a space-eater and occasional finisher, the Knicks' offense could rank among the league's most potent again in short order.
That's largely beyond Chandler's own control, though. His productivity will depend more on the willingness of Carmelo and Amar'e to share the ball, as well as the ability of point guards Raymond Felton and Jason Kidd (who played with Tyson in Dallas) to orchestrate the offense and get the ball to him in the proper spots.
What Tyson can control, though, is his defensive impact. He doesn't need the permission or approval of his superstar compatriots to shuffle his feet, get his arms up and stifle opposing attacks at every turn.
Unless, of course, he intends to lead the league in blocks, in which case he'd need his teammates' complicity in ushering opposing players to the basket.
Marc Serota/Getty Images
That aside, if the Knicks are to fend off the hard-charging
Brooklyn Nets
for metropolitan supremacy and swim toward the top of the NBA rather than sink back to the bottom, they must continue to establish themselves as a squad with a dominant defensive identity.
At the heart of that is Tyson Chandler, who knows a thing or two about the not-so-mystical bond between defense and championships.
This article is
What is the duplicate article?
Why is this article offensive?
Where is this article plagiarized from?
Why is this article poorly edited?

New York Knicks: Like this team?