Miami Heat Must Embrace L.A. Lakers' New Star Power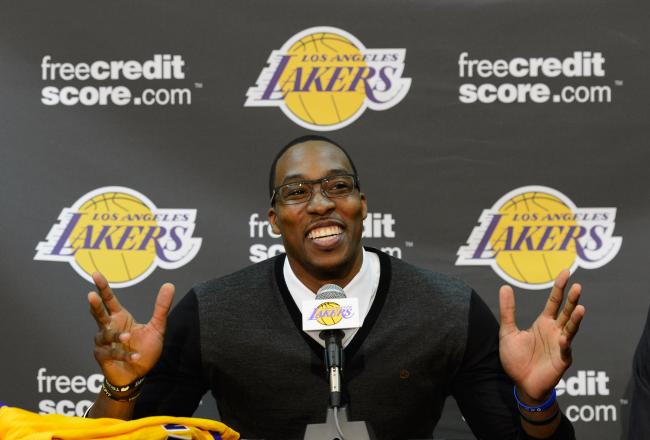 Kevork Djansezian/Getty Images
The Los Angeles Lakers beefed up their team by adding Steve Nash and Dwight Howard this summer so they could challenge the Miami Heat for a title, and in doing so they might have done the Heat a favor. That's why Miami should embrace the Lakers' new star power.
For starters, there are, well...four starters that are bona fide superstars. Sure, three of the four might be past their prime, but they all still have game. And four, as we learned in elementary school, is bigger than three, even if they're the "Big Three" of the Miami Heat.
As Yogi Berra might say, "And it doesn't get any clearer than that."
The reality is that the Heat never set a precedent for stars banding together. Stars have been doing it for years. They just did it via trades instead of free agency, but the natural evolution of free agency had to be this. Kevin Garnett allowed the trade to Boston to go through only after Ray Allen was traded there.
Prior to that, Charles Barkley, unhappy in Philadelphia, had demanded that he be traded. He went to Phoenix, where he could contend for a title alongside All-Star Kevin Johnson.
Kareem Abdul-Jabbar manipulated the Bucks and an expiring contract into a trade to the Lakers long before Carmelo Anthony ever thought of doing so, according to Peter Vecsey of the New York Post. He went to the Lakers, where he was paired with Hall of Fame player Gail Goodrich.
No, this situation was not anything new—it was just a little different, and it was just the most recent.
For various reasons the Heat just caught more heat for doing what they did. Part of it was "The Decision," but the unconfessed truth of it all is that the biggest reason that critics jumped on it was that LeBron James was the best player ever to leave his team via free agency.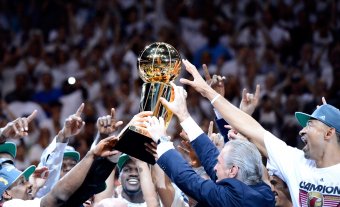 Ronald Martinez/Getty Images
The fact that he banded together with Chris Bosh and Dwyane Wade just meant that other teams' chances of winning a title at some point during the next "not five, not six, not seven" years took a serious hit.
Now that the Lakers are together, the Heat are no longer the latest team of "Super Friends" who banded together through manipulating the system for the purpose of winning a title. They're just another team that did so, which is all they ever really were.
Beyond that, the Lakers doing it takes a big part of the criticism out of it, in part because one of the players with whom they are doing it is Steve Nash.
Strictly guessing here, but I'm betting that if you asked NBA fans "Which player, regardless of which team they play for, would you most like to see win their first ring?" the hands-down winner would be Steve Nash.
No active player has more MVP Award Shares, a stat tracked by basketball-reference.com that tracks how many MVP votes a player gets over the course of his career. In fact, the only retired player with more MVP Award Shares and no rings is Karl Malone.
You could easily make the argument that Nash is the greatest active player, and perhaps the greatest ever without a ring.
Because of that, there's more acceptance of this version of a super-team. In doing that, the notion of a super-team becomes more palatable. That, in turn, makes the Miami Heat more palatable.
Which player, regardless of which team they play for, would you most like to see win their first ring this year?
The Heat were already getting a bit of a reprieve. Winning solves a lot of problems. Winning titles solves even more.
In spite of all the hatred that was dished out at him, LeBron James is also, at the heart of things, a genuinely nice and affable man. He's a spectacular athlete on top of that.
People want to like him. Winning the title took away excuses about why they shouldn't. Now, the Lakers coming together gives them permission.
The other thing it does is create an opponent of equal power.
It gives us the chance to once and for all settle the great "Kobe vs. LeBron" debate (no it really doesn't mean everything but people will make it the ultimate trump card).
It gives us something to cheer for even if our own favorite team doesn't have a chance to win.
In short, what it does is give us what we want the chance to be—fans instead of haters. The Miami Heat won't be villains this year. They'll just be another team of likable superstars showing off their fantastic skills.
If they're doing that in the finals again this year, hopefully it will be against the Lakers. The NBA fan in me would love to see that.
This article is
What is the duplicate article?
Why is this article offensive?
Where is this article plagiarized from?
Why is this article poorly edited?

Miami Heat: Like this team?