Full Player Salary Rundown and Financial Health Breakdown for L.A. Lakers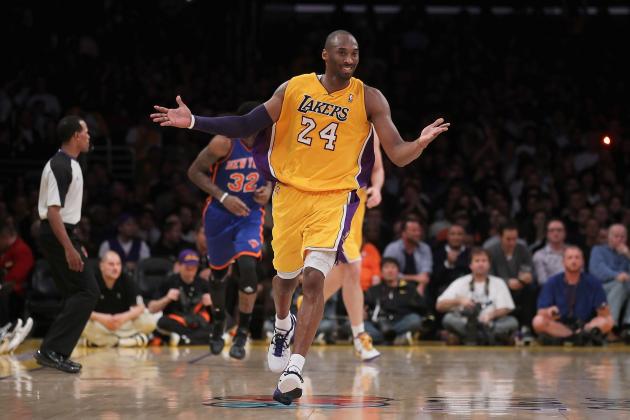 Jeff Gross/Getty Images
Kobe Bryant might not know all the details of the financial situation, but you will soon.
The Los Angeles Lakers roster has quite a bit of luster to it after the additions of Dwight Howard and Steve Nash to a team that was already solid. However, the financial situation is anything but lustrous.
L.A. hasn't exactly been frugal in recent years, paying star after star to don a purple-and-gold jersey.
So, how exactly do the Lakers stand from a financial standpoint?
This article will take you on a journey through the checkbooks of Jerry Buss and the rest of the Lakers management. We'll take a look at the current contracts, players who are overpaid or underpaid, expiring contracts and trade chips, the financial situation for the 2013-14 season and the biggest decision that must be made in the near future.
Finally, you'll see the overall grade for the Lakers' money management.
Note: Contract information was gathered from Spotrac.com, a sports contract database.
Begin Slideshow

»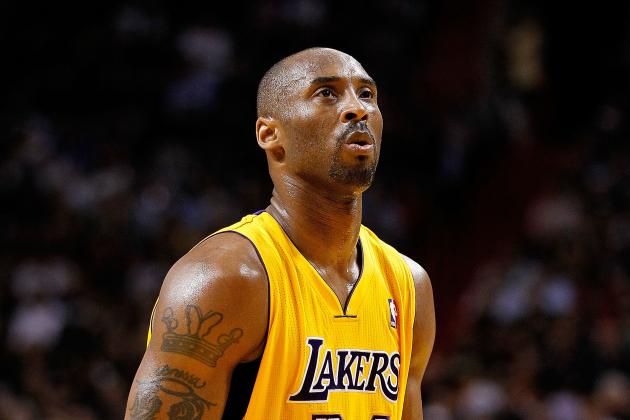 Mike Ehrmann/Getty Images
Kobe Bryant is still the highest paid player on the Lakers.
The following players are currently under contract with the Los Angeles Lakers:
Kobe Bryant: 2 years, $58,302,954 remaining ($27,849,149 for 2012-13)
Dwight Howard: 1 year, $19,536,360 remaining ($19,536,360 for 2012-13)
Pau Gasol: 2 years, $38,285,850 remaining ($19,000,000 for 2012-13)
Steve Nash: 3 years, $27,901,500 remaining ($8,900,000 for 2012-13)
Metta World Peace: 2 years*, $14,985,970 remaining ($7,258,690 for 2012-13)
Steve Blake: 2 years, $8,000,000 remaining ($4,000,000 for 2012-13)
Jordan Hill: 2 years, $7,127,200 remaining ($3,563,600 for 2012-13)
Chris Duhon: 2 years, $7,250,000 remaining ($3,500,000 for 2012-13)
Jodie Meeks: 2 years**, $2,965,250 remaining ($1,450,000 for 2012-13)
Antawn Jamison: 1 year, $1,352,181 remaining ($1,352,181 for 2012-13)
Earl Clark: 1 year, $1,240,000 remaining ($1,240,000 for 2012-13)
Devin Ebanks: 1 year, $1,054,389 remaining ($1,054,389 for 2012-13)
Darius Morris: 1 year, $926,000 remaining ($926,000 for 2012-13)
Andrew Goudelock: 1 year, $762,195 remaining ($762,195 for 2012-13)
Darius Johnson-Odom/Reeves Nelson/Robert Sacre/Greg Somogyi***: 1 year, $473,604 remaining ($473,604 for 2012-13)
Mike Brown (Head Coach): 3 years****, $13,500,000 remaining
Total Player Salary for 2012-13: $100,866,168
With the luxury tax threshold set at $70,300,000 for the upcoming season, the Lakers are looking at a ridiculous payment of $30,566,168, thanks to the $1 tax for every dollar over the threshold.
*Metta World Peace's contract has an early termination option for the 2013-14 season.
**Jodie Meeks has a club option for the 2013-14 season.
***The 15th spot on the Lakers roster will be decided during training camp. Reeves Nelson and Greg Somogyi have both signed non-guaranteed contracts at the given salary. Darius Johnson-Odom and Robert Sacre have both signed contracts with undisclosed terms, but they likely fall right in line with the other two.
****Mike Brown's contract has a team option for the 2014-15 season.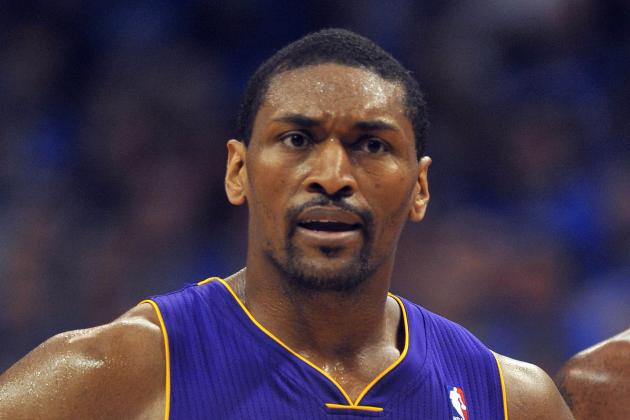 Mark D. Smith-US PRESSWIRE
Metta World Peace was a potential amnesty victim at one point.
Kobe Bryant
Controversial as this statement may be, Kobe Bryant isn't just the most overpaid player on the Los Angeles Lakers. He's also one of the most overpaid men in the entire NBA.
Kobe is owed just under $28 million this year and then another $31 million during the 2013-14 season. It doesn't matter that he's likely to decline at least a little bit as Father Time continues to wear away at his body.
Although the shooting guard is still one of the top-10 players in the NBA, he's not worth that ridiculous sum of money on the basketball court.
If we include his off-court contributions, then The Black Mamba is massively, tremendously, exponentially underpaid. He's worth far more than his contract to the organization, given his popularity and ability to sell both tickets and jerseys.
However, we're only looking at these contracts from an on-court perspective.
Pau Gasol
With $19 million set to be added to Pau Gasol's bank accounts during the 2012-13 season, then a bit more than $19 million the next year, the Spaniard is massively overpaid.
Gasol will become an even more integral part of the Lakers offense when the Princeton Offense is utilized, but he's valuable regardless of the play being run.
He just isn't worth $19 million. That number makes him the seventh highest-paid player in the entire league—although, somewhat unbelievably, he checks in at No. 3 in his organization. He'll be earning more than LeBron James and Chris Paul next season.
Just as with Kobe, this isn't an indictment of Pau's basketball skills. It will be, though, if he can't shed the soft label by the trade deadline.
Metta World Peace
The inclusion of this small forward is an indictment of his skill.
Metta World Peace is still a solid perimeter defender, but he's not worth $7.26 million at this stage of his career. After all, the player formerly known as Ron Artest is now 32 years old and will turn 33 before the close of the year.
His defensive skills will only decline as his career arc continues to unravel. World Peace showed up to training camp last season with a few extra pounds on his frame and missed too many jumpers for anyone's liking.
Although he played himself into shape by the end of the year—before ruining his progress with the infamous elbow to the head of James Harden—there's no guarantee that he can stay in that shape.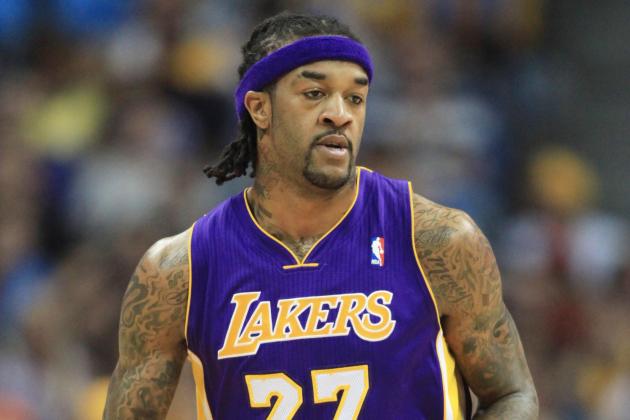 Chris Humphreys-US PRESSWIRE
Jordan Hill's value will exceed his contract.
Jordan Hill
It's hard to believe after three lackluster years, but Jordan Hill is still a former lottery pick waiting to finally make good on his immense potential.
The long-haired big man got a bit of an opportunity at the end of the 2011-12 season. After a 14-point, 15-rebound showing against the Oklahoma City Thunder, Hill added another two double-doubles during the first-round series against the Denver Nuggets.
He continued to play fairly well throughout the postseason and should pick up where he left off as a key contributor off the L.A. bench. With his high-energy play, rebounding presence and defensive abilities, Hill has far more value to the team than his $3.6 million salary in 2012-13 would indicate.
Antawn Jamison
This forward may be 36 now, but there's no doubt that he can be a valuable offensive contributor. If he helps out on defense, well, that would be more surprising than an inspired defensive effort from Steve Nash.
After last season, I'm not even sure if "defense" is in Antawn Jamison's vocabulary.
Jamison averaged 17.2 points and 6.3 rebounds per game last season with the Cleveland Cavaliers, posting a PER of 16.17 in the process. He won't touch those numbers this year, but he will be an efficient producer off the bench.
The veteran is a perfect fit for the second unit with this team. He'll spread the court out and has the ability to score in volume.
Amazingly enough, Jamison went from being one of the most overpaid players in the league ($15,076,715 in 2011-12) to the opposite end of the spectrum in just one offseason after agreeing to play for the veteran's minimum ($1,352,181).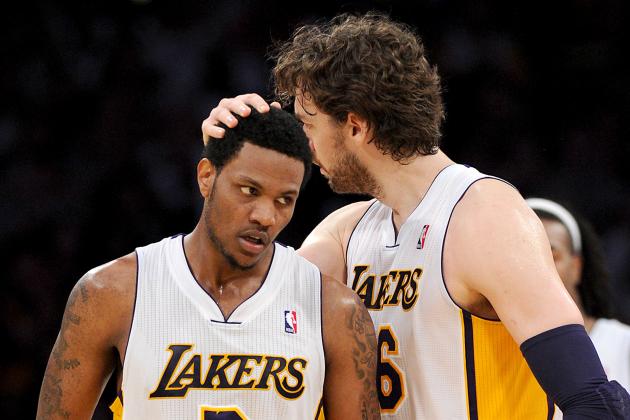 Jayne Kamin-Oncea-US PRESSWIRE
Devin Ebanks has one of seven expiring contracts.
The following is an explanation of expiring contracts from Sports Illustrated's Steve Aschburner, although keep in mind that it was written in 2009, so the soft payroll and tax threshold figures are dated:
Expiring contracts, first of all, are exactly what they sound like: a deal for a player's services that is about to lapse. Their value in a salary-capped sport is simple: When a player making $7 million a year comes to the end of his contract, that amount comes off his team's cap number. That can drop the club below the league's soft payroll limit ($58.68 million for this season), giving it flexibility to acquire other players in trade or free agency. Or better yet, in the NBA it can lessen or eliminates a team's luxury-tax obligation by moving it below or closer to the tax threshold ($71.15 million), which acts as a hard cap by imposing a dollar-for-dollar surcharge above that amount.
Expiring contracts are useful to teams for a number of reasons. They can give the team financial flexibility for the next season, and they can also serve as tantalizing trade chips for team's looking to free up future cap space.
The Lakers have seven players with expiring contracts this year. Dwight Howard is the biggest name of the bunch, although the Lakers will presumably be looking to re-sign him during free agency or sign him to an extension during the season.
Antawn Jamison, Earl Clark, Devin Ebanks, Darius Morris, Andrew Goudelock and the young player who fills the 15th roster spot will have expiring contracts as well, although their's all hold significantly less value.
When it's all said and done, the Lakers will be freeing up $25,344,729 in cap space via expiring contracts. As massive as that total may seem, it's still not enough to push the team below the current tax threshold, assuming that it doesn't change for next season.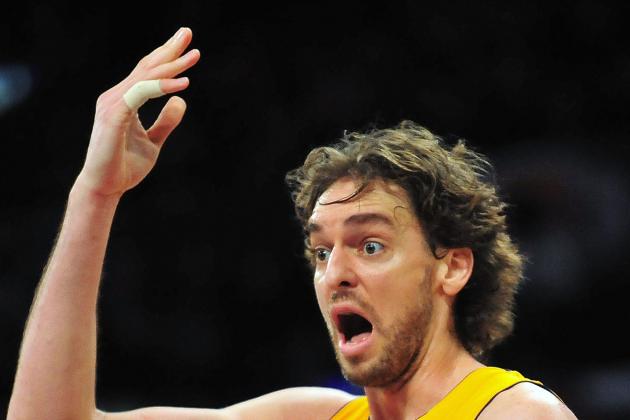 Gary A. Vasquez-US PRESSWIRE
Pau Gasol could be an easy scapegoat this year.
When it comes to potential trade chips, the Los Angeles Lakers are in a bit of a pickle. There just isn't much to offer.
This Lakers roster is built in what fantasy owners have come to know as the "stars and scrubs" strategy. The stars fit in quite prominently on this roster, with Dwight Howard, Kobe Bryant, Steve Nash and Pau Gasol all commanding large salaries.
As for the rest of the roster, it's built off lackluster players and quality contributors—Antawn Jamison, Jordan Hill, Jodie Meeks, etc—who are too cheap for the Lakers to consider moving.
Pau Gasol stands out as the only trade chip on the roster. D12, Kobe and Nash are simply too valuable to the organization for the upcoming season, and it's highly unlikely that Kobe Bryant, I mean Mitch Kupchak, would ever consider moving them.
If the Lakers' season doesn't go according to plan, Gasol will become the easy scapegoat, much like he was after the premature exit from this past postseason. His salary isn't too exorbitant, he's the most expendable of the purple-and-gold stars and he'd command plenty of interest.
While it's unlikely that a trade is actually made during the season, Gasol would be the No. 1 player on the block.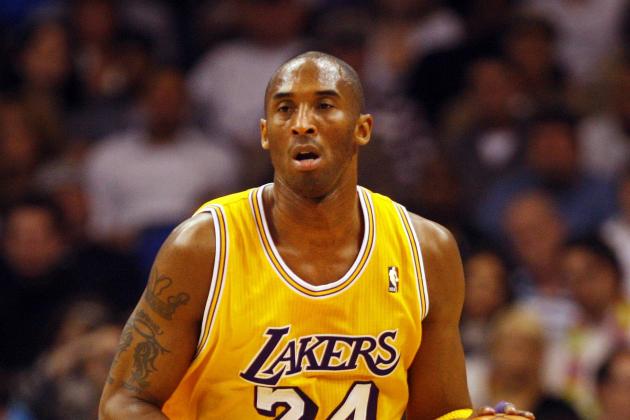 Kim Klement-US PRESSWIRE
Kobe is only getting more expensive.
Assuming that Jodie Meeks' $1,515,250 player option is exercised and the Los Angeles Lakers don't use the early termination on Metta World Peace's $7,727,280 salary (which might be unlikely), the team will still be paying a boatload of money during the 2013-14 season.
With Kobe Bryant, Pau Gasol, Steve Nash, World Peace, Steve Blake, Chris Duhon, Jordan Hill and Jodie Meeks under contract, the Lakers will already be on the books for $79,596,285. Obviously, this number will end up rising, as an eight-man roster isn't going to cut it.
There will also be a massive sum—likely a max contract—given to Dwight Howard, whether he signs in free agency or during the season via contract extension.
This is where it gets quite problematic for the Lakers. Here's an email from salary cap guru Larry Coon (find his CBA FAQ here), as relayed by ESPN's Henry Abbott:
The Lakers will have a tax bill of around $30 million next July, and in retrospect, will view this season as their salad days -- it's the last one where the tax rate is dollar-for-dollar. Starting in 2013-14 the new "incremental" tax takes over, where being $30 million above the tax line will mean paying a whopping $85 million tax bill.

And it gets worse. Starting in 2014-15 teams will pay an even higher rate for being repeat offenders -- defined as paying tax in at least three of the four previous seasons. A team $30 million over the tax line will pay -- brace yourself -- an additional $115 million in luxury tax.

After adding up their payroll, luxury tax bill and revenue sharing contribution (projected to be $49.4 million in 2013-14), even the Lakers have to stop to consider whether this simply can be written off as the cost of doing business -- and that's the future if they're paying players with salaries like Bryant, Howard, Gasol and Nash.
Abbott goes on to explain that between revenue sharing, salaries and the tax, the Lakers are likely looking at a $240 million payment in 2013-14.
The Lakers haven't shown any financial hesitance yet, but this has to be making Jerry Buss sweat a little bit.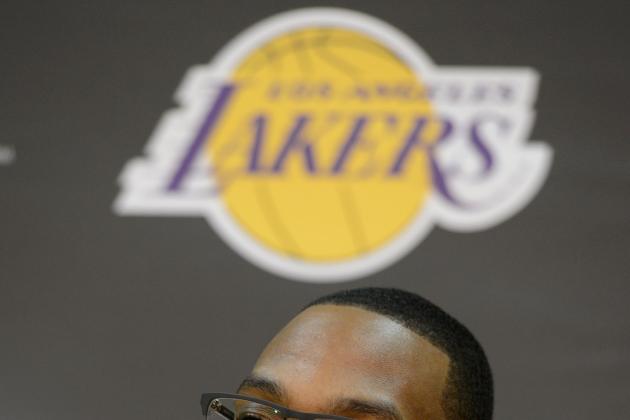 Kevork Djansezian/Getty Images
Will we see a different introductory press conference next year?
The potential $240 million payment discussed in the last slide has to create at least a bit of a decision in the upcoming months.
While the Los Angeles Lakers have recently been willing to spend what it takes to win games, this sum is a terrifying figure. It's one that will at least usher forth a bit of a pause, even if the brass still decides to move forward and resigns itself to a thinner wallet.
Dwight Howard is undoubtedly the biggest looming financial decision. Extending Kobe Bryant's contract—if he wants to continue playing, of course—and deciding what to do with Metta World Peace's early termination option are also quandaries that will need solving, but they don't carry the same level of immediacy and import.
The Lakers still have over a full season to appease The Black Mamba, and they won't need to make a decision about promoting World Peace for another year.
Dwight is the one that would push this team well over the luxury tax threshold. He's also the one who puts the team in contention for a championship, as it's highly unlikely that the Lakers could find another elite center given their financial situation and the dearth of big men available in the open market.
It may come with some hemming and hawing, but the Lakers will eventually convince themselves that Dwight isn't just a luxury (pun intended), but a necessity as well, no matter how high the cost. Unless, of course, L.A. proves to be Superman's kryptonite.
This decision will be one made behind the scenes, but it's one that every basketball fan should be following closely. It not only affects the immediate landscape of the NBA, but also the way that elite franchises are going to choose to run their teams.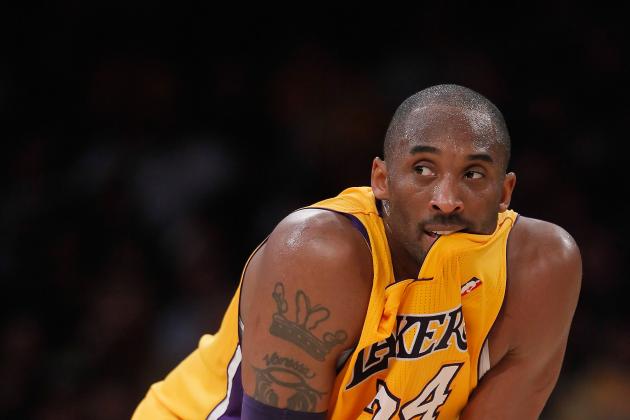 Jeff Gross/Getty Images
Kobe understands that the financial situation isn't pretty.
Assigning a grade to the financial health of the Los Angeles Lakers is a ridiculously difficult proposition.
On one hand, the Lakers are in a monetary pit. They have no flexibility and are paying a sum that exceeds the luxury tax threshold by an unseemly margin. The management is being forced to pay a ridiculous amount of cash, and the situation only gets worse as the years march on.
On the other hand, the Lakers have used their money extremely well. Jerry Buss and Mitch Kupchak have put together a roster that is fully capable of winning at least one championship, and potentially one that can establish a mini-dynasty in the twilight of Kobe Bryant and Steve Nash's respective careers.
If we were analyzing the situation in a vacuum, looking only at the accounting department's records, the Lakers would receive a failing grade. There is no doubt about that, given the impossibility of signing marquee free agents and the utter lack of attractive trading chips.
The $240 million that the Lakers might have to spend in 2013-14 is no paltry sum.
However, what the money has contributed to must count for something. Even though there's a lot of it, the money has been well spent.
Sure, some players are overpaid, but in this era of extravagant spending and impulse decisions, which team hasn't overspent? Plus, the most overpaid player (Kobe) is an off-court goldmine.
In the end, a balance must be struck, although the scales have to swing more towards the purely financial side, given the spirit of this analysis.
Grade: C