Game-by-Game Predictions for the Detroit Lions' 2012 Season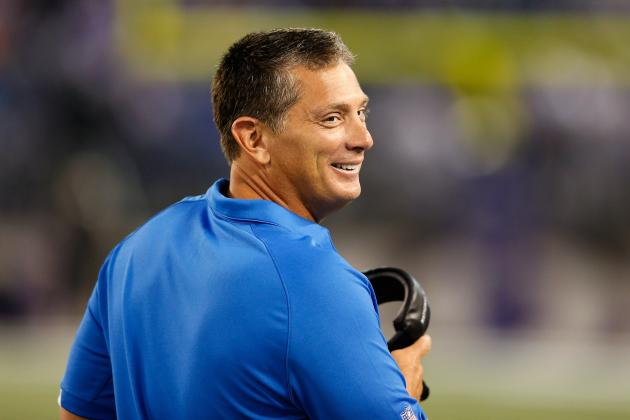 Rob Carr/Getty Images

I always say that season predictions are meaningless before roster cuts.
How can you tell whether your team is any good or not until you see what players are on it? Even now, we don't know for sure if the Lions are finished making moves.
Of course, that hasn't stopped me from making some way-too-early predictions in the past, and most of those predictions I made last month appear valid now.
But still, we know a lot more now, not only about the Lions, but also about the other 31 teams in the league. I can't guarantee that will make these predictions any more or less accurate, but I can at least give them a little more detail.
And detailed predictions are just more fun than vague ones, especially when you're picking apart how wrong you were at the end of the season, am I right?
Begin Slideshow

»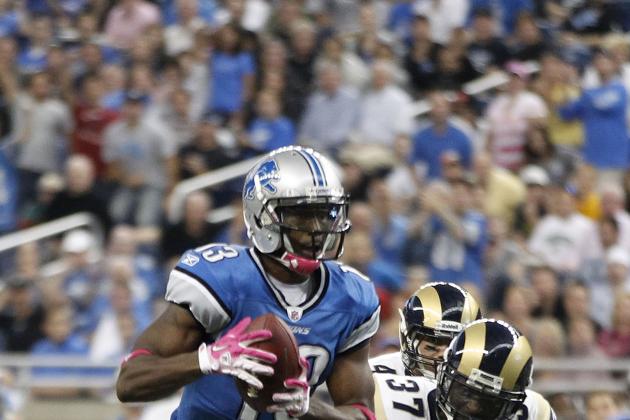 Leon Halip/Getty Images

Considering this game will feature two No. 1 overall draft picks at quarterback and a pair of suspect defenses, it's probably safe to expect a high-scoring shootout in this one.
Of course, that doesn't necessarily mean it'll be close. The Lions have a great deal more going for them in the passing game, while the Rams don't have nearly the same talent at receiver, regardless of whether or not Sam Bradford is a budding superstar.
The Rams have Stephen Jackson and whatever he has left in the tank. That will be enough to make this a dangerous team but the Lions are much further along in their rebuilding process than the Rams. Especially now that they're stripping away some of Steve Spagnuolo's efforts for Jeff Fisher's vision.
The Rams are hardly devoid of talent, but the Lions are a returning playoff team and they should have little trouble outscoring the Rams at home. That being said, unless the Lions are hiding something, outscoring is exactly what they'll have to do to win.
Of particular interest in this game will be Cortland Finnegan, who rejoins former Tennessee Titans coach Jeff Fisher in St. Louis. Many Lions fans longed for Finnegan as a quick fix for the Lions' secondary. While it certainly appears that secondary could use a boost, Calvin Johnson will probably make Lions fans feel a whole lot better about not getting Finnegan.
Edge: Detroit (Lions record: 1-0)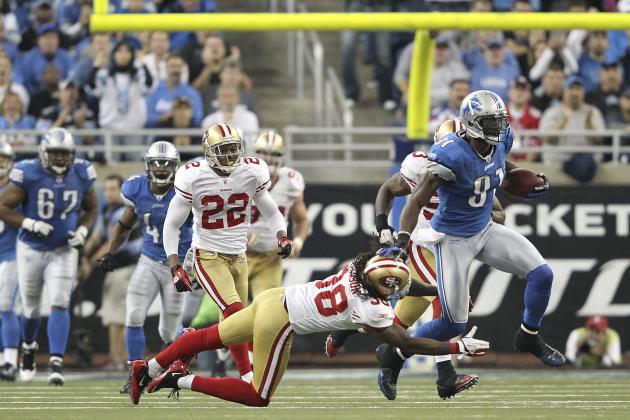 Leon Halip/Getty Images

I'll just go ahead and mention Handshake-gate up front and get it over with: Yes, the last time these teams met, the coaches had some postgame words. Now let's talk about the game.
There is no questioning the talent on each of these teams, and at multiple positions. Put simply, the Lions and 49ers have a lot of good things going, but they also have plenty of question marks. Can the Lions fix their secondary and stay under control this year? Have the 49ers done enough to fix an anemic offense that had to be carried all season?
Because of those unanswered questions, these are two favorites for those looking for a regression candidate from last year. This will be a nationally televised Sunday night game in which both teams will be attempting to prove that their 2011 success wasn't a fluke.
While I'm one who believes the 49ers aren't as good as they looked last season, I don't think they're much worse. This is still going to be a tough test for the Lions—and on the road—the Lions will really wish they had Mikel Leshoure against a hard-nosed team.
I give the 49ers an edge in this one, considering they will likely be coming home to avoid an 0-2 hole after a presumed Week 1 loss to the Packers. They should have the urgency to gut this one out.
Edge: San Francisco (Lions record: 1-1)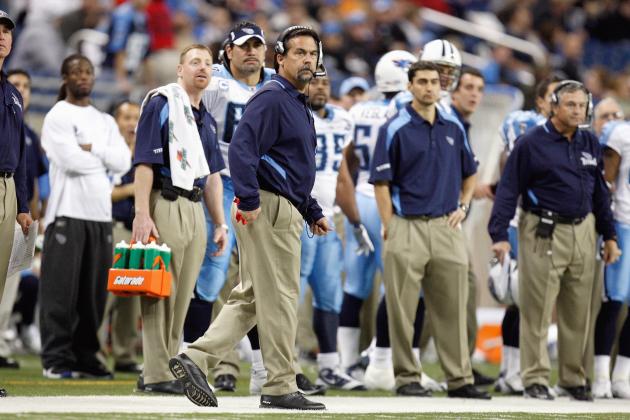 Gregory Shamus/Getty Images

Somewhere on this sideline, Jim Schwartz is yelling at his defense—including Kyle Vanden Bosch and Stephen Tulloch—to tighten up on that Lion offense. But considering the Titans won this game 47-10, he probably didn't have too much to complain about.
Two months later, Schwartz became the head coach of the Lions, and the two teams haven't played since...until now.
Both these teams have undergone a transformation since that game. If you don't believe me, just consider that when this game concluded, the Lions were 0-12 and the Titans 11-1. Less than four years later, the Lions come in as a playoff team and the Titans are rebuilding with a second-year quarterback and head coach.
Tennessee could be poised to make a jump this season but they are sending out Jake Locker at quarterback, who spent most of last season not getting valuable experience while the team fooled around with Matt Hasselbeck.
Now Locker is the starter which means Hasselbeck is most likely the better quarterback because that has been the way the Titans' quarterback situation works out ever since they took Vince Young: whoever is named the starter out of training camp is inevitably the inferior regular-season option.
Though the Lions' secondary isn't likely to confuse Locker too terribly, the pass rush should be able to rattle him into a bad decision or two, and that's all the Lions should need.
The Lions will have their hands full if Chris Johnson returns to his 2000-yard form but will be able to counter with Mikel Leshoure for the first time. Though this should be a tough road test, the Lions have a clear advantage in most areas.
Edge: Detroit (Lions record: 2-1)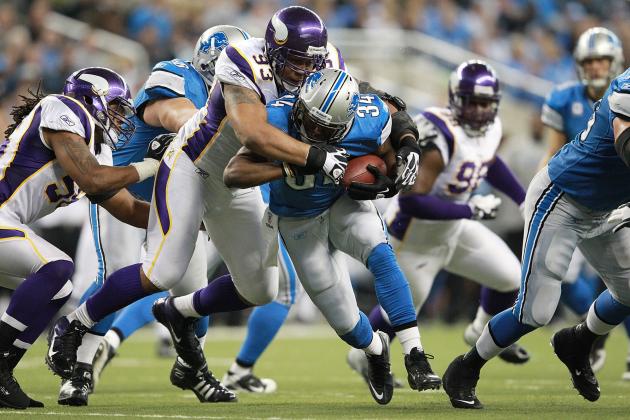 Leon Halip/Getty Images

Speaking of shaky-looking second-year quarterbacks who were drafted far earlier than expected, here comes Christian Ponder.
The Lions' defensive line is likely salivating at the prospect of rushing Locker and Ponder in consecutive weeks, but these divisional games are never a cakewalk.
Of course, it might be a lot easier than usual pending the relative health of Adrian Peterson. Peterson makes the game interesting even though the Lions are the better team, so if he is healthy in this game, they're still dangerous.
If he isn't, the Vikings should lack the firepower to keep up with the Lions.
Edge: Detroit (Lions record: 3-1)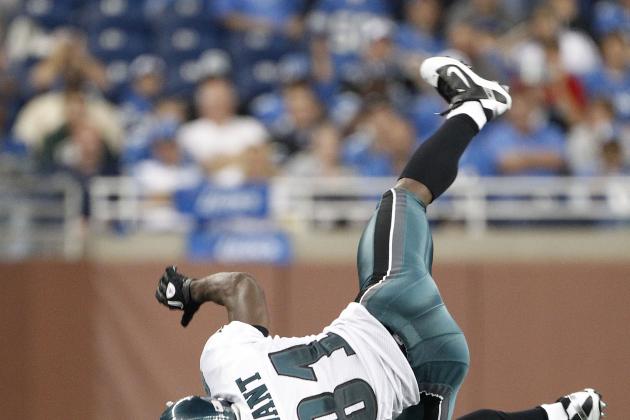 Leon Halip/Getty Images

The good news for Lions fans is that they get to prepare for this one over a bye week and the Eagles might be terrible again.
The bad news is that they have to play this one on the road and the Eagles might not be terrible again.
It is difficult to predict the Eagles' direction this season without first seeing them. Certainly, the team appears talented, but that didn't translate to wins last season, just as Michael Vick's stats don't translate to him being a good quarterback.
If the Eagles are firing on all cylinders this year they will be tough to stop, not just for the Lions but for anyone. However, their offensive line is still a hot mess and that can make it difficult to fire on any cylinders. Oh, and in case you forgot, Cliff Avril rushes from Vick's blind side.
Edge: Detroit (Lions record: 4-1)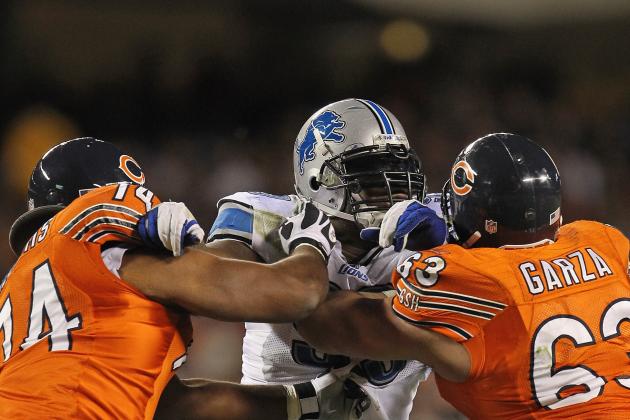 Jonathan Daniel/Getty Images

For the second straight year, the Lions will play the Bears on Monday Night Football.
For the second straight week, the Lions will play a team with a patchwork offensive line.
For the second time this season, the Lions will lose a football game.
Hey, I have as little respect for the Chicago Bears as anyone. Their aging defense is about two injuries away from a complete implosion but by this point Brian Urlacher could be back healthy. Jay Cutler and Brandon Marshall will either have gotten back on the same page or killed one another (or someone else).
It's even worse that I'm predicting the Lions to be 0-2 in prime time against the two teams they'd probably most like to beat. While I don't see the Bears as the better team in this one, I do see them in a better position to win.
While the Lions come into this one off a tough road test against Philadephia, the Bears get an entire bye week to prepare for a game at home after what should be a cakewalk against Jacksonville in Week 5.
The biggest advantage on the Bears' side is that they play a Monday night game at home, a tough atmosphere for the road team to handle.
This will be the fourth of the Lions' six games that they play on the road. When you consider that crowd noise played an integral part in the Lions' victory over the Bears last season (nine false starts), it gets a lot harder to predict another walkover Lions victory.
Edge: Chicago (Lions record: 4-2)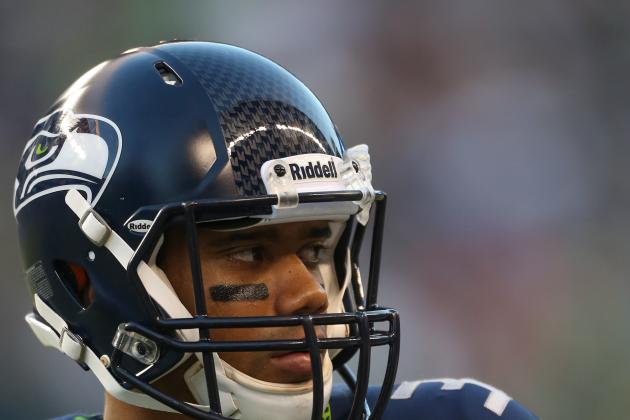 Otto Greule Jr/Getty Images

I was a bit afraid of this game for a while and then the Seahawks announced Russell Wilson as their starting quarterback.
I don't necessarily think that Wilson is going to be a huge bust or anything, but we're talking about the team that threw their support behind Charlie Whitehurst, then Tarvaris Jackson, then threw $10 million guaranteed at Matt Flynn before naming a third-round rookie the opening day starter.
What I'm saying is that this may not be the greatest team in the world when it comes to evaluating quarterback talent.
That said, the Seahawks appear to be a greatly-improved team in a number of areas and it's hard to see Wilson playing any worse than Jackson did last year.
The Lions are better built to rattle younger, inexperienced quarterbacks than veteran ones, as they showed when they picked off Cam Newton four times last season. The Seahawks have a better team overall than the Panthers did last season, but Wilson isn't likely to replicate Newton's rookie season, either.
Edge: Detroit (Lions record: 5-2)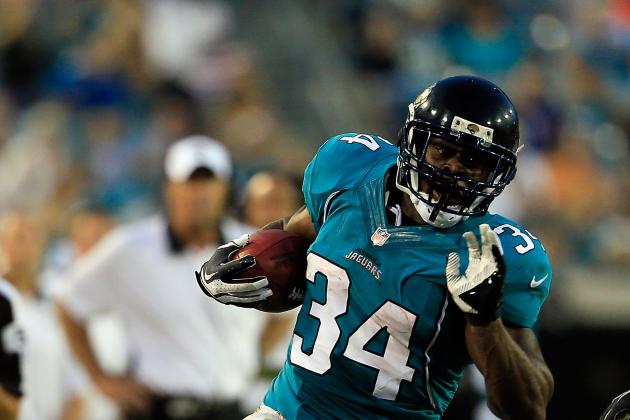 Sam Greenwood/Getty Images

No game in the NFL is ever just an automatic, throwaway win.
Enter mantras about "any given Sunday" and "why they play the games."
If the Lions were to take a look at the schedule and pick out one game to stake their entire season on, this would probably be it. Jacksonville can best be summed up as a team with the following anecdote: The Jacksonville Jaguars' front office entered the 2012 offseason needing to fix a badly broken offense. Their solution? Draft a punter in the third round.
The Lions would probably rather get the Jaguars earlier in the season, while Maurice Jones-Drew is attempting to work himself back into football shape. There should still be enough of a talent gap in this game to make it a relatively comfortable win, even if Jones-Drew is 100 percent.
It will help that there might be more Lions fans in the stands than Jaguars fans, too.
Edge: Detroit (Lions record: 6-2)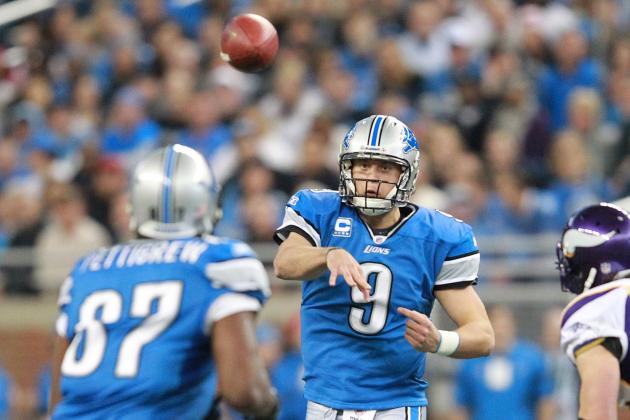 Leon Halip/Getty Images

By this point in the season, Adrian Peterson will likely either be running at 100 percent or shut down.
That basically accounts for the difference between a one-possession or double-digit victory for the Lions. Now that the Metrodome has recently been conquered and ceases to be a graveyard for the Lions, there shouldn't be too much trouble in winning there again.
Or, at least, that's how it should be on paper. Divisional games are rarely so simple. If they were, the Lions wouldn't have needed to clinch a win against the Vikings last year because of a missed facemask call on the final play.
The Lions were a much better team than the Vikings last year. The Lions won both games against Minnesota last season and should again. The Vikings put up a strong fight against the Lions in both games last season, and I guess they will again.
Edge: Detroit (Lions record: 7-2)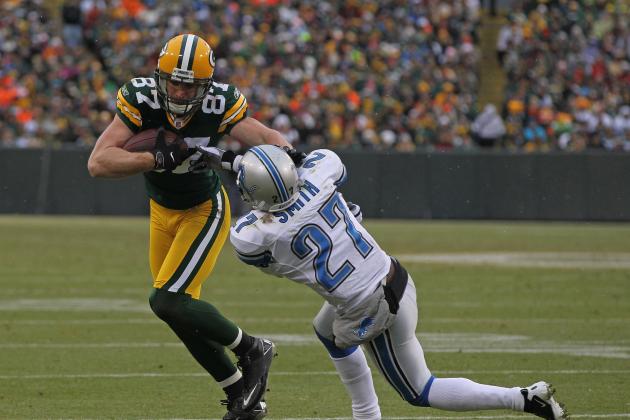 Jonathan Daniel/Getty Images

In many ways, the juggernaut perception of the Green Bay Packers—which I personally share—is one of the greatest reasons to predict their downfall.
Every single year, a team that we can envision being a Super Bowl favorite finishes the season 8-8. I'm not saying that happens here but it's something to keep an open mind to.
That said, another thing to keep in mind is the fact that Aaron Rodgers' Flying Circus will be going up against the Lions' questionable-at-best secondary in this game.
Sure, the Packers have some issues of their own on the defense. The Lions have Stafford-to-Johnson, but that didn't really help the situation last season. Why would it now that the Lions have arguably more questions in the secondary this year and the Packers more weapons?
The Lions need to beat the Packers at some point to assert their position as a top-caliber team but it's not likely to be here. The Packers just match up too well.
Edge: Green Bay (Lions record: 7-3)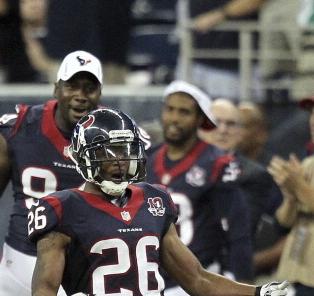 Bob Levey/Getty Images

If the combination of Matt Schaub, Andre Johnson, Arian Foster and a top 10 defense is all intact when Thanksgiving comes around, the Texans could be one of the best teams in football.
Last season, the Texans were built well enough to win a playoff game with their third-string quarterback. Would the Lions have continued to turn in wins with Drew Stanton last season? How about Kellen Moore this year?
True, the Texans are missing Mario Williams from their pass-rushing unit, but he was miscast in Wade Phillips' 3-4 defense anyway. Plus, the Texans could do a whole lot worse than J.J. Watt as a replacement.
So like the Lions, the Texans have a strong pass rush and a dominant QB/WR combo. But unlike the Lions, the Texans also have an All-Pro running back in Foster and a shutdown cornerback in Johnathan Joseph.
If healthy, this may be a team with no real weakness, and that should be enough to extend the Lions' Thanksgiving losing streak.
Edge: Houston (Lions record: 7-4)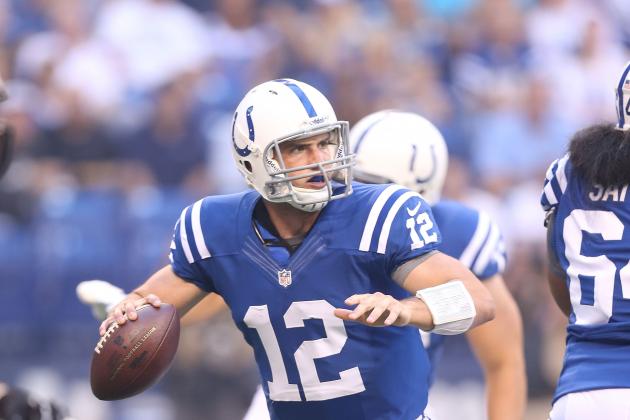 Andy Lyons/Getty Images

The Lions will likely end up facing their three toughest tests of the season (Green Bay twice, Houston) within a four-week period.
Luckily, within that stretch they get a breather of a game against a team that effectively mirrors the 2009 Detroit Lions: New head coach and quarterback after a historically bad season featuring large doses of Dan Orlovsky.
Another way in which the 2012 Colts will mirror the 2009 Lions: Drew Stanton, despite reasonable ability at quarterback, will never play.
It's going to be a year of growing pains for the Colts, who must begin to adjust to life without Peyton Manning. Bright things may be ahead for them with a much younger No. 1 overall quarterback, Andrew Luck, but it will take time. Rome won't be re-built by Week 13, that's for sure.
Edge: Detroit (Lions record: 8-4)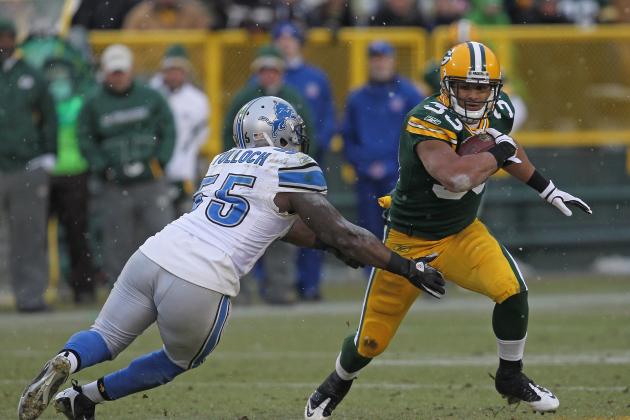 Jonathan Daniel/Getty Images

Anytime I think about this game, I briefly think to myself, "Hey, at least Matt Flynn is gone." Then I shake my head at the absurdity of that thought.
If I were to pick this on feel, I would say the Lions will win because they have to end their Lambeau losing streak.
Realistically, there is no reason to believe that's true. The Lions are going to have a tough time taking one of two from the Packers because everybody is going to have a tough time against the Packers.
The fact is, the odds are in favor of the Lions losing twice. The Packers were a very good team last year and their strengths match up well with the Lions' weaknesses. That doesn't mean the Lions won't win, it's just a lot more likely that the Packers do.
Edge: Green Bay (Lions record: 8-5)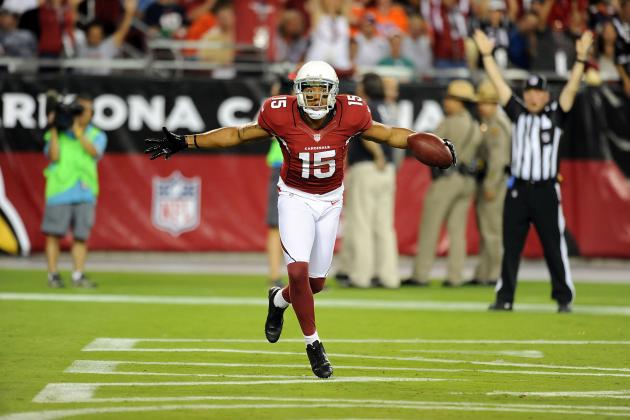 Norm Hall/Getty Images

It's hard to develop a fear of a team that signs Kevin Kolb to a five-year contract worth $21 million guaranteed, only to name John Skelton as the starter a year later.
The Cardinals will be taking their future starting quarterback high in the draft soon enough, but for now, they're stuck with Skelton and they'll try to be happy about it.
Realistically, Skelton might not be so bad, but the Cardinals have the type of offensive line that is difficult for anyone to succeed behind. That means they have the kind of offensive line the Lions like to play against.
Larry Fitzgerald is, of course, always a threat. The Cardinals' defense is quietly making strides, but barring a total collapse, this should be a relatively easy victory for the Lions, who will be playing their last road game of the regular season here.
That said, the jet lag associated with flying out to Phoenix in between two prime time games will make this a sloppy, and likely very close, victory.
Edge: Detroit (Record: 9-5)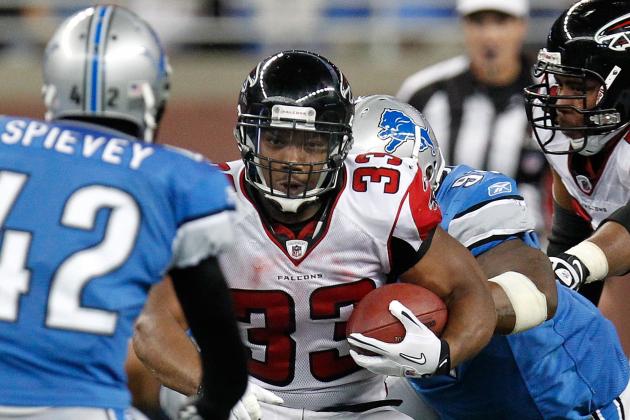 Gregory Shamus/Getty Images

The Falcons need to be more explosive on the field. The Lions need to be less implosive. With playoffs almost assuredly on the line for both teams, who will show that they've grown since last season?
Last year, this game did not decide a playoff spot but it did decide playoff seeding. This year, there is a good chance it decides both.
The game should be a proving ground for both these teams. The Lions need to prove they can beat a playoff-caliber team. The Falcons need to prove that their role isn't simply to fade late every season.
Admittedly, I'm not looking at any of the other games scheduled to take place this week, but having said that, this should be a strong candidate for game of the week. Both teams sport strong offenses, but the Falcons seem to key on the run, while the Lions key on the pass.
Consequently, the Falcons have bolstered their offense with Julio Jones, who seems primed for a breakout year. The Lions have added Mikel Leshoure and Jahvid Best, one of which might even still be healthy at this point in the season.
Both teams also sport strong but inconsistent defenses, comprised of as many weak links as star players.
In other words, this game has all the makings of a barnburner and it wouldn't be an exaggeration to suggest that the loser of this game misses the playoffs.
It's not by much, but I'll give the Lions the edge in this one, primarily because of depth in the two key areas they'll likely need here: wide receivers and defensive line.
Edge: Detroit (Lions record: 10-5)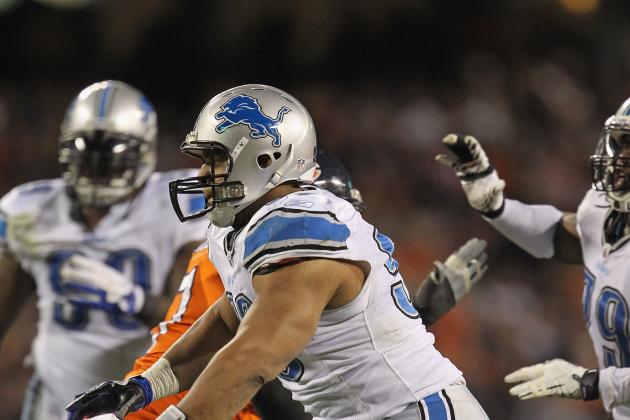 Jonathan Daniel/Getty Images

As I've been saying, any divisional game is tough, regardless of whether the opposing team is any good or not.
In this case, the Bears should be a good team that also happens to be a divisional rival.
That, or they will have completely imploded by this point and this game will be a non-issue. While a total Bears breakdown is certainly coming—it always is—it may not be this season.
Quite the contrary, this might be the year the Bears make some noise and earn Lovie Smith another ill-deserved year or two as head coach. The free agents that the Bears have mortgaged the future on have not started to break down yet and the trade for Brandon Marshall was actually somewhat shrewd, assuming he doesn't become cancerous.
Still, the defense is aging and lacking in young stars to take up the torch. That may not show up in a big way until future seasons but it may show up as fatigue in Week 17 at Ford Field.
Even if the defense holds steady, the offensive line is a patchwork unit that is likely to have a difficult time keeping Jay Cutler upright. Before Bears fans start talking about how the line protection will get better because Mike Martz is gone, allow me to remind you that the season after Martz is usually not an especially good one.
Like this one. Or this one. Or even this one.
Edge: Detroit (Lions record: 11-5)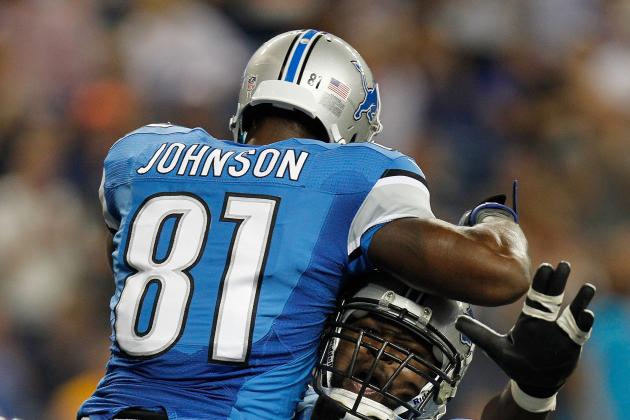 Gregory Shamus/Getty Images

Lions 2012 Regular Season Record Prediction: 11-5
Is it optimistic? Yes. Improbable? Not especially.
For starters, I went with my gut and predicted two losses against the Packers this year. We're talking about a team that lost two games all last season. Granted, one of them was their only playoff game, but they lost to the eventual Super Bowl champs, so it could have been worse.
That I predict only five losses for the Lions and three of them come from within the division is a sign of two things: The toughness of the NFC North and the relative ease of the Lions' schedule this year.
That said, the NFC West, a traditionally soft division, has a lot of questions about it that could make it one of the most improved divisions in the league. If Seattle and Arizona get their quarterback issues figured out, both could be dangerous.
With the Colts, Jaguars and Titans all in different stages of rebuilding, the Lions drew the AFC South at this exact right time, even though the Texans should be among the toughest teams in the league come Thanksgiving.
But ultimately, this is more about the Lions. The team has improved drastically over the last three years and that has as much to do with personnel development as it does replacement. Although the Lions made precious few changes to their roster this year, the key players on the roster should play with a much greater comfort level than last year.
That alone should be worth at least a game's improvement, secondary problems or no.