Colts vs. Redskins: 10 Things We Learned from Indianapolis' 30-17 Loss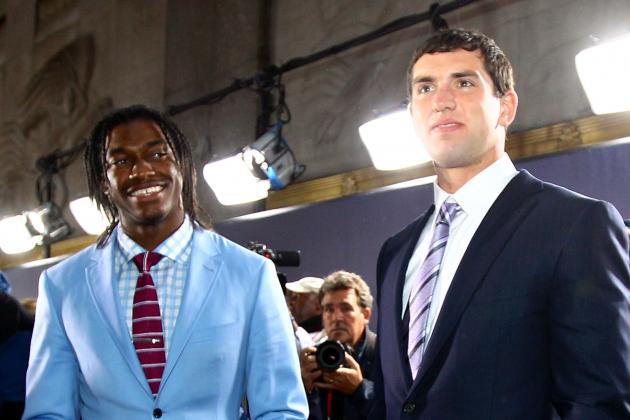 Al Bello/Getty Images
Big hype or big showdown?
It was billed as the biggest rookie showdown this preseason. Andrew Luck, the first overall pick, would square off against the man some viewed as a better quarterback: Robert Griffin III. More importantly, it was a battle between two teams to climb out of the gutter and back to respectability.
Last year, the Indianapolis Colts finished 2-14 with future Hall of Famer Peyton Manning watching from the sidelines. It was their worst season since 1998 when Manning piloted the Colts to three wins during his rookie campaign. The season would lead to sweeping changes in an organization that defined the word "stability" over the last decade.
The Washington Redskins weren't the second-worst team, but only managed five wins in Mike Shanahan's second season. It was bad enough to prompt owner Daniel Snyder to pull the trigger on a trade with the St. Louis Rams for the second overall pick and a chance to draft one of these two quarterbacks.
Both teams badly needed to see positive progress from their starters, as they prepare for the regular season. Indianapolis has struggled defensively, while the Redskins have struggled with consistency. Both teams have issues in their secondary, but hoped to live up to the hype against rookie QBs.
Neither team started strong nor revealed anything telling as they approach the regular season. In the end, the Redskins got the best of the Colts, but neither team was particularly impressive.
Let's dig in a bit deeper to see if we can find any nuggets of wisdom amidst what was an admittedly sloppy game.
Begin Slideshow

»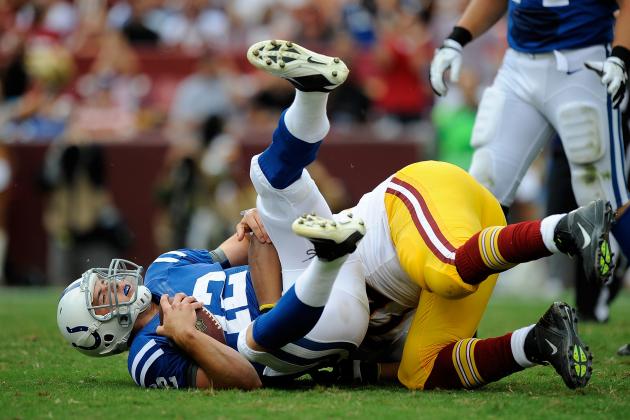 Patrick McDermott/Getty Images
Luck took a beating.
When Colts general manager Ryan Grigson chose to rebuild the offensive line, he decided to go with bigger players than the team typically employed. Rather than a bullish team capable of running the ball, the unit appears to be worse than last year's squad in the run game. As if that's not enough, they did a horrible job protecting Andrew Luck Saturday.
The starting unit averaged less than two yards per carry behind an offensive line that spent all day moving backward. Not only were there no running lanes, but Donald Brown and Vick Ballard were often hit in their own backfield.
The right side of the line was particularly ineffective, doing little to inspire confidence the team could overcome injuries to Mike McGlynn and Ben Ijalana.
At this moment, the offensive line is simply offensive. Seth Olsen gave up two sacks in the same series. Luck was belted repeated after delivering the ball and looked as if he never had time to set his feet aside from a few throws.
It would be generous to say that the offensive line provided a pocket at any time for Luck. The only reasons Luck remained upright are his ability to feel the pressure and his athleticism.
If owner Jim Irsay has his checkbook standing by, as he claims, he'd be smart to look for offensive line help first. There's nothing more dangerous to this team at this moment than losing their franchise quarterback due to poor offensive line play.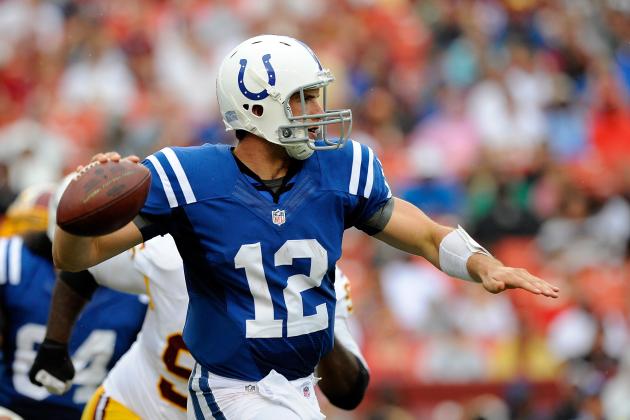 Patrick McDermott/Getty Images

Andrew Luck didn't have the kind of eye-popping outing he had against St. Louis, nor the terrific bounce-back drive he had against the Steelers. In fact, it was the least-encouraging start he's had yet, although he completed 14-of-23 attempts for 151 yards and a touchdown. Overall, it was a quality outing, albeit frightening at times.
Much of the day was difficult for Luck, but his touchdown pass reveals just why the Colts drafted him. Recognizing the pre-snap coverage, he hooked up with fellow rookie T.Y. Hilton, who was paired against single man safety coverage. Hilton got behind the safety, and Luck capitalized with a gorgeous 31-yard completion for a touchdown.
The throw was perfect, but that shouldn't be the only thing that excites Colts fans. The key was that Luck recognized the coverage immediately and knew what to expect. It's that awareness that prompted the team to draft Luck first overall, and he delivered in spades on this strike.
Earlier in the same half, Robert Griffin III stared down a single A-gap blitz and didn't pick it up. That lack of awareness should illustrate precisely why the Colts chose Luck rather than Griffin.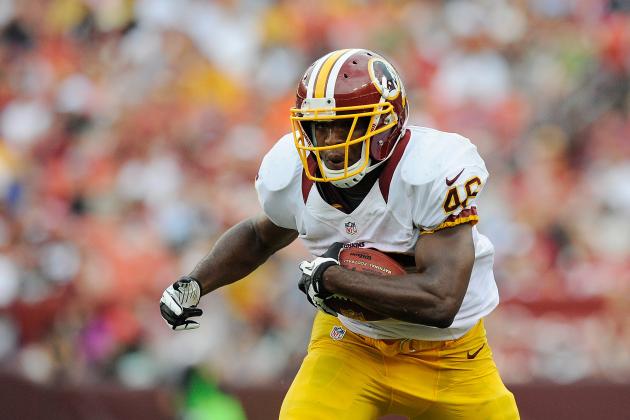 Patrick McDermott/Getty Images
Alfred Morris or Barry Sanders?
Undertaking a defensive conversion isn't always as magical as last year's switch to the 3-4 was for the Houston Texans.
The Redskins, while generally not that explosive offensively, absolutely abused the Colts with their run game. Before the second team took the field, the Redskins were averaging 7.1 yards per carry against the Colts starters.
There were no signs of life defensively either. Even with Dwight Freeney's hand in the dirt in a 4-3 look, they generated little pressure aside from a couple of great inside rushes from Jerrell Freeman. They struggled to set the edge, gave up huge gaps on inside runs and looked as if they lacked direction, energy, and most importantly, talent.
The injury bug continues to haunt the defense as well. Aside from the previously mentioned Powers, they also lost potential starting nose tackle Brandon McKinney. Without a solid two-gap nose tackle, the linebackers were essentially ineffective.
Defensively, I can't see this team climbing out of the gutter until they find a reliable nose tackle and two quality cornerbacks.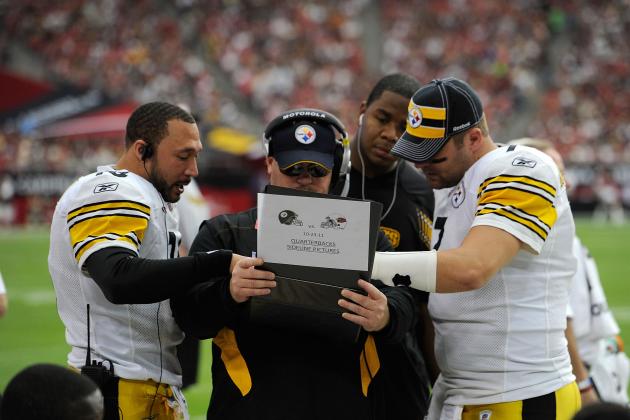 Karl Walter/Getty Images
Nothing has changed.
Few plays stood out offensively for the Colts except Luck's touchdown to Hilton. One that most would rather forget was the Hail Mary to end the first half.
With seconds to go, Arians decided to go for pay dirt and sent Kris Adams and Reggie Wayne on fly routes for a bomb. Adams actually got his hands on the ball, but it was what happened in the pile that should scare Colts fans. After the play, Reggie Wayne was crumpled on the field and limped off as the half ended.
Arians had no reason to call for the bomb. A short pass and a timeout would have put the team in range for a long field goal. Instead, the team risked losing the only veteran wideout on the roster capable of actually helping Luck develop. It was a bone-headed play call—the kind of move that made Ben Roethlisberger a sitting duck during Arians' tenure in Pittsburgh.
That wasn't his only offense. Aside from the formations heavy on pre-snap movement and three-receiver clusters, the team relied heavily on screen passes. If the best this team can muster is a bubble screen, they've got huge problems.
Further, Reggie Wayne was used heavily to block in both the run game and in those screens—not the best use of the only sure thing on the offensive side of the ball. It's a trend the team needs to quickly rid itself of.
Joe Robbins/Getty Images
Luck trusts Brown
Peyton Manning once muttered a phrase to Donald Brown Colts fans will recall for years to come. He shouted it actually. Much has changed since that moment for Brown.
While he didn't get any room to run, Brown did a marvelous job today protecting Luck. The offensive line struggled all day to keep guys out of the backfield, but Brown managed to pick up several blitzes allowing critical time for Luck. While it was hard to find many bright spots in pass protection, Brown certainly did his job.
Many still believe Brown to be a first-round bust, but the team didn't draft him to lead the league in rushing. They drafted Brown to be a shifty, reliable back who could pick up the blitz, and he's living up to that expectation.
It may not be enough to earn a second contract, but for the time being, the team badly needs Brown on the field if they hope for Luck to remain healthy through the season.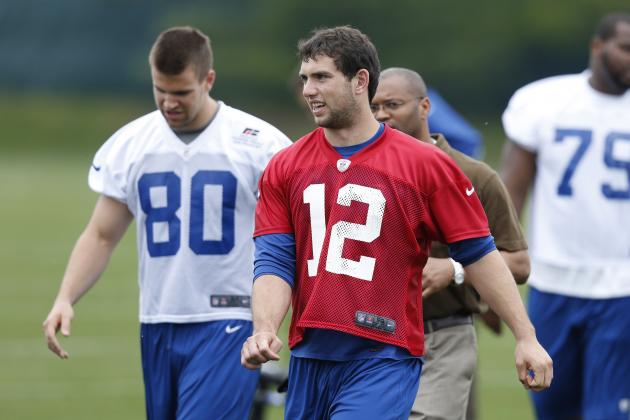 Joe Robbins/Getty Images
They're familiar, but not on the same page.
Colts fans figured Coby Fleener to be an instant success with a fellow Stanford graduate under center, but this preseason has been anything but rosy for the rookie tight end. To date, he's landed four catches in three games for 38 yards. While he's averaging 9.5 yards per catch, it's the rate at which he's been targeted that's surprising.
On the day, Fleener was targeted once and had no catches. He wasn't particularly ineffective just merely absent. Aside from the incompletion, which Luck threw behind him, he was practically invisible. It's hard to imagine these two struggling to get on the same page, but they certainly haven't been the sure-fire combo fans had hoped to see.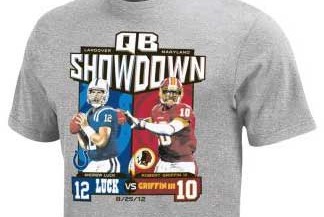 Not a legendary matchup yet
This game had all the hype of a championship matchup, but fizzled beneath the reality that rookie quarterbacks usually aren't very good.
For his part, Robert Griffin III looked as he has throughout the preseason: inconsistent. While he made some terrific throws, his lack of awareness and accuracy issues downfield were the elephant in the room.
He showed ample cause to be drafted second overall, but just as many tendencies that should scare Redskins fans. The most frightening tendency he displayed was watching Jerrell Freeman absolutely barrel through the line toward him with no thought to throw the ball away. He clearly is an unfinished product at this point.
Andrew Luck, on the other hand, simply plays behind a horrible offensive line and with a defense prepared to be among the bottom third in the league. Luck showed tremendous poise and good decision-making throughout the day. He wasn't stellar, but he was effective despite having little support from the run game.
In all, the game failed to live up to the hype. Children in third-world countries will think these two are the top quarterbacks in the game very shortly, thanks to the inevitable t-shirt donation Daniel Snyder will be making this week.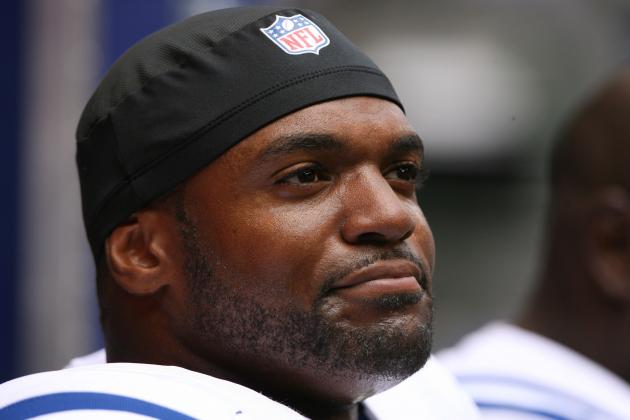 Brian Spurlock-US PRESSWIRE

Even when the team showed a 4-3 look, Dwight Freeney was incredibly ineffective. He didn't get to the passer and overplayed the run several times. It was his longest appearance this preseason but did little to prompt confidence.
Colts fans understandably love Dwight Freeney, but at what cost? This year, Freeney carries a hefty cap tag—$18 million. It's a figure the team would love to erase from their books if they could find a way. With no trade partners, they were stuck with Freeney and his massive payday.
While it's likely that Freeney will play all year for the Colts, his play on Saturday suggests he'd be best used as a situational pass-rusher. He's a liability against the run and in coverage.
It's shaping up to be a sad end for one of the team's most beloved figures. It's clear this is his last year in Indianapolis, and it won't likely be a productive one at that.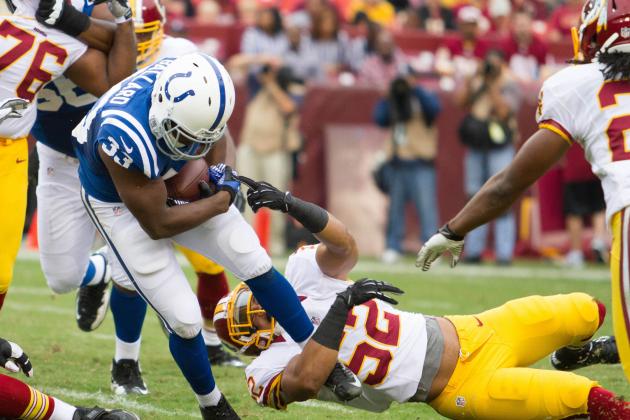 Paul Frederiksen-US PRESSWIRE
Rookie making his mark
Vick Ballard saw the bulk of the work when Donald Brown took a seat. While there was no running room to be found, and he blew a blitz pickup, he appears to have gained the coaching staff's confidence.
He was relieved by Deji Karim rather than Mewelde Moore or Delone Carter as we've seen in the first two weeks. After Ballard, it's clear there's a toss-up for the third, and possibly, fourth spot.
Meanwhile, rookie Griff Whalen followed up his solid performance against the Steelers with a gutsy performance in the second half today. He looked much like a young Austin Collie while taking some shots on crossing routes and still holding onto the ball. He finished the game as the team's leading receiver and seems to have the inside route on the fourth receiving spot.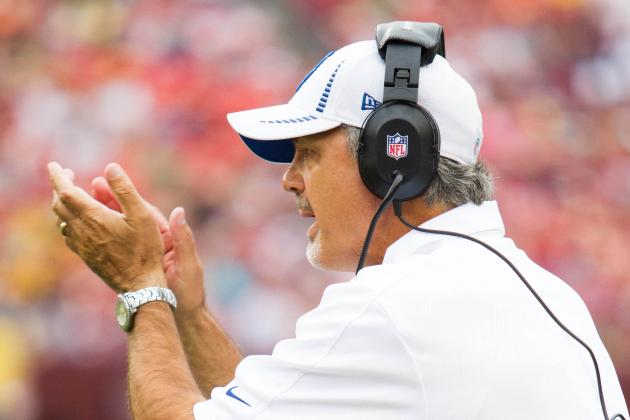 Paul Frederiksen-US PRESSWIRE
Chuck Pagano has much work to do.
The Colts are certainly an improved team. After two weeks, fans were flying high as were predictions for a surprise turnaround. Bettors had even begun taking a chance on the team as contender for the AFC South title.
Those thoughts can now be put to rest as the Colts looked exactly as we should expect a team in transition should: inconsistent.
There wasn't anything in today's sloppy game against the Redskins that suggest the Colts could be a surprise contender to make the playoffs. They were bad defensively, couldn't protect Luck, couldn't run the ball and were choppy in special teams. This isn't a team on the verge of a shocking return to greatness.
The Colts are a team simply learning to play together.