LeBron James Must Remain with Miami Heat for Rest of Career to Cement Legacy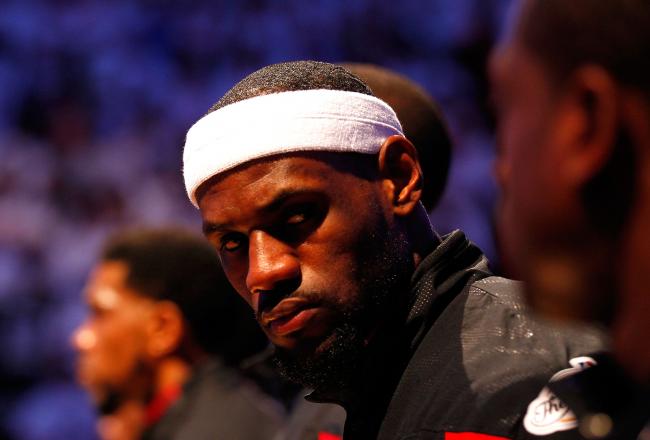 Mike Ehrmann/Getty Images
Remember when LeBron James entertained the notion of a return to the Cleveland Cavaliers? He was hardly jumping all over the idea, but the fact that he didn't rule it out or avoid commenting altogether spoke volumes, and strange volumes at that (via Yahoo! Sports' Adrian Wojnarowski):
Of his return, James said: "I think it would be great. It would be fun to play in front of these fans again. I had a lot fun times in my seven years here. … I'm here as a Miami Heat player, and I'm happy where I am now, but I don't rule that out in no sense.

And if I decide to come back, hopefully the fans will accept me.
Ah yes, because the only thing better than "The Decision" would be the monumentally bizarre decision to come back. Would that TV special just be called "The Indecision"?
Steve Carell makes a "Decision" of his own.
Maybe this is just some kind of mind game James is playing with all those fans-turned-haters in Cleveland, in an attempt to toy with their emotions by creating a glimmer of false hope. We all know how he feels about those haters and their "personal problems."
Or perhaps, as Wojnarowski contends, his intentions are more sincere. If things turn south in South Beach, a return to the partially rebuilt Cavaliers might not look so bad.
By 2013-14 (the first year James can opt out of his current deal), Kyrie Irving will be a well-established star, Tristan Thompson might be looking pretty good and Dion Waiters could be turning into the next Dwyane Wade if all those scouts were right.
After living it up in Miami, the Prodigal Son's return would become such a compelling story that the quasi-Biblical moniker "King James" would give way to a whole other set of metaphors, this time about forgiveness and reconciliation.
It should go without saying fans in Miami might not be so quick to forgive.
Would Heat fans turn on James if he left town?
Though there would be a supernova's worth of irony and poetic justice in such a gesture, it would irreparably stain LeBron's legacy and situate him as the Kim Kardashian of NBA superstars.
The only thing that would be worse than a return home would be jumping ship to another club, perhaps one replacing Kobe Bryant as Dwight Howard's alpha dog or teaming up with Derrick Rose in an attempt to match MJ's legacy by playing for his old team.
If LeBron wanted to go down in history as the NBA's version of Mother Theresa, he could walk his talents over to Orlando and reverse two decade's worth of terrible luck.
Now, that would be some karma!
Should LeBron play out his career in Miami?
As improbable as these scenarios may seem, it once seemed just as unlikely this guy would leave Ohio.
And though Miami Heat fans fancy their team as a collection of immortals, Dwyane Wade is 30 and rather dependent on his athleticism. The rest of the aging supporting cast could presumably be retrofitted with some younger pieces, but there are no guarantees in this business.
James will turn just 28 in December, and by the looks of him, he could play for another 100 years without too much trouble. Will he really want to stick around Miami until Wade is 40, or even 35?
How will Chris Bosh fare when that first step slows down and he's reduced to mid-range jumpers?
James will still be the best player on the planet, but his second and third options may no longer look quite the part. Sticking around for the duration of another contract might not be an especially attractive option.
But, his legacy will depend on it.
Though he may never admit it, in his heart of hearts, you have to believe Shaquille O'Neal would have preferred to retire a Los Angeles Laker rather than chasing rings around Miami, Cleveland and Boston.
Instead of going into the great beyond of TNT halftime analysis wearing his dignified Purple and Gold, we'll always sort of remember Shaq inexplicably hobbling around a new team every season like Gollum looking for his "precious" ring.
And that's too bad. The man's legacy shouldn't have been tarnished like that. He was the reason the Lakers won those first three titles no matter what you think of Kobe Bryant.
If James appears fated to come up short on this promise, he shouldn't waiver.
LeBron got his title. If he's going to get six or seven more, he needs to do so with Miami. It's not that he'll be perceived as any less-deserving should he do so elsewhere. We all know by now that he's the MVP no matter where he plays.
It's just that there's something sacrosanct about holding steadfast through an organization's storms, seeing it through the good times and bad alike.
If fans who do otherwise are labeled "fair-weather," why are we so quick to forgive athletes who abandon those fans and their teammates alike? When the Heat are starting to feel a bit more like the 2009 Cleveland Cavaliers, James should be patient.
He made his decision, and he should stick with it.
This article is
What is the duplicate article?
Why is this article offensive?
Where is this article plagiarized from?
Why is this article poorly edited?

Miami Heat: Like this team?