Oakland Raiders Finally Have Direction, but Still Years Away from Contending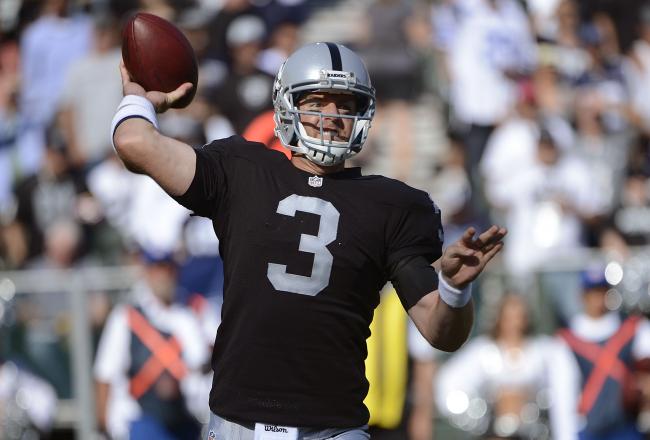 Thearon W. Henderson/Getty Images
The Oakland Raiders haven't been contenders for almost a decade and—while things are looking up under new management—fans will need to wait a few more years before their team is finally back on top.
This fact doesn't exactly make Raiders fans happy. They've been waiting for a long time, and the AFC West is perennially up for grabs. With so much traded for Carson Palmer and so much young speed on the offense, shouldn't the Raiders be ready to win now?
No, not even close.
Great man though he was, Al Davis left the Raiders bereft of talent. The same method of operations that made Davis a Hall of Fame coach didn't work the same way in today's NFL. As other teams evolved, the Raiders' talent level degraded as old coaches were recycled again and again.
Enter Reggie McKenzie and Dennis Allen.
McKenzie spent years in Green Bay, learning from two of the best personnel men ever—Ron Wolf and Ted Thompson—before coming to Oakland. McKenzie also played for the Raiders and knows what history and culture mean to this team and to this fanbase. He's made it clear that things are going to be done a new way in Oakland...the right way.
Allen doesn't have quite the same pedigree that McKenzie has, but the laundry list of coaches he's served under is almost as impressive—Dan Reeves, Sean Payton, John Fox. What Allen knows about defense, he's learned from guys like Fox, Wade Phillips and college head coach R.C. Slocum. Allen hopes to bring that "Wrecking Crew" mentality to Oakland.
Those aren't retreads, and those aren't the "same old story" that Oakland has been used to in the past. McKenzie (49) and Allen (39) are rising stars in their respective positions. All signs point to these two men being competent and able to return the Raiders to glory.
Just, not yet.
The Raiders have a long way to go before they're consistent contenders in the NFL.
Carson Palmer, Average Quarterback
When Al's son, Mark Davis, traded for then-retired Palmer, it was a historic day in the NFL. Mike Brown had just gotten the better of a deal!
Seriously, Palmer's once average skills had declined to the point where many Bengals fans were glad he had retired. One look at the Bengals under Andy Dalton should tell Raiders fans all they need to know about Palmer.
In case that isn't enough, here it is visually:

Palmer's skills—the same ones that were never that good in the first place—are on the decline and have been since some serious overachieving in 2005.
Last season, Palmer's 80.5 rating was 19th in the NFL, but his yards per attempt skyrocketed to fourth in the NFL at 8.39. The Raiders have surrounded Palmer with a lot of deep threats and a vertical offense that emphasizes taking chances for big chunks of yards. Jason Campbell experienced a similar, but smaller, jump when he arrived in Oakland.
However, Palmer hasn't always been the best at taking chances as a passer. His touchdown-to-interception ratio was as bad as it's ever been in the NFL. Elite passers can throw two or three times more touchdowns than interceptions, but Palmer has never been that guy, and it only got worse in Oakland.
Now, the common excuse is that—because of the lockout and his retirement—Palmer was rusty last year and will drastically improve in 2012. Yes, that may be true, but don't expect Palmer to be someone he's never been before.
At 32, Palmer is on the downside of his NFL career.
Most quarterbacks peak at 30-31 and almost all have completely diminished skills (if not retired) by 35-38. This gives the Raiders, potentially, two or three good years (by Palmer's standards), but it would be unrealistic to expect him to make any serious jump in production beyond his career averages.
If fully healthy, Palmer can be reasonably expected to pass for around 3,000 yards with around 20 touchdowns and 20 interceptions, a passer rating in the mid to low 80s and a solid yards per attempt.
Those numbers would make Palmer one of the best Raiders quarterbacks in a long time, and also a very average quarterback in the NFL.
Below-Average Help Around Palmer
In case you're interested, the 2005 Cincinnati Bengals had Chad Johnson and T.J. Houshmandzadeh in their primes and a young Chris Henry and Kevin Walter. The Bengals also had a great running game with Rudi Johnson's 1,400-plus yards and the only season Chris Perry was healthy.
While it may be hard to remember pre-Ochocinco or what an incredibly steady receiver Houshmandzadeh used to be before he flamed out in Seattle, that was a great crop of talent around Palmer.
The 2012 Raiders have nothing close to that group.
Darrius Heyward-Bey still has loads of potential but needs to prove he's more than a one-dimensional deep threat. The same can be said for both Jacoby Ford and Denarius Moore.
All three of those receivers may have the tools, but they have yet to show they can be craftsmen. Raiders fans may expect all three to pan out, but it is more likely that the Raiders will need to add a true No. 1 receiver down the road.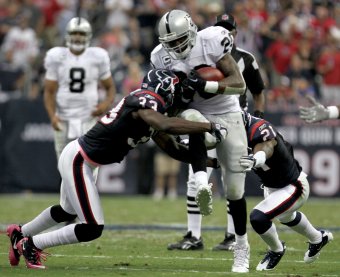 Thomas B. Shea/Getty Images
Running back Darren McFadden is the only elite offensive player on this team, and even that comes with modifiers. Can he stay healthy?
The Raiders will need 200-plus carries from McFadden if they want to win football games, but he's only accomplished that once in his career. The team no longer has Michael Bush to fall back on—if McFadden goes down, the losses will pile up.
When healthy, however, McFadden is an absolute beast in both the run and pass game and may be one of the most dynamic players in the game.
Raiders fans like to bring up Marcel Reece, who could help shoulder some of the load with Bush gone, but fullbacks are a dying breed in the NFL, and even if Reece's numbers double from last year, he's still putting up average production (at best) compared to other weapons around the league.
The offensive line is a work in progress. Mike Brisiel will be a good addition to the group, but no one is even close to being in the Pro Bowl discussion. Jared Veldheer and Stefen Wisniewski both have plenty of upside but have been inconsistent as pros.
Besides McFadden, the Raiders don't have anyone who is keeping defensive coordinators up at night, and that needs to change before the Raiders return to the playoffs with any consistency.
A Much-Needed Change is Coming on Defense
Last year, the Raiders were 29th in total defense, giving up 387.6 yards (27.1 points) per game. Unlike some other terrible defenses like New England, Green Bay and New Orleans, the Raiders can't say that those numbers were inflated due to extremely quick-scoring offenses.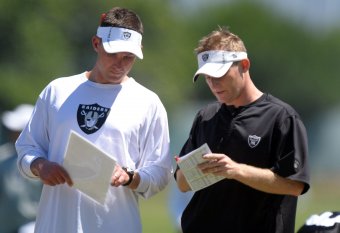 Kirby Lee-US PRESSWIRE
Other than an 11th ranking in 2010, the Raiders have been abysmal on the defensive side of the ball since Rob Ryan left town. It's hard to get truly excited about Jason Tarver's first "big boy" job in the NFL, but he helped worked some serious magic at Stanford and is considered a rising star.
Yet, even if John Madden himself came back to coach this unit, it still wouldn't have the talent to compete with NFL offenses. Former linebacker and current general manager McKenzie has already begun that process, adding three starters in 2011 free agency—Ron Bartell, Shawntae Spencer and Phillip Wheeler.
The problem is, while those players represent an increase in talent from the year before, they also represent three (very) low-risk, low-reward situations for the Raiders. Those aren't stars; those are patches.
Stars in the NFL, by and large, are taken in the draft, and McKenzie had very little draft capital to work with in 2012. If the offense can continue to plug along on the downside of Palmer's career, expect McKenzie to spend a lot of time, effort and draft picks on restoring the defensive side of the ball to a unit worthy of the Black Hole.
The best player on the Raiders defense is Richard Seymour, who racked up six sacks and 25 QB hits last season. However, Seymour is 32 and is losing pass-rushing partner Kamerion Wimbley. It will be interesting to see how much longer Seymour can put up numbers as he becomes the sole focal point.
Overall, McKenzie and Allen look to have the right direction to lead the Raiders to bigger and better things in the future, but that future is not now. The Raiders need to amass more talent through the draft and truly strengthen the core of this team.
The Raiders are on their way, the only thing fans need now is patience.
Michael Schottey is the NFL National Lead Writer for Bleacher Report and an award-winning member of the Pro Football Writers of America. Find more of his stuff alongside other great writers at "The Go Route."
This article is
What is the duplicate article?
Why is this article offensive?
Where is this article plagiarized from?
Why is this article poorly edited?