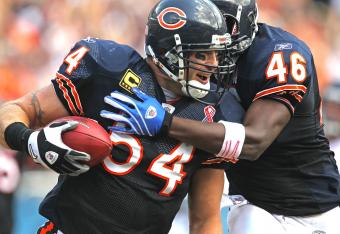 Brian Urlacher walked away from the NFL on Wednesday, having announced his retirement via his official Twitter feed.
The 6'4", 260-pound linebacker left behind an incredible legacy: He played 13 seasons and 182 games for the Chicago Bears and was one of the best linebackers in football for almost the entirety of that span.
Urlacher set franchise records for linebackers in solo tackles (1,052), assisted tackles (306), sacks (41.5) and tied Dick Butkus for second place in interceptions (22). Among all defenders, Urlacher's tackle totals are tops in Chicago Bears history. Urlacher's sack total is sixth best, and he's tied for 10th in interceptions.
With eight Pro Bowls and four first-team All-Pro appearances, Urlacher is unquestionably one of the best linebackers of his generation and should be mentioned among the all-time greats. The question is not if he'll be inducted into the Pro Football Hall of Fame, but if he'll be inducted on the first ballot.