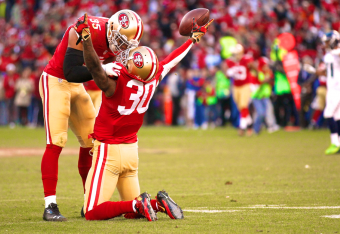 USA Today
With only a few more weeks left in the season, the San Francisco 49ers truly control their own playoff destiny.
It's a good place to be.
Defeating the vaunted Seattle Seahawks 19-17, the 49ers established their status as one of the elite teams in the NFL.
The Seahawks, coming off an epic home win against the New Orleans Saints, fought hard against the narrative that they were vulnerable on the road, but that's exactly how they looked against an increasingly physical Jim Harbaugh-coached 49ers squad.
The two teams spent most of the matchup feeling each other out. The old boxing analogy works well for these two heavyweights as they traded jabs for most of the game until a long Frank Gore run in the fourth quarter provided the haymaker both teams had been looking for.