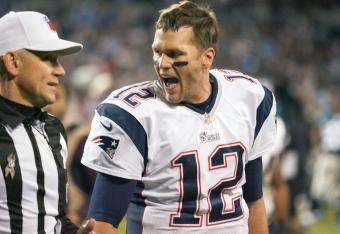 Jeremy Brevard-USA TODAY Sports
Leadership.
It's in the confident barks and finger-pointing of Peyton Manning as he directs his squad at the line of scrimmage. It's in Tom Brady's cool demeanor as he leads his team down the field, and the anger he turns at a referee who's robbed his team of victory.
Leadership jumps off the screen at fans and media alike; it's the unmistakable passion of a star player who commands respect.
What's the antithesis of leadership? Well, that's easy: immature outbursts like Dez Bryant's sideline temper tantrum during a Week 8 loss to the Detroit Lions or blame-shirking like Robert Griffin III's anybody's-fault-but-mine comments after a failed Week 11 fourth-quarter comeback against the Philadelphia Eagles.
Teams that have great leaders win, and teams that have poor leaders in key positions are doomed to fail. It's a story we tell ourselves before, during and after every NFL game.