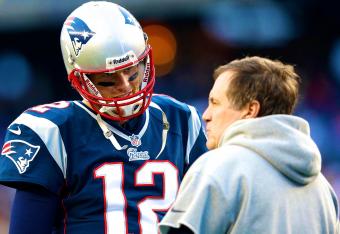 Getty Images
There is no player-coach relationship in sports so essential as an NFL quarterback and his head coach.
It's the case for many reasons, but mostly because the buck often stops on either of those individuals' desk when things go awry on a football field. The destinies of a head coach and his quarterback are often intertwined, as a bad coach can mess up a good quarterback, and a bad quarterback can easily get a good coach fired.
The relationship needs to work functionally as well. The quarterback is the extension of the head coach out on the field—both in terms of execution and emotion. Ask most head coaches, and I'm sure they'd tell you that they would love to be out on the field, leading their team. With a good relationship with their quarterback, in many ways they are.
In every other major sport, there's no similar relationship so important. College coaches can chew up and spit out quarterbacks as much as they want, as long as they have another prospect in the pipeline. In the NBA, superstar players are at a premium, and the relationship with the head coach is often balanced on the basis of how good said player is. Pitchers and managers barely even have to get along in baseball. Heck, when you see a guy and half the time he's yanking you off the mound, who would?