What We've Learned About Every Positional Unit so Far in Seahawks' Preseason
Wilsooooonnnnnnnn!!!!!
Otto Greule Jr/Getty Images
The first Seahawks preseason game is in the books. For the most part, the game was everything fans expected and more, matching the hype that was built up prior to it.
In this article, we're going to look at each positional unit the Seahawks had on the field, and record a few observations for each unit. We'll primarily try and analyze the starters, but since backups saw the majority of the playing time, depth will be a large part of the discussion as well.
So, without further ado, let's get into it. We'll start by looking at the position that everyone is keen to talk about, the one that has been under the most scrutiny so far this preseason.
Kicking Specialists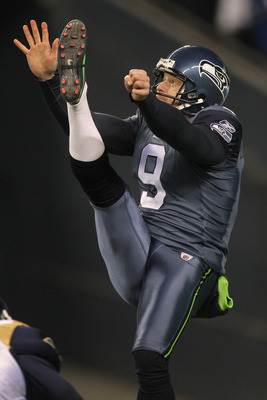 Jon Ryan, Yoga Teacher.
Otto Greule Jr/Getty Images
You thought I was going to talk about quarterbacks, didn't you? I do apologize, but you'll have to read through til the end of the slideshow (or click the "next" button a bunch of times) to see that discussion. Muahahaha.
Anywho, let's talk about kickers.
Overall: Can't complain.
What we learned:
1) Our punter is a stud.
Jon Ryan boomed some quality punts, again showing why is a top five punter in the NFL.
2) Both our kickers can do their jobs
Carson Wiggs, the rookie undrafted free agent, actually surprised me a little. He booted kickoffs deep into the opposing endzone, resulting (most often) in touchbacks. Steven Hauschka struggled to do the same in the regular season of 2011.
Speaking of Hauschka, the incumbent kicker didn't miss any field goals on Saturday night, so that's good.
Defensive Backs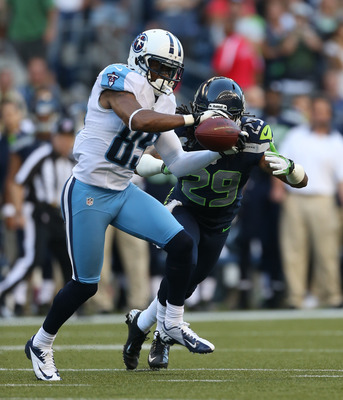 I eat footballs for breakfast. And lunch. And Dinner.
Otto Greule Jr/Getty Images
Overall: They are who we thought they were!
What we learned:
1) These DBs look filthy.
The first play of the game involved Earl Thomas getting in on a play and tipping the ball in the air, allowing a patient Brandon Browner to take it to the house for a 23-yard score.
In addition, Richard Sherman excellently shadowed a route and picked off a Matt Hasselbeck overthrow.
Overall, I'd say these DBs are elite. The "Legion of Boom" will be nightmarish for opposing quarterbacks this year.
2) The depth is there.
Most notable was Jeremy Lane, who despite being flagged once for pass interference, played with tenacity and grit. He forced a fumble and was in on many plays during the second half. Marcus Trufant also recorded a couple of pass breakups, and provides great veteran depth for the team.
3) Not much news on the backup safeties, but maybe that's a good thing.
The backup safeties didn't get much chance to do anything, as backup QBs Jake Locker and Rusty Smith took very few shots downfield. If anything, let that stand as a tribute to the coverage skills of those men.
Linebackers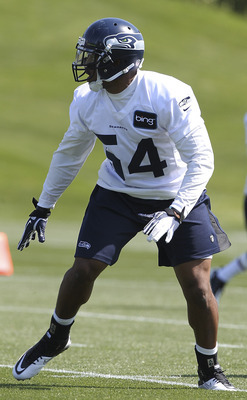 He's doing everything he can to earn a starting spot.
Otto Greule Jr/Getty Images
Overall: Put some of your worries to rest
What we learned:
1) Bobby Wagner is a lot of things...
...and some of those things are athletic, anticipatory and instinctual. Wagner made a couple plays early in the game where he showed a great ability to read plays and get in the backfield early. Now he just needs to work on his tackling technique and convert that great read into a great tackle for a loss. The coverage skills are definitely his strong suit.
2) K.J. Wright is out to impress
Whenever Bobby Wagner made a play, Wright was right (ha!) alongside him. He is showing improved pursuit ability and has definitely improved his speed and reaction time over the offseason. Wright has the potential to be Seattle's best linebacker this year, and a core piece of an elite defense for years to come.
3) Don't sleep on Heath Farwell
The man who led the NFL in special teams tackles last year made some great defensive plays on Saturday. He forced a fumble with a superb punch out move, then hustled to the ball to win the ball for the Seahawks. It was a remarkable show of recognition and athleticism that could (and should) land Farwell some playing time in 2012.
Defensive Line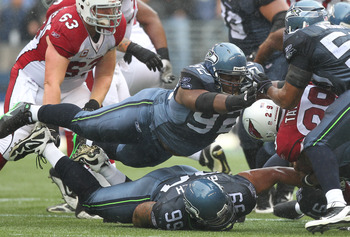 SuperRed
Otto Greule Jr/Getty Images
Overall: We've got some teeth up front.
What we learned:
1) Jason Jones is a monster.
While the first string was in, he routinely used his speed to get in the backfield, generating tackles for loss and holding calls. The pass rush overall wasn't the best, but look for Jason Jones to get regular penetration in 2012.
2) Seattle can stuff the run.
When the first unit was in, Chris Johnson was held to just eight yards rushing (and he had a long run of nine yards). Big Red Bryant, Brandon Mebane, Chris Clemons, and Jason Jones (filling in for Alan Branch) are not friends to running backs.
3) Greg Scruggs is a sleeper to make the team.
When his number was called, he excelled, recording multiple tackles for loss and being a generally disruptive force. His performance did come against backups, but those are the preseason displays that get you on a roster.
Offensive Line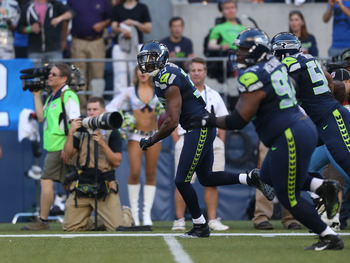 Not a picture of the offensive line, but a sick picture nonetheless
Otto Greule Jr/Getty Images
Overall: I really, really hope that no starters get hurt.
What we learned:
1) The starting offensive line is vastly improved from last year.
Matt Flynn had time in the pocket, and the only sack they allowed was a "coverage" sack. Even backup running backs Leon Washington and Robert Turbin saw success behind this line. If they can stay healthy, expect the offense to improve by leaps and bounds in 2012.
2) The backup offensive line needs work.
False start penalties, missed assignments, and poor cohesion all contributed to the run game being all but ineffective in the second half. I have faith that Tom Cable will mold some of the younger backups into decent players (like he almost always does), but the old veterans like Alex Barron and Frank Omiyale are long shots to make the team.
Wide Receivers
I can't get over how cool our new uniforms are.
Otto Greule Jr/Getty Images
Overall: Not bad, but keep in mind that the starters weren't in.
What we learned:
1) These receivers can block, and they can block well.
Kris Durham gave some great crack back blocks on running plays, Golden Tate further demonstrated his consistently good blocking abilities, and Charly Martin delivered the block that allowed Russell Wilson to run into the endzone. These receivers are oft maligned and labeled as underachievers, but their blocking abilities are nothing to scoff at.
2) Ben Obomanu is struggling to get open.
Obomanu has been a fan favorite the past few years, but he's getting older and less efficient. He never was the best receiver in the first place, but he just worked exceptionally hard. His special teams contributions are minimizing, making him an expendable player. I don't think good ol' Obie will make the 53 man roster.
3) The next preseason game in Denver should be great fun...
...with the likes of Terrell Owens, Doug Baldwin, and Ricardo Lockette out there running routes and making plays.
Tight Ends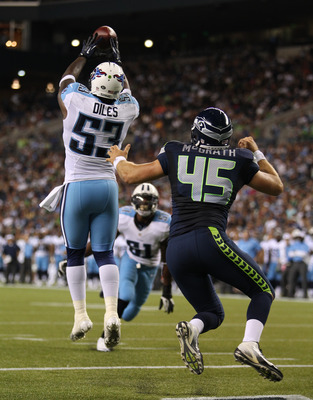 Bummer.
Otto Greule Jr/Getty Images
Overall: Plenty of questions, not many answers
What we learned:
1) Zach Miller has a concussion.
Miller was playing very well before he slammed his head against the turf. The injury is minor, but the cumulative effects of Miller's career concussions could affect his style of play. That would be very bad for Matt Flynn, who seems to be developing a nice rapport with Miller.
2) Anthony McCoy has bricks for hands.
Perhaps we already knew this. He dropped a wide open Flynn pass on third down, effectively killing a drive. He also dropped a Wilson pass later in the game. We saw McCoy do the exact same thing in 2011, to the chagrin of many fans. McCoy will make this team, however. His blocking abilities are invaluable, and he is the second best blocking tight end on the team (after Zach Miller).
3) Sean McGrath would be a great addition to this squad.
He is aggressive, has good hands, and has lit it up in practice so far. He's a direct counter to Anthony McCoy—he can't block all that well but can catch most everything you throw at him.
Running Backs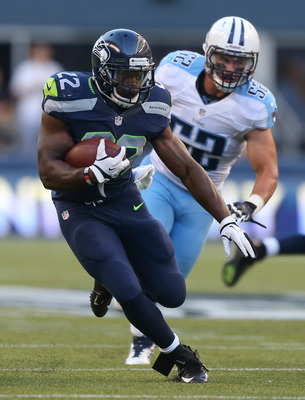 Seahulk.
Otto Greule Jr/Getty Images
Overall: They run hard. Very hard.
What we learned:
1) Leon Washington is running harder than he did at any point last year.
He's a fan favorite and a great return man, but Leon's third down running left a lot to be desired in 2011. Already in 2012 he is showing better decision making, running with noticeably greater determination than before. The fact that he's most likely on the roster bubble is definitely contributing to this.
2) Robert Turbin is going to be fun to watch.
The Utah State product hit holes hard and ran low to the ground on Saturday. Many will point to his low yards per carry as an indicator that he's all hype, but keep in mind the fact that when the second and third string linemen came in, Turbin was met in the backfield by multiple defenders regularly.
3) Michael Robinson's Pro Bowl berth was no fluke.
Even in limited preseason action, Seattle's starting fullback effectively decimated would be tacklers, and paved the way for the backup running backs to pick up nice yardage on multiple runs. Robinson might just block his way into another Pro Bowl this year.
Quarterbacks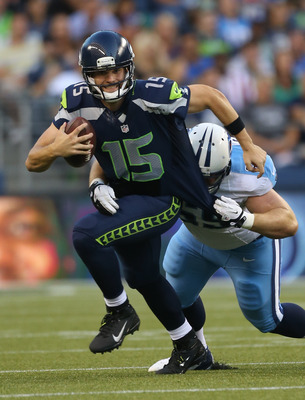 Ewww! he has cooties!
Otto Greule Jr/Getty Images
Ah, finally, the coup de gras.
Overall: Bye bye, Tarvaris Jackson
What we learned:
1) Matt Flynn will take what a defense gives him.
Due to a lack of deep threat receivers (Ricardo Lockette, Doug Baldwin, Terrell Owens, Sidney Rice), the Titans employed a lot of Cover 2 zone on Saturday. This effectively took away deep passes, but left soft spots five to 10 yards down the field. Flynn took full advantage of this, and completed all but two of his passes (and one incompletion was an egregious drop by Anthony McCoy). Don't assume that this means he's afraid to throw downfield.
On the contrary, what earned him the starting spot for Saturday's game was actually his downfield accuracy shown in practice. Matt Flynn was playing smart football, perfectly employing the West Coast schematics. His lone interception was a poor decision, but it was not entirely Flynn's fault. The play was supposed to involve a play fake, but the running back immediately went into blitz protection mode, nullifying the fake. The middle linebacker, who Seattle targeted with the fake, did not hesitate as was intended but instead dropped into coverage to make the play. In essence, it was more of a broken play and a smart read by linebacker Colin McCarthy than a Flynn screw up.
2) Russell Wilson is electric, dynamic, confident, and all that other good stuff.
Wilson made great throws for the most part, but his performance was marred by the redzone interception. That pick was a simple rookie misread and subsequent underthrow that Wilson will grow out of. His ball to Edwards was a tad underthrown as well, but Wilson's recognition of single coverage and trust in his playmaking receiver are important quarterback traits that he displayed quite well on that play.
He did roll to his right almost exclusively, which was a trick that worked in college but won't work quite as well in the NFL. If we can see more pocket throws from Wilson, perhaps against first string defenders, we will have a better gauge to see if Saturday's performance was fluky or if Wilson really does possess that talent that we all think he has.
3) Tarvaris Jackson can't be feeling good after this game.
Both quarterbacks delivered performances that Tarvaris couldn't emulate in the 2011 preseason or regular season. Pete Carroll likely won't get rid of him just yet, but his days in Seattle are assuredly numbered.
Keep Reading

Seattle Seahawks: Like this team?