Why the Boston Celtics Boast the NBA's Best Fanbase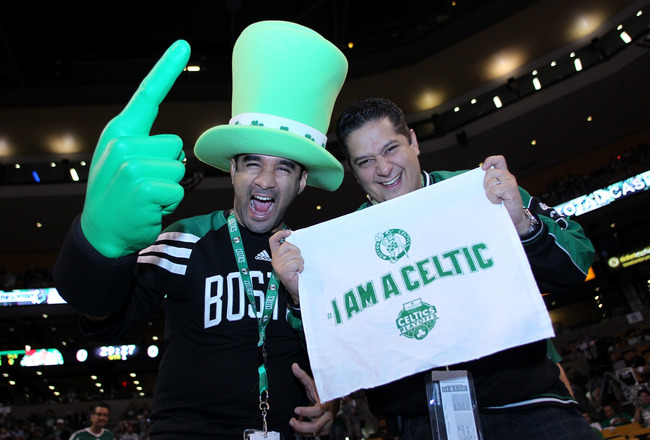 Celtics fans have stood by their team through ecstatically-high peaks and painfully-low valleys.
Jim Rogash/Getty Images
Boston Celtics fans root for a franchise that is unlike almost any other in major American sports.
Several teams have experienced a comparable level of dominance to that of the great 1960s, 1980s and late 2000s Celtics' teams. The New York Yankees, Pittsburgh Steelers, Dallas Cowboys and Montreal Canadiens have all enjoyed extended runs as the preeminent teams in their respective sports.
There are also plenty of teams that have scuffled through year after year of mediocrity like the Celtics from the early 90s up through the 2006 season. The Chicago Cubs, Boston Red Sox, Cincinnati Bengals and essentially every Cleveland team have been through a decade or more of irrelevance at some point, with fans able to do little more than dream about a championship run for their hometown squad.
Very few fanbases have experienced both of these extremes to the same extent as Celtics fans.
Through all of these peaks and valleys, fans of the Green have stayed faithful to a franchise that has brought home more titles (17) than any other team in the NBA.
In the following slides, I'll outline my reasons for believing that, on a whole, Celtics fans are the best in the NBA.
Ardent in Defeat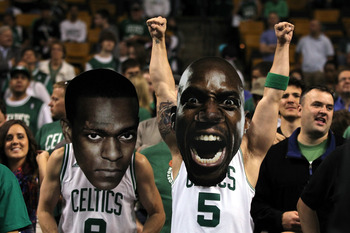 Jim Rogash/Getty Images
With Lebron James' redemption and rise to NBA lordship in the past few months, many NBA fans have forgotten that his Miami Heat were facing elimination against the Boston Celtics in Game 6 of the 2012 Eastern Conference Finals at Boston's TD Garden.
James played one of the best games of his career (45 points, 15 rebounds) and the Celtics were blown out on their home court, 98-79.
Though James' performance was historic (and ultimately marked the beginning of his unstoppable play that continued through the NBA Finals), there was one other remarkable thing about that game.
With just a few minutes left to play and the game well in hand for the Heat, the hometown crowd began a short, simple chant.
"Let's Go Cel-tics! Let's Go Cel-tics!"
The chant is one you'll hear at most Celtics home games, but to hear it for minutes on end in garbage time of a wildly disappointing game (arguably a no-show by the home team) was a powerful and unique expression of support by the Celtics crowd.
Coach Doc Rivers commented on the chanting after the loss, saying,
"Did you hear our crowd the last three minutes of the game? What other crowd in the NBA does that? It's a terrific place to play. The fans were unbelievable. They did their part tonight. We just didn't do ours."
While fans of other teams pile out of the stadium during a blowout or boo their favorite players when they're struggling, Celtics fans set themselves apart through this relentless expression of support for the hometown team.
Sticking Through the Lean Years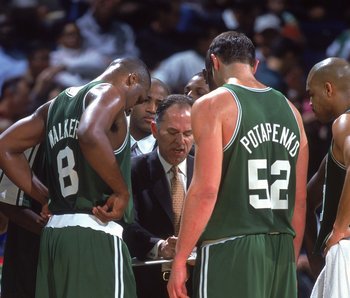 Tom Hauck/Getty Images
Though the Celtics are at the top of the leaderboard when it comes to total NBA titles, they are no stranger to NBA limbo.
From Hall of Famer Larry Bird's retirement in 1992 until the arrival of PF Kevin Garnett and SG Ray Allen in 2007, the Celtics were, quite simply, irrelevant.
They made the Conference Finals in 2002, but lost in six games to the New Jersey Nets.
Beyond that, there wasn't much in the way of excitement for Celtics fans.
The Celtics lost their top draft pick, Len Bias, to a cocaine overdose and just a few years later, lost another one of their best players, Reggie Lewis, to sudden cardiac death. These two tragedies set the franchise back decades, especially once NBA Commissioner David Stern refused to grant the Celtics cap space for the death of Lewis.
Fans watched as potential franchise cornerstones Tim Duncan and Dirk Nowitzki were drafted before the Celtics could grab them. Their own team's centerpiece, Paul Pierce, could score from anywhere on the floor but played defense only sporadically and didn't seem capable of leading the team to a championship.
Although everything changed when the Big Three formed, the dedication of Celtics fans remained constant. In spite of their struggles and the fact that they aren't a large market franchise like the Knicks or Lakers, they remained in the top half of the league in percent capacity nearly every year since 2000 (when the stat was first recorded).
Celtics fans have lived through the Vin Baker era, the Vitaly Potapenko years, and nearly a decade during which Antoine Walker was their first or second-best scorer.
Nevertheless, they have stuck it out and hung on for every Tony Delk trade or Gabe Pruitt draft pick, in hopes that their team could someday bring another banner to the rafters at the Garden.
Appreciation of History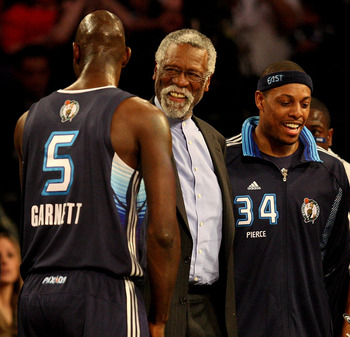 Ronald Martinez/Getty Images
The Boston Celtics are the most storied franchise in the NBA and being a true Celtics fan means fully appreciating the gravity of the past.
The Celtics play an important part in the history of Boston—not just its sports. In a town that faced racially-charged bussing riots, and a Red Sox franchise that was the last team in baseball to integrate, refusing to sign Willie Mays due to the color of his skin—the Celtics broke barriers.
They were the first franchise to draft African American player Chuck Cooper and feature an all-African American starting lineup. Hall of Famer Bill Russell's appointment to player-coach in 1965 made him the first black Coach in any U.S. professional sport.
Their 1960s dynasty (11 titles in 13 seasons) and 1970-80s dominance (4 titles in 10 seasons) compare favorably with almost any franchise in American sports. They have more titles than any other NBA franchise, and unlike the second-place Lakers, they won all of those titles in their current city.
Kevin Garnett spoke with Russell about the respect he has for his team's rich history in a stirring sit-down interview on ESPN:
"The tradition that comes with this organization, I'm proud to be a part of that. When you come in here, and put the Green on, responsibility comes with that. Every time I suit up, I think about that."
The gravitas behind the Celtics franchise matches that of any other organization in sports—fans and players alike respect that history.
Fans of the Boston Celtics carry the tradition of their team's past with them into every season and are reminded of that history every time they look up at the seventeen banners hung in the Garden.
Keep Reading

Boston Celtics: Like this team?