Dwight Howard to Los Angeles Lakers and 20 Most Lopsided Trades Ever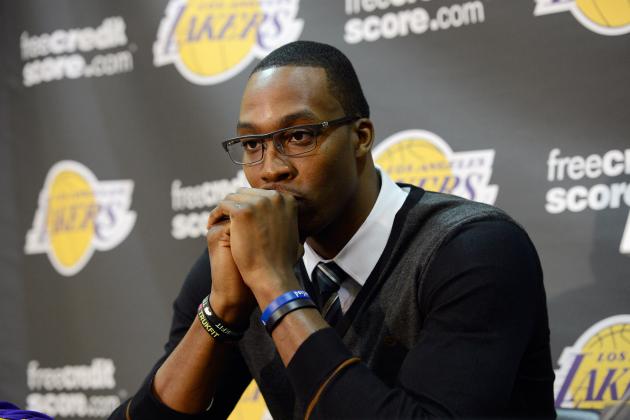 Kevork Djansezian/Getty Images

Dwight Howard to the Los Angeles Lakers is a trade that shakes up the entire NBA landscape. It reestablished the Lakers as legitimate title threats after an early exit from last year's playoffs, while pushing the Orlando Magic into the league cellar.
Not only is the move one of the most lopsided trades in recent memory, but it's also one of the most one-sided deals in the history of the Association.
Howard may be headed for the Hall of Fame one day. Can this trade surpass other moves involving Hall of Famers or future locks for enshrinement?
When looking through the 20 most lopsided trades in NBA history, keep in mind that these swaps were analyzed retroactively. We know how the moves turned out—which players rose to the occasion, which were mediocre and which flopped in historic fashion. Thus, I was able to analyze them accordingly.
Even if a move seemed logical at the time, that's now irrelevant because it became a bad trade in the future.
The Dwight trade is the only one of the 20 where there's any guesswork involved.
Begin Slideshow

»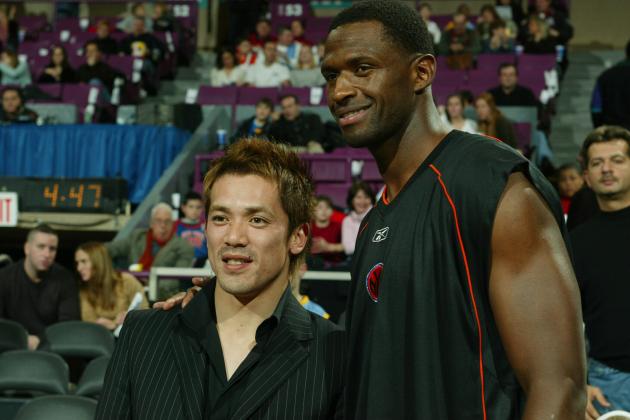 Ray Amati/Getty Images

Date: June 26, 2002
New York Knicks Get: Antonio McDyess, Frank Williams, 2003 second-round pick (Maciej Lampe)
Denver Nuggets Get: Marcus Camby, Nene Hilario, Mark Jackson
Believe it or not, this is the only picture of Antonio McDyess in New York Knicks gear in the entire Getty Images database. That's how little time he spent healthy and on the court during his brief tenure in Madison Square Garden.
The Denver Nuggets made out like bandits in this trade, stealing away Marcus Camby, Nene Hilario and Mark Jackson for McDyess and a few throw-ins.
Camby spent six years of his prime with the Nuggets, leading the league in blocks during each of his final three seasons in the "Mile High City." Meanwhile, Nene would go on to become one of the better big men in the league, staying with the Nuggets until this past season.
Shortly after acquiring Jackson, the Nuggets management waived the point guard, but it would simply have been gravy if the 31-year-old floor general had continued to play at a high level.
The Knicks' haul didn't work out so well. McDyess played in just 18 games after sitting out the entire 2002-03 season before being shipped off to the Phoenix Suns.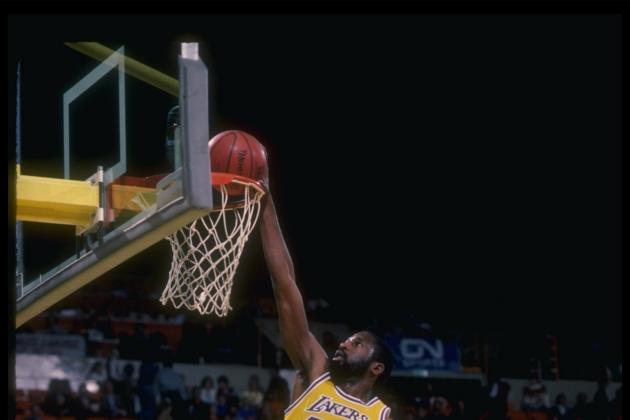 Rick Stewart/Getty Images

Date: February 15, 1980
Los Angeles Lakers Get: Butch Lee, 1982 first-round pick (James Worthy)
Cleveland Cavaliers Get: Don Ford, 1980 first-round pick (Chad Kinch)
When the Cleveland Cavaliers traded for Don Ford and a first-round pick in the 1980 NBA draft, they had no idea that they'd be giving up a future shot at James Worthy.
Ford only scored 398 points during his time in a Cavs jersey. Chad Kinch dropped a total of 80 before he was shipped off to the Dallas Mavericks in the Detlef Schrempf deal during his rookie season.
Worthy managed to more than double those 478 points in 11 of his 12 NBA seasons, all of which were spent with the Los Angeles Lakers.
He also went on to become one of the legendary players in basketball history, as he played a huge part in the Showtime Lakers' success and recorded his only career triple-double in Game 7 of the 1988 NBA Finals.
"Big Game James" was easily the best player involved in this deal.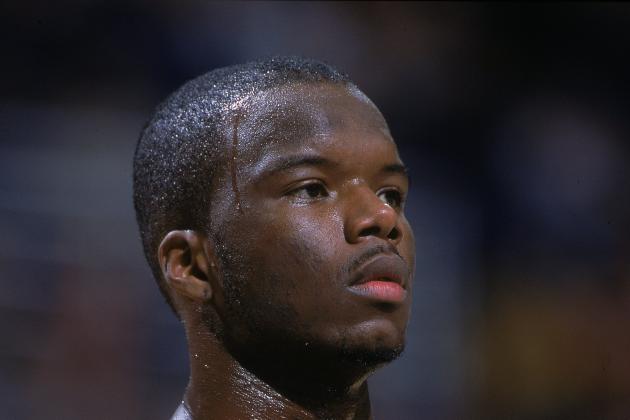 Jonathan Daniel/Getty Images

Date: August 31, 2000
Indiana Pacers Get: Jermaine O'Neal, Joe Kleine
Portland Trail Blazers Get: Dale Davis
Don't get caught up in thinking that Jermaine O'Neal has always been his current, washed-up self. Before age tore apart his body, O'Neal was a dominant big man on both ends of the court with his complementary shooting and blocking skills.
The power forward made six consecutive All-Star teams in his new home, while the Pacers were stuck with Dale Davis.
Davis never managed to return to the form that made him an All-Star in the season just prior to this trade, declining into just a role player in his fourth season with the Portland Trail Blazers.
Sure, Joe Kleine was waived before the 2000-01 campaign even began, but the Pacers were the obvious winners of this trade, even without any contributions from the 6'11" center.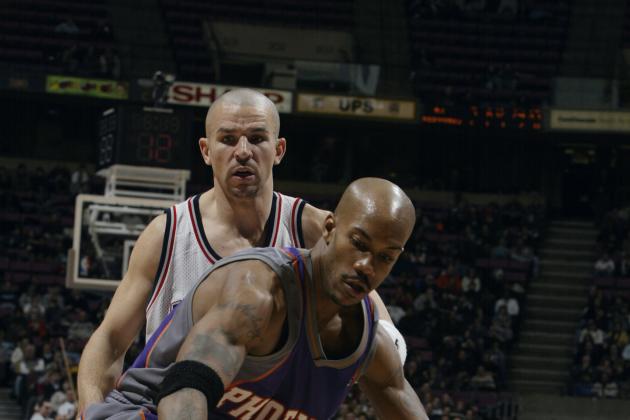 Al Bello/Getty Images

Date: July 18, 2001
New Jersey Nets Get: Jason Kidd, Chris Dudley
Phoenix Suns Get: Stephon Marbury, Johnny Newman, Soumaila Samake
Even though there are five names changing hands on this midsummer trade from 2001, the only ones that really matter are the two star point guards.
Jason Kidd had just made an All-Star team, but he was nearing the dreaded 30 and was surely going to start declining soon. If that's what was going through the collective heads of the Phoenix Suns' management, they couldn't have been more wrong.
The versatile point guard made four more All-Star squads during his time with the New Jersey Nets, a time that spanned from 2002 to 2007.
While Stephon Marbury was earning recognition for his stellar play, he was also scoring tons of empty points and making enemies in Phoenix. Just under three years into his tenure in the desert, "Starbury" was traded once more, this time to the New York Knicks.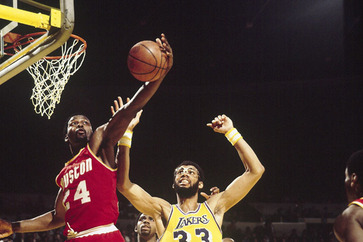 Photo credit to Tru TV
Date: October 24, 1976
Buffalo Braves Get: 1977 first-round pick (Wesley Cox), 1978 first-round pick (Micheal Ray Richardson)
Houston Rockets Get: Moses Malone
Moses Malone just kept changing hands during the mid-1970s. After he was selected by the Portland Trail Blazers—who already had Bill Walton—in the ABA-NBA dispersal draft, the dominant center was almost immediately traded to the Buffalo Braves.
I'm not focusing on that one though, but rather the ensuing trade, which sent Malone to the Houston Rockets for two draft picks.
Sure, Micheal Ray Richardson was a solid player. But he wasn't good enough to win an MVP award with the Rockets and lead them to the NBA Finals, while serving as the best player at his position in the entire league.
During Malone's two-game stint with the Braves, he averaged 0.0 points and 0.5 rebounds per game. During his six years with Houston, he produced to the tune of 23.9 points and 14.9 rebounds per contest.
That's a fairly sizable difference.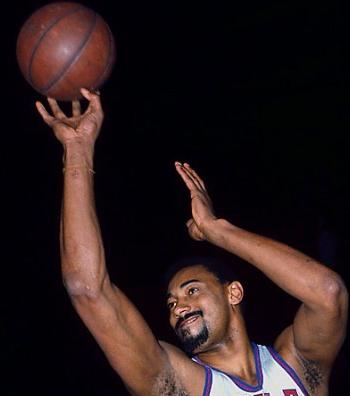 Photo credit to Sportige
Date: January 15, 1965
San Francisco Warriors Get: Connie Dierking, Paul Neumann, Lee Shaffer, cash
Philadelphia 76ers Get: Wilt Chamberlain
If you've ever heard of Connie Dierking, Paul Neumann or Lee Shaffer, then you're either a huge historical basketball nut who might actually manage to out-nerd me, or you're 80 years old.
On the other hand, if you've never heard of Wilt Chamberlain, stop reading my article and just Google his name or something.
Does this trade need any more explanation?
Wilt wasn't quite as dominant with the Philadelphia 76ers as he was with the San Francisco Warriors, and the move was necessitated by a financial burden on the part of the early Dubs, but this was still a huge steal for the Sixers.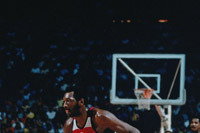 Photo credit to Slam Online
Date: June 23, 1972
Baltimore Bullets Get: Elvin Hayes
Houston Rockets Get: Jack Marin
While Jack Marin was a great player in his own right, he wasn't quite as dominant as Elvin Hayes.
The swingman from Duke managed to make the All-Star squad for the second year in a row after his move from the Baltimore Bullets to the Houston Rockets, but his numbers just weren't the same after the trade.
Take a look at this breakdown (stats via Basketball-Reference.com):
| | | | | |
| --- | --- | --- | --- | --- |
| | Points Per Game | Rebounds Per Game | Assists Per Game | PER |
| Pre-trade Marin | 16.7 | 6.2 | 2.1 | 16.2 |
| Post-trade Marin | 12.9 | 3.9 | 2.2 | 13.6 |
To be fair, those post-trade numbers include his time with three different teams, but the fact that Marin only spent just over a full season with the Rockets hurts his value as well.
Hayes went on to form a dynamic duo with Wes Unseld, even winning the 1978 NBA Finals.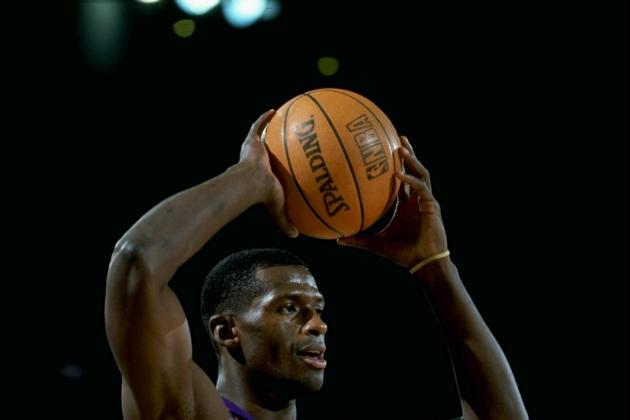 Brian Bahr/Getty Images

Date: October 1, 1997
Denver Nuggets Get: 1998 first-round pick (Tyronn Lue), 1999 first-round pick (James Posey), 2000 second-round pick (Dan McClintock), 2001 first-round pick (Joseph Forte), 2002 second-round pick (Rod Grizzard)
Phoenix Suns Get: Antonio McDyess, 2005 first-round pick (Sean May)
Cleveland Cavaliers Get: Tony Dumas, Wesley Person
Just ignore the Cleveland Cavaliers' involvement in this trade, because it's really not relevant here.
The Phoenix Suns essentially traded five draft picks, Tony Dumas and Wesley Person for Antonio McDyess and a pick that became Sean May.
Here's the kicker: McDyess was released by Phoenix after the season and quickly signed with the Denver Nuggets during the offseason. That makes the trade a one-year rental of McDyess for the Suns.
A rental would be fine if Phoenix had enjoyed some success, but I wouldn't classify a first-round playoff exit at the hands of the San Antonio Spurs as much of a success.
At least we get to see pictures of McDyess in these sweet Phoenix threads though.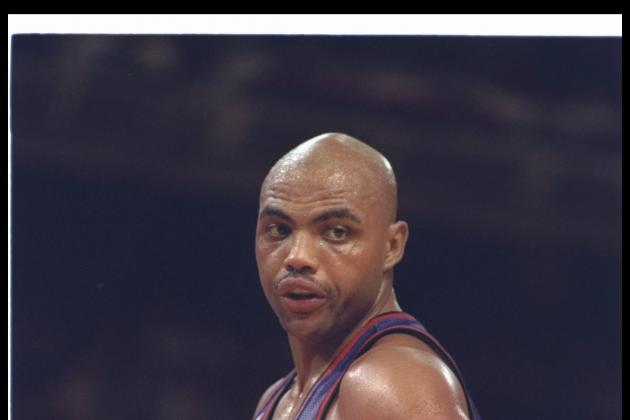 Jonathan Daniel/Getty Images

Date: July 17, 1992
Phoenix Suns Get: Charles Barkley
Philadelphia 76ers Get: Jeff Hornacek, Andrew Lang, Tim Perry
Long before Charles Barkley became the most entertaining personality involved in sports television, he was a dominant basketball player for the Philadelphia 76ers.
He continued his dominance after he was traded across the country to the Phoenix Suns. He made five more All-Star teams and was named league MVP in his first full season with the team. While Barkley started making a name for himself in Philly, he furthered his impressive legacy in the desert.
Jeff Hornacek was the prized possession for Philadelphia in this trade, but he entered the 1992-93 season on the decline. He averaged 19.1 points and 6.9 rebounds per game during his first season in a Sixers uniform before he was shipped off to the Utah Jazz for Jeff Malone midway through the ensuing campaign.
As for Andrew Lang and Tim Perry, well, neither was anything more than a slightly-above-average role player during their tenures in front of the Philly fanatics.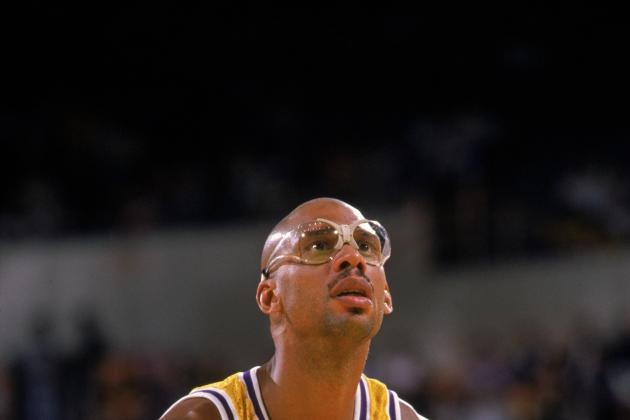 Mike Powell/Getty Images

Date: June 16, 1975
Milwaukee Bucks Get: Junior Bridgeman, Dave Meyers, Elmore Smith, Brian Winters
Los Angeles Get: Kareem Abdul-Jabbar, Walt Wesley
Even if Kareem Abdul-Jabbar's cultural needs dictated this trade and all but assured that the man formerly named Lew Alcindor would end up playing in a purple-and-gold uniform, the Milwaukee Bucks still made a lopsided trade.
Kareem would go on to become a Los Angeles Lakers legend, playing with the team for over a decade and making the next 13 All-Star squads.
During his time in L.A., Abdul-Jabbar won three MVP awards, five titles and firmly established himself as one of the most dominant forces that basketball had ever seen. His best years may have come during the beginning of his career when he was still wearing a Bucks jersey, but he'll always be remembered as a Laker first and foremost.
Junior Bridgeman, Dave Meyers, Elmore Smith and Brian Winters were all solid basketball players, but they were all missing two things.
None of them had either a sky-hook or Abdul-Jabbar as a last name.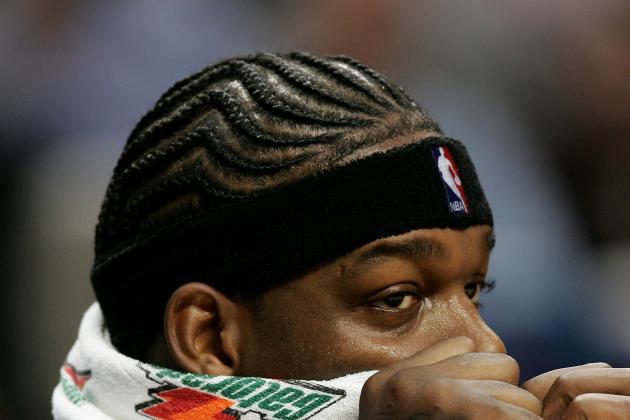 Jonathan Daniel/Getty Images

Date: October 4, 2005
New York Knicks Get: Eddy Curry, Antonio Davis, 2007 first-round pick (Wilson Chandler)
Chicago Bulls Get: Jermaine Jackson, Tim Thomas, Mike Sweetney, 2006 first-round pick (LaMarcus Aldridge), 2007 first-round pick (Joakim Noah), 2007 second-round pick (Kyrylo Fesenko), 2009 second-round pick (Jon Brockman)
Even if all of the draft picks that Isiah Thomas traded away to the Chicago Bulls turned out to be nothing more than scrubs, this still would have been a bad trade.
That's how awful the acquisition of Eddy Curry—who was known to have a potentially career-threatening congenital heart disease at the time—was.
Curry was overweight coming into training camp and refused to put forth the effort necessary to get back into playing shape at any point during his New York Knicks career. I would say that he put forth about 10 percent of the required effort to be a professional basketball player, but that would be an insult to the players who actually did give 10 percent.
Of all the terrible moves that Zeke made during his tenure in the Knicks front office, this has to be one of the worst. The former Detroit Pistons point guard wasn't helped out by the fact that two of the draft picks he gave up turned into LaMarcus Aldridge and Joakim Noah.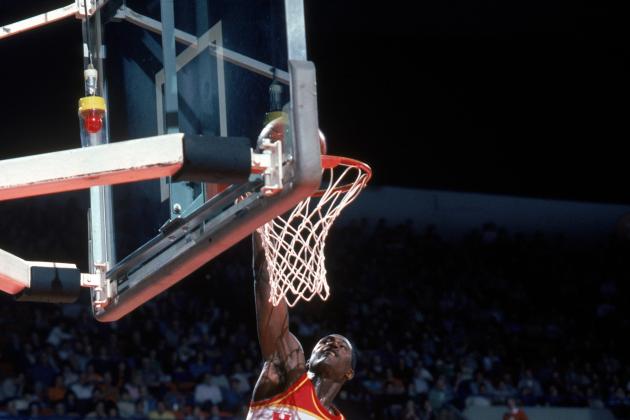 Rick Stewart/Getty Images

Date: September 2, 1982
Utah Jazz Get: John Drew, Freeman Williams
Atlanta Hawks Get: Dominique Wilkins
Whether you think that Dominique Wilkins or Bob Pettit is the best player in the history of the Atlanta Hawks franchise, you can't deny that the man who the team stole in this trade made the deal one of the 10 most lopsided in NBA history.
'Nique was traded from the Utah Jazz to the Hawks before his rookie season started, and the Hawks capitalized on "The Human Highlight Film" for both show-stopping plays and quite a few wins during his illustrious career.
To acquire the slam-dunking small forward, the Hawks only had to part with John Drew and Freeman Williams.
While Williams just hadn't been the same since he left the San Diego Clippers, Drew was two years removed from an All-Star nod and was still scoring the ball at a high level.
However, the former Hawks standout wasn't as successful with his new team and declined over the next three years until cocaine usage caused him to become the first player banned from the NBA.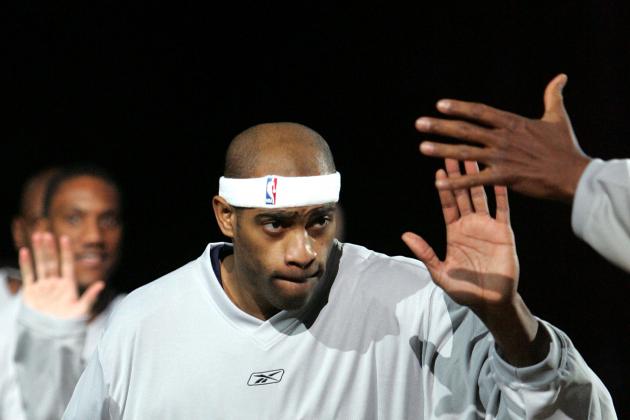 Jim McIsaac/Getty Images

Date: December 17, 2004
Toronto Raptors Get: Alonzo Mourning, Aaron Williams, Eric Williams, 2005 first-round pick (Joey Graham), 2006 first-round pick (Renaldo Balkman)
New Jersey Nets Get: Vince Carter
At first glance, this trade appears to be perfectly reasonable.
Vince Carter was a star during the early and mid-2000s, even if he didn't always try to perform to his full capabilities. Moreover, Alonzo Mourning was a two-time Defensive Player of the Year and had made the All-Star team just two years prior to this trade.
However, while "Vinsanity" lived on with the New Jersey Nets, averaging over 20 points per game during each of his five seasons before moving on to the Orlando Magic, Zo never played a game for the Toronto Raptors.
The center simply never reported to the Canadian franchise. His contract was quickly bought out, and he signed a contract with the Miami Heat. To add to the pain the Raptors experienced from losing Carter and getting almost nothing in return, Mourning played a minor role in the Heat's 2006 title.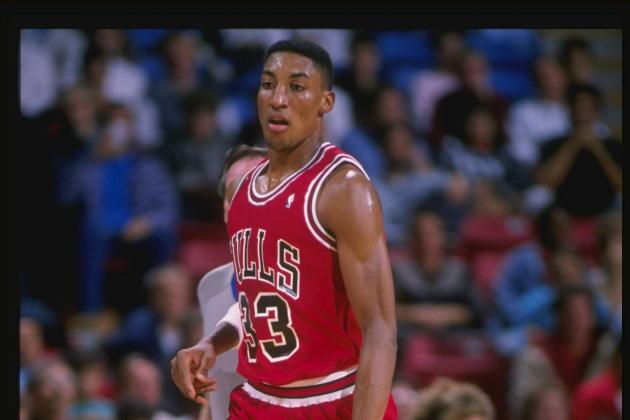 Mike Powell/Getty Images

Date: June 22, 1987
Chicago Bulls Get: Scottie Pippen, 1989 first-round pick (Jeff Sanders)
Seattle SuperSonics Get: Olden Polynice, 1988 second-round pick (Sylvester Gray), 1989 first-round pick (B.J. Armstrong)
Can you imagine the far-reaching ramifications if this trade had never come to fruition?
What if Olden Polynice—the same big man from Virginia who averaged 7.8 points and 6.7 rebounds per game during his career—was paired up with Michael Jordan on the Chicago Bulls instead of Scottie Pippen?
Would Jordan have won a single championship, no matter how great he may have been as an individual?
Would Jordan still be the greatest player of all time?
Could Gary Payton have led the Seattle SuperSonics into a dynastic run with Scottie by his side?
We'll never know the answers to any of these questions thanks to the seventh-most-lopsided trade in NBA history.
Stephen Dunn/Getty Images

Date: October 20, 1976
Philadelphia 76ers Get: Julius Erving
New York Nets Get: $3 million
In sports, not having enough money can be a rather large problem.
Before the 1976-77 season started, New York Nets owner Roy Boe promised Julius Erving a salary increase, but he was forced to renege on that promise when his team started the relocation process into the NBA.
Because the Nets and New York Knicks were so close together from a geographical perspective, Boe had to pay the Knicks a $4.8 million territorial encroachment fee.
The franchise was strapped for cash, and when Erving decided that he wouldn't play without his promised salary bump, the Nets sold him to the Philadelphia 76ers for $3 million.
After losing their star player, the Nets went from ABA champions to NBA afterthoughts and hung around in the league's cellar for quite some time. The Sixers and Erving made four of the next seven NBA Finals and won a title.
I may not be an economics expert, but something tells me that Dr. J's services were worth more than $3 million, even if the Nets had no choice but to make the deal.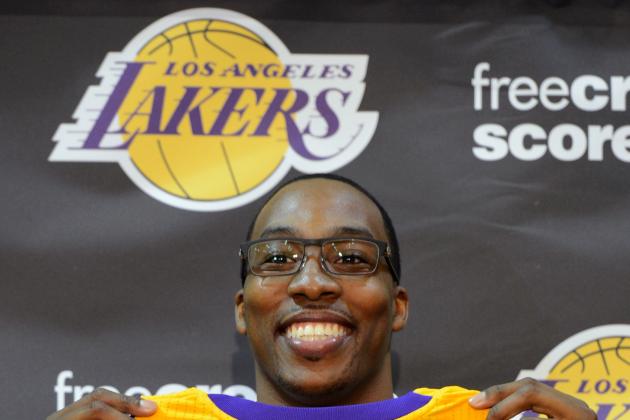 Kevork Djansezian/Getty Images

Date: August 10, 2012
Los Angeles Lakers Get: Dwight Howard, Earl Clark, Chris Duhon
Philadelphia 76ers Get: Andrew Bynum, Jason Richardson
Denver Nuggets Get: Andre Iguodala
Orlando Magic Get: Arron Afflalo, Al Harrington, Maurice Harkless, Nikola Vucevic, Christian Eyenga, Josh McRoberts, two 2014 first-round draft picks, 2017 first-round draft pick, future first-round draft pick
While we have the benefit of looking back at the other 19 trades in this article and analyzing them after knowing what actually transpired once the move was made, no such luxury exists for the recent Dwight Howard move.
The Orlando Magic almost had to move their star center, but they could have found a much better deal than this one.
Howard's presence in a Los Angeles Lakers uniform immediately inserts Jack Nicholson's favorite team right back into the title discussion, especially with the offseason addition of Steve Nash and a bench that is growing deeper by the second.
Andre Iguodala makes the Denver Nuggets into contenders as well, though not ones on the same tier of teams that the Lakers occupy.
The Philadelphia 76ers gain the low-post presence that they've desired for so long and will be in contention for a long time if they can convince Andrew Bynum to sign an extension with the team. If they can't do that, then they're losers in this trade as well.
As for the Magic though, they received a collection of draft picks and spare parts.
Of the four first-round picks that Rob Hennigan received for the best center in the league, none are likely to be in the top 10 picks of any draft, as the Lakers, Nuggets and Sixers will all be playoff teams for a while. Therefore, those don't have much value.
Arron Affalo could blossom into a franchise centerpiece, as could Maurice Harkless or Nikola Vucevic. But it's unlikely that any of those three young players can become players capable of carrying a team to a title.
In one fell swoop, this Magic squad managed to fall into Charlotte Bobcats territory.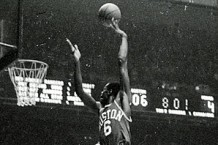 Photo credit to Bostinno.com
Date: April 30, 1956
Boston Celtics Get: Bill Russell
St. Louis Hawks Get: Cliff Hagan, Ed Macauley
Ed Macauley might have made the Hall of Fame, but it was most assuredly not the result of his play with the St. Louis Hawks. He spent three seasons with the team after this trade, declining quickly and failing to remind St. Louis fans of his greatness with the Boston Celtics.
The Hawks' biggest prize in the trade was Cliff Hagan, and he was quite the player during the late 1950s and early 1960s. Hagan made five consecutive All-Star squads with the Hawks during the decade he spent with the team, but he wasn't Bill Russell.
You know, the Russell that went on to become a near-consensus top-five player in basketball history. The same one who has won more rings than anyone else in NBA history.
Hagan and Macauley may have made for a nice haul, but Russell made far more of an impact for Red Auerbach and the C's.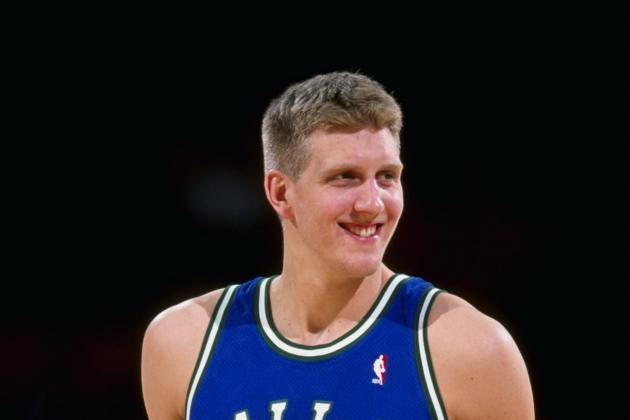 Vincent Laforet/Getty Images

Date: June 24, 1998
Milwaukee Bucks Get: Robert Traylor
Dallas Mavericks Get: Dirk Nowitzki, Pat Garrity
This trade becomes even more lopsided in favor of the Dallas Mavericks when you recall that the team subsequently traded Pat Garrity to the Phoenix Suns for some random dude named Steve Nash.
With the Boston Celtics promising to draft Dirk Nowitzki if he fell that far, the Mavericks swung a deal with the Milwaukee Bucks to land their coveted foreign prize. Dallas drafted Robert Traylor at No. 6 in the 1998 NBA draft, the Bucks took Dirk at No. 9 and Garrity at No. 19, and then the teams swapped draft rights to those players.
While Garrity and Traylor both flamed out rather quickly in the NBA, Nash and Nowitzki both ended up winning MVP awards.
Garrity spent just 39 lackluster games with the Phoenix Suns before they were done with him, while Traylor managed to last two injury-plagued seasons with the Bucks.
Nash and Nowitzki have both enjoyed a little bit more success than those two.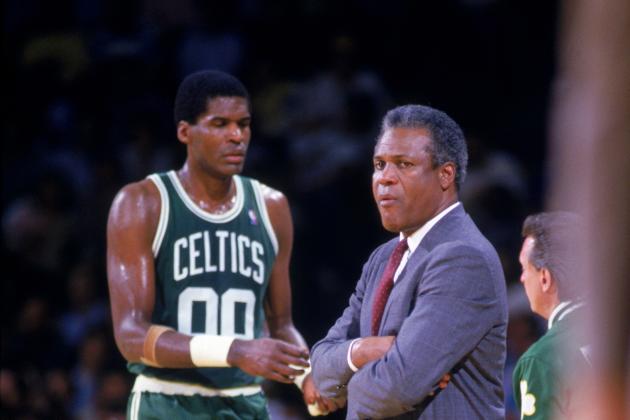 Getty Images/Getty Images

Date: September 9, 1980
Golden State Warriors Get: 1980 first-round pick (Joe Barry Carroll), 1980 first-round pick (Rickey Brown)
Boston Celtics Get: Robert Parish, 1980 first-round pick (Kevin McHale)
Let me present two sides of a trade to you:
Side No. 1: You get a first-round pick who averages 4.4 points and 3.5 rebounds per game, as well as a player who quickly develops the nickname "Joe Barely Cares" after a series of lackluster efforts.
Side No. 2: You get two future Hall of Famers.
I think the choice is fairly obvious.
To be fair, Joe Barry Carroll was actually a productive player during his first few seasons in the Association, and his nickname was more a result of his lack of pleasure during interviews.
Still though, he was traded for Kevin McHale and Robert Parish, who combined for seven rings and 16 All-Star appearances.
If—other than drafting Larry Bird—there was a moment that established the Boston Celtics as a powerhouse during the 1980s, it would be this one.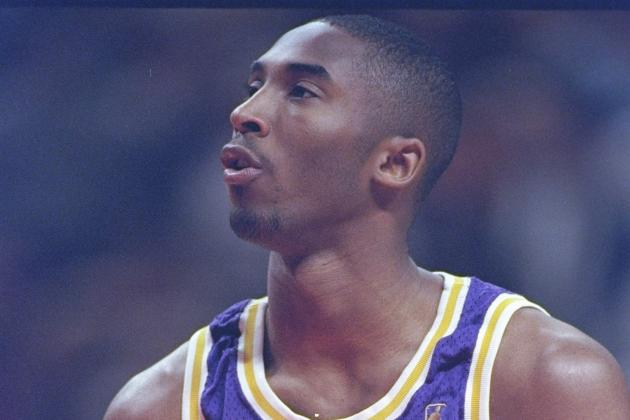 Jonathan Daniel/Getty Images

Date: July 11, 1996
Charlotte Hornets Get: Vlade Divac
Los Angeles Lakers Get: Kobe Bryant
Much like either Kareem Abdul-Jabbar and the Milwaukee Bucks or Vince Carter and the Toronto Raptors, Kobe Bryant and the New Orleans Hornets just weren't meant to work out.
Fresh out of Lower Merion High School as a prep-to-pro player in the 1996 NBA draft class, Kobe Bryant made it perfectly clear that he wasn't going to be playing for the Hornets, even if they drafted him.
The following quote comes from a 2007 New York Times piece by Selena Roberts: "That is an impossibility," Bryant's agent, Arn Tellem, said at the time. "There are no ifs. It would not happen. He is going to be a Laker, and that's the only team he's playing for."
As a result, Bryant was shipped off to the Los Angeles Lakers for Vlade Divac.
While Kobe went on to win five titles (with more possibly coming) and establish himself as a top-10 player of all time while spending the entirety of his career with the Lakers, Vlade Divac played just two seasons with the Charlotte Hornets.
The versatile big man had solid seasons with his new team, but he failed to make a championship-level impact.
Kobe certainly made that in purple and gold.