Dominique Wilkins vs. Bob Pettit: Who Is the Atlanta Hawks Best Player Ever?
August 29, 2011
When discussing the best players in Atlanta Hawks franchise history, the conversation usually boils down to two names. No, we're not talking about Joe Johnson and Josh Smith here, but rather Dominique Wilkins and Bob Pettit. 
While both men were incredible basketball players and will reside in the hearts of Hawks fans for all eternity, only one can take home the title as the greatest Hawks player of all time. 
To help settle the debate once and for all, Adam Fromal and Daniel Christian will present cases for the two players, leaving it up to you to decide who is the greatest in your mind. 
The Case for Bob Pettit
by Adam Fromal
The distinction between "greatest" and "most entertaining" is a crucial part of the debate between Bob Pettit and Dominique Wilkins. While entertainment is a crucial part of success, seeing as skill is an inherent component of entertainment, entertainment itself is but a singular aspect of the all-encompassing entity that is greatness.
Greatness is what all NBA players strive for when they first lace up their sneakers at the professional level. Each and every individual wants to leave behind a legacy, one that is full of not only entertainment, but also success. And that, in a nutshell, is what distinguishes Wilkins from Pettit.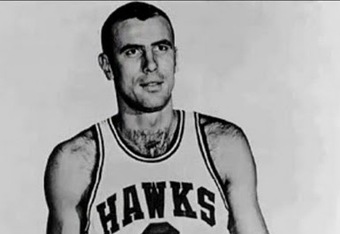 You will never once catch me trying to argue that Pettit was more entertaining than the man who many refer to as simply "The Human Highlight Film." One of the greatest dunkers in The Association's history, Wilkins enjoyed putting on a show, essentially making Atlanta Hawks fans feel like they were at a highlight factory long before Phillips Arena became known as The Highlight Factory. On the other hand, Pettit, whose most prominent nickname was the far less exciting "Dutch," played a much more simple, almost boringly efficient brand of basketball.
In fact, Bill Simmons described Pettit's offensive style as follows:
"Pettit had three go-to moves: a don't-leave-me-alone 18-footer, a leaning jumper coming off screens and a reliable turnaround that Bob Ryan once called 'monotonous.' He couldn't dunk unless a donut and coffee were involved."
But at the end of the day, regardless of playing style, Pettit simply experienced more success in his career.
The most obvious reason comes in the form of a simple number: one.
That number represents the number of championships that the Hawks have won in franchise history, dating all the way back to their inaugural 1949 season as the Tri-City Blackhawks.  Interestingly enough, that one title in 1958 allowed rings to be fitted on the hands of every member of a Hawks squad led by none other than Pettit himself. Nique's hands however remain devoid of any jewelry, save the pieces that he has bought for himself.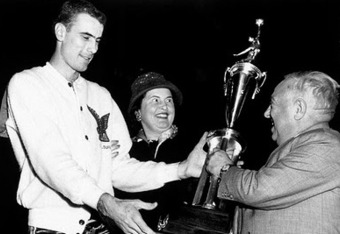 Moreover, when I say that Pettit led the Hawks to the title, I really do mean that it was his individual effort that put the team over the top. Pettit's 50-point performance in the decisive game six of the 1958 Finals remains one of the most impressive individual performances of all time and was a playoff record at the time of its occurrence. 
In fact, I think it's safe to say that Pettit would have led the Hawks to quite a few more championships if it hadn't been for Bill Russell and the Boston Celtics. One of the most dominant teams of all time, the Celtics ruffled the Hawks' feathers in three separate Finals appearances over a five-year stretch from 1957-1961, once in five games and twice in seven games. In 1957, the Celtics actually needed double-overtime in the seventh game to go home victorious.
Now although championships are the ultimate goal of every player, save maybe Wilt Chamberlain, they are not the be all, end all when it comes to evaluating a player's overall greatness. If it was, we'd be looking at Robert Horry in an entirely different light. Hell, even Adam Morrison has two NBA Championships.
Pettit was clearly a highly regarded player back in his day even during seasons less successful than that memorable 1957-1958 campaign. He made the All-Star roster in each of his 11 seasons while earning berths on 10 All-NBA First Teams and one All-NBA Second Team for good measure.  Not only that, but he was also the NBA's first MVP back in 1956 and then added a second MVP to his collection in 1959. His statistics, which have to be taken with a rather large grain of salt due to the difference in the early years of the NBA and the modern era, are even more impressive.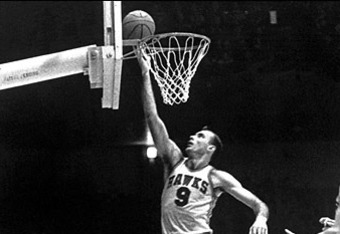 The 6'9" power forward and center from Baton Rouge, Louisiana retired with career averages of 26.4 points and 16.2 rebounds per game. Pettit was the first player to hit the 20,000-point milestone and was the second-leading rebounder in NBA history when he hung up the sneakers and short shorts. To this day, his rebounding average trails just Russell and Chamberlain, buoyed no doubt by his incredible 20.3 per game average during the 1960-1961 season, one that allows him to join the exclusive five-member club of players to average more than 20 boards per game for a season.
But now comes the real doozy. Only two players in NBA history have ever averaged more than 20 points per game during every single season of their career. One is Alex Groza, but he only played two seasons. The other is Pettit.
To be fair, Michael Jordan falls just short of the requirements because he averaged exactly 20.0 points per game during his final season in the NBA and thus fails to meet the "more than 20 points per game" requirement. 
For those of you into advanced statistics, Pettit is overwhelmingly superior to Wilkins. Pettit's career PER is 25.3 while Wilkins comes in with a stellar, but much less impressive, 21.6. Wilkins' career Win Shares also pale in comparison to Pettit's (117.5 to 136) despite the fact that 'Nique had four more seasons to accumulate them.
Basketball though isn't just about stats. It's about what you can help translate those stats into that matters most.
Pettit, by all accounts, was not only a tremendous scorer, but a man who helped facilitate. He didn't care just about accumulating stats; he wanted to win games and use his all-around talent to do so. The same, both about the all-around talent and ravenous hunger to win at all costs, simply cannot be said for Wilkins.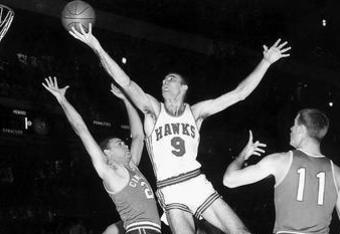 I won't limit 'Nique's value to that of a glamorous dunker, seeing as he truly was a terrific offensive talent. But defense was not in his vocabulary. Well within his grasp of the English language though was the dreaded "I'm open!" call, which he wouldn't hesitate to use, even in situations where bad results might ensue. Wilkins was the guy who always knew how many points he had at any moment during a game but might not necessarily know the score without first glancing at the scoreboard.
Going back to the initial attempt to distinguish "greatness" and "most-entertaining," the greatest player is the one that you want on your team if you absolutely need to win a championship that year.
It seems pretty clear to me that Pettit is that guy.  
The Case for Dominique Wilkins
by Daniel Christian                                                                                                                
I've never seen someone fly through the air quite like Dominique Wilkins. Sure, there was Jordan who would glide seamlessly in the stratosphere, elegant as a swan, yet powerful as a mule. Yes, there was Dr. J who took off with suave and swagger, rocking the afro better than probably in anyone in history (except for maybe the dynamic duo of Jackie Moon and Downtown Funky Stuff Malone. Excuse the suggestiveness of the clip, but those are some mighty fine fro's). In fact, if I were to run off names of the most high-flying and gravity defying athletes that have brought joy to the NBA by being a human pogo stick, this article would go on forever. The bottom line is, no matter who I saw, Dominique was better at slamming the ball home.
No, slam dunking doesn't make a player better than another. What you have to take into account is why he's capable of making plays so outlandish, so powerful, and so breath taking that he was able to transform a city of fickle sports fans into a staunch and dependable fan base for an entire decade. It's something Bob Pettit never had, and it's something pretty much no one on earth has, had, or will have. The athletic abilities that were bestowed upon Dominique Wilkins by some incredibly innovative higher power were some of the best physical gifts the NBA has ever seen.
As seen time and time again though, physical gifts don't punch your ticket to the hall of fame. They won't ensure an enshrinement of greatness. Physical gifts are just that- gifts. Great, you can jump high.  But can you dribble, can you shoot, can you rebound? Just ask Jonathan Bender how much his freakish physical abilities aided his quest for NBA greatness.
The thing is, Wilkins could do all of those things. Standing at a chiseled six foot eight, Wilkins was far from the one-trick pony many made him out to be. While those hellacious throw-downs certainly were a huge facet of his character and of his game, it's important to note that this man was one of the most dominant scorers ever to pick up a basketball.
In his 11 and a half seasons with the Hawks, he chalked up 26.4 points per game, claiming a league scoring title in the 1985-86 season. Wilkins exploded onto the NBA scene as a star that year, logging 30.3 points per game.
He'd later top this feat by dropping 30.7 a game in 1987-88 season, but he finished second in the scoring race as Michael Jordan averaged over 35 per game. After he left Atlanta, his numbers fell as he was aging, but he still boasts the gaudy numbers of 24.8 points per game through his career.
He was quite the ample rebounder as well, averaging as much as nine per game in the 1990-91 season, and cleaning the glass seven times per game as a Hawk and 6.7 times per game throughout his career. Considering he wasn't a post player, those rebounding numbers are quite impressive.
Amongst these ridiculous scoring surges came other accolades. In 1986 he was named First Team All-NBA. His preposterous and unfathomable leaping ability paired with his style and confidence granted him two slam dunk titles (should have been three, he was absolutely robbed in 1988. He was shafted with a score of a 45 after an incredible two-handed windmill, and then Jordan was given a 50 after doing the same dunk he did in the previous round. Bill Simmons agrees with me, as quoted from his The Book of Basketball: "He was absolutely robbed for reasons that remain unclear.")
However, when trying to capture the true essence of Dominique Wilkins, one can't look at his ridiculous stats and see the picture clearly. It's not that simple. Sure, the statistics show his greatness, but it's beyond that. There was an aura and a feel to Dominique, and it can best be described by a losing effort.
I sit and tell you this story in agony, as any Hawks fan would:
The Atlanta Hawks squared off against the Boston Celtics in the 1988 semifinals, and after Boston took the first two games of the series, things weren't looking good for the boys in red and yellow. However, the Hawks came back taking the next 3 games. Boston would proceed to force a Game 7, a game that Larry Bird guaranteed the Celtics would win, saying the Hawks blew their shot to close Boston out. While the Hawks did indeed blow their shot, a game of epic proportions was brewing in Boston.
Dominique Wilkins exploded from the start. He was scoring left and right, flaunting a relentless midrange game that included a bevy of fundamentally acute maneuvers. His size and speed proved to be issues for Boston as he dropped 22 in a spectacular 1st half. It was a back and forth game, but literally no one saw the duel that ensued.
The Hawks went into the 4th quarter down by two points, and thus began one of the greatest duels in NBA history. The seemingly rusty Larry Bird finally broke through. He canned shot after shot, dimming the Hawks' hopes one jay at a time. Still, the Hawks lingered, staying in the game as Wilkins kept them afloat. It was seemingly a one point game with a rotating leader for the entire 4th quarter as Wilkins refused to let the better Boston Celtics wash their hands of Atlanta. It wasn't until Bird canned a dagger three that the Celtics would feel comfortable, but even then Dominique played twice as hard. His sense of urgency was there, and as any clutch performer would perform, he kept Atlanta in the game. He finished with 47 points in one of the most magnificent offensive onslaughts in history. If it wasn't for a bogus goal tending call in the final 30 seconds, the outcome might have been different. Still, Atlanta would have been down by three, no guarantee, but at least a shot.
Trust me, on that night, one shot is all Dominique needed.
So why is Dominique Wilkins the best Hawk of all-time? Why is he ahead of the league's first MVP that brought the Hawks franchise their only championship?
Let's take a brief look: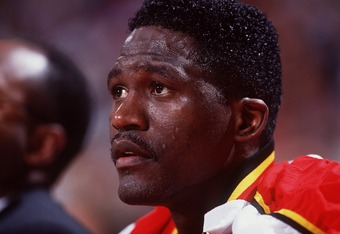 While Bob Pettit was indeed a legendary and transcendent ball player for the St. Louis Hawks, he doesn't quite measure up to Dominique Wilkins.
Statistically, Pettit wins the argument. He contributed more win shares to the Hawks per season and per 48 minutes. Their points per game in a Hawks uniform is nearly identical. Of course Pettit has the edge in rebounding, but realistically, the rebounding stats from that era are highly inflated. There were few people with Pettit's height and tenacity, so the boards were there for him to grab. His only real competition at being a sheer unstoppable force down low was Bill Russell, and in the Hawks' title year, they were given a huge break when Russell was injured for most of the series.
No matter how you slice it, Pettit didn't face the same sort of competition Dominique Wilkins faced. You can use the argument about how people have developed overtime, so it was just as easy for Pettit as it was for Wilkins. That's false. Pettit was one of the very few big men of his era. How does that not give him a major edge over nearly every player in the league? Being six-foot-nine was a towering advantage. Not to insinuate that Pettit had it easy, but he certainly he had it easier than Wilkins and wasn't able to post up numbers that were in the slightest more impressive while the scrawny six foot five dude struggled guarding him most of his career (yes, a bit of an overstatement, but the point is clear).
The bottom line is that when faced with a choice of picking one of these two to start a team, I'll pick the guy who not only fills up the arena, but the guy that can singlehandedly make your team compete in the most competitive era in NBA history. How many teams with one star can look back and say, "yeah we almost beat those Celtics. We gave them a real run for their money." I can't think of a single one-star team in that era I'd pick over the Wilkins led Hawks.
So we debate the greatness of these two Hawk legends, wondering, which one was greater, which one is the true hero of Hawks' lore.
It has to be Dominique Wilkins, the Hawk's all time leading scorer. Sure Pettit has the inflated stats, the win shares, and the ring. But he never had the charisma that Dominique Wilkins brought to every game. He never had to wrestle with three eastern conference juggernauts in his prime, three teams that are viewed in the top 10 teams of all time, and almost make it out on top by himself. The way Dominique Wilkins carried a dilapidated Atlanta franchise to the brink of greatness in his tenure as a Hawk far outweighs anything Pettit can throw on the table.  
Yes, Pettit has a ring.
And yes, Dominique Wilkins doesn't have one.
What he does have though, is the heart of one of the fiercest competitors ever to grace the hardwood. Just ask Larry Bird, who was one shot away from falling victim to the human highlight film. 
Adam Fromal is an NBA Featured Columnist and syndicated writer for Bleacher Report. Follow him on  Twitter.
Daniel Christian is a syndicated writer at Bleacher Report and an avid Atlanta Hawks fan.