Detroit Lions 2012: How Well Can They Do with a Depleted Secondary?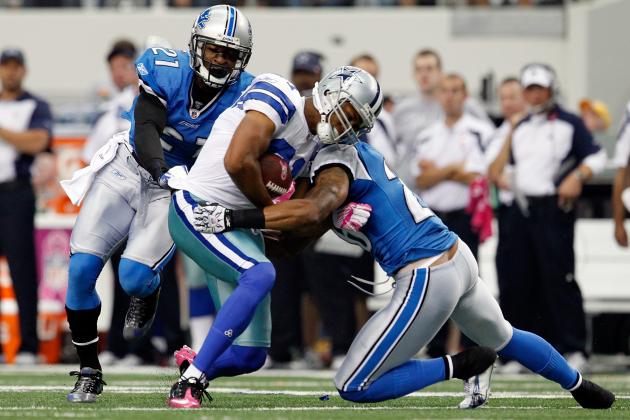 Tom Pennington/Getty Images

Louis Delmas had surgery on his knee a few days ago, giving the Detroit Lions secondary yet another hit, which they cannot afford. Despite spending a good portion of their draft on players in the secondary, it seems like they have taken more steps backward than forward.
The ironic part is that the Lions may possess one of the most threatening defensive lines in the NFL, especially if Nick Fairley proves to be viable. One line of reasoning that may give fans comfort is that a strong, imposing defensive line will deny quarterbacks the time to find the weaknesses in the secondary. This is valid with some teams, but others will have the ability to succeed despite the threat of linemen like Ndamukong Suh, Cliff Avril, Nick Fairley and Kyle Vanden Bosch.
The fans of the Lions are definitely excited about their offense, which can score on any defense in the league with Matthew Stafford, Calvin Johnson and a better than average cast of supporting receivers. With their defensive deficiencies, they may need to do so on a regular basis.
The Detroit Lions finished the 2011 regular season with a 10-6 record. The question for 2012 is whether or not they will be able to improve on that record this season. With a strong NFC, it will be a challenge to get back into the playoffs once again. This article will examine the opponents for the 2012 Detroit lions and determine what type of record can be expected of this team.
Begin Slideshow

»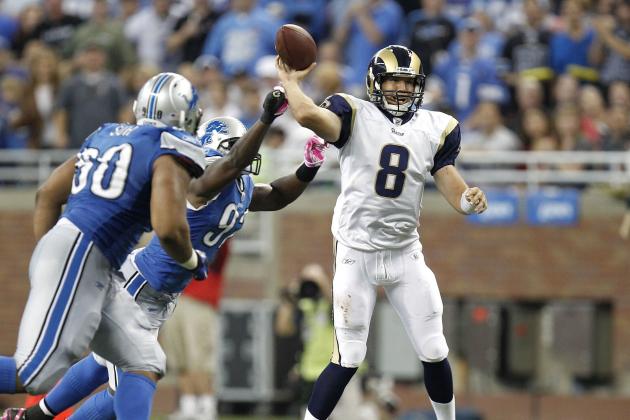 Gregory Shamus/Getty Images

Sam Bradford had an impressive rookie campaign, but slipped last season due to injury and lack of weapons at the wide receiver and tight end positions. The St. Louis Rams brought Steve Smith on board and drafted a few receivers who could end up being very valuable to this franchise. Steven Jackson is still productive when he is on the field, which he will be for week one against Detroit.
Detroit has two advantages over St. Louis in this game. The first is that they get them for week one. St. Louis may develop chemistry between Bradford and his new weapons Brian Quick and Steve Smith, but odds are that they will not be fully in sync at the very beginning of the season.
The second advantage is that St. Louis likes to run the ball and that Detroit is better in the passing game. If Detroit gets a lead, it will be hard for St. Louis to overcome a significant deficit. St. Louis does not have an elite defense, so their ability to stop the Detroit passing attack will be limited.
Verdict: Detroit should win this game, giving them a 1-0 record to begin the season.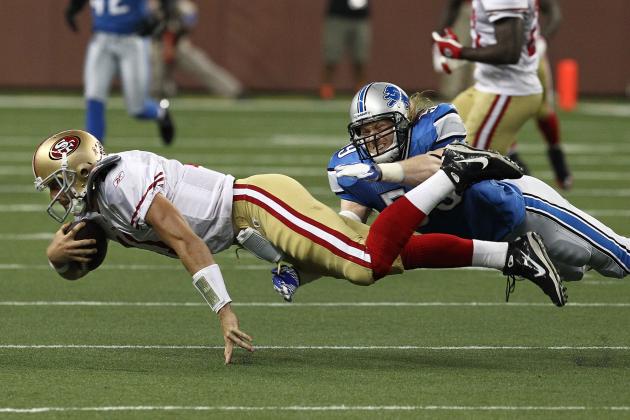 Dave Reginek/Getty Images

This game will be interesting and highly entertaining if it is anything like last season's contest. If you are a Lions or a 49ers fan, you are likely hoping that the discourse surrounding the game will focus more on the players than the coaches and their methods of shaking hands.
In Detroit, the 49ers beat the Lions by a score of 25-19, taking advantage of a weak secondary and holding off many of Detroit's attempts to score. The 49ers had a strong defense last season, and there is no reason to believe that will not continue to be the case in 2012. Make no mistake, Detroit will be able to score, but the question is whether or not they will be able to outscore Alex Smith and the 49ers.
Nobody is claiming that Alex Smith is an elite quarterback, but he now has Randy Moss and Vernon Davis to throw to and a strong running back in Frank Gore to force Detroit to respect their ground game. This could slow down the Detroit pass rush and give Smith time to find a receiver.
This game really is a coin toss. If Stafford and company start clicking, they really can outscore anyone but Harbaugh was able to slow them down last season as well as put up points against them and their defense has not diminished while their offense may have improved with the addition of Randy Moss.
Verdict: San Fransisco may win a close one here. Again, it is a coin flip but a weakened Detroit secondary and a strengthened 49er passing game could be trouble for Detroit. This brings Detroit's record to 1-1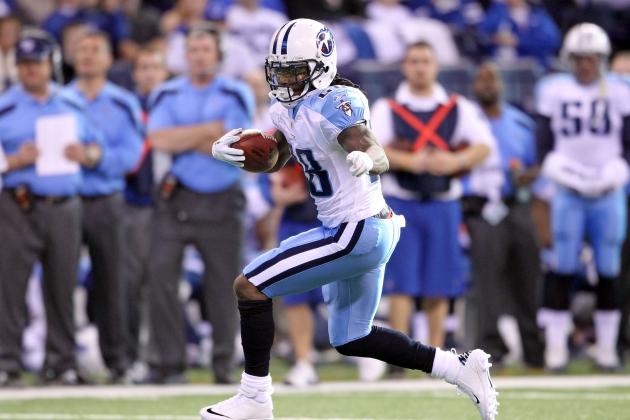 Andy Lyons/Getty Images

The Lions go to Tennessee in week three and there is no reason to believe that they will be unable to defeat the Titans. There is the ever-present threat that Chris Johnson will explode, but he struggled last season and Detroit's front four can focus on stopping him as opposed to shutting down a strong passing game.
The Titans do have both Matt Hasselbeck and Jake Locker to choose from at quarterback, but even if they are potentially effective, their options at receiver are rather limited. Their home run hitter, Kenny Britt, will likely be out either due to injury or suspension and Chris Houston should be able to slow down Nate Washington.
The Titan defense is not terrible, ranking eighth last season in points allowed, but Detroit has an elite passing game and should be able to put enough points on the board.
Verdict: Barring an insane Chris Johnson re-emergence, Detroit should get it done in Tennessee bringing their record to 2-1.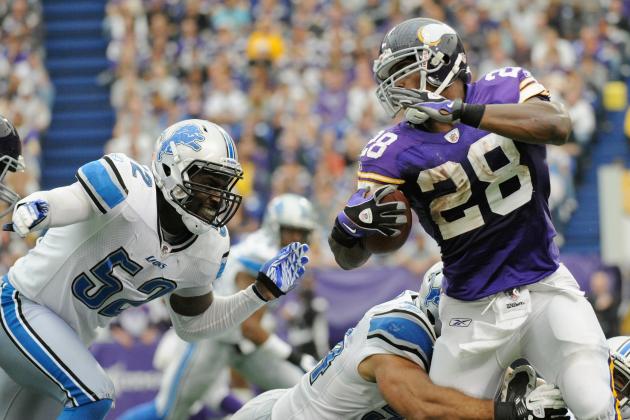 Hannah Foslien/Getty Images

The only good thing about being in the NFC North recently is the opportunity to play the Minnesota Vikings twice. This seems odd to say with one of the best running backs in the league on the roster, but with Adrian Peterson dealing with injuries and Ponder still having a lot to prove with fewer weapons than last season, this should be a relatively easy game. Of course anything can happen in a division rivalry game, and Jared Allen is certainly capable of doing some damage.
In the end, Minnesota has one superstar on offense and one superstar on defense and Detroit's pieces should be able to cancel them out in both the game in Minnesota as well as the game in Detroit. I feel like you have to give both games to Detroit unless Peterson gets back to his full potential and Ponder proves himself to be more than a serviceable quarterback.
Verdict: Detroit wins both games handily. Of course nothing is guaranteed, but if they are unable to win these two games they may have bigger issues than their record. Two wins here brings their record to 4-1.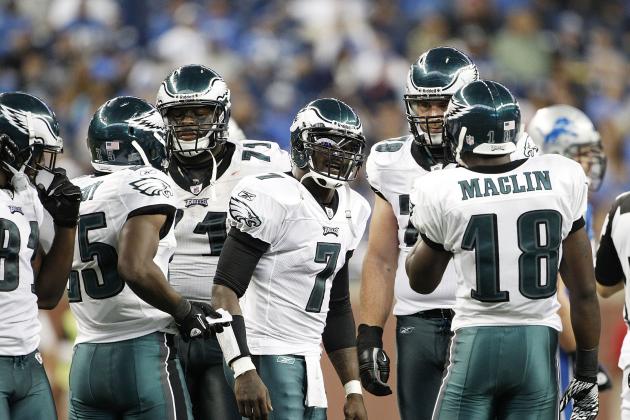 Leon Halip/Getty Images

The Eagles are an explosive team. Their running back, LeSean McCoy, proved himself to be one of the most gifted backs in the league and the tandem of Maclin and Jackson in the receiving corps could spell trouble for Detroit's struggling secondary. DeSean Jackson struggled last season, but his contract dispute is settled and he may return to the home run hitting ability we knew him for a few years ago.
If these two receivers are allowed to get rolling, it could be a long day for the Detroit secondary, especially if Vick is allowed to improvise. As mentioned previously, the Lions' defensive line can make it difficult for quarterbacks to work through their progressions, but Vick is able to scramble and make things happen. For this reason, a lot of responsibility will fall to the D-line.
Ultimately, these are two of the most potent offenses in the league and they should be able to put up points on anyone. Philly has more rushing ability and Detroit has more weapons in the passing game and a more reliable quarterback. This should be a high scoring game, with both secondaries being tested. If that is the ultimate deciding factor, it would be hard to argue that Detroit would win that battle.
Verdict: Detroit certainly has a stronger D-line and Philadelphia has a more reliable secondary. Vick's mobility may limit how successful Suh, Avril & Co. are able to be. Philly should win in a high scoring game, bringing the Detroit record to 4-2.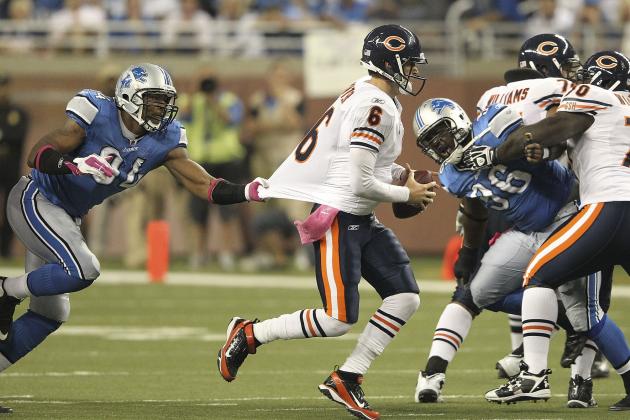 Leon Halip/Getty Images

The Lions and the Bears split games last season and it seems like that is a strong possibility yet again. These are two evenly matched teams, both thinking playoffs. When you put them side-by-side, both have a solid quarterback with a big-play receiver that they have chemistry with. Both have players who can rush the pass and both teams have questions in the secondary.
Chicago fans will tout the fact that Cutler and Marshall are a force to be reckoned with and can eat Detroit's corners and safeties alive, but at this point Marshall is the only reliable wide receiver the Bears have. True, Marshall may make opportunities for guys like Hester, but until then, Houston should be able to match up reasonably well with Marshall, forcing someone else to step up.
Matt Forte gives the Bears a weapon that the Lions do not have to this point, but the plethora of weapons for Matthew Stafford gives them the ability to fight back from any deficit, a capability the Bears may not have and also something they may have a hard time fighting.
Verdict: The Chicago Bears defense ranked 28th in the league in passing yards allowed last season. With the passing game of the Detroit Lions being as strong as it is, this could be disastrous. If I had to pick a team to win both games, it would be Detroit, but with the offensive ability of Chicago and the lack of a strong Detroit secondary, a split series is a more reasonable prediction, putting the Lions' record at 5-3.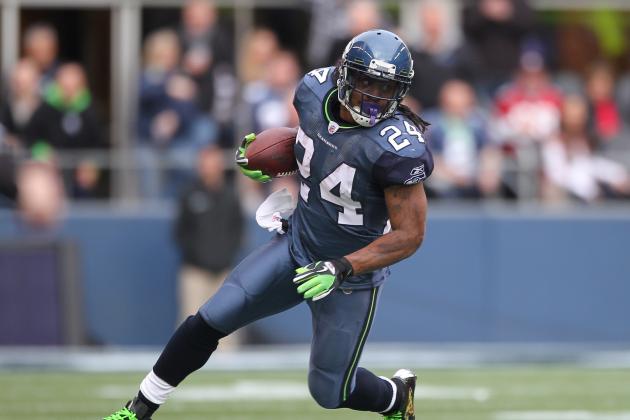 Otto Greule Jr/Getty Images

Matt Flynn might be the starter and might be throwing the ball to Terrell Owens and role-playing receivers. Marshawn Lynch is impressive, but there are just too many "mights" when it comes to the Seattle Seahawk offense. This is music to the ears of Detroit fans as Seattle will have to really prove something in order to pose a real threat to the Detroit defense, especially if that defensive line can contain Lynch.
Seattle will likely have a hard time stopping this explosive offense, especially if Stafford and Calvin are on their game.
Verdict: There really is not much to say about this game. Seattle's offense is not a big threat to the weak Detroit secondary and should not pose a threat to Stafford and his arsenal. Detroit gets a win here and sits at 6-3.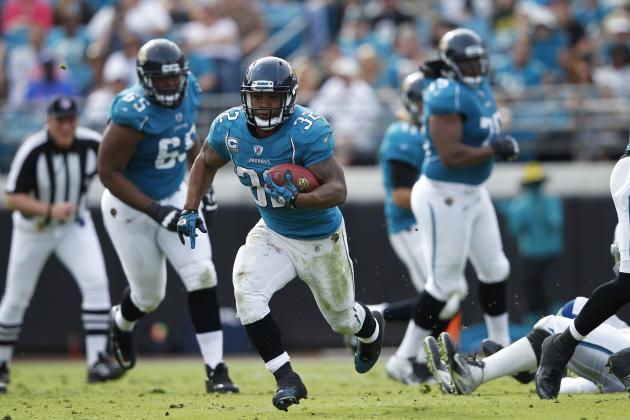 Joe Robbins/Getty Images

By this point, the Lions will have played a few teams that have strong running backs and questionable passing attacks. Jacksonville continues this trend, and questions linger about whether or not they will even have Maurice Jones-Drew or if he will be playing under a contract cloud. Blaine Gabbert may prove to be an effective quarterback, but he does not have any receivers who are reliable to threaten this Detroit secondary.
It seems like a theme for many of the teams Detroit will play is that they may not have the weapons to take advantage of the lacking Detroit secondary. Ultimately, in this matchup, Jacksonville likes to run and will be facing a highly aggressive defensive line. Detroit likes to pass and really can do so against most defenses with the pieces they have in place.
Verdict: This is another one of those games that Detroit should have no trouble with if, in fact, they have taken the next step in becoming a consistently good team. Detroit should win this game, bringing our tally to 7-3.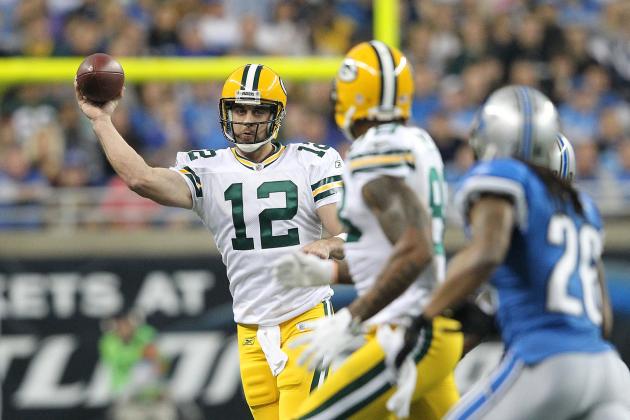 Leon Halip/Getty Images

There is a lot going against Detroit in the two games they play against the Packers. In the first game, they will be coming off of playing teams that they should have little problem with before going against one of the best quarterbacks in the league. Other than that, the Packers may have one of the most potent passing attacks in the league, some would argue even more so than that of Detroit.
In the offseason, Green Bay worked to get their secondary better, which may reduce the success the Detroit passing game may be able to have. Conversely, the Lions secondary took a few steps backward, which does not bode well for their efforts of avoiding a potential Green Bay sweep.
The game that Detroit and Green Bay played last thanksgiving was closer than the final score indicated. The "stomp" definitely gave Green Bay momentum, and their second matchup saw Matt Flynn dominate the Detroit defense. Detroit fans may argue that their strong defensive line will cause Aaron Rodgers problems in reading progressions, but his receivers are capable and always seem to find ways to end up wide open and wherever Rodgers needs them.
Verdict: Again, anything can happen in an NFL game, especially when it comes to division rivalries. But logic dictates that if a team's passing game was able to thrive against you and your secondary regressed, there is little to make the case that it will not happen again. Green Bay may win both of these games, making out tally 7-5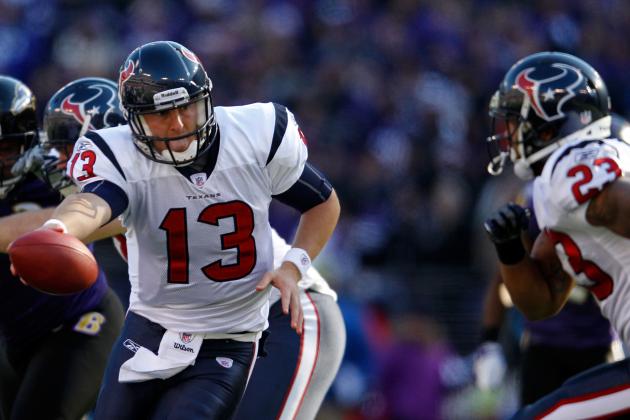 Rob Carr/Getty Images

The Texans game in Ford Field will be an intriguing matchup. Two young quarterbacks in Stafford and Shaub who each have an elite receiver to throw to. In the passing attack, the edge has to go to the Lions. Calvin Johnson has shown that he may be the best receiver in the league, but Andre Johnson is not far behind if he can stay healthy. Houston also has some complimentary pieces, but they do not equal the impact of Burleson, Young, Scheffler and Pettigrew for the Lions. Mario Williams has left the Texans, which should increase the time Stafford has in the pocket to make his reads and deliver accurate passes.
This could be a game where the result lies with the defensive line of the Lions. Can they get enough pressure on Shaub to hurry him into poor decisions? Can they stop Arian Foster from making a huge impact on the game? With the players they have on that line and the rushing focus of Jim Schwartz, the answer should be that they can.
Verdict: Again, this should be a close game and really could go either way but the fact that the game is in Detroit and I have given Detroit a few losses in some "coin toss" games makes me feel like a tally should go into the win column here bringing the total to 8-5.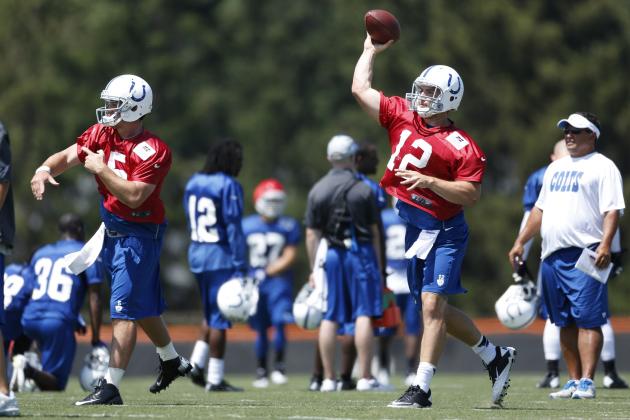 Joe Robbins/Getty Images

The Indianapolis Colts have a rookie quarterback throwing to questionable receivers. Granted, Andrew Luck is projected, by some, to be one of the best quarterbacks in recent memory, but with Luck having few options to throw to, the Lions should not be worried about this contest.
On the other side of the ball, the Colts ranked 28th last season in points allowed. Detroit has a high octane passing attack and the Indy defense will likely be spending a lot of time on the field, getting tired, allowing the Lions the ability to outscore them.
Verdict: Any further analysis would be restating points from multiple previous pages. Indy will likely not be able to exploit the Detroit secondary and will likely have a hard time stopping Stafford and Co. The Lions' projected record moves to 9-5.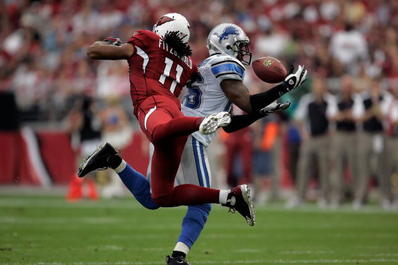 Jeff Gross/Getty Images

The Cardinals have a spectacular wide receiver in Larry Fitzgerald. He is the kind of player who can tear apart weak secondaries and has the capability of succeeding against some of the best corners and safeties in the league. The question is who will be throwing him the ball and how effective will they be. A slight advantage Detroit may have against Fitz is that Chris Houston practices every day against Calvin Johnson and understands what it takes to play against an elite receiving talent.
Arizona's rookie wide receiver, Malcolm Floyd, could end up doing damage to this defense, but until that can be proven and until Kevin Kolb or John Skelton prove to be viable quarterbacks, they cannot be considered a legitimate threat to this team, especially with the Detroit line coming after them.
Verdict: At the end of the day, this matchup may come down to the fact that the Lions simply have more talent in the right places. The Cardinals are not a strong team offensively or defensively and Detroit has enough strengths to pull this win off making the tally 10-5.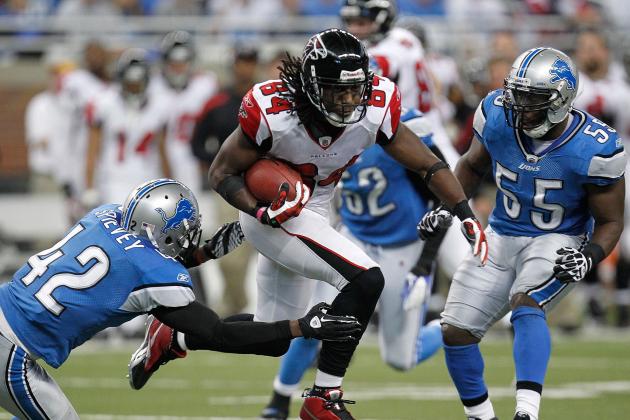 Gregory Shamus/Getty Images

The Falcons are a team with an arsenal that can take advantage of the weak Detroit secondary. At the end of the day, you can only put Chris Houston on one player and the tandem of Roddy White and Julio Jones can certainly take advantage of the other corners and safeties. The Detroit defense also has to account for Michael Turner and Anthony Gonzalez, which may be too much for them to handle with the pieces in place.
This will be the second-to-last game of the season with playoff implications on the line, so anything can happen and anyone can step up. It is possible that a young corner for Detroit or one of their free agent acquisitions will have proven themselves to be a reliable defender, but at this point the prospect of defending a veteran talent like Roddy White and a young talent like Julio Jones is worrisome.
Granted, Atlanta does not have a top defense, and the Lions have a higher number of viable receivers but the disparity between the Atlanta passing attack and the Detroit pass defense is much greater than the inverse.
Verdict: Again, this is a game that could likely go either way, but Atlanta gets an edge. Injuries and player growth will likely change how these teams look this late in the season, but without being able to see into the future, the Julio-Roddy tandem against a weak secondary has to result in the Lions finishing the regular season 10-6.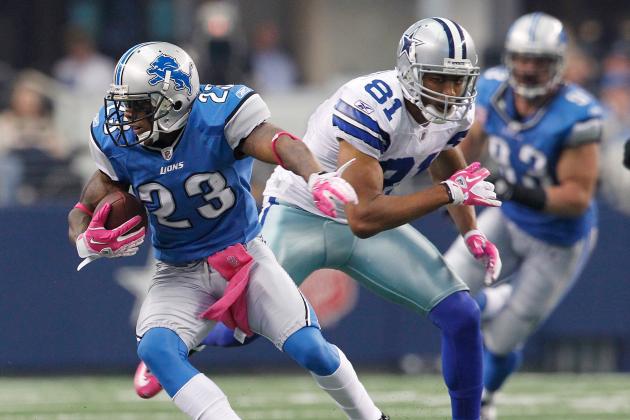 Tom Pennington/Getty Images

In this analysis, the Detroit Lions finish the 2012 season 10-6, repeating last season's record and giving them a good chance of making the playoffs.
I want to make it clear that I am, in no way, guaranteeing this result. It was merely an exercise to explore what the depleted secondary for Detroit could mean for their playoff chances. Some may say that this is too narrow of a focus, but in a pass-first league, it certainly needs to be taken into consideration, especially when Chris Houston is, at this moment, their only really reliable corner.
With that in mind, Detroit fans should feel optimistic about these results and their chances of making the playoffs. The schedule does them a lot of favors this season, pitting them against young, unproven quarterbacks and teams that would prefer to win on the ground, a strategy that their strong defensive line should cancel out.
Another reason for optimism is that, in most cases in which there was a toss-up result, I typically picked against the Lions. If they can manage to pull of wins in these toss-up games, they certainly increase their odds of making the playoffs. Now, whether or not they will be able to thrive in the playoffs is another question altogether.