The Patriots' two first-round draft choices face completely different circumstances in their battle for playing time. Defensive end Chandler Jones steps into a spot vacated by defensive ends Mark Anderson and Andre Carter. Linebacker Dont'a Hightower joins a linebacker corps that already has the foundation of a solid group for years to come.
Different circumstances, same predicted outcome: both should be starting for the Patriots in Week 1.
The consensus on Jones coming out of the draft was that his raw athleticism would need some time to develop into starting NFL talent.
Here's what I wrote about Jones shortly after the Patriots drafted him:
Being that Chandler Jones is something of a work in progress and that he's learning a new position at outside linebacker, early returns should not be expected...The pressure won't be on Jones to carry the burden for the defense as a rookie; the team brought in Trevor Scott as a free agent, who figures to play largely the same role as Jones. Likewise, the first-round pick figures to develop alongside fellow rookie defensive end Jake Bequette, who is also seen as an "elephant" in the Patriots defense.
Looks like Jones missed the memo. There may not have been pressure on Jones to prove himself as a starter in his rookie season, but he's taking that burden anyway.
As of right now, a week-and-a-half into training camp, there's no reason to think Jones won't be starting Week 1 for the Patriots. He has been running with the first-team defense for the most part in camp, lining up as the right defensive end.
This, despite the presence of several veterans rotating in and out at the other defensive end spot. We've seen Rob Ninkovich, Trevor Scott and Jermaine Cunningham all get looks at left end, but Jones has been a fixture on the right side.
We turn to Greg Bedard of The Boston Globe for his one-of-a-kind perspective:
[Jones' reps with both the first and second team defense] would indicate the Patriots are trying to cram in as much as possible so Jones will be ready for the season...Jones entered camp much stronger than anticipated (his 22 reps on the 225-pound bench press at the combine ranked 37th among defensive linemen), and his pass-rush moves are more advanced than your typical early-entry, first-round pick. Jones's play has dictated that he get, not only a shot at the starting job, but the job for now.
The expectation was that the Patriots would take it slow with Jones, and that he would contribute primarily as a pass-rusher in his first year in the league. Those expectations should probably change, though.
Should Chandler Jones start Week 1?
It's not just that he's getting the reps; it's that he's maximizing those reps, and looking good. His competition hasn't been light, either; he has lined up against left tackle Nate Solder and has won his fair share of those matchups.
As Bedard points out, the Patriots may be trying to cram it in for Jones to make sure he's ready, or they could be trying to get him up to speed so that they can decide with conviction as to whether they should start him. It would be a surprise, though, to see Jones get all these first-team reps and then not be the full-fledged starter Week 1.
Whereas Jones' role was in doubt, very few ever questioned that Hightower would factor into the defense early and often. The question was, how would he factor into the defense, and how would his role impact Spikes' role.
The early answer seems to be that he will factor into the defense one way or another, and that it may not impact Spikes as much as anticipated.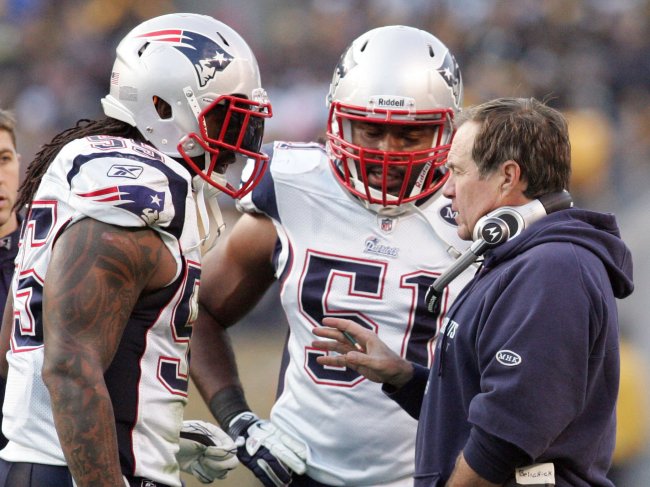 Charles LeClaire-US PRESSWIRE
The Patriots have fielded all three linebackers—Mayo, Spikes and Hightower—at the same time in some drills, with Spikes lining up inside while Hightower fills the spot on the strongside and Mayo lines up at the Will spot, where he played last year.

Hightower's athleticism and versatility make him capable of filling a more expansive role in pass defense as either a pass-rusher or a coverage linebacker. Hightower has lined up in coverage on tight end Aaron Hernandez and running back Shane Vereen.
There is a place for Spikes in this defense regardless of the package or the scheme; there's a level of intensity that is absent when Spikes is out of the lineup, and the defense performs notably better against the run with him present.
The Patriots' defense allowed an average of 109 yards per game and 4.1 yards per carry with him on the field, but those numbers jumped to 150 yards per game and 4.9 yards per carry without him.
Should Dont'a Hightower start Week 1?
For that reason, as well as the intensity he brings, his recent binge of absences in training camp is worthy of note. This sheds light on another benefit to having Hightower on the roster; he is seen as a more athletic version of Spikes, and he can therefore fill that role nicely.
Regardless of his role, though, expect Hightower to contribute often and most likely start for this defense.
We're less than two weeks into camp, so there's still plenty of time for these situations to change, but early indications are that we shouldn't expect them to.
Erik Frenz is the AFC East lead blogger for Bleacher Report. Be sure to follow Erik on Twitter and "like" the AFC East blog on Facebook to keep up with all the updates.