Miami Heat: Why Dwyane Wade Is Still a Top-10 Star in the NBA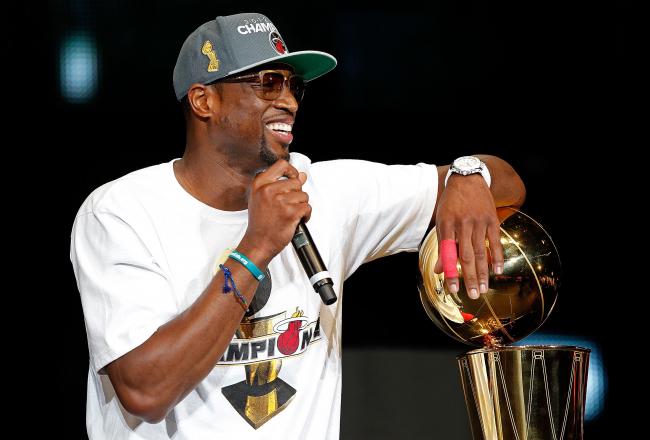 Mike Ehrmann/Getty Images
How easily they forget.
In a day and age where sports analysis has become more based on game-by-game and knee-jerk analysis, instead of taking a step back and looking at the big picture, we have come to the point of criticizing some of the league's best players.
We begin to expect too much, and anything below-average somehow shows a sign of decline. If you're older and you go through a stretch of bad games, you will immediately begin to hear about talk of that player being on the downside of their career. It's as if people are expecting, waiting for the decline to happen so they could crown a new protege.
It's been with Kobe Bryant over the past few years. With so many people hyping up LeBron James as the league's top player, those same people began to dismiss Bryant because they thought he was in the decline of his career. They had a case considering Kobe was in his 30's and having played 50,000 minutes, yet Bryant nearly won a scoring title this past season.
James is the better player, but Bryant, while some claimed him to be in the decline of his career, was better for a time when LeBron was in his final years with Cleveland.
In fact, Bryant's reign at the top was also being chased by Dwyane Wade. Even today, the two still go at each other with ferocity whenever the Miami Heat and Los Angeles Lakers match up. Because they play the same position, it only lives up the competition and the debates between who is currently the best shooting guard in the NBA.
The strange thing is, however, that Wade is going through the same thing Bryant is going through.
At the age of 30, it's already being predicted how many more years of elite play Wade can produce. Because of his risky style of play, past surgeries and injuries, as well as recent knee surgery, Wade is already being dismissed as someone who is past his prime and not even worthy of being considered a top ten player by some.
This talk isn't new. Critics have been writing off Wade since his first flew of injuries and surgeries in 2007. Following consecutive injury-plagued seasons after his 2006 Finals victory, many doubted on whether Wade would be able to return to his previous form of a dynamic and electrifying slasher who was capable of taking over games.
It took a summer's worth of workouts and rehab, but Wade utilized the 2008 Olympics to give himself a leg up into what would be the best individual season of his career.
Dwyane has taught us before not to doubt him. Even if he was 27 years old and just entering the prime of his career, it's hardly different than it is today. Wade, dealing with some injuries and needing surgery, is being doubted and has had several performances to remind us just what type of player he is.
Wade dealt with pain in his knee throughout the postseason, yet was still able to pour in a memorable 30 points in Game 4 against Indiana and 41 points in Game 6. With LeBron James in full takeover mode and Wade ailing, Dwyane deferred to his MVP teammate more than he has at any point in his career.
Because of the low numbers in the regular and postseason, it's why we're currently speaking of whether or not Wade should be considered a top-10 player.
Wade's regular season numbers were the lowest we've seen since his rookie season. In 49 games, Wade averaged 22.1 points, 4.8 rebounds and 4.6 assists per. While you may look at the drop in points per game and quickly attribute it to a decline in his play, it's also important to take note that Wade shot the second highest field-goal percentage of his career—.497 percent.
Wade only attempted 17.1 field-goal attempts per, the lowest it's been since the 2004-'05 campaign. This isn't a sign of Wade significantly declining; it's a sign that Wade's deferment to LeBron James was successful. In order for the team to reach its maximum potential, it had to be LeBron who would be taking the majority of the shots
Dwyane and LeBron decided that the key to victory wasn't taking turns handling the ball. Eventually, one of them would have to step aside and allow the other to be the alpha male on the team. Rather than letting time run its course, Dwyane made the first move by allowing the younger, more athletic LeBron to take over.
Dwyane recognizes that this is LeBron's time to shine. He's had his opportunities and he's capitalized with a championship and a Finals MVP. Dwyane knew LeBron wouldn't reach that point without becoming number two, so he did the smart and honorable thing by giving the reins of the team to someone who hadn't even been on the team for two years.
This move was just as significant as any that was made on the court. Sometimes, stats and highlights aren't the only characteristics to being a great player. You can possess all the physical attributes that give you an advantage at that aspect, but it's going to be the player who can use their mind as well as their body that's going to come out on top.
Wade's always had that advantage to him. Although he made some questionable decisions in a few playoff games, Wade still maintains as one of the league's best closers on both sides of the ball. He's still completely capable of hitting big shots when needed and locking up his assignment on the other end.
It's not like injuries ailed him too much on the Heat's journey to a championship. Wade was clearly the second best player on the Heat, averaging 22.6 points, six rebounds, 5.2 assists, 1.4 steals and 1.2 blocks per. It's a classic Wade statline—making his presence felt at every spot on the floor, including coming up big in rebounding and shot-blocking.
It's tough to dispute an injured player averaging those types of numbers as someone who possibly isn't regarded as a top-10 player. The fact that he was incredibly reliant on his jumper and clearly didn't have his head in the game at all times throughout the Finals, yet still posted up those stellar numbers, is a testament at just how well Wade can make his presence felt without being heralded.
Once again, we enter the realm of knee-jerk reactions. Wade has some bad playoff games and we immediately write him off? I thought we knew better than this. The more you doubt Dwyane Wade, the better he's going to be on the rebound; it's in his nature as an elite player to reassure us why exactly he was arguably the best player in the league in the years prior to the "Big Three" joining up.
Compare him with who arguably is among the league's top 10 players. In no order, nine will consist of LeBron James, Kevin Durant, Kobe Bryant, Kevin Love, Dwight Howard, Chris Paul, Deron Williams, Carmelo Anthony and Derrick Rose. Even some of those are interchangeable, specifically Anthony and Williams, or even Rose, due to the ACL injury.
Wade is deserving of a spot in there. He's a year removed from averaging 27 points per game in the NBA Finals and just went through an injury-plagued season, where he still managed to perform to expectations. If you ignore the bad games here and there, Wade had himself another excellent season in the sporadic time he garnered.
Also, when you consider he also willingly took a sidekick role in order to help his team win a championship, that's worth mentioning at the mental aspect of this game. If Wade doesn't defer to James, LeBron may not have the necessary confidence to hit shots like the one he hit in Game 4 against Oklahoma City or to have games like Game 6 against Boston.
Just because he could be considered a sidekick doesn't mean he should be treated as one by the NBA community. He can still be the primary scorer of this team, but he just so happens to be playing with the greatest basketball player in the world at the moment. It's difficult to look as good as LeBron, but Dwyane does an incredible job at sometimes making himself appear as the superior teammate.
It was just last year where Wade was still being considered a top-five player. Outside of another championship ring, a decreased role and some nagging injuries that have been cleaned up, not much has changed for Wade. He should return next year with his legs back under him and his jump shot with (hopefully) more arc.
Wade's going to have to learn how to shoot the mid-range more consistently. He's not going to be able to drive to the rim and get as much lift later on his career, so he'll have to develop that jumper he had early on in his career in order to maintain his status as a significant scoring threat.
So, is Dwyane Wade still one of the league's 10 best players? Absolutely. Just because you're considered a sidekick doesn't mean that you immediately get treated like one. Wade has proven that he can still go off for 30 points any given night and can still provide you with some of the best perimeter defense on the other end.
There are only so few players who can do that, and it's a lot less than 10.
This article is
What is the duplicate article?
Why is this article offensive?
Where is this article plagiarized from?
Why is this article poorly edited?

Miami Heat: Like this team?