Cincinnati Bengals: Games the Team Has to Win to Make the Playoffs in 2012-13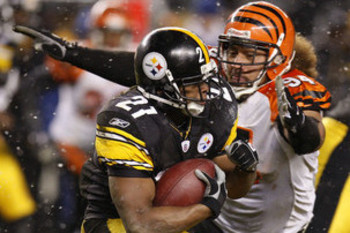 Every single team in the NFL has key games.
That is, they have games that are more important than others and hold higher meanings.
It is no different for the Cincinnati Bengals. Fresh off an incredible 2011 season that saw them make a stunning postseason appearance, the Bengals have a lot to prove in 2012.
Are they for real? How much work still needs to be done? Will A.J. Green and Andy Dalton suffer the dreaded sophomore slump?
In any case, there are certain games that—in order to be taken seriously—the Bengals must win in the 2012-13 season.
These five slides highlight those games.
Week 2: Vs. Cleveland Browns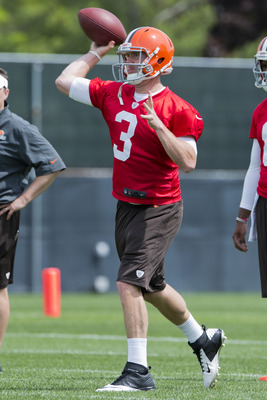 Jason Miller/Getty Images
It wouldn't seem that, on paper, this game is going to be of much significance.
However, allow me to beg your indulgence.
Cincinnati is perceived as a playoff team at this point, while Cleveland is in a bit of a rebuilding stage. Brandon Weeden and Trent Richardson will make progress, but they won't be quite ready to make a serious impact in the NFL.
That said, it could be devastating for the Bengals to lose this game at home to a team that is not only a division foe but also a weak one. Cincinnati starts the year in Baltimore in a game that I don't see them winning, so losing this game could take the Bengals to a miserable 0-2 start.
It shouldn't be a huge task for Andy Dalton and A.J. Green to look even better than last year and for Cincinnati's amazing defense to shut down Cleveland's offense.
Week 7: Vs. Pittsburgh Steelers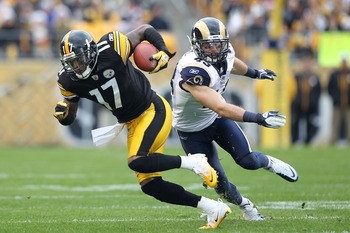 Karl Walter/Getty Images
Pittsburgh owned Cincinnati last season. In particular, the Steelers crushed the Bengals when the two teams met at Heinz Field.
A couple of things have changed, though.
The Steelers secondary isn't as good as it may seem on paper, and there's no Rashard Mendenhall. Personally, I fear the Pittsburgh passing game more than the ground game, but nevertheless, that is a big loss in the Steel City.
Andy Dalton struggled against Pittsburgh in 2011, and rightfully so. Now, outside of Troy Polamalu, the secondary for the Steelers is serviceable, at best.
Why is this a must-win? Cincinnati has something to prove. The Bengals need to beat one of the division powerhouses, and beating Pittsburgh would certainly make a statement—it's a bonus that this game will be played on Sunday Night Football.
Winning in Pittsburgh still will be a difficult task later, but at the very least, the Bengals must score this win at Paul Brown Stadium.
2 Games Against the NFC East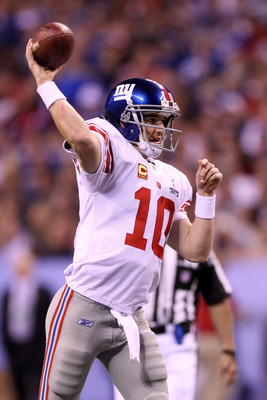 Elsa/Getty Images
When it comes down to tiebreakers in the AFC, records against NFC opponents are basically irrelevant—so, why would these games matter?
First and foremost, the NFC East is going to feature some of the stiffest competition in the NFL. The Giants are the defending Super Bowl champions, the Eagles are going to come back strong (write it down), the Cowboys have a lot of talent and the Redskins could surprise some people if RG3 comes out firing.
Beating a couple teams on that list would make a real statement to the rest of the league.
However, dropping all four games or even three of them would greatly hinder the Bengals' record, and that can't happen. The AFC North is pretty tough in its own right, and it would be a shame to watch these NFC teams destroy Cincinnati's playoff hopes.
For the record, I have the Bengals defeating three of the four teams here.
The only loss? A Thursday night game in Philadelphia.
Week 12: Vs. Oakland Raiders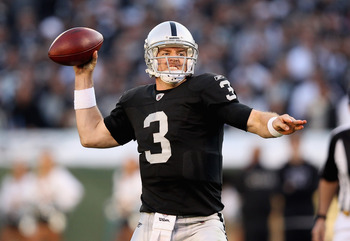 Ezra Shaw/Getty Images
On most weeks, a game between the Raiders and Bengals would just appear to be another AFC ballgame that holds little significance.
Not in 2012.
There are personal implications in this one, and there very well could be some playoff implications.
Granted, Week 12 is still pretty early, but you never know.
Carson Palmer will return to Paul Brown Stadium Nov. 25 to face his former team, the Cincinnati Bengals. He ended his career in the Queen City by figuratively spitting on the entire town. The team and their fans are out for blood, and they want to show Palmer what they really think of him.
In terms of playoff implications, these two teams are borderline postseason candidates. Oakland showed a lot of promise in 2011 and can certainly get to the postseason if Palmer can be in 2005 form (good luck), or if the running game and defense step up.
The winner here could be the team that gains a serious edge in the playoff race.
Week 17: Vs. Baltimore Ravens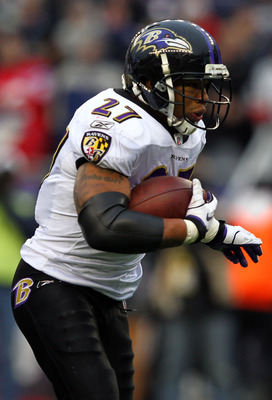 Al Bello/Getty Images
As was the case in the 2011 season, Cincinnati will close its year with the Baltimore Ravens in Cincinnati.
This past year, it was a major letdown despite the fact that the Bengals went to the playoffs. This Week 17 game could hold a lot of playoff implications this year, though.
Who will be the division champion? Could one team be completely eliminated by the game?
See where I'm going here?
Assuming the Bengals take the big step forward that the Queen City is expecting them to take, this game may wind up being the game of the season. You can bet all eyes will be watching the young Bengals in what should be a thriller to close the season.
Keep Reading

Cincinnati Bengals: Like this team?