Grading Each New York Jets Offseason Move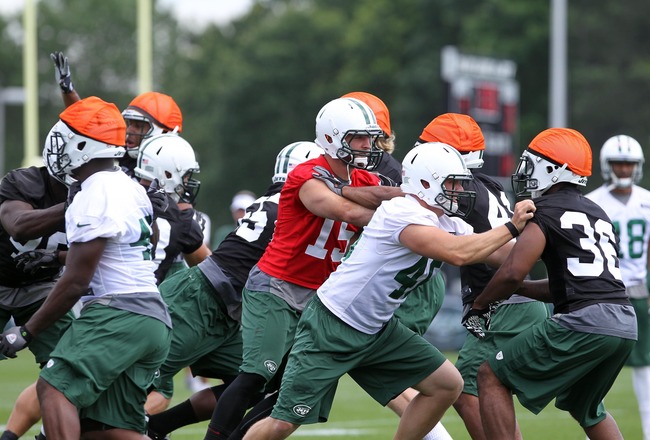 Ed Mulholland-US PRESSWIRE
What started out as a relatively quiet offseason for the Jets has turned into one of the most highly-debated and publicized summers, which is in large part thanks to the trade to Tim Tebow.
However, even beyond the Tebow trade, the Jets have made a lot of interesting moves that have the potential to bring this team back to his former glory under Rex Ryan.
Here is a grade for every offseason move by the Jets in 2012.
Signing LaRon Landry
Steven Bisig-US PRESSWIRE
After missing out on Reggie Nelson, the Jets were forced to make a move and sign a veteran safety to avoid being forced to draft one.
While Landry is among the best in the game when he is playing at 100 percent, health has been elusive for the veteran safety, which is why he was not highly-sought after in free agency.
In the end, the Jets were able to land a one-year deal with Landry that protects the team in case he struggles to get on the field. On the other hand, if Landry does get on the field, he will play at a high level that would be worth ever penny of his $4 million contract.
This is a terrific low-risk, high-reward by Mike Tannenbaum. If things work out, this move has the potential to be one of the top steals of free agency.
Grade: A-
Trading for Tim Tebow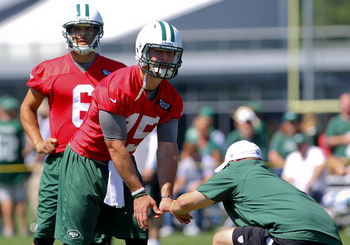 Ed Mulholland-US PRESSWIRE
One could probably write a thesis on the ins and outs of this trade, but the truth is that we will have to wait to see whether or not the Jets can actually make Tebow's presence be worth all of the drama that surrounds the trade.
Tebow could be the starter by Week 9—or he could be wasting away on the bench the entire time. Only time will tell.
Could Tebow possibly bring an effective package to the Jets offense without causing a quarterback controversy? Sure. But to me, the price of the Tebow trade, both in terms of draft picks and all of the drama that will surround the situation, is not worth the potential output.
Grade: C-
Re-Signing Aaron Maybin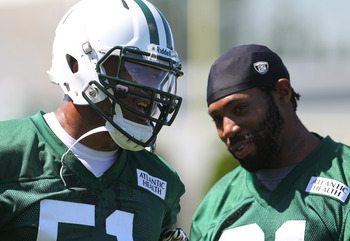 Ed Mulholland-US PRESSWIRE
While Maybin may not be the DeMarcus Ware-type of outside linebacker that can play on all three downs, there is no denying his speed and motor bring a much-needed dimension to the Jets' defense.
Playing under a $1.3 million tender, Maybin will be able to prove that he can be a consistent player for one more season with the Jets, while the Jets are not committing a lot of money on their part. Win-win situation for both sides.
Grade: A-
Re-Signing Bryan Thomas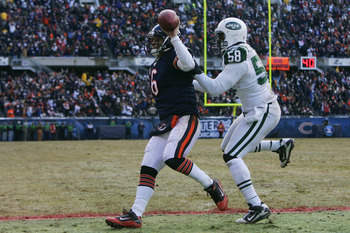 Jerry Lai-US PRESSWIRE
A solid yet unspectacular presence at outside linebacker, Thomas was brought back essentially because they could not replace him with a better in free agency.
Bringing Thomas back made even more sense after Jamal Westerman, a part-time player, shipped off to Miami in free agency.
Without Thomas in the fold, the Jets would be juggling all kinds of formations and personnel groups just to compensate for their massive hole at the position.
Grade: B
Re-Signing Mark Sanchez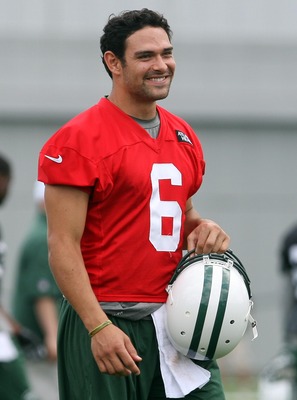 Ed Mulholland-US PRESSWIRE
This was a popular contract for pundits to crush because it does look suspicious on a surface level. Why extend a quarterback that has not only overpaid after a poor 2011 campaign, but he appears to be a player that is declining, not getting any better.
However, Sanchez's extension actually helps the Jets more than it helps Sanchez. It gave the Jets an additional $15 million in cap room, which they used to fill other needs this offseason. Plus, they send a message declaring their confidence in their young quarterback when few seem to evoke the same feelings.
Besides, could you imagine the upheaval if the Jets traded for Tebow without extending Sanchez beforehand? Even worse, could you imagine if they dared to give Sanchez an "apology" contract after trading for Tebow?
Grade: B+
Re-Signing Patrick Turner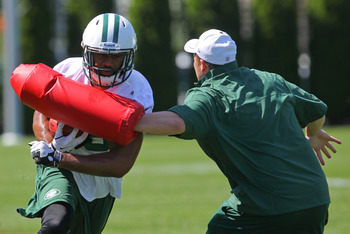 Ed Mulholland-US PRESSWIRE
The former Miami castoff has found himself a role here in New York. While he is not going to see the field a whole lot on the regular offense, Turner is a fierce competitor that has become a favorite of Rex Ryan's.
While Turner never saw significant action, he did make a few key grabs when he was on the field.
At 6'5, Turner is still a big-bodied target that could still develop into a starter with some time, but for now, added depth at a position in flux is hardly a bad thing, even if Turner fails to make the roster.
Grade: B+
Trading for Jeff Otah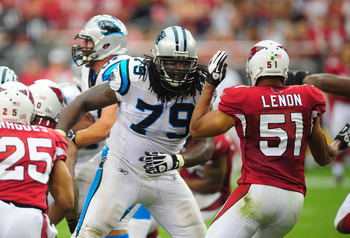 Mark J. Rebilas-US PRESSWIRE
The most recent move of the Jets' offseason, this one came as a bit of a surprise. For just a conditional late-round pick, the Jets' have themselves a talented but oft-injured right tackle on their roster.
While the Jets certainly still have a big hole at right tackle, the timing of this move is curious to say the least. What happened in the past few days that put Otah on the market? If Otah was already on the market, why did the Jets wait until now to make a move?
In either case, this is a classic low-risk high-reward move that could pay dividends for the Jets. If Otah works out, the Jets' line will look a lot more like the 2009 group that led the NFL in rushing than the 2011 group that almost got Mark Sanchez killed.
Grade: A+
Signing Yeremiah Bell
Richard Mackson-US PRESSWIRE
Yeremiah Bell may not be the best coverage man, but he is everything that Jim Leonhard was at the position, except with a better reputation of durability.
However, because Bell is exclusively a strong safety, it will for the Jets to move LaRon Landry to free safety, which is out of position for him. The Jets are now stuck with two strong safeties, which is exactly the same problem they had last year.
A smart, reliable veteran, the Jets could still get another good season out of the 34-year-old safety.
Grade: B
Signing Chaz Schilens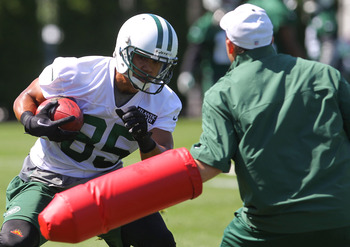 Ed Mulholland-US PRESSWIRE
Schilens was one of the first players they got under contract at the start of free agency.
With a 6'4" frame to compliment his good speed, Schilens has all of the physical tools to develop into a quality NFL starter. He will also be working with receivers coach Sanjay Lal, who coached Schilens during his days in Oakland.
If the Jets never picked Stephen Hill in the second round, they were probably ready to roll with Schilens as their No. 2 receiver.
While he will not be a regular starter, Schilens can make his impact in the red zone with his size, which is something the Jets will need after deciding not to re-up with Plaxico Burress.
Grade: B+
Signing Stephon Heyer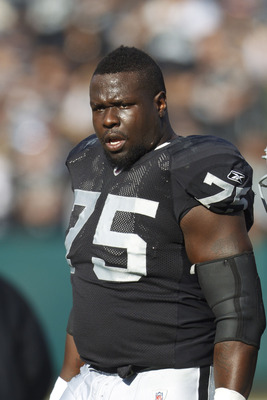 Jason O. Watson-US PRESSWIRE
Unlike Jeff Otah, Heyer was not brought in to challenge Wayne Hunter for the starting right tackle job. Instead, Heyer will be occupied with trying to put Vladimir Ducasse in the unemployment line.
Having spent his last season with the Raiders and seeing some game action in the process, Heyer bring experience and toughness to the table, which are two qualities that Ducasse lacks.
While not an earth-shattering move, bringing in veteran talent to push young players is a smart tactic, even if Heyer is not able to make the team. Nothing to lose on the Jets' part here.
Grade: B
Signing Hayden Smith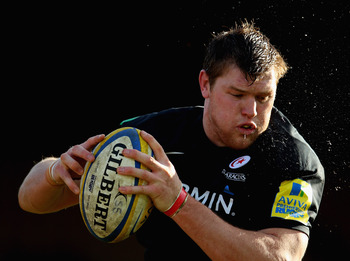 Warren Little/Getty Images
After bringing in the former Australian rugby player, Mike Tannenbaum proved that he truly does leave no stone unturned.
This summer is Smith's first time ever playing American football; the fact that he could be on an NFL roster in September is an astounding feat in itself. But the faster Smith can pick up the game, the less the Jets have to worry about finding a blocking tight end, which remains to be one of the biggest holes on the team this close to the start of the season.
Even if Smith is simply unable to grasp the intricacies of American football and returns hoe to Australia, you can't blame the Jets for giving him a chance. If he does succeed, the Jets could have set a precedent for other rugby players making the conversion to the NFL.
Grade: B
Re-Signing Sione Pouha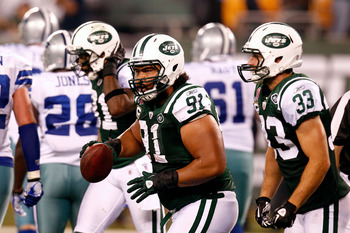 Jeff Zelevansky/Getty Images
Coming into the 2012 offseason, retaining Pouha was on top of the Jets' to-do list. Fortunately, they were able to accomplish this task before free agency hit and award Pouha with a three-year deal worth $15 million.
If Pouha was able to reach the market, he most certainly would have been offered bigger deals from more desperate teams.
Regarded as the best 3-4 nose tackle in the game, Pouha still has several quality years ahead of him. Despite his age of 33, Pouha did not enter the NFL until the ripe age of 25 (he spent several years on Mormon missions before entering college).
With Pouha in the fold, the Jets boast some serious depth at defensive line, which is not something they could have said a year and a half from now.
Grade: A
Keep Reading

New York Jets: Like this team?