Projecting Chicago Bulls Starting Lineup, Post-Peak Free Agency & Summer League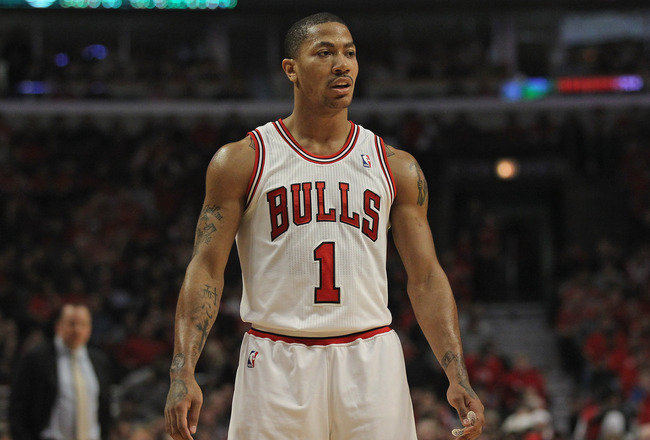 Jonathan Daniel/Getty Images
The Chicago Bulls finished their stint in the Vegas Summer League last Sunday. With the Summer League ending, and the roster starting to take shape, it's time to look forward to how the Bulls are going to look next season.
For the last few seasons, the starting lineup has been virtually set in stone. However with the injury to Derrick Rose and the departures of Ronnie Brewer, C.J Watson and Kyle Korver, this roster is starting to look a whole lot different.
With all the new acquisitions, next year's team may look a bit different than what you're used to. Here's how I see the new starting lineup shaking out.
Point Guard: Kirk Hinrich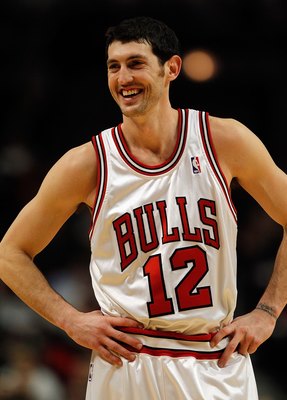 Jonathan Daniel/Getty Images
Guard, 6'4", 190 lbs
Stats: 9.2 PPG, 2.9 RPG, 3.9 APG, 41.4% FG, 34.6% 3P (per 36 mins)
Kirk Hinrich was the Bulls' only major acquisition this summer, after playing a season and a half with the Atlanta Hawks. Hinrich is best known for being the starting point guard for the Bulls during the first Chicago playoff runs after the Jordan era. He was drafted in 2003 by the Bulls.
Kirk Hinrich made a living in Chicago by being a solid point guard across the board. He was a player who was a solid scoring option, but made his living on defense. Unfortunately, Hinrich has struggled through injuries the last two seasons, and is a shell of the player he once was.
The Bulls drafted Kentucky point guard Marquis Teague with their first-round draft pick this season. Many speculated that Teague could get the starting role in the absence of Derrick Rose, however Teague effectively ruined his chances during Summer League. Teague averaged sub-30 percent shooting against marginal NBA players, and that's not going to win you any jobs.
Of course, later on in the season, Derrick Rose will surely take this spot. However to start the season, the job will begin as Hinrich's.
Shooting Guard: Jimmy Butler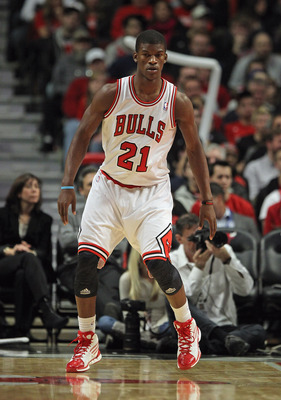 Jonathan Daniel/Getty Images
Guard/Forward, 6'7", 220 lbs
Stats: 42 Games, 11.0 PPG, 5.5 RPG, 1.3 SPG, 40.5% FG (per 36 mins)
Summer League: 20.8 PPG, 6.5 RPG, 2.0 APG, 43.1% FG, 50.0% 3P, 89.7% FT
I know what you're thinking...no Richard Hamilton? Well to start the season, the Bulls do not have starting point guard Derrick Rose. Rip Hamilton is a veteran who has shown what he has to offer the Bulls, and that's steady production in limited minutes. With Rose out, the Bulls should limit Hamilton's minutes so he can perhaps stay healthy.
Jimmy Butler on the other hand is an unknown commodity at the moment. He only played sparingly in his first season, but showed that he had good size and athleticism, and already has shown that he is a great defender.
Butler showed in Summer League that he has some offensive game as well. He averaged more than 20 points, and shot 50% from three. Obviously these numbers are against marginal competition so it's hard to really take these numbers into consideration, but it shows he has some offense there.
More than anything, the Bulls need to play Butler in order to see what they have. Leaving him on the bench isn't going to create any assets for the Bulls.
Small Forward: Luol Deng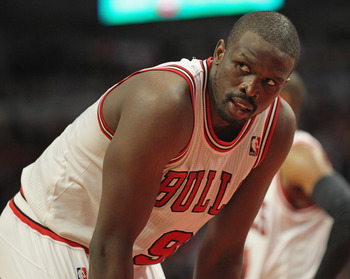 Jonathan Daniel/Getty Images
Forward, 6'9", 220 lbs
Stats: 54 Games, 38.0 MPG, 15.3 PPG, 6.5 RPG, 2.9 APG, 41.2% FG, 36.7% 3P
Luol Deng had another solid season last year, coming in second on the team in scoring, third in rebounding, fourth in assists, second in steals and fifth in three-point percentage. What I'm trying to express is that Deng had one of his solid years.
The concern coming back for Deng is that he tore a ligament in his left wrist, and his production suffered afterwards. The word on the street from ESPN.com is that Deng may not have surgery at all this offseason and perhaps push it off to NEXT offseason instead. Deng chose to not have his surgery at the beginning of the summer due to the fact that surgery would cause him to miss the Olympics in London.
If Deng chooses to have surgery, it's likely that Jimmy Butler would slide down to the small forward position, and Richard Hamilton or Marco Bellinelli would start at shooting guard. However if Deng starts the season, he will start at small forward.
Power Forward: Carlos Boozer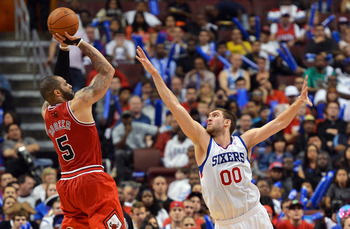 Drew Hallowell/Getty Images
Forward, 6'9", 266 lbs
Stats: 66 Games, 29.5 MPG, 15.0 PPG, 8.5 RPG, 1.9 APG, 53.2% FG
Two years ago, Carlos Boozer was the Bulls' big money acquisition in the infamous free agent class of 2010. Two years later, Boozer has been underwhelming and generally overpaid.
There is absolutely an argument to be made that Taj Gibson should start over Carlos Boozer. Primarily, Gibson has shown himself to be an elite defender, a hard worker, solid athleticall, and a great overall locker room guy.
However in the end, Boozer will start over Gibson. The primary reason Boozer will start over Gibson is the investment that the team has in Boozer's success at this point. Boozer is owed $47.1 million over the next three seasons, so the Bulls have great incentive for Boozer to succeed.
Things may change throughout the season, but Carlos Boozer will start the season starting at power forward.
Center: Joakim Noah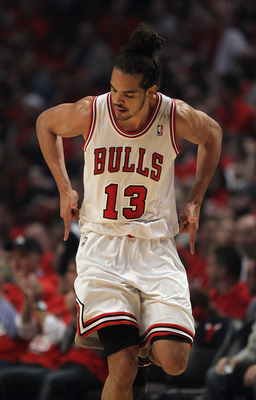 Jonathan Daniel/Getty Images
6'11", 232 lbs
Stats: 10.2 PPG, 9.8 RPG, 2.5 APG, 50.8% FG
Joakim Noah had another solid season last year. If not for a shortened season and a slow start, he would have averaged a double-double. Noah also pushed his field goal percentage higher than 50 percent and had solid assist numbers to boot.
Noah has been the key to Chicago's defense for years. Like Kevin Garnett before him in Boston, Noah is the quarterback of the defense for coach Tom Thibodeau. He has many responsibilities while on the court, and is one of the few players in the league who can achieve what is asked of him.
Noah is one of the elite defenders in the NBA because of his ability to cover the floor like very few other players. We saw in the 2011 Eastern Conference Finals his ability to guard both centers as well as Dwyane Wade and LeBron James. You can count on one hand players who can do those two things.
More than anything, however, Joakim Noah is perhaps the only true center on the Chicago Bulls roster. Other than Noah, the only player listed as a center is newly acquired Nazr Mohammed. It's fair to say that Joakim Noah is a better player than Nazr Mohammed.
Especially with the lack of top flight centers in the NBA, Joakim Noah is one of the best, and will start for the Chicago Bulls.
Keep Reading

Chicago Bulls: Like this team?