NBA's Five Best Players of the 2011-2012 Season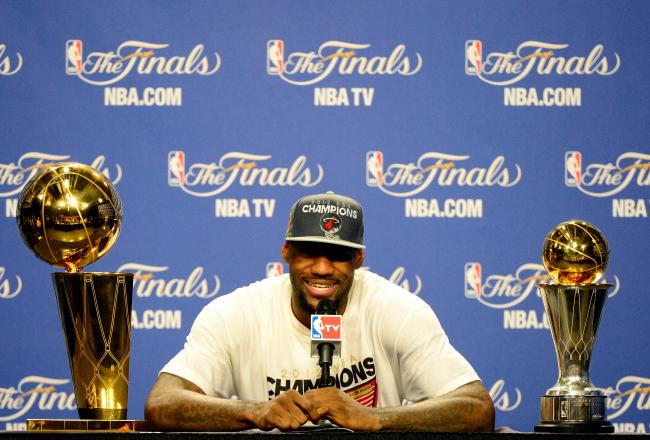 LeBron James is on top of the basketball universe.
Ronald Martinez/Getty Images
The best player in the NBA held his crown for yet another season while some young, rising stars and savvy veterans found their way into the top five.
The Miami Heat captured the Larry O' Brien trophy in late June, their second in franchise history. Now that we've had some time to digest, here is an opportunity to reflect on the five players who stood out above all others during this NBA season.
Point guard play is king in the year 2012, and that is well reflected in this list. Even more desired is the rare point forward position, a role that LeBron James and Kevin Durant have embodied so exceptionally well.
Durant and James are big-money players that each have the ball in their hands when everything is on the line. The NBA will always be a superstar driven league, and a team's chances of winning are even better if their star is also their top playmaker.
There were several notable exclusions to this list, including top-10 all-time player Kobe Bryant, who, even in his 16th season, is still one of the most feared stars in the game. Blake Griffin emerged as a force of nature in the high post and low blocks. His nightly highlight-reel dunks, and much improved mid-range game, elevated him to second-team all-NBA honors.
It was also hard to ignore excellent young players, Rajon Rondo and LaMarcus Aldridge, as well as the league's best center Dwight Howard. But there's only room for five on this list. And here are your top-five players from this NBA season:
1. LeBron James, Miami Heat -- He's still the one and on a night-in-night-out basis, he is the best basketball player on the planet. James won his 3rd MVP award this season after finishing 3rd in the league in scoring and compiling the highest assist total for any non-point guard in the NBA.
Who was the best player of the 2011-2012 NBA season?
LeBron finished 1st for the 5th straight season in John Hollinger's player efficiency rating metric, which quantifies a player's value based on per-minute productivity. James is dominant and durable. In this strike-shortened season he missed only four games (Miami lost three of those four games), played every position on the floor but center, and carried over his dominance into the NBA Playoffs.
It's entirely likely that Miami wouldn't have advanced past the first round were it not for this future hall of famer. People may debate who the best scorer or game-closer in the league is, but there's no debate on who the game's best player is: The King.
2. Kevin Durant, Oklahoma City Thunder—He may have just missed out on his first NBA title, but Durant already has three NBA scoring titles to his name. This season marked a considerable maturation in the game of Durant. He evolved from being primarily a jump shooter into a triple-threat, cold-blooded assassin in late-game situations, one unafraid of putting the ball on the deck and powering his way to the rim to get points.
Durant earned first-team all-NBA honors for the third consecutive season, and played in every game this season. It's hard to believe this superstar is just 23 years of age. At the rate he's going, he may soon eclipse James as the league's top player.
3. Chris Paul, Los Angeles Clippers—What a difference a change of scenery makes. Paul enjoyed an elite 2010-2011 season but he looked noticeably rejuvenated, and even more sensational as a floor general this season. Paul is the quintessential player that plays at his peak when surrounded by better players. Like all great NBA point guards, he makes all of the players around him better.
Paul averaged nearly 20 ppg and dropped nine dimes a night. Among his most impressive statistics was his mind-boggling assist-to-turnover ratio of 4.38. He also has an uncanny knack of closing out games. Most impressive? This maestro helped the Clippers win 61 percent of their games this season. They won only 39 percent last season. That was the highest jump of any team in the NBA.
Chris Paul and Tony Parker were two of the league's elite this season and battled in the Western Conference Semifinals.
Justin Edmonds/Getty Images
4. Kevin Love, Minnesota Timberwolves—Among all of his unbelievable statistical accomplishments in the 2011-2012 season, this beast on the glass also won the 2012 NBA Three-Point Shootout during All-Star weekend. Love can dominate games on the boards, in the paint, from mid-range and long-range.
Just 23 years of age, Love was fourth in the league in scoring, second in rebounding and he logged the second most minutes per game of any player in the league. A few more seasons with uber-talented point guard Ricky Rubio should help Love continue to increase his scoring production.
5. Russell Westbrook, Oklahoma City Thunder/Tony Parker, San Antonio Spurs—Fit to be tied, these two point guards are a blur to opposing defenders and fans alike. Westbrook had a more impressive regular season statistically, while establishing himself as one of the best players in the game, but Parker continued to show himself as the Spurs' top man, leading San Antonio to the best record in the NBA.
The Thunder may have defeated San Antonio in the Western Conference Finals, but Parker outplayed Westbrook, routinely getting inside the paint and wreaking havoc on the Thunder's defense. Westbrook's future is as luminous as any NBA point guard to come into the league. He's made major strides with his jump shot, and he became a much more confident shooter in 2012. He'll need to become more deferential, considering he has league's best scorer by his side, as he pursues his first NBA ring. Westbrook still has a way to go to catch Parker's three NBA championships.
This article is
What is the duplicate article?
Why is this article offensive?
Where is this article plagiarized from?
Why is this article poorly edited?