How Peyton Manning's Presence Positively Affects the Denver Broncos Defense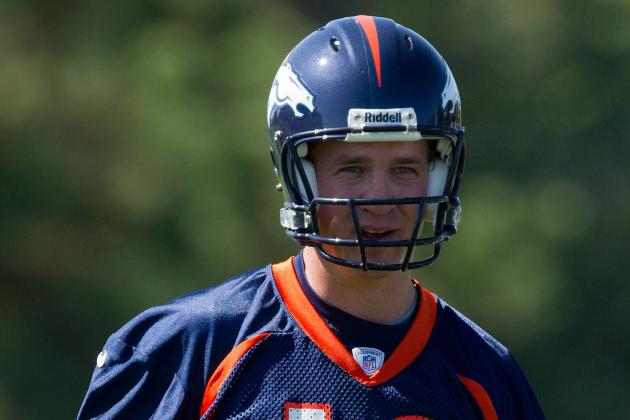 Justin Edmonds/Getty Images

Yes you read the headline correctly.
Peyton Manning will help the Denver Broncos defense.
And no, I'm not talking about him playing safety.
The Broncos defense was a tough group to figure in 2011. The played admirably at times, holding seven opponents to fewer than 20 points. Yet they also were soundly beaten by the top quarterbacks in the league, allowing 49 points to Aaron Rodgers, 41 points to Tom Brady and 32 points to Christian Ponder.
Wait. What?
Christian Ponder?
As I said, the Broncos defense was a tough group to figure.
The Denver defense finished the season ranked 20th overall. They allowed over 24 points a game and forced just 18 total turnovers.
So what does this have to do with Peyton Manning?
Here is how Peyton Manning positively affects the Denver Broncos defense.
Begin Slideshow

»
Justin Edmonds/Getty Images

Obviously Peyton Manning practices like a champion; the great ones usually do.
But this is more than that.
The Broncos' defensive unit gets to watch Manning. They get to learn from him. They get the opportunity to watch the way he attacks them.
And then on Sundays, they get to go out and use that knowledge to make the defense better.
Last season, with the Broncos' run-first offense, it would have been difficult to simulate Aaron Rodgers on Sundays.
This has to help the defense.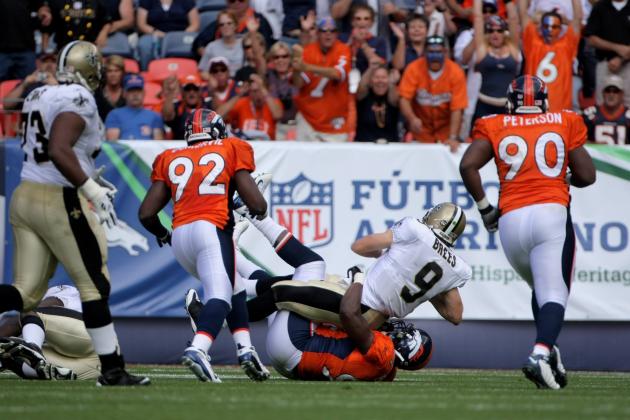 Doug Pensinger/Getty Images

Coaches talk about tempo all of the time. What is the big deal about tempo?
Having a highly intelligent quarterback like Peyton Manning allows you to dictate the tempo of the game if your offense is having success.
Playing a high-powered offense like that of Patriots or the Saints? Manning throws short passes, uses the running game and works the clock. You can keep opposing offenses off the field with fewer possessions. And Manning is a master of the short passing game and mixing up the run and the pass.
Playing a team that struggles to score points? You can speed up the tempo of the game and look to be aggressive.
Now you are putting more pressure on that struggling offense.
Garrett Ellwood/Getty Images

Say you're playing a team like the Oakland Raiders that is 50 percent run and 50 percent pass.
A running back like Darren McFadden can keep your defense off balance all day.
If you knew when quarterback Carson Palmer was going to pass, you could generate a strong pass rush.
Last year when they Broncos struggled to score, teams could stick to their running game plans for the duration of the game.
But what if Peyton and the offense manage to give you a 10-14 point lead midway through the fourth quarter?
Suddenly that 50-50 team is forced to forsake its running game.
Now your pass-rushers know what is coming, and they can attack.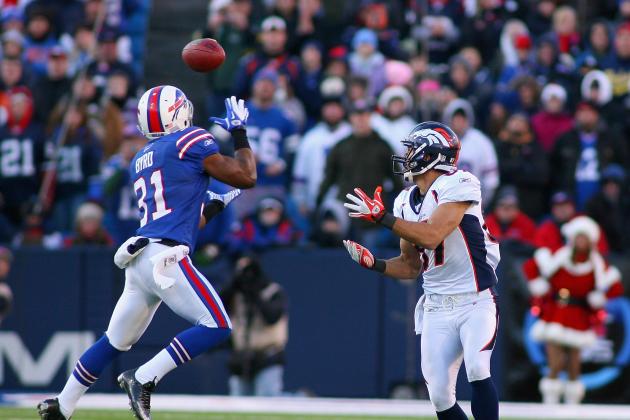 Rick Stewart/Getty Images

Think back to the 2011 Denver Broncos' blowout losses.
Green Bay 49, Denver 23
The Broncos turned the ball over four times. One of the interceptions that Kyle Orton threw was returned by Charles Woodson for a touchdown.
Detroit 45, Denver 10
Denver turned the ball over three times. Detroit? None.
The Detroit defense scored two touchdowns.
New England 41, Denver 23
Once again the Broncos failed to win the turnover battle. Denver turned it over three times again.
Seeing a trend?
You just can't win consistently in the NFL when you lose the turnover battle. Is Peyton Manning going to take away all of those turnovers? Of course not.
But even though they were very conservative offensively, the Broncos still turned the ball over 30 times in 2011.
In Peyton's last five seasons at Indianapolis, the Colts offense averaged just 20.8 turnovers per season.
The Broncos defense will appreciate that.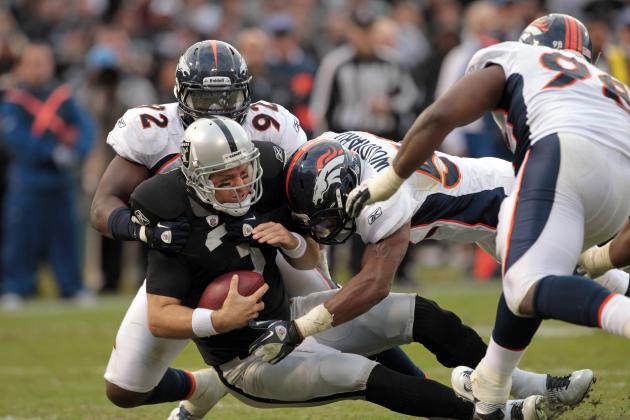 Ezra Shaw/Getty Images

Would you rather play defense up 31-14 or tied at 14 apiece?
With a lead you can blitz, stunt and take some chances. Last year the Broncos defense was just trying to stay in front of the play.
You can't gamble. What if you give up a big play?
Remember the final regular season game last year at home against Kyle Orton and the Chiefs?
The Chiefs won the game, 7-3, in a thriller that featured 17 total punts.
Surely the Broncos had a field day attacking the slow-footed Orton?
One sack. One.
They couldn't take a chance. With the Chiefs leading 7-0 since the first quarter, the defense had to be conservative and try not to give up big plays that could end the game.
Knowing that Manning can score points allows you more freedom to attack. And if you do give up the big play?
It isn't the end of the world. He can generate points to make up for it.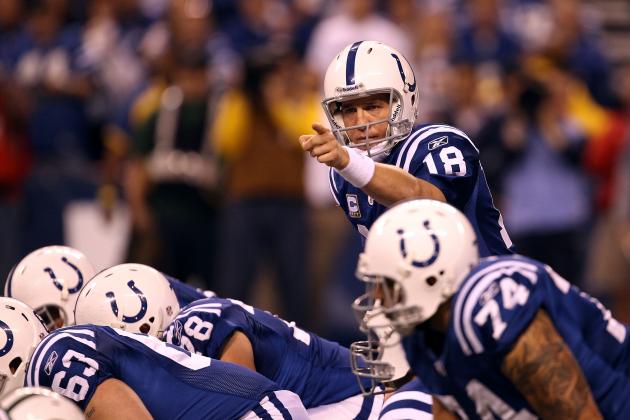 Jonathan Daniel/Getty Images

Think back to Peyton Manning in his prime with the Colts.
As an opposing offense, you felt pressure to score.
In fact, you felt pressure to maintain possession and not go three and out and have to punt.
You just knew that if you didn't find a way to manufacture points, Manning would catch fire, and then it was over.
Most Denver Bronco fans remember the 2004 AFC Wild Card Game all too well.
Jake Plummer played a reasonably good game. Plummer went 24-for-34 for 284 yards and two touchdowns.
The game opened with the teams trading punts. Then Indy scored a touchdown on a two-yard touchdown pass by Manning.
The Broncos punted again.
The Colts drove for another touchdown, to make it 14-0 Indy.
Now Jake Plummer was feeling the pressure. He knew he needed to try to keep pace with Manning.
He threw an interception on the next series.
Final score: Colts 49, Broncos 24.
Now the Broncos hope to be on the other end of those games.