New England Patriots' Complete 2012 NFL Preseason & Training Camp Guide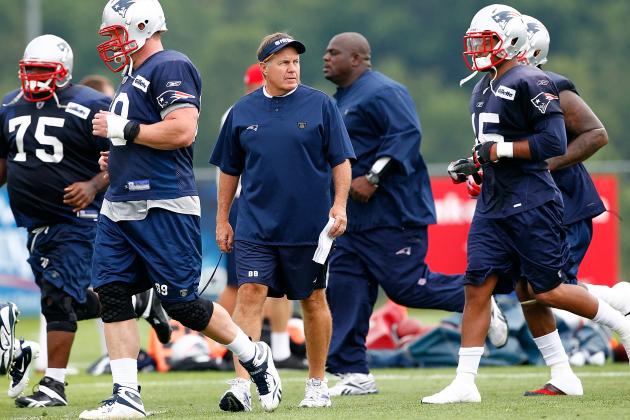 Jim Rogash/Getty Images

NFL Training Camp and preseason games are right around the corner for the New England Patriots. Starting July 26, the Patriots will be on the practice field outside Gillette Stadium preparing for the 2012 season.
These dog days of summer are a time to develop the playbook, groom rookies, implement free-agent signings and grind out positional battles. Consequently, questions will be raised and storylines will come to the forefront.
Only 53 players will remain from the 90-man roster by September. Yet, natural selection is part of building a Super Bowl contender.
Here is the 2012 training camp and preseason guide for all things Patriots.
Begin Slideshow

»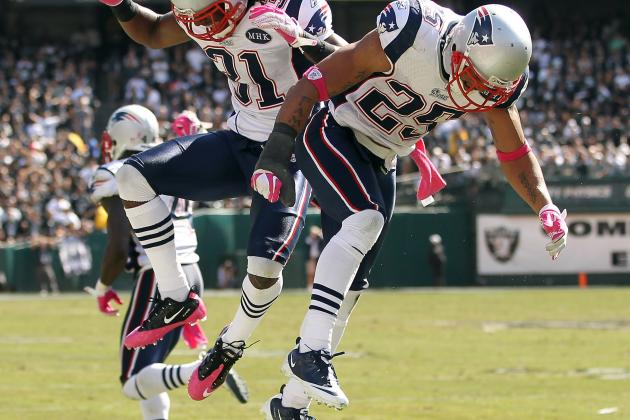 Ezra Shaw/Getty Images
Sergio Brown and Patrick Chung finding room for celebration.
New England is a deep and talented football team. That being said, the squad certainly has some question marks heading into training camp.
Can the Secondary Rebound After a Bad Season?
Last season, the Patriots ranked 31st in the NFL in pass yards allowed. Giving up an average of 293.9 aerial yards per game is not a recipe for success. In attempt to change that, the Pats added to what was already a young and talented defensive back group this offseason.
Can the Patriots Replace the 20 Sacks Andre Carter and Mark Anderson Amassed Last Year?
Andre Carter and Mark Anderson established themselves as dangerous pass-rushers for New England in 2011. Nevertheless, 2012 will look a little different. Andre Carter is unsigned as he continues to recover from quad surgery. Meanwhile, Mark Anderson signed with the Buffalo Bills in March. The replacements will certainly have some big shoes to fill.
Will the Running Back Position Be a Strength or a Weakness for New England?
BenJarvus Green-Ellis is not walking through the door, as he is now a Cincinnati Bengal. However, the Law Firm's absence doesn't mean the Patriots' running game is a lost cause. The rushing attack has second-year men Stevan Ridley and Shane Vereen, plus veterans Danny Woodhead and Joseph Addai.
Can Nate Solder Replace Matt Light at Left Tackle?
2011 first-round draft pick Nate Solder is expected to take over at left tackle in wake of Matt Light's retirement. However, can the 24-year-old step in and protect the blind side of quarterback Tom Brady? Solder played well as a rookie and started 13 games. Unfortunately, replacing a three-time Pro Bowler who spent 11 years with New England won't be easy.
Will Rob Gronkowski and Aaron Hernandez Continue to Tear Up Defenses?
The Patriots' two-headed monster was a matchup nightmare for opposing defenses last season. Tight ends Rob Gronkowski and Aaron Hernandez combined for 169 catches, 2,237 receiving yards and 24 touchdowns in 2011. But will defenses find a solution for covering the dual tight end set? One thing is for sure: Teams will be keying in on the Pats' tight ends.
Will the Added Depth at Wide Receiver Pan Out for the Patriots?
The Patriots were a very thin group at wideout last year. Beyond Wes Welker's 122 catches and Deion Branch's 51 snags, Chad Ochocinco's 15 receptions were third among the team's wide receivers. New England has acquired some proven veterans to change the disparity in 2012. Yet what looks good on paper doesn't always translate to the field—that was the case with Ochocinco.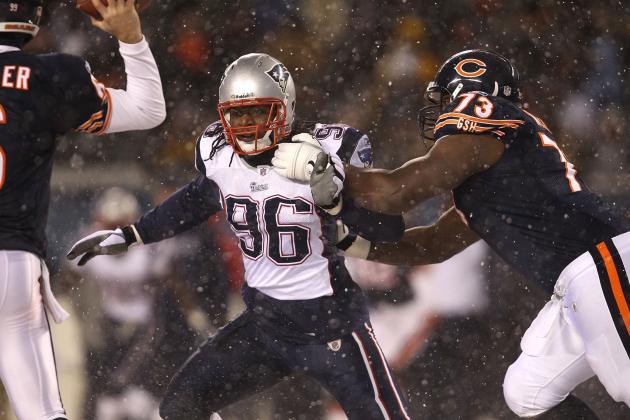 Jonathan Daniel/Getty Images
Jermaine Cunningham is entering his third year with the Patriots.
Nearly half of the Patriots' 90-man roster will be cut by the end of training camp. Former draft picks, undrafted underdogs and aging vets are all on the fringe.
Jermaine Cunningham, Defensive End/Outside Linebacker
An ex-Florida Gator, Jermaine Cunningham was a second-round pick of the Patriots in 2010. As a rookie, Cunningham showed promise as an outside linebacker in a 3-4 defensive front. He notched 11 starts, totaled 34 tackles, wrapped up one sack and forced two fumbles. His second NFL season was not nearly as successful. Following a switch to defensive end, Cunningham failed to start a single game, made just one tackle and landed on injured reserve.
Alex Silvestro, Defensive End
After going undrafted out of Rutgers in 2011, Alex Silvestro hopped on with the Patriots. The 6'3", 260-pound defensive end went back and forth between the practice squad and active roster last season. There are plenty of skilled bookends in front of him on the roster, which may make him expendable.
Ron Brace, Defensive End
Ron Brace was a second-round pick of the Patriots back in 2009. Thus far, his NFL career has been marred by injuries and a lack of production. The former Boston College Eagle has played in just 29 of a possible 48 games with New England. In limited action, the 6'3", 330-pound defensive lineman has accumulated 35 combined tackles and one forced fumble.
Myron Pryor, Defensive Tackle
A sixth-round draft selection by the Pats in 2009, Myron Pryor has provided solid depth at defensive tackle—when healthy. The Kentucky product has only played in 24 games in three years with New England. As a reserve, Pryor has made 34 career tackles, one sack and a forced fumble.
Marcus Harrison, Defensive Tackle
Marcus Harrison was signed by the Pats this offseason after spending the 2011 season out of football. He will have to outplay Myron Pryor, Ron Brace and Gerard Warren to make the team.
Niko Koutouvides, Linebacker
Niko Koutouvides joined the Patriots last season and immediately filtered into the mix on special teams. Starting a mere three games in nine NFL seasons, Koutouvides is primarily a reserve linebacker. He faces a difficult task of making the final roster behind the likes of Jerod Mayo, Brandon Spikes and Dane Fletcher at linebacker.
Bobby Carpenter, Linebacker
A 2006 first-round draft pick, Bobby Carpenter hasn't panned out in the NFL. New England marks his fourth team, where he is one of 11 linebackers in camp. He is on the back end of the roster at outside linebacker with starter Rob Ninkovich ahead of him.
Tracy White, Linebacker
Tracy White has solidified the special teams units for the Patriots over the last two years. He's thrown his hat in the ring and started three games during his 10-year career, but he's best suited in a reserve role. As a longtime backup, he's no stranger the roster bubble.
Jeff Tarpinian, Linebacker
Jeff Tarpinian was signed by the Patriots as a rookie free agent in July of 2011. His first season ended in November after suffering a "head injury." At this point, he's a third-string weak-side linebacker behind Jerod Mayo and Tracy White.
Josh Barrett, Safety
A five-year pro, Josh Barrett was claimed off waivers by the Patriots in August of 2010. He's played in just five games with New England—making 17 tackles. Barrett has been placed on injured reserve in two consecutive seasons.
Sergio Brown, Safety
After going undrafted out of Notre Dame in 2010, Sergio Brown earned a spot on the Patriots' practice squad. Since then, he's been promoted to the active roster and been a contributor on special teams. In two years with New England, Brown has made 48 tackles and nabbed an interception.
Malcolm Williams, Safety/Cornerback
Malcolm Williams was a seventh-round pick by New England in 2011. In his first professional season, the TCU Horned Frog bounced between the practice squad and the active roster—playing in two regular-season games.
Nate Ebner, Safety
A 2012 sixth-round draft choice out of Ohio State, Nate Ebner is a raw safety with the traits to be a great special teams player. A lack of experience may be an issue for Ebner, he played no high school football as rugby was his first love.
Ross Ventrone, Safety
Ross Ventrone's name was associated with 21 transactions last season, according to Mike Lowe of the Portland Press Herald. A man in limbo, the trend could continue for the 25-year-old next season.
Marquice Cole, Cornerback
A former undrafted free agent, Marquice Cole has made 40 tackles and picked off two passes in three seasons with the New York Jets. Known as a special teams player, Cole joined New England this offseason as a depth guy at an already deep position.
Donte' Stallworth, Wide Receiver
Donte' Stallworth is back with the Patriots and on the verge of making the roster. The 31-year-old has caught a mere 24 passes since 2010 and must reconnect with quarterback Tom Brady.
Jeremy Ebert, Wide Receiver
A 2012 seventh-round draft pick, Jeremy Ebert's odds of making the team are slim. Like Wes Welker and Julian Edelman, he too is a slot receiver.
Jesse Holley, Wide Receiver
Jesse Holley was a late addition for the Patriots. The 28-year-old is a self-made man. Holley earned a spot on the Cowboys' training camp roster in 2009 courtesy of Michael Irvin's show, 4th and Long. He's beaten the odds before, but will have to do it again with New England.
Britt Davis, Wide Receiver
The 26-year-old Britt Davis has played in three games in his NFL career. He brings good size to the table, but the depth chart is stacked against him. Davis spent part of last season on the Patriots' practice squad.
Tony Fiammetta, Fullback
Tony Fiammetta is one of three fullbacks on the roster. Spencer Larsen and Eric Kettani will also look to make the team, yet the Patriots are unlikely to carry multiple blocking backs.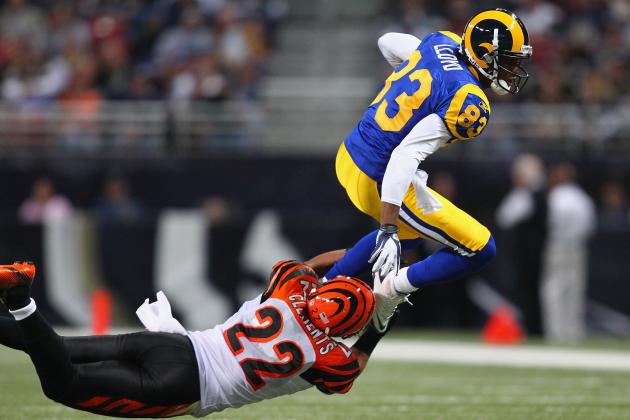 Dilip Vishwanat/Getty Images
Brandon Lloyd during his time with the St. Louis Rams.
During training camp workouts and preseason games, there will be an onslaught of Patriots to keep an eye on. Monitoring the progress of these players will make for an entertaining month of football.
Brandon Lloyd, Wide Receiver
Brandon Lloyd is a veteran of 10 NFL seasons who could be a difference maker for the Patriots. In 2010 with the Denver Broncos, Lloyd caught 77 balls for a league-best 1,448 yards and 11 scores. And the plot thickens: His ex-Broncos head coach Josh McDaniels is back with New England as the offensive coordinator.
Stevan Ridley, Running back
The departure of BenJarvus Green-Ellis leaves the Patriots' backfield yearning for a No. 1 option, and Stevan Ridley is a top candidate. As a rookie in 2011, Ridley showcased an ability to burst into the open field—rushing for 441 yards and a touchdown on 5.3 yards per carry. Preseason will be Ridley's chance to shine.
Shane Vereen, Running back
Shane Vereen was a second-round pick one year ago, but the California Golden Bear didn't get many reps as a rookie. Vereen rushed for just 57 yards and a score on 15 carries in 2011. Training camp and preseason games will be critical in determining the scat back's responsibilities this year.
Ryan Mallett, Quarterback
Ryan Mallett held a clipboard during his rookie season—making his training camp and preseason performance all the more important. The 2011 third-round draft pick has a howitzer for an arm and the prototypical height for an NFL quarterback, but he has yet to flash.
Marcus Cannon, Offensive Tackle
Marcus Cannon, a Patriots' 2011 fifth-rounder, has the potential to be a dependable starting tackle in the NFL. A survivor of non-Hodgkin's lymphoma, the TCU alum has already dealt with a great deal of adversity in his life. It was cancer that caused his draft stock to plummet, not a lack of talent. In his second pro season, the 6'5", 340-pound o-lineman should play a bigger role.
Chandler Jones, Defensive End
Chandler Jones was one of the Patriots' 2012 first-round selections—now he must prove why. The Syracuse Orangemen will have his first crack at making the defensive end rotation come training camp. Blessed with off-the-charts athleticism, Jones will be fun prospect to watch this summer.
Dont'a Hightower, Linebacker
As a first-round pick in this year's draft, Alabama's Dont'a Hightower will have to live up to expectations. With all the hype surrounding him, Hightower is going to be put under the microscope as soon as training camp begins. Look out for the 6'4", 270-pound tackler—he's hard to miss.
Ras-I Dowling, Cornerback
Ras-I Dowling started his first two NFL games with the Patriots, but his rookie season was cut short due to a hip injury. At 6'1", 210 pounds, the Virginia Cavalier is an imposing cornerback and should get his share of looks this preseason.
Sterling Moore, Cornerback
Sterling Moore came down with two interceptions in Week 17 of last season and was the savior of the AFC Championship Game against the Baltimore Ravens. Yet, the jury is still out on the former undrafted free agent. If Moore can play solid coverage against preseason opponents, it will secure him a spot in the secondary.
Tavon Wilson, Safety
Tavon Wilson was a second-round draft choice of the Patriots this April. Flying in under the radar, the Illinois defensive back will see the field this preseason and could be a future starter for New England.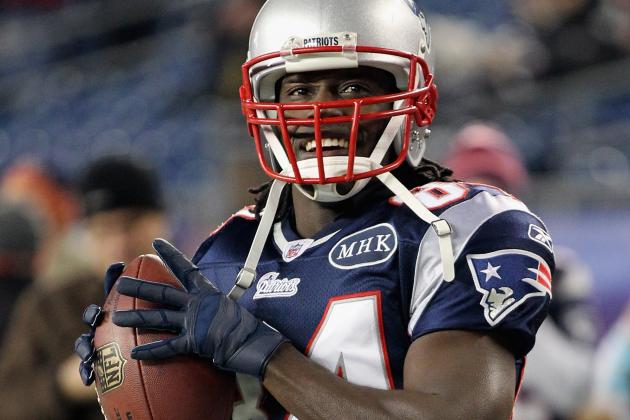 Jim Rogash/Getty Images
Deion Branch is one of many players facing stiff competition.
NFL training camp and preseason result in serious positional competitions. For the Patriots, it's no different. Depth charts fluctuate like the stock market and there are many battles set to ignite.
The Battle for the No. 3 Receiver Spot
Jabar Gaffney has returned to New England after three years with the Denver Broncos and Washington Redskins. With Gaffney back in the fold, Deion Branch's role as the third wide receiver is in jeopardy.
The 31-year-old Gaffney is coming off his two best NFL seasons—totaling 133 catches for 1,822 yards and seven touchdowns since 2010. In comparison, the 32-year-old Branch has caught 112 balls for 1,408 yards and 10 touchdowns since the 2010 season.
The two over-30 wideouts will make for a tightly contested preseason.
Fighting for the Starting Center Gig
Longtime Patriots center Dan Koppen is no longer a shoo-in to start. Waiting in the wings is Dan Connolly, who replaced the injured Koppen last season and played admirably.
In April, Greg A. Bedard of the Boston Globe reported that snapping duties are Connolly's to lose. And based on the finances, that may be true.
According to Sprotrac.com, the 29-year-old Connolly inked a three-year, $9.7 million deal this March. When the 32-year-old Koppen re-signed with the Patriots, it was on a two-year pact worth just over $3 million.
Contracts should factor into the decision, but their play will finalize it.
A Slew of Running Backs in the Stable
The Patriots' ground game will feature a variety of halfbacks and should be a wrestling match for playing time.
The backfield includes second-year men Shane Vereen and Stevan Ridley, experienced rushers Joseph Addai and Danny Woodhead as well as undrafted rookie Brandon Bolden.
New England's brass invested in Vereen and Ridley during the 2011 draft and they should see a spike in carries this year. Vereen is the smaller of the two, but both men possess nimble feet and high ceilings.
As for Addai and Woodhead, the two vets of the group are reliable ball carriers who also factor into the passing game. Addai has two 1,000-yard seasons under his belt while Woodhead is a versatile change-of-pace back who can do a little bit of everything.
On the outside looking in is former Ole Miss rusher Brandon Bolden. The 5'11", 220-pound halfback amassed 2,604 rushing yards and 33 total touchdowns during his time with the Rebels.
Before long, the crowded running back depth chart will become much clearer.
Trench Warfare
Beyond Vince Wilfork and Kyle Love, the Patriots' defensive tackle depth chart is unsettled. Wilfork and Love are encrusted on the interior of the defensive line, but there are no guarantees for the players behind them.
Gerard Warren is a seasoned defensive tackle among young and unheralded big men. The 33-year-old has spelled Wilfork and Love—offering the Patriots a veteran who can clog lanes.
Ron Brace was chosen by New England in Round 2 of the 2009 draft and has been inconsistent as a pro. He will have to play his heart out to hold off the competition.
In the same situation is Myron Pryor, a former Patriots sixth-round pick who has encountered medical woes. When healthy, Pryor is a serviceable lineman. He just needs to stay clear of the injury report.
The Patriots have also signed former Chicago Bear Marcus Harrison. Harrison is a run stopper, but he failed a physical with the Carolina Panthers last season according to Joe Person of the Charlotte Observer.
Undrafted free agent Marcus Forston rounds out the list. A former highly touted recruit, Harrision has been derailed by the injury bug.
Any of these enforcers could make the team.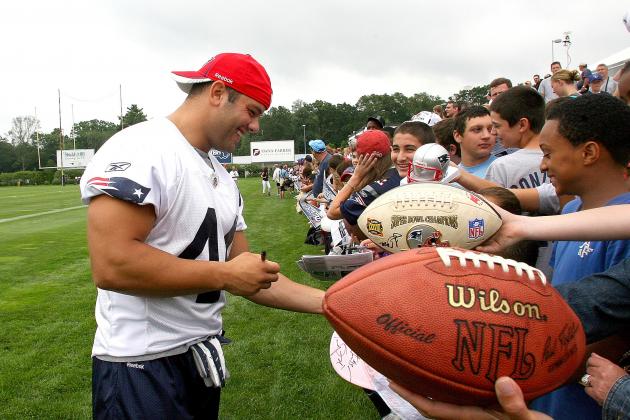 Jim Rogash/Getty Images
Training camp fosters a chance for fans to meet their team.
In a matter of days, the Patriots will be hitting sled dummies and practicing the two minute drill.
According to Patriots.com, The Boston Herald and Mike Reiss of ESPNBoston.com, the initial days of practice as well as the preseason and roster cutdown schedule will go as followed. (Note: other practice times have not been announced.)
Practice Schedule:
July 19: Rookies report for training camp, limited to physicals and meetings
July 25: Veterans report for training camp, limited to physicals and meetings
July 26: Practice from 1:30 PM to 4 PM EDT, without pads or contact, open to public
July 27: Practice from 1:30 PM to 4 PM EDT, without pads or contact, open to public
July 28: Practice from 1:30 PM to 4 PM EDT, open to public
July 29: Practice from 1:30 PM to 4 PM EDT, open to public
Aug. 7: Joint practice with New Orleans Saints, details to be announced
Aug. 8: Joint practice with New Orleans Saints, details to be announced
Aug. 22: Joint practice with Tampa Bay Buccaneers in Tampa at One Buc Place, closed to public
Aug. 23: Joint practice with Tampa Bay Buccaneers in Tampa at One Buc Place, closed to public
Aug. 9: Game against New Orleans Saints, 7:30 PM EDT
Aug. 20: Game against Philadelphia Eagles, 8 PM EDT
Aug. 24: Game against Tampa Bay Buccaneers, 7:30 PM EDT
Aug. 29: Game against New York Giants, 7:30 PM EDT
Roster Cutdown Dates:
Aug. 27: Roster trimmed to 75 players
Aug. 31: Roster trimmed to 53 players
Sept. 1: Players can be signed to practice squad
Jim Rogash/Getty Images
Patriots training camp in 2011.
Since 2003, the Patriots have held training camp on the practice fields outside of Gillette Stadium in Foxboro, Mass. The previous host site was Bryant College in Smithfield, R.I. from 1976 to 2002, according to Pro-Football-Reference.com.
Fans are welcome to attend camp when practice begins on July 26. Admission and parking are free and a few Patriots will be available for autographs once workouts draw to a close, per Patriots.com.
If poor weather conditions prohibit outdoor practice, the team will move inside to the Dana-Farber Field House—which is not open to the public.
Source: Jim Davis/Boston Globe
New England's 90-man roster, via Patriots.com:
Quarterback:
Tom Brady, Brian Hoyer, Ryan Mallett
Halfback:
Joseph Addai, Brandon Bolden, Stevan Ridley, Shane Vereen, Danny Woodhead
Fullback:
Tony Fiammetta, Eric Kettani, Spencer Larsen
Wide Receiver:
Deion Branch, Britt Davis, Jeremy Ebert, Julian Edelman, Jabar Gaffney, Jesse Holley, Brandon Lloyd, Matthew Slater, Donte' Stallworth, Wes Welker
Tight End:
Jake Ballard, Daniel Fells, Rob Gronkowski, Aaron Hernandez, Tyler Urban
Offensive Tackle:
Marcus Cannon, Kyle Hix, Matt Kopa, Nate Solder, Sebastian Vollmer, Markus Zusevics
Offensive Guard:
Robert Gallery, Logan Mankins, Nick McDonald, Donald Thomas, Jeremiah Warren, Brian Waters
Center:
Dan Connolly, Dan Koppen, Jamey Richard, Ryan Wendell
Defensive Tackle:
Ron Brace, Marcus Forston, Marcus Harrison, Kyle Love, Myron Pryor, Gerard Warren, Vince Wilfork
Defensive End:
Jake Bequette, Brandon Deaderick, Jonathan Fanene, Justin Francis, Chandler Jones, Aaron Lavarias, Trevor Scott, Alex Silvestro
Inside Linebacker:
Dane Fletcher, Dont'a Hightower, Niko Koutouvides, Jerod Mayo, Mike Rivera, Brandon Spikes, Jeff Tarpinian, Tracy White
Outside Linebacker:
Bobby Carpenter, Jermaine Cunningham, Rob Ninkovich
Cornerback:
Will Allen, Kyle Arrington, Marquice Cole, Alfonzo Dennard, Ras-I Dowling, Devin McCourty, Sterling Moore
Safety:
Josh Barrett, Sergio Brown, Patrick Chung, Nate Ebner, Steve Gregory, James Ihedigbo, Ross Ventrone, Malcolm Williams, Tavon Wilson
Kicker:
Stephen Gostkowski, Chris Koepplin
Punter:
Zoltan Mesko
Long Snapper:
Danny Aiken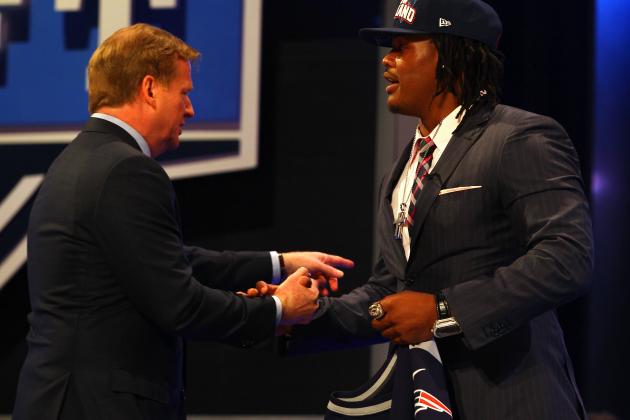 Al Bello/Getty Images
Dont'a Hightower on draft day.
The Patriots went all out to bolster the defensive side of the ball in the 2012 NFL draft. Here is a breakdown of each rookie draft pick.
Chandler Jones, Defensive End
The Patriots traded up to grab Syracuse pass rusher Chandler Jones with pick 21 of the first round. At 6'5", 260 pounds, long arms and speed, Jones projects into the Elephant hybrid position with New England. He could plant his hand in the ground or stand up in coverage—creating a matchup problem for opposing offenses.
The 21-year-old has a thinner frame and may struggle against stout offensive tackles, but he's a gifted prospect who could make a name for himself in his rookie year. However, Jones will have to fend off the likes of Trevor Scott and perhaps Andre Carter—if he re-signs.
Dont'a Hightower, Linebacker
Once again, the Patriots moved up to select Alabama linebacker Dont'a Hightower with the 25th pick of Round 1. Hightower is a very capable and versatile linebacker who should see significant playing time right off the bat.
He's not the greatest coverage linebacker and weighs more than most, but Hightower should step into the strongside linebacker spot and make tackles.
Tavon Wilson, Safety
The Patriots went off the board and chose Illinois safety Tavon Wilson with pick No. 48 in the second round. Wilson played a variety of defensive back positions in college, plus special teams. That kind of flexibility is just what Coach Belichick likes.
Standing at 6'0", 205 pounds, Wilson could be a starter at free safety next to Patrick Chung down the road. Yet for now, he seems to be more of a backup and special teams player. He may have been a reach as far as scouts are concerned, but Wilson is a team-first player who will give it his all.
Jake Bequette, Defensive End
Jake Bequette was chosen by New England with the 90th overall pick in Round 3. The Arkansas defensive end can get to the quarterback, totaling 23 sacks during his career with the Razorbacks. He will bring pressure on every down he plays.
The 6'5", 274-pound lineman is steady against the run as well as the pass, and may fit into the Elephant position like Chandler Jones. He's doesn't have the same natural abilities that Jones possesses and isn't as fast, but Bequette will find a niche either as an outside linebacker or defensive end.
Nate Ebner, Safety
The Patriots made another head-scratching pick when they drafted Ohio State's Nate Ebner with the 197th overall selection of Round 6. Ebner was a special teams ace for the Buckeyes who played sparingly with the defensive unit.
He's rough around the edges when it comes to playing defensive back and is a rugby player at heart. But Ebner has the grit to become a special teams hero with New England. He's got to prove that he is a safety or he may miss the cut. Yet, Ebner would have a some time to tighten up on defense if he made the practice squad. In due time, Ebner may become the next Larry Izzo—a special teams captain that Patriots fans adored.
Alfonzo Dennard, Cornerback
The Patriots chose Nebraska cornerback Alfonzo Dennard in Round 7 at pick 224. Dennard was thought to be a top-tier cornerback, then his stock flailed following an untimely arrest.
Dennard is a tough defensive back with good cover skills, but he's short and thick at 5'10", 204 pounds. He may best fit as a nickel or dime back in the NFL, although he has an excellent chance to make the Patriots as a late-round flier. He fortifies New England's cornerback group and could break up some passes on Sunday this year.
Jeremy Ebert, Wide Receiver
The Patriots finally added offense with the 235th pick of the 2012 draft. Northwestern's Jeremy Ebert caught 75 passes for 1,060 yards and 11 touchdowns during his senior season with the Wildcats. However, Ebert is part of an overflowing wide receiver crop and has a minimal shot to make the team.
Ebert isn't of intimidating stature and will have to play a heavy dose of special teams in order to hang onto a roster spot. If he doesn't make the 53-man roster, Ebert could be a practice squad player in 2012.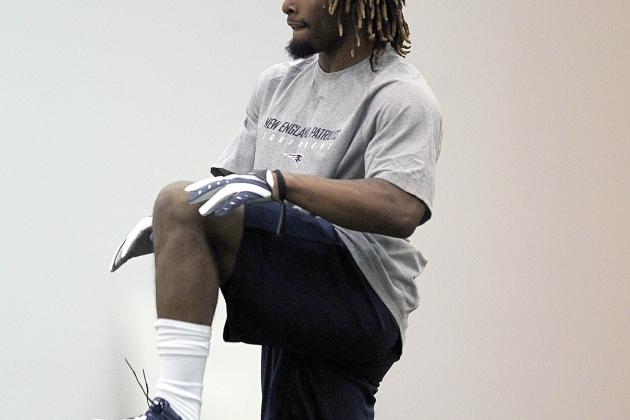 Jim Rogash/Getty Images
Brandon Bolden is one of the undrafted players looking to steal a job.
The Patriots have six undrafted rookies on the roster. Nothing will be handed to these NFL hopefuls. For them, everything must be earned.
Brandon Bolden, Running Back
Ole Miss rusher Brandon Bolden has a shot to prove the other 31 NFL teams wrong. The 5'11", 220-pound back has a nose for the end zone and can get the tough yards when needed. He's not fleet of foot and doesn't have that desirable second gear, but Bolden will play in the NFL.
Crunching the numbers, it is unlikely that the Patriots carry five halfbacks on the 53-man roster. Bolden will either have to force someone else out or vie for a job on the practice squad.
Marcus Forston, Defensive Tackle
Marcus Forston has great tangibles, but was nagged by injuries during his time with the Miami Hurricanes. He's a big-bodied defensive tackle who will make a run at a roster spot. Although he needs to stay in good health for that to transpire.
Justin Francis, Defensive End
Justin Francis is an interesting talent who has played on the interior and exterior of the defensive line. Weighing in at 270 pounds, the Rutgers product isn't in the mold of a defensive tackle nor is he the most physically gifted edge rusher, but he's an above average undrafted rookie.
In his first full season as a starter in 2011, Francis notched 6.5 sacks. That skill could be visible during the preseason.
Tyler Urban, Tight End
Tyler Urban faces the daunting task of making the Patriots behind Rob Gronkowski and Aaron Hernandez. The Iowa Hawkeye will have block well in order to clinch the No. 3 tight end job instead of veteran Daniel Fells.
Don't expect Urban to catch many passes during the preseason. He only hauled in 20 balls during his senior campaign.
Jeremiah Warren, Offensive Guard
South Florida's Jeremiah Warren is trying to make the Patriots as a backup offensive lineman. Yet the 24-year-old will have push out incumbent reserves at guard.
The 6'4", 320-pound Warren started 38 games with the Bulls and will have to play like an experienced lineman to wow the coaching staff.
Markus Zusevics, Offensive Tackle
Iowa's Markus Zusevics injured his pectoral muscle while lifting at the NFL Combine. Zusevics could have been a late-round draft pick if not for the injury and could turn some heads when fully healthy.
The 6'5", 300-pound tackle's competition includes backups Robert Gallery, Kyle Hix, Donald Thomas, Ryan Wendell and Nick McDonald.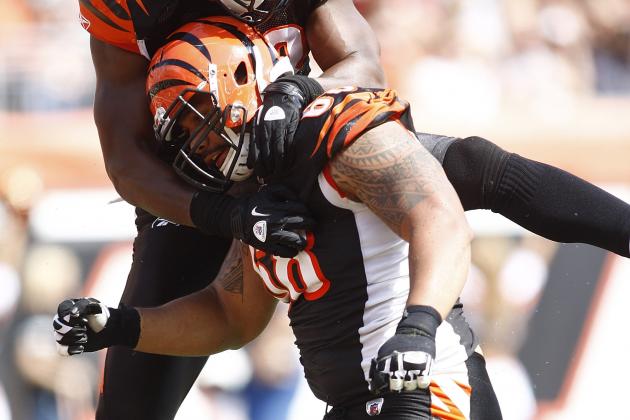 John Grieshop/Getty Images
Defensive end Jonathan Fanene left the Cincinnati Bengals for New England.
The Patriots did their best to add without subtracting when it came to this year's free agency period. It's time to examine the Pats' 2012 incoming free agents.
Jonathan Fanene, Defensive End
Ex-Cincinnati Bengal Jonathan Fanene will add some girth to New England's defensive front. The 6'4", 285-pound Samoan can be utilized as a defensive end and a defensive tackle. Strong and powerful, Fanene bodes well in a 3-4 or 4-3 scheme.
Fanene may not be an every-down player—he combined for just 24 tackles last season—but he can harass the quarterback and finished 2011 with 6.5 sacks. He should fit in the rotation, even if he doesn't start.
Marcus Harrison, Defensive Tackle
Marcus Harrison will be in camp trying to grab a roster spot at defensive tackle. Harrison has started nine games and totaled three sacks since he was drafted in 2008. However, the 6'3", 310-pound d-lineman has only played in five contests over the last two years.
Trevor Scott, Defensive End/Outside Linebacker
Trevor Scott sacked the quarterback 12 times during his first two seasons with the Oakland Raiders. In his next two seasons, the 6'5", 250-pound pass rusher only recorded 1.5 sacks. A torn ACL in 2010 knocked Scott out of a starting job and he hasn't regained that title since.
Scott is fully healthy and ready to help out at outside linebacker or defensive end. Expect him to cycle in for his share of snaps. If Scott can keep edge rushers like Jermaine Cunningham at a distance, he will have a roster spot.
Bobby Carpenter, Outside Linebacker
A first-round pick in 2006 that hasn't lived up to the billing, Bobby Carpenter hopes his stay with the Patriots lasts longer than his time with the Dallas Cowboys, Miami Dolphins, Detriot Lions and St. Louis Rams.
Carpenter can play special teams and fill in at outside linebacker. He has a fair shot to make the final roster.
Will Allen, Cornerback
Will Allen emerged on the scene back in 2001 with the New York Giants. In 140 regular-season games, Allen has collected 528 tackles and intercepted 15 passes. Needless to say the Patriots signed a cornerback with tutelage.
At age 33, Allen is the oldest cornerback on New England's roster. He isn't the same player he once was, but still may have some tricks up his sleeve. Allen can dabble at safety and would be a nice nickel or dime back. Allen might miss out on the 53-man roster, although he has the tools to engineer a role with the Patriots.
Marquice Cole, Cornerback
Marquice Cole is a special teams defensive back who spent the last three years with the New York Jets. The 28-year-old corner has started one game in his pro career and will have to pass several obstacles to make the team as a backup.
Steve Gregory, Safety
Steve Gregory spent his first six NFL seasons with the San Diego Chargers where he became a full-time starter in 2010. The 29-year-old wrapped up 67 tackles last season to go with an interception and a touchdown. He figures to be a favorite for the starting job next to Patrick Chung in the secondary.
The Patriots currently list Gregory as the No. 1 strong safety on the unofficial depth chart, but there are plenty of defensive backs nipping at his heels.
Joseph Addai, Running Back
Joseph Addai left Lucas Oil Stadium for Gillette and will be a veteran leader in an inexperienced backfield. The 2006 first-round pick is decent blocker, pass catcher and rusher who gives the Patriots a plug-and-play talent.
At 29 years old, Addai is no longer in his prime. Not many running backs in their 30s can stay relevant in the NFL, but the former Indianapolis Colt could still be effective in the Patriots' ground committee. He rushed for over 400 yards in both 2010 and 2011—that is a fair estimate for 2012 as well.
If Addai has some extra miles in his wheels, he will make the roster.
Spencer Larsen, Fullback
Spencer Larsen can play both fullback and linebacker, which gives him a leg up on the other fullbacks trying to make the team. Larsen has 62 rushing yards, 127 receiving yards, a touchdown and 38 tackles on his NFL résumé.
Tony Fiammetta, Fullback
Tony Fiammetta has played with the Carolina Panthers and Dallas Cowboys since being a fourth-round pick in the 2009 draft. He's produced 27 rushing yards and 73 receiving yards in the NFL. With two other fullbacks competing for a job that the Patriots hardly used in 2011, Fiammetta must stick out in training camp.
Jake Ballard, Tight End
The Patriots claimed New York Giants tight end Jake Ballard off of waivers in June. Ballard underwent ACL and microfracture surgery during the offseason and should miss the majority of 2012.
Since Ballard isn't healthy, the physically unable to perform list or injured reserve could be in his future. He caught 38 passes for 604 yards and four scores in 2011 and the Patriots found reason to snatch him up.
Daniel Fells, Tight End
Daniel Fells shapes up to be a third tight end for the Patriots. He's a blocker first, receiver second. The 6'4", 265-pound Fells has caught 88 passes for 1,001 yards and eight touchdowns since he forged his way into the league in 2006.
Based on his experience, Fells should beat out undrafted rookie tight end Tyler Urban for backup duties.
Brandon Lloyd, Wide Receiver
Brandon Lloyd was the Patriots' prize signing this offseason. Lloyd is expected to start at wide receiver and stretch the field. His 2,414 receiving yards since 2010 will certainly give Tom Brady another weapon to play with. The 6'0", 200-pound target will put up some impressive numbers in 2012.
Donte' Stallworth, Wide Receiver
Donte' Stallworth caught 46 passes for 697 yards and three TDs in 2007 with the Patriots. This time around he may not even cement a job. Stallworth is 31 and hasn't had more than 22 catches since his last pit stop with New England.
Stallworth could very well rekindle a chemistry with Tom Brady, but there's only one ball to go around. He'd be a nice receiver to have on the roster, yet the competition is rigid.
Jabar Gaffney, Wide Receiver
Jabar Gaffney is nothing but consistent, catching over 50 passes in each of the last three seasons. Like Donte' Stallworth, Gaffney is on his second stint with the Patriots and has a good rapport with Tom Brady. At 31 years old, Gaffney isn't slowing down—he's speeding up. He should end up as the Pats' third or fourth wide out.
Jesse Holley, Wide Receiver
Jesse Holley is only entering his third NFL season at age 28, but he has some serious work ahead of him to make the team. The 6'2" North Carolina product can play special teams and fill in at receiver.
Robert Gallery, Offensive Tackle/Guard
The Patriots deepened the offensive line by inking the No. 2 pick in the 2004 NFL draft. Robert Gallery has started 103 games in the NFL at tackle and guard—giving New England a seasoned and useful blocker. Gallery fills a void, no matter if he's starting or entering the game as a utility man.
Jamey Richard, Center
Jamey Richard will try to seize the backup center position for the Patriots. The 27-year-old started 11 of 48 games played with the Indianapolis Colts since 2008. The center position is relatively loaded with Dan Koppen and Dan Connolly in charge—putting a dent in his chances.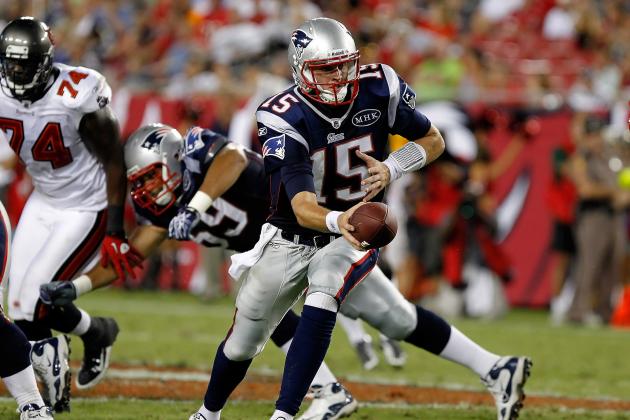 J. Meric/Getty Images
The Patriots and Buccaneers during the 2011 preseason.
This preseason, the Patriots will play four games in 20 days. Each game has its own aspects to analyze as it all unfolds.
Game 1: Home vs. New Orleans Saints, Aug. 9
After two days of joint practices with the Saints, New England will know what to expect in their preseason home opener. On the flip side, so will New Orleans.
This game should be a barn burner between two potent passing attacks. However, the two starting quarterbacks won't play far beyond the first couple of series.
The key matchup in this game should be New England's unpredictable secondary against the Saints dangerous wide receiving corps of Marques Colston, Devery Henderson and Lance Moore. The team who capitalizes in the passing game will win the game.
Predicted Score: Patriots 28, Saints 24
Game 2: Home vs. Philadelphia Eagles, Aug. 20
The Patriots will go up against the Eagles' viable rushing attack in their second preseason home game. The Patriots beat the Eagles 38-20 during their Week 12 game last season. Yet, preseason is a different ball game.
This battle will be all about New England's run defense restraining Philadelphia's rushing offense. The Eagles ranked fifth in the NFL in rushing yardage, according to NFL.com data. Meanwhile, the Patriots ranked 17th in rush yards allowed. That differential should be on display in this one.
The key matchup will be the Eagles' mobile quarterback Michael Vick, running backs LeSean McCoy, Dion Lewis, Bryce Brown and Chris Polk against the Patriots' defensive line. Whoever beats their man will get the advantage.
Predicted Score: Patriots 31, Eagles 21
Game 3: Away vs. Tampa Bay Buccaneers, August 24
Playing their second game in four days, the Patriots won't be able to rest up for their third opponent, the Buccaneers. The teams will practice together for two days prior to their game, leaving little room for error.
For however long the starters are in the game, the matchup to watch will be between Buccaneers wide receiver Vincent Jackson and Patriots cornerback Devin McCourty. When Jackson was with the San Diego Chargers last year, he lit up Devin McCourty on his way to 10 catches, 172 yards and two touchdowns.
If these two line up against one another, it could either be revenge or disaster for McCourty. This fight may not decide the outcome of the game, but it could help the New England's corner turn the page to another NFL season. With it being the third preseason game, look for both men to play into the second half.
As a whole, it would be quite a feat for the Patriots to win with tired legs still recovering from the previous game.
Predicted Score: Patriots 17, Buccaneers 30
Game 4: Away vs. New York Giants, Aug. 29
The Patriots will put a cap on preseason play against the team that killed their Super Bowl hopes last February: the New York Giants.
Typically, the starters don't see a steady diet of playing time in the last preseason game. Erring on the side of caution, that should be the plan for this game.
There are some great matchups in this revenge game, but everyone will be watching Tom Brady try to outgun Giants two-time Super Bowl MVP Eli Manning. Manning and the Giants have been Kryptonite for Brady and the Patriots. That may be the story here, depending on how long the two quarterbacks remain in the game.
We'll see if Brady has anything to say about it.
Predicted Score: Patriots 20, Giants 17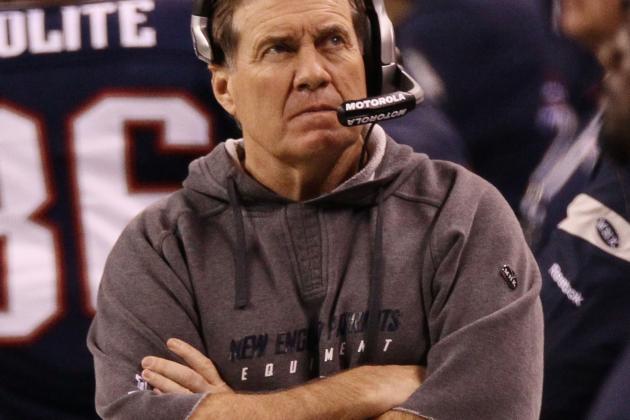 Win McNamee/Getty Images
Coach Belichick and Co. have some tough cuts ahead of them.
The roster will be whittled to 53 names come September. The scenario could play out as follows:
Quarterback: Tom Brady, Brian Hoyer, Ryan Mallett
Halfback: Joseph Addai, Stevan Ridley, Shane Vereen, Danny Woodhead
Fullback: Spencer Larsen
Wide Receiver: Deion Branch, Julian Edelman, Jabar Gaffney, Brandon Lloyd, Matthew Slater, Wes Welker
Tight End: Daniel Fells, Rob Gronkowski, Aaron Hernandez
Offensive Tackle: Marcus Cannon, Nate Solder, Sebastian Vollmer
Offensive Guard: Robert Gallery, Logan Mankins, Nick McDonald, Brian Waters
Center: Dan Connolly, Dan Koppen
Defensive Tackle: Kyle Love, Myron Pryor, Gerard Warren, Vince Wilfork
Defensive End: Jake Bequette, Brandon Deaderick, Jonathan Fanene, Chandler Jones, Trevor Scott
Inside Linebacker: Dane Fletcher, Dont'a Hightower, Jerod Mayo, Brandon Spikes
Outside Linebacker: Bobby Carpenter, Rob Ninkovich
Cornerback: Kyle Arrington, Alfonzo Dennard, Ras-I Dowling, Devin McCourty, Sterling Moore
Safety: Patrick Chung, Steve Gregory, James Ihedigbo, Tavon Wilson
Kicker: Stephen Gostkowski
Punter: Zoltan Mesko
Long Snapper: Danny Aiken