Why Are Aging NBA Veterans Making so Much Money in Free Agency This Summer?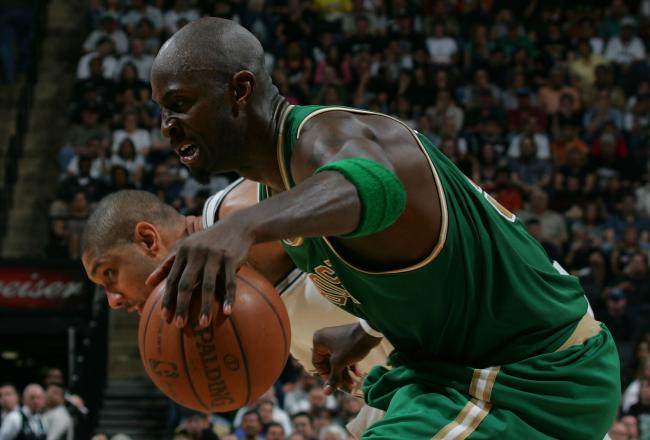 Ronald Martinez/Getty Images
The list of NBA veterans in their mid-to-late 30s locking up lucrative, multi-year contracts is already rather lengthy, and it's growing longer by the day. Here's a smattering of the most notable ones reportedly agreed to so far, with ages in parentheses:
Kevin Garnett (36)—three years, $34 million with the Boston Celtics.
Tim Duncan (36)—three years, $36 million with the San Antonio Spurs.
Steve Nash (38)—three years, $27 million with the Los Angeles Lakers.
Ray Allen (36)—three years, $9.5 million with the Miami Heat.
Jason Kidd (39)—three years, $9 million with the New York Knicks.
Marcus Camby (38)—three years, $13.2 million with the Knicks.
Andre Miller (36)—three years, financial terms TBA with the Denver Nuggets.
Jason Terry (34)—three years, $15 million with the Celtics.
Chauncey Billups (35)—one year, $4.3 million with the Los Angeles Clippers.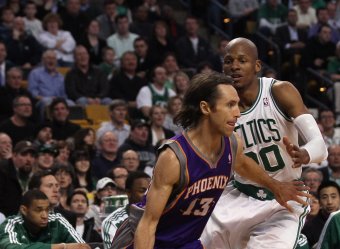 Elsa/Getty Images
Mind you, Antawn Jamison (36), Grant Hill (39), Raja Bell (35), Kenyon Martin (34) and Derek Fisher (37) have yet to sign on with new teams, though they don't figure to make as much as any of the aforementioned nine vets.
More importantly, none of these deals will be official until July 11.
Still, that's a staggering number of old fogeys getting paid like young bucks, particularly when looking at the top three of KG, Duncan and Nash. Knock Chauncey's contract out of the equation, and there could be at least one 37-year-old, four 39-year-olds, two 41-year-olds and a 42-year-old in the league by the time the 2014-15 season rolls around, assuming they all decide to play out the string on their respective contracts.
Keep in mind, Kurt Thomas was the oldest active player this past season at 39, and Shaquille O'Neal, the oldest player to take the court during the 2010-11 campaign, was 39 at the time.
So why is it, then, that there are so many soon-to-be-AARP cardholders raking in the dough this year?
In a word, timing.
To be sure, the miracles of and advancements in modern sports medicine have helped to preserve and prolong the careers of well-conditioned pro basketball players more than ever before. From less invasive surgical procedures and less worrisome alternatives to more effective detection protocols and healthier diet and training regimens (and frequent flights to Germany), athletes in this day and age are no longer as enslaved by their own mortality as they once were.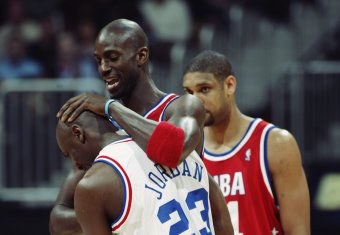 Jed Jacobsohn/Getty Images
That being said, this offseason just so happens to be one in which the superstars of yesteryear—those who helped carry the torch of greatness from Michael Jordan to LeBron James—saw their previous contracts expire en masse.
And, with teams around the league still valuing their services and the new luxury-tax rules set to curb spending in the not-so-distant future, these old dogs and their agents have done their best to strike while the iron is still hot.
Not too hard, though, lest they throw out their hips or something.
It's not as though they haven't earned their money, either. The Big Ticket, though hobbled during the first half of last season, turned into Ponce de Leon during the playoffs, as he carried the Celtics to the brink of the NBA Finals.
Ditto for Duncan, who appeared to be playing on one leg at times and on another level at others.
As for Nash, he nearly led the NBA in assists while shooting a career-high-tying 53.2 percent from the floor.
All three of the elderly big earners are taking significant pay cuts, albeit from the hefty salaries they were slated to rake in from contracts signed during their early 30s.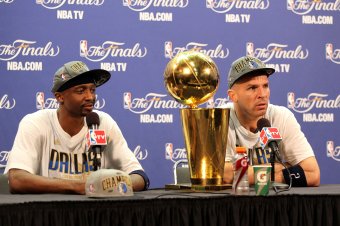 Mike Ehrmann/Getty Images
The others are signing for steep discounts as well, though Father Time and Mother Nature have either conspired to strip them of their once-prodigious talents in recent years (i.e. J-Kidd, Ray Allen, Camby) or left them to fashion lengthy careers with relatively lesser gifts in the first place (i.e. Chauncey, The Jet, Andre Miller).
In any case, the kids are alright—with Deron Williams, Jeremy Lin, Eric Gordon, Roy Hibbert and Nicolas Batum set to break some serious bread in free agency—but the grownups ain't too shabby, either.
This article is
What is the duplicate article?
Why is this article offensive?
Where is this article plagiarized from?
Why is this article poorly edited?