NFC East Mailbag: Do the Cowboys Have the Mental Discipline to Make a Run?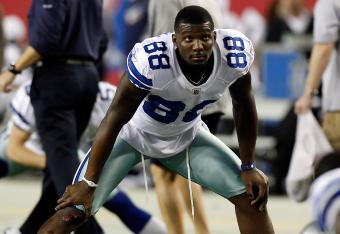 J. Meric/Getty Images
It's early July now and things are really slow in NFC East circles, so before we get started on this week's mailbag, I have something urgent to show you all.
OK, now that that's out of the way, let's focus on the important stuff. Today, I've chosen three intriguing questions from Twitter and have two compelling e-mails from the Bleacher Report NFC East inbox. Now, when you take three and add two, you get
five
. In other words, I have a handful of questions to attempt to answer.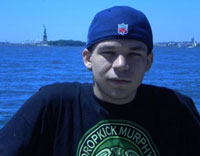 The first 20 percent of the Q&A period goes to Alex Hall, who I can assure you has, at one point or another in his life, been on the Staten Island Ferry. Sources say he's also a Bleacher Report contributor and a student at Suffolk University, which—and this is important—has the second-highest female-to-male ratio among schools in the Boston area.
Here's Alex's question:
It depends on which version of Pool shows up this year. It's important to note that he's been pretty inconsistent the last two years with the
Jets
. What makes his arrival exciting, though, is that he had his best season in 2009 under Rob Ryan in
Cleveland
.
That year, Pool was actually rated by Pro Football Focus as the fifth-best safety in football, so maybe Ryan feels he can get more out of him than his younger brother was able to in New York. Pool just turned 28, so it's not as though he's over any sort of hill.
I think Barry Church is very capable, and if he emerges this summer and Pool struggles, it wouldn't be surprising to see Pool get cut entirely. Keep in mind that rookie Matt Johnson is also expected to be a factor sooner than later, too.
But yeah, this is a good signing. He's only costing Dallas about a million dollars and in the best-case scenario, he'll be a big upgrade over Abe Elam.
This secondary took a lot of heat the last two years, and yet the brunt of that criticism was aimed at the corners. A guy like Pool is a low-risk investment who could help in coverage, which is where Elam was terrible last season.
-----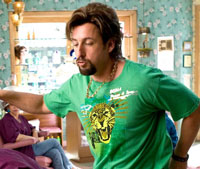 Moving on to—um, am I allowed to say this?—"Zohan the Jew," who is a "current intern for the world renowned Big O and Dukes Show, a humble member of the Horde and co-host of The Minority Report."
I don't know what a lot of that means, Zohan, but can I suggest that you take the word "current" out of your Twitter bio? If you'd started with just "intern," would anyone have become confused or assumed you were a former intern? When describing a role or a job, the word current is super redundant. Just nit-picking. I've got your back.
Let's get to your question: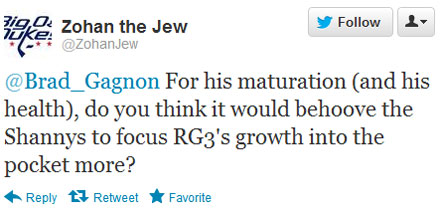 I don't think this is even a debate. Griffin doesn't seem to want to be known as a scrambling, run-first quarterback, and the Shanahans certainly aren't down with that. I mean, Mike and I haven't had any late-night phone conversations of late, but I still get the feeling they wouldn't have drafted RG3 unless they believed he could win with his arm, not his legs.
This offense has to operate as though Griffin taking off is truly a last resort. There's been speculation about the option and designed runs, but those shenanigans have to be kept to a minimum, and I am fairly confident that Mike and Kyle Shanahan feel the same.
The Shanahans have a major advantage here. They've benefited from being able to see what worked and what didn't work with Michael Vick over the last decade. It's crucial that they bring Griffin along strategically. They're going to want that body to hold up for 15-plus years.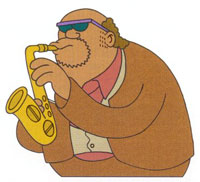 -----
We wrap up the Twitter portion of the mailbag with Jazzman, who is a progressive thinker and a sports and music enthusiast who is attracted to independent and free-thinking women. He's writing in all the way from North Korea.
I joke, of course. Jazzman lives in New York/New Jersey, which means his odds of finding an independent free-thinker are at least a little bit higher.
Anyway, he has a question about the Cowboys: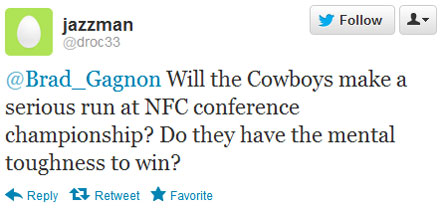 I think it's a misconception that the Cowboys lack mental discipline. If anything, this would've been an issue under
Wade Phillips
, but Jason Garrett has a superb grip on this locker room.
It appears Dez Bryant has matured quite a bit this offseason, and Sean Lee is really taking on a leadership role on defense. You also get the feeling DeMarcus Ware has started to realize he has to take the reins in the locker room.
So yes, I do feel they have the mental toughness as well as the talent to be a conference championship team. Actually, I feel they can be a Super Bowl team. I wrote last month that this is the most promising Cowboys season since the 1990s.
This team is very, very good. If they don't make a run, it'll probably have to do with the fact that the Eagles and Giants are also very, very good teams.
Good question, Jazzman. And thanks for making me think of this:
-----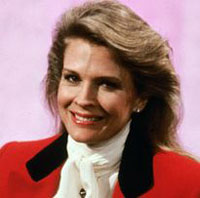 We move to the Bleacher Report NFC East inbox, where Murphy, who is a Google user from somewhere on Planet Earth, wrote me a novel. Thanks, man (or lady). I'm going to print this baby off and bring it with me on vacation. The gist of the essay was about the geriatric London Fletcher. I did some editing to capture the key question:
How much gas can Fletcher possibly have left in the tank at this point? I love him but do the Skins have to think about his replacement now that he's so old?
Well, you could argue that Perry Riley is his replacement, but yes, the Redskins will need two inside linebackers.
They brought in Jonathan Goff in the offseason. The former New York Giant is only 26 years old and had a solid 2010 season, especially against the run (where Fletcher excels). Goff missed all of 2011 due to a torn ACL, but if he's healthy this year, he should get more reps than Lorenzo Alexander.
Of course, they also used a fourth-round pick on Keenan Robinson, who should probably be considered a long-term option but has the size and athleticism to add a whole new dimension to that linebacking corps.
There's probably no rush for Goff to get readjusted or for Robinson to get up to speed because Fletcher is a 37-year-old in a 30-year-old's body. He's always healthy (knock on wood) and he simply hasn't come close to hitting a wall yet. That's why the Redskins gave him a fresh two-year deal this offseason. I get the feeling the reliable vet has at least two solid years left in him.
-----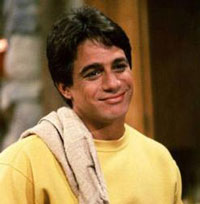 And finally, a very rare Eagles question comes from Tony, whom I assume is a fellow Canadian based on his Sympatico e-mail address. For my entertainment, though, let's assume it's Tony Micelli from Who's the Boss?. No, not Tony Danza. I want the actual character.
Sorry, Tone. I get cabin fever on Friday afternoons.
Tony's question (again, edited down for space and clarity):
Is this Andy Reid's last chance?
ESPN's Adam Schefter wrote this week that he doesn't believe Jeff Lurie will ever fire Andy Reid. I don't buy that, especially now that Lurie seems to be growing impatient. Still, I think Reid has a minimum of two years left in him. If he can't win playoff games the next two seasons with this roster, there's no way Lurie can keep the coaching staff the way it is.
So this season might not represent his last chance, but this era—the one with Michael Vick and Nnamdi Asomugha, etc.—probably does.
But Schefter is slightly better connected than I am, so who knows....
Thanks for the questions. I've saved a few from the e-mail inbox for future weeks. Jump in on the mailbag next week by tweeting at me or emailing us at BRNFCEast@gmail.com.
(Zohan shot via EntertainmentWallpaper.com; Bleeding Gums via Jazz Eddie; Danza via Chicago Now; Brown via Plainfield Today)
This article is
What is the duplicate article?
Why is this article offensive?
Where is this article plagiarized from?
Why is this article poorly edited?