Why This Is the Most Promising Dallas Cowboys Season Since the 1990s
June 21, 2012

Scott Halleran/Getty Images
It seems as though the Dallas Cowboys are lassoed by high expectations on a yearly basis. Oftentimes, those expectations are probably higher than they should be. Now, though, for maybe the first time since Bush 41 ran the country, the public might actually be undervaluing America's Team.
Before I jump into why this team has the tools to win combined with expectations that are lower than they've been in years past, let's go back in time to reflect on warped expectations during the beginning of what's been a painful era.
The Cowboys actually fell short of expectations quite often in the late 1990s, but that was with the same core that won three championships earlier that decade. Because of that, the onus wasn't the same, and any attempted comparisons are moot.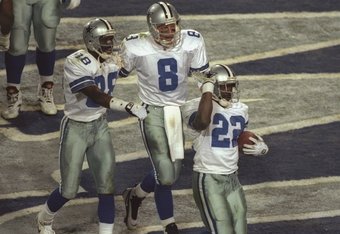 Al Bello/Getty Images
But after 1999, Michael Irvin and Moose Johnston were gone, and Chan Gailey was out, separating the franchise even further from the days of Jimmy Johnson and Barry Switzer. Troy Aikman and Emmitt Smith were running out of steam, and the team was clearly on the decline. 
I'd say that's about when the latest era of Cowboys football started, and—partly due to the successes of previous generations—this is a team that has failed to meet expectations every single year since.
After Dave Campo oversaw somewhat of a half-hearted rebuild in 2001 and 2002, Bill Parcells took over from 2003 to 2006 and won exactly zero playoff games. I'd say they met expectations by doubling their win total from five to 10 in Parcells' first year, but I'm not even sure that was the case. Parcells was seen as a savior, but he inherited a team that was lacking top-end talent on both sides of the ball.
That was the problem. For years, the expectations in Dallas were inflated by the team's track record and/or its coaches. Think back and consider who the Cowboys' best players were during the Parcells era. DeMarcus Ware was still emerging. Tony Romo didn't take over until 2006. Before that, this was a franchise hitching its wagon to an over-the-hill Drew Bledsoe, or Marion Barber, or Julius Jones or Roy Williams. Quincy Carter? Vinny Testaverde? What did these people expect?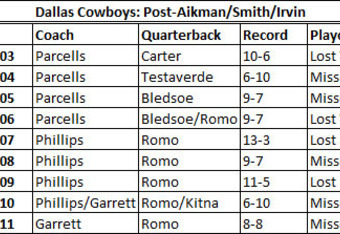 Between 2003 and 2006, they won at least nine games three times with a fairly average roster. They were by no means underachieving, but nowhere else is the fanbase as thirsty for constant success. 
It was in 2007 when the Cowboys finally began to look like a true Super Bowl contender in the eyes of the unbiased observer, and they won 13 games and landed the top spot in the NFC before falling on their faces in the playoffs. But was that actually the case, or did they simply run into the eventual Super Bowl champion Giants in the wrong place at the wrong time? They lost an incredibly close game to New York, which came down to the final moments. It happens.
In the three years since, they've been a team with most of the pieces in place, but they've failed to deliver. Circumstances weren't always perfect. Terrell Owens faded in 2008 and disappeared completely in 2009. Romo broke his clavicle and missed all but six games in 2010. They were adjusting to a new defense on the fly in 2011, and the injury bug hit again.
Aside from that odd stretch that cost Phillips his job early in 2010, they've never been bad. They replaced Owens beautifully with undrafted gem Miles Austin. They rolled the dice successfully on Dez Bryant. Romo has become the most competent and dangerous quarterback on the roster since Aikman. Ware has turned into one of the best defensive players in the game, and he's been complemented perfectly by All-Pro Jay Ratliff and underrated pass-rushing threat Anthony Spencer.
That 2007 team was very good, but this 2012 team is probably stronger on the field and in a better spot off of it. 
Romo is wiser and more dominant: He wasn't in his prime yet when they were a threat in 2007. Austin had yet to emerge in '08. Owens was gone in '09. The defense was a joke in 2010, and Romo missed most of the season anyway. Last year, despite injuries to most of his weapons and problems on defense, he had his best season as a pro. With everyone healthy, 2012 could be even better.
They have stronger offensive weapons now: Jason Witten is still in place and still effective, but give me an emerging Bryant, an emerging DeMarco Murray and the super-smooth Austin over T.O. and Marion Barber any day.
They have stronger leadership: Ware has never been known as a vocal leader, but emerging linebacker Sean Lee is, and he's only getting better both on and off the field. Plus, Jason Garrett has done what Wade Phillips was never able to do: win over the locker room and appease Jerry Jones simultaneously. 
They might finally have a strong enough secondary: The pass defense has killed Dallas the last few years, but the addition top free-agent acquisition Brandon Carr and top draft pick Morris Claiborne while complementing those guys with Mike Jenkins and Orlando Scandrick gives them their deepest group of corners since, I dunno, ever?
I still might have preferred the 2007 secondary—Newman, Williams, Anthony Henry, Jacques Reeves and Ken Hamlin—but the upside here is massive. Overall, this D should be just as good as, if not better than, the 2007 version.
They might have less weight on their shoulders than ever: As each year passes, we move further away from those glory days. And while you'd think that would only increase the pressure, it feels as though the teams of this generation are beginning to separate themselves from those championship squads. Memories are fading, and many of the newest fans don't even have those memories in the first place. 
It also might make it easier that the Eagles, not the Cowboys, are the division favorite. The Giants are supposed to be good, too—they're the defending champs. No one's predicting the Cowboys to win it all these days, which might be ideal. 
And it's also ironic, because they're probably better suited to win now than they have been since the glory days came to an end.