Fact or Fiction: New York Giants Pre-Camp Edition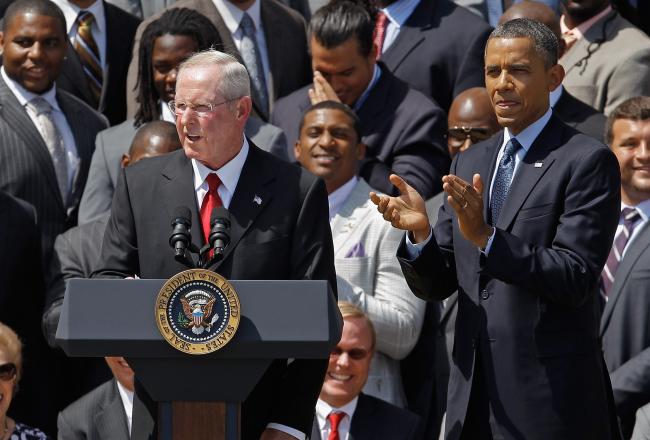 Chip Somodevilla/Getty Images
We've been breaking down popular scenarios for each NFC East team in an attempt to determine which are factual and which are fictional. Tuesday, we looked at the Philadelphia Eagles and Dallas Cowboys. Today, we'll finish with the Washington Redskins, leaving the New York Giants for edition No. 3.
Scenario: Hakeem Nicks avoids any ill effects from an offseason foot injury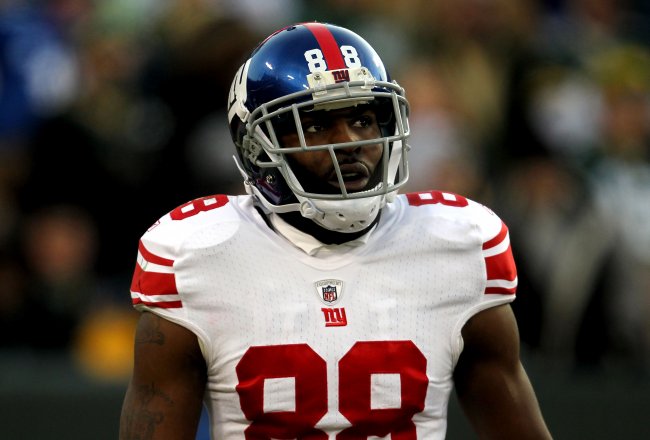 Jonathan Daniel/Getty Images
On one hand, the preliminary estimates had Nicks on target for a mid-August return, which would give him plenty of time to prepare for the Giants' opener on Sept. 5. But the thing about feet is that receivers really, really need them. And the thing about broken bones in feet is that they have the tendency to nag well after they've apparently healed.
How many games will Hakeem Nicks participate in?
I'm not a doctor yet, but these are the kinds of things we hear whenever metatarsal bones are fractured. Last year, for instance, it took Prince Amukamara 15 weeks to recover from the same injury, and then Amukamara had to undergo surgery again after the season in order to help the healing process.
The point is that these injuries linger, and Nicks hasn't exactly been durable during the first three years of his career. I'm not predicting that Nicks will have a bad year, but I do believe he'll be limited at certain points by the lack of strength in his right foot.
Will that be enough to hurt the Giants? Probably not, because they've survived in the past without him. The 24 year old has missed six games in his career and the Giants are a perfect 6-0 in those affairs. They might wish they'd kept Mario Manningham, but Victor Cruz should be even better from the get-go, so I really don't think a less than 100 percent Nicks will cost the G-men any victories.
Still, I do believe he'll be less than perfect physically.
VERDICT: Fiction
Scenario: The running game will improve dramatically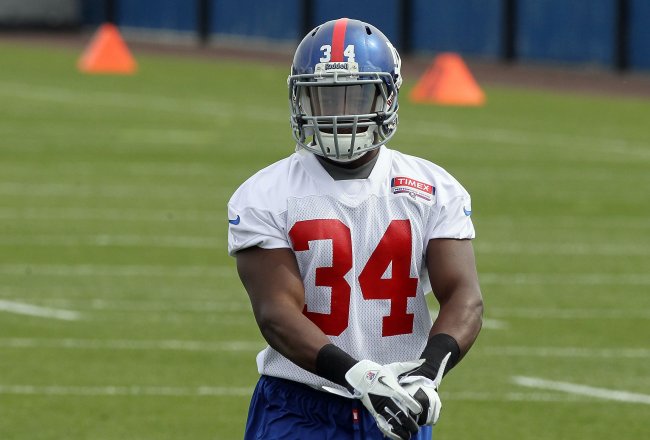 Jim McIsaac/Getty Images
It's hard not to improve when you're at rock bottom, but I feel quite strongly that Ahmad Bradshaw will rebound and David Wilson will add a much-needed jolt to the offensive backfield in 2012.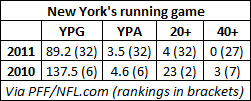 The Giants averaged just 3.5 yards per carry last season, but Bradshaw was hampered by a foot injury and Brandon Jacobs wasn't exactly providing much in the way of relief. Only a year prior, the Giants had averaged 4.6 yards per rushing attempt, which ranked sixth in football.
The offensive line was also affected negatively by a lack of cohesion, as injuries forced David Diehl and Kevin Boothe to play musical chairs. The line isn't necessarily better now from a personnel perspective, but at least the return of Will Beatty means everyone can settle back into their regular spots.
With order restored there, Bradshaw healthy and Wilson contributing early and often, there's little reason to believe this running game won't return to its 2010 form this season.
VERDICT: Fact
Scenario: Jason Pierre-Paul makes a run at the single-season sack record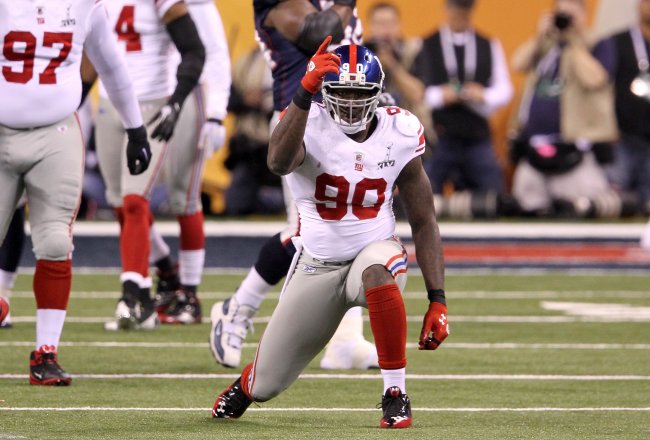 Andy Lyons/Getty Images
That depends how you define run, I suppose. While I do believe JPP will have an even better season in 2012, I wouldn't be surprised if his sack numbers actually fell.
You don't have to lead your team in sacks to be its best pass rusher (see: Cole, Trent), and that might be the case in New York if Pierre-Paul's snaps and opportunities are somewhat limited by the presence of Justin Tuck and Osi Umenyiora, who missed a combined 11 games last year.

As I wrote when I sized up Pierre-Paul's defensive player of the year chances last month, JPP's five best games of 2011—from a sack perspective—took place when Umenyiora or Tuck were out of the lineup. In fact, in two of those cases, both Umenyiora and Tuck weren't playing.
There's no guarantee those two will be any healthier this year, but both are right now, and Umenyiora could be primed for a big year with a long-term contract on the line.
Pierre-Paul is undoubtedly the best defensive player on this team, but sacks won't properly measure his value in 2012. He'll again be stellar as a pass rusher and a run defender, but the Giants are too stacked up front for the 23-year-old to break Michael Strahan's mark of 22.5.
VERDICT: Fiction
Scenario: Eli Manning has the best season of his career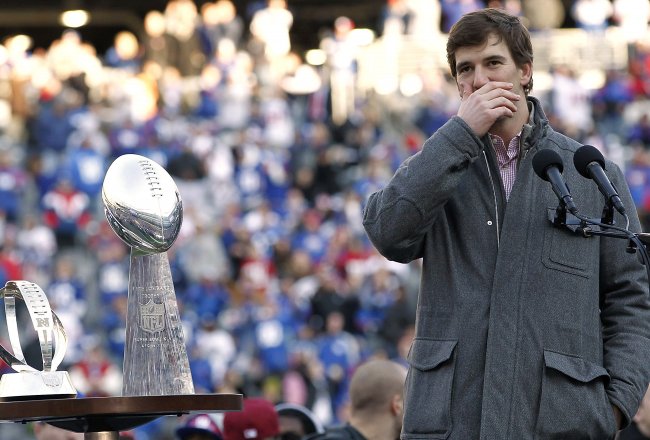 Jeff Zelevansky/Getty Images
Watching Manning late last season, he seemed to gain a lot of confidence. And just like he did after his first Super Bowl victory, I expect him to carry that over into 2012. Manning was still far too inconsistent and mistake prone at times last year, but he straightened things out in January and might finally be on the verge of his true prime.
Will 2012 be a career year for Eli Manning?
It also won't hurt that, this year, Manning should have more help from the running game (see above) and the offensive line. Those units were so bad last year that they can't possibly get worse in 2012, and thus, Manning is almost sure to receive more support this season.
Manning had a 9-to-1 touchdown-to-interception ratio in the playoffs, posting a passer rating of 100 or better on three of four occasions. I don't necessarily think he's going to maintain that pace throughout 2012, but I think he'll be closer to that range than the one he hovered around for much of 2011.
VERDICT: Fact
This article is
What is the duplicate article?
Why is this article offensive?
Where is this article plagiarized from?
Why is this article poorly edited?