Fact or Fiction: Philadelphia Eagles Pre-Camp Edition
July 3, 2012
Rob Carr/Getty Images
We'll spend the next few days breaking down popular scenarios for each NFC East team in order to determine whether they'll prove to be fact or fiction. We kick it off with the Philadelphia Eagles.
Scenario: Philadelphia Earns the No. 1 Seed in the NFC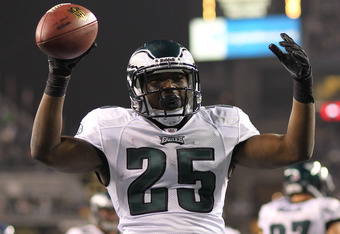 Otto Greule Jr/Getty Images
That is undoubtedly an expectation inside and outside of Philly. The Eagles learned from last year and aren't stupid enough to admit it, but they know they're supposed to win the division and earn a first-round bye in 2012. The roster is simply too deep and too talented not to accomplish this feat, right?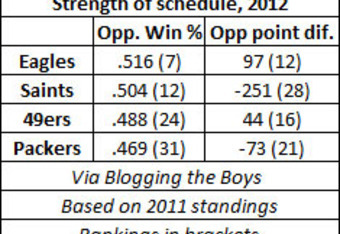 My apologies to fans of the reigning Super Bowl champion New York Giants, but I have a hard time seeing Philadelphia failing to win the NFC East in 2012. This is a team that won its last four games last season and almost still won the division despite playing terrible football in September and October.
Beyond that, though, it's much more difficult to project what'll take place. The Packers, Saints and 49ers will put up fights from the other three divisions, and teams like the Lions, Bears, Falcons and Panthers could even emerge to contend for the top seed in 2012. 
In order to earn the top seed, the Eagles would have to make up seven games on the Packers and five on the 49ers and Saints. It doesn't help Philly's case that, on paper at least, it has a much tougher schedule than all three of those teams. 
Ultimately, though, I still believe the Eagles will pull it off. They're that much better than the rest of the conference—Green Bay included—and should execute in a whole new way with a proper offseason under their belts. 
I don't trust the Packers defense or the 49ers offense, and who knows what we're going to get from the Saints after such a tumultuous offseason? Certainly can't peg them as a top seed without Sean Payton on the sideline.
I do reserve the right to reconsider later this summer, and I know there's a good chance that I get burned again by the offseason champs, but I'm going with my gut and predicting that Philadelphia takes the NFC's top spot in 2012.
VERDICT: Fact
Scenario: The Defense Fixes Its Tackling Problem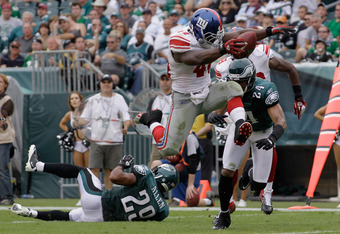 Rob Carr/Getty Images
What's different this year? Juan Castillo is still the defensive coordinator, and as many as nine defensive starters from 2011 will be in the starting lineup Week 1.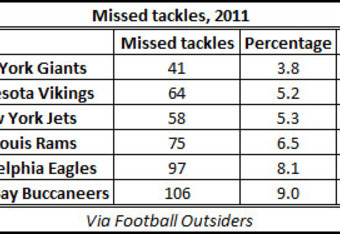 Sure, they've added DeMeco Ryans, who could prove to be a veteran leader and provide a general upgrade, but it's a misconception that Ryans is a quality tackler just because his annual tackle totals are high. I think Ryans will help this defense, yet I still believe he's an overrated linebacker. 
Ryans missed eight tackles last season and was ranked 41st among 50 qualifying inside linebackers in tackling efficiency by Pro Football Focus. In 2010, he ranked 47th out of 50. The year prior to that, he was 37th out of 54. In 2008, he was 42nd out of 46.
The man whom Ryans is essentially replacing in the starting lineup, Jamar Chaney, missed only one more tackle than Ryans did in 2011. 
Nate Allen and Brian Rolle were the team's worst tacklers last season, based on numbers provided by Football Outsiders. Those two are expected to once again start or play key roles in 2012. 
You'd think it'd help that Asante Samuel's gone, but his replacement, Dominique Rodgers-Cromartie, missed nearly as many tackles as Samuel did last year despite getting about half as many reps.
I trust that the coaching staff is making some adjustments and emphasizing the basics this offseason, and an actual offseason could help. Yet even with that in mind, I can't see the Eagles being much better at tackling in 2012.
VERDICT: Fiction
Scenario: The Eagles Lead the NFL in Sacks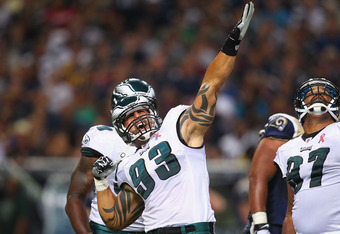 Dilip Vishwanat/Getty Images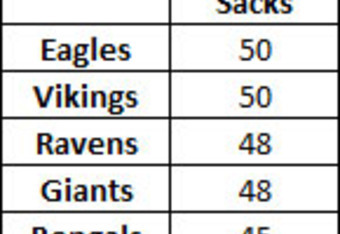 The Eagles tied for the league lead with 50 sacks last season despite struggling with consistency on defense and getting little support from the back end. This year, they've added Fletcher Cox and Vinny Curry to the mix, and they'll be getting a healthier Brandon Graham and Antonio Dixon.
With those four supporting Trent Cole, Jason Babin, Cullen Jenkins, Mike Patterson and Darryl Tapp, the Eagles have the deepest, most stacked defensive line in football. 
Considering what Jim Washburn's been able to do with lesser lines in years past, it's scary to think what he might be able to do with this group. Remember: Washburn didn't have a full offseason to implement his system and teach up the wide-nine in his first year in Philly. 
So if the Eagles were able to compile 50 sacks in 2011, they could make a run at 60 this year. No NFL team has hit that number since Baltimore and San Diego accomplished the feat in 2006 (Dallas had 59 in 2008). 
What's kind of funny, though, is that if there's one team that could give the Eagles a run for their money in this category, it's probably the division-rival Giants. Big Blue had 48 sacks last year but gained momentum as the season wore on. Jason Pierre-Paul is only going to get better, and now Justin Tuck and Osi Umenyiora are healthy. 
I think New York's pass rush might actually scare me a little more than Philadelphia's does, but I'm still going to predict that the Eagles lead the league—or at least tie for the league lead—in sacks.
VERDICT: Fact
Scenario: Michael Vick Struggles Even More with Jason Peters out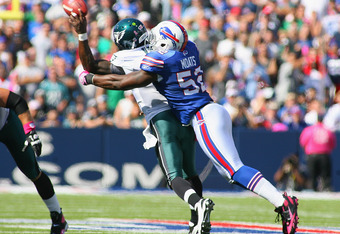 Rick Stewart/Getty Images
The Eagles will undoubtedly take a hit on the offensive line without Peters, but Demetress Bell is a formidable replacement. And if he can't stay healthy either, there's King Dunlap.
Again, neither player is as talented as Peters, but if Vick takes another beating in 2012, it likely won't be tied to the left tackle situation.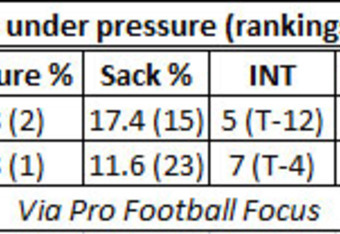 Vick's protection got better in 2011, and yet his numbers dipped dramatically. There's no correlation, proving that he controls a large proportion of his destiny. If Vick makes good decisions and trusts his instincts at the right moments, he'll succeed regardless of who's manning the left tackle spot.
Peters missed two games in his All-Pro 2011 season, and Vick was sacked just twice in those affairs. Not having Peters in 2012 would be a convenient excuse, but it wouldn't explain Vick's performance, regardless of what the results are.
VERDICT: Fiction