How to Fix the Philadelphia Eagles' Tackling Issues on Run Defense
May 31, 2012

Mike Ehrmann/Getty Images
There's a lot of uncertainty surrounding what the basic tenets of winning football are, but you'll have a hard time finding anybody to dispute the notion that to win, you must be capable of tackling opposing offensive players. 
That's where things went wrong for the Philadelphia Eagles last year.
The brilliant folks at Football Outsiders tracked missed tackles in 2011, and the five teams that missed the most tackles also missed the playoffs, putting together a combined record of 28-52. The five teams that missed the fewest tackles were 46-34. 
The second group contained the Super Bowl champion New York Giants and the NFC's No. 2 seed, San Francisco. 
The first group contained four subpar teams—and the Philadelphia Eagles.
To live up to sky-high expectations and make a Super Bowl run in 2012, the Eagles will have to make more tackles at every level of the defense. Here are three steps to tackling success.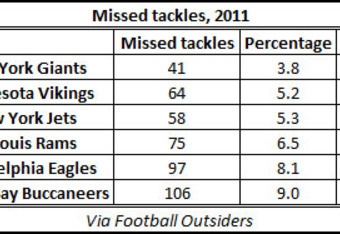 Emphasize Tackling in OTAs and Training Camp
I know this seems basic, but in order to fix a run defense that struggled in 2011, the Eagles first have to get back to the fundamentals this summer and improve their tackling across the board. The presence of new middle linebacker DeMeco Ryans will surely help, as will the arrival of rookie SAM linebacker Mychal Kendricks. 
But Brian Rolle is still tentatively slated to start on the weak side, and the numbers from Football Outsiders reveal that he missed 19 percent of the tackles he attempted in 2011. Seriously—19 percent!
And at the next level, free safety Nate Allen apparently missed 18 percent—18 percent!—of his attempted tackles. Rolle and Allen were two of only 23 NFL defenders who missed 10 or more tackles last season, and both are penciled in to start again this year.
The Eagles will surely hope that youngster backups like Jaiquawn Jarrett and Casey Matthews can step up to relieve guys like Rolle and Allen, but the reality is that everyone on the defense had issues wrapping up last year. 
Use the lockout-shortened offseason as an excuse all you want, but this team struggled with tackling in 2010, too. The reality is that the entire defense needs a throwback form-tackling lesson and a zero-tolerance policy when it comes to missed tackles. They have the depth to bench players who still aren't able to catch on early.
Ditch the Wide-Nine a Little More Often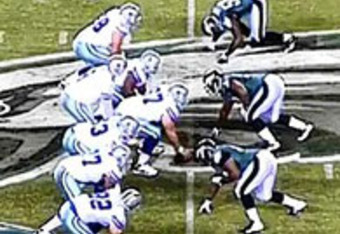 Believe me, I subscribe to what defensive line coach Jim Washburn's selling, and I believe that it's necessary nowadays to sacrifice small losses for big gains on offense and small gains for big losses on defense.
But Washburn's scary wide-nine alignment simply isn't sustainable over the course of an entire game.
I found that when the Eagles brought the ends in last year, they were often much better at stopping the run before backs ever reached the levels at which tackling became a problem.
This shouldn't surprise anyone, but considering their sheer talent off the edge, the team might want to try a more compact defensive front more often in 2012. I'm betting they'll find ways to get to the quarterback regardless, while reducing that 4.4 yards-per-carry-allowed number.
KISS
Keep it simple, stupid.
The Eagles tried to do too much on defense last year. Two of the biggest culprits when it came to missed tackles and poor run defense were current starting corners Nnamdi Asomugha and Dominique Rodgers-Cromartie, so don't think they can breathe easy just because Asante Samuel's gone this year.
But defensive coordinator Juan Castillo can rein it in a bit this spring and summer. He has two corners who are better in press-man, so he'll likely ease up on the zone and give Asomugha and DRC a chance to play in their normal habitats.
This alone might not completely fix the run D and the tackling problem, but it all helps.
(Wide-nine image courtesy of The Wall Street Journal)