Why Dwight Howard Should Consider the Houston Rockets for His Long-Term Future
Sam Greenwood/Getty Images
Dwight Howard should think twice about his decision to not include the Houston Rockets on his list of desired locations.
The Rockets are a talented young team with one of the game's best GMs in Daryl Morey. They have some good core pieces in shooting guard Kevin Martin and power forward Luis Scola and just added some more young talent with their three first-round picks in Thursday's draft.
On top of that, with the Miami Heat towering over the league like a colossus, the safer bet for Howard to get back to the NBA Finals would be to move to the Western Conference.
Outside of the the Oklahoma City Thunder, the rest of the conference could go either way.
Dallas and San Antonio are getting old, as are the Lakers. The Clippers and Grizzlies are a year or two away from contending, and the Warriors and Hornets are even further away than that.
Howard's preferred destinations are the Brooklyn Nets, Dallas Mavericks and either of the L.A. teams. All of them are sound options.
All of them are also deeply flawed choices.
For one, Brooklyn shouldn't even be considered. Even if the Nets re-sign Deron Williams, how enthused can you be about joining a team that sent away a lottery pick for a half-season rental of Gerald Wallace?
The Mavericks make sense only if they can get D-Will to come back home. Even then, what could they possibly offer the Magic to entice them to deal Howard?
Nobody in Orlando is exactly chomping at the bit over Rodrigue Beaubois.
As for the Lakers, the fact that they aren't rushing to send Andrew Bynum to Orlando in exchange for Howard should tell you about how interested they are in the three-time defensive player of the year.
Sure, playing with Kobe Bryant is exciting, but what happens when Father Time catches up to the Black Mamba in a couple years?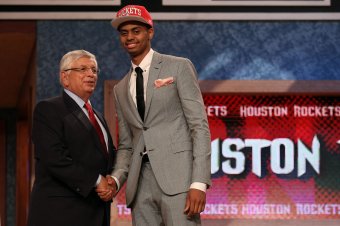 Elsa/Getty Images
Then, there are the Clippers. Unless the Clippers can make a deal for Howard that doesn't include Blake Griffin, I don't see the appeal of playing for Los Angeles' little-brother franchise.
As great as playing with Chris Paul would be for Howard's career, you need role players to succeed in the NBA, and the Clippers don't have them.
That brings me back to Houston.
They have enough young studs to pique Orlando's interest without giving up guys like Scola and Martin. Besides 2012 first-rounders Royce White, Jeremy Lamb and Terrence Jones, there are also forwards Chandler Parsons and Marcus Morris to use as trade bait.
Plus, Houston would almost certainly include starting point guard Kyle Lowry, who wants off the Rockets.
A package of Lowry and any combination of those prospects would work out well for both sides. By not giving up too many proven veterans, Houston could still contend with Howard in the fold, and Orlando would get young pieces around whom they can build and also be rid of the Howard headache.
Lest we forget, Denver didn't get back a package of superstars for Carmelo Anthony, but they got enough promising talent to make the deal acceptable.
Houston deserves Howard's consideration. His presence would make them a formidable contender and his best chance at long-term success.
The Lakers are a good "win now" option, as are the Mavericks. The Nets are a train wreck, and the Clippers were, too, until Chris Paul came along.
Dwight Howard is only 26. Barring injury, he has a lot of time left in this league.
Houston was a great team during the Hakeem Olajuwon years and was solid during the Yao Ming era. Howard should consider becoming part of that lineage.
The Rockets are a well-run team with a lot of promise, and Howard would benefit from learning from head coach Kevin McHale.
It's time for Howard to open up his vision a little bit wider and consider a bigger picture.
This article is
What is the duplicate article?
Why is this article offensive?
Where is this article plagiarized from?
Why is this article poorly edited?

Houston Rockets: Like this team?