Anthony Davis, Dion Waiters and NBA Draft's Most Exciting Picks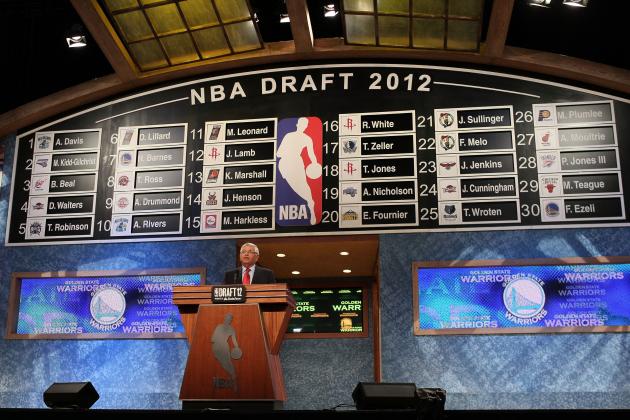 Elsa/Getty Images

Some scouts and ESPN maidens have qualified this year as a deep, but superstar-less NBA draft. That may be accurate, but when I'm still excited about draft picks in the 30s, things look pretty promising for the class of 2012.
Here are the players who I am most interested in watching in 2013 and beyond.
Begin Slideshow

»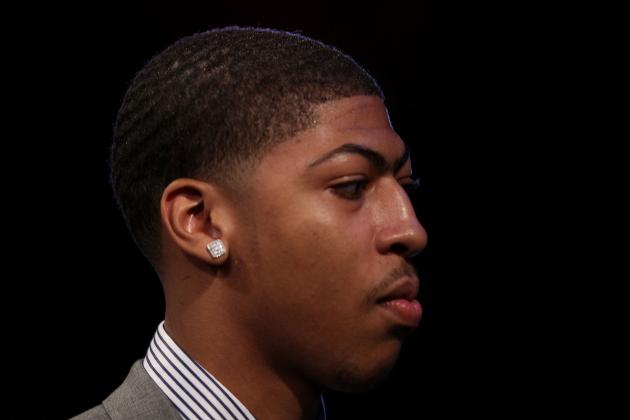 Elsa/Getty Images

Obviously this year's only "sure thing" is the most exciting pick. Davis, who recorded the college basketball triple crown last season at Kentucky (national Player of the Year, Defensive Player of the Year, NCAA tournament's Most Outstanding Player), has few weaknesses in his game, especially for a college freshman.
Remarkably, he was a guard through his sophomore year of high school. However, two years and six inches later, Davis was recruited as the nation's top big man.
The late growth spurt has certainly paid off, as Davis can attack and defend like a big man, but he is also an effective shooter for his size. Davis finished a game shooting under 50 percent from the floor only eight times while at Kentucky. He shot over 70 percent on 15 (fifteen!) occasions.
Best-Case Scenario
In the June 1995 Sports Illustrated, Jack McCallum said:
[Kevin] Garnett's leaping ability is off the charts, he runs the floor like a sprinter, he shoots 20-foot jumpers with ease and perfect rotation, and he's the best-passing big man in the draft. Most teams believe he'll eventually be a do-everything small forward…
The long, scrawny, defensively gifted Anthony Davis mirrors not only KG's skill set, but his pre-draft size as well. Davis is 6'10'', 225; Garnett: 6'11'', 220. Davis wins the league MVP by 2021.
Worst-Case Scenario
Davis averaged just 14.2 points per game, but most speculate that this low total was a result of the immense scoring talent around him. He fails to elevate his PPG and becomes a defensive-oriented big man with multiple All-NBA defensive-team appearances.
The Brow is an essential No. 2 or 3 on a contender. Think Tyson Chandler.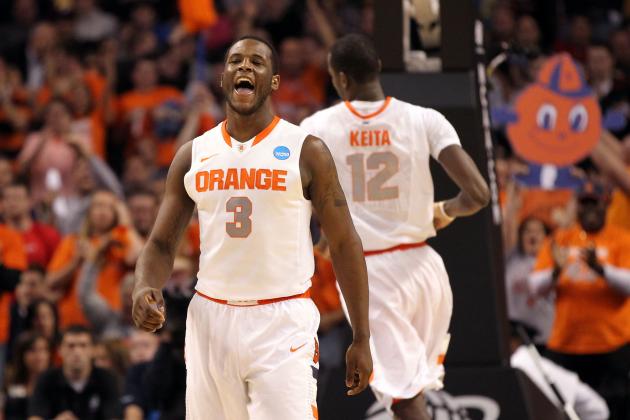 Jim Rogash/Getty Images

Cleveland's selection of Dion Waiters may have come as a surprise to some, especially with Thomas Robinson still on the board. The pick confirmed what needed little confirming: The NBA is all about guard and small forward play; traditional bigs are nonessential.
Danny Gilbert's preposterous claim via Twitter that the Cavs would beat LeBron to a championship was proved to be just that, but his team is certainly the most promising of the league's cellar dwellers. Waiters and a soon-to-be-named fellow first-round draftee join Uncle Drew's Cavaliers.
Best-Case Scenario
Arron Afflalo. Irving demands constant double-teams, and Waiters establishes himself as a nice second option. On the other end of the ball, he becomes an effective and physical defender. It's no far cry to think he snags one or two all-star appearances over the course of a lengthy career.
Worst-Case Scenario
Waiters busts, and the one-year sensation out of 'Cuse is never able to elevate his game. A total miss could cripple Cleveland for years to come.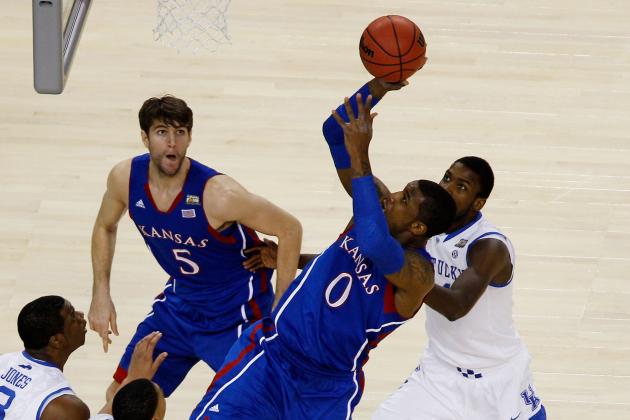 Chris Graythen/Getty Images

There is no draftee more deserving of an accomplished NBA career than Thomas Robinson. Robinson made headlines this past year by averaging 17.7 points and 11.9 rebounds despite losing his grandmother, grandfather and mother over the course of three weeks.
His ability to channel his anguish into on-court dominance elevated him from a possibly undrafted player to a bona fide top-five selection.
The best rebounder in the nation, Robinson now joins fellow fifth overall pick DeMarcus Cousins to create a tasty frontcourt. The guys behind are due for a breakout year as well. Former ROY Tyreke Evans is joined by Marcus Thorton, last year's team leader in points, and clearly adequate Isaiah Thomas.
The Kings may be on their way to relevance for the first time since the days of Peja, C-Web and Bibby.
Best-Case Scenario
Sacramento allowed more points than any other team in 2012. Robinson is able to improve the "defense" and becomes the final component the Kings need to be in the playoff race come February. Robinson becomes the next…well…DeMarcus Cousins.
Worst-Case Scenario
Robinson falls into the career black hole that is Sacramento. He gets traded, and after three years in the league, has still failed to elevate his game beyond role player. He discusses his patchiness with Derrick Favors.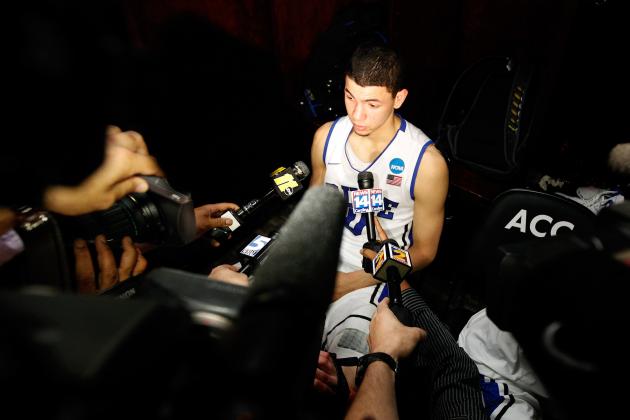 Streeter Lecka/Getty Images

When imagining this column at the beginning of the week, I promised myself that I would exclude Rivers. I could already hear it: "Oh, sure, the Duke fan is excited to see his one-and-done, look-at-me guy play in the NBA! Shocker."
To be honest, it was for my own health that I hoped to refrain from including Son-of-Doc. Why would I want to rehash the whole "he wasn't even ready for the college game thing?" Is it really worth revisiting the, "Like he needs the money" topic.
Any discussion would just ultimately dissolve into professing my hatred for the egregious sham of the NBA's one-year policy. "LIKE YOU CARE ABOUT THEIR EDUCTION? IT'S ALL FOR SHOW!"
Then he teamed up with Anthony Davis.
Do you realize that we are looking at the guys who were consistently ranked first and second among all high school recruits in 2011? If there's one NBA team happy about the one-year rule, it's New Orleans. This snagaroo would have never happened otherwise. Hmmm…I see you David Stern.
Best-Case Scenario
The Hornets haven't made a relevant selection since Chris Paul in '05. Rivers' confidence and athleticism propel him to a long and successful career with annual averages of 15-19 points, half a dozen assists and a three-point percentage of nearly 40. Think of a slightly larger Jason Terry clone (my favorite comparison of this column).
Worst-Case Scenario
The professional game is too big for Rivers and he becomes a turnover-ridden, poor decision-maker. Frustration builds and he falls into the sea of NBA mediocrity.
Mike Ehrmann/Getty Images

If it were any team other than Cleveland, I'd say it passed on Thomas Robinson at No. 4 because it believed it could get better value with Zeller at 17.
But…it is Cleveland!
Why even bother trying to break this one down (I humored the Cavs with Dion Waiters)?
Best-Case Scenario
Ryan Anderson. Zeller follows the lead of fellow Tar Heel standout Tyler Hansbrough and works relentlessly to develop into a valuable component of this young team. Zeller's game is actually a better NBA fit than that of Hansbrough, and he sneaks into a few all-star games.
Worst-Case Scenario
Kyrie Irving scorns Zeller and refuses to pass to anyone from UNC. Zeller struggles to maintain a starting role and becomes an almost exclusive defensive/hustle guy.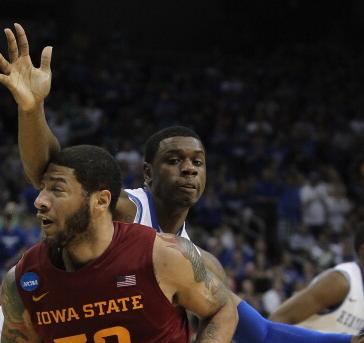 Jonathan Daniel/Getty Images

And the winner of the 2012 NBA draft five years from now is…
Why not Houston? Everybody's going on and on about the depth of the "role player" in this year's class, but these two tweener forwards have seemingly limitless potential. Both are effective in nearly every way—except from the foul line, where they struggle (50 percent for White, 63 percent for Jones).
White averaged 13.4 points, 9.3 rebounds and five assists this past year. Jones averaged 12 points and 7.2 rebound to go along with 1.8 blocks and 1.3 steals (both good for second in the SEC).
There's already talk that White could become the in-vogue point-forward. If these two can learn to play nice together, Houston will be the first of the listed teams thus far to make the postseason. I LOVE these selections.
Best-Case Scenario
I said all year that Terrence Jones would turn into the best UK player from this year's team besides Davis. He becomes a suped-up Al Harrington and makes an all-star roster on multiple occasions.
Categorizing and comparing White was near impossible—if only he didn't have such a tragic free-throw percentage. Even still, it's probably the easiest part of one's game to fix, and I could really see him bringing in a handful of all-star appearances.
I guess I'd predict White to be a rich man's Lamar Odom.
Worst-Case Scenario
The two step on each other's feet and neither is able to reach his full potential. Maybe a trade is made. White's flying anxiety actually matters. Jones is Nick Collison-esque, and Royce White is unable to maximize on his three-tool talent.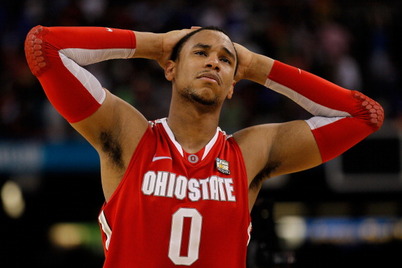 Chris Graythen/Getty Images

Fabred Sullinmelo—as they will be called—must have pleased every casual college basketball fan who doesn't keep up to date on the hoopla prior to the NBA draft. "Hey, I know who those guys are! They're good!"
Kevin Garnett had a revitalized postseason in 2012 and, according to ESPN, all signs indicate that he will be back next year. Still, one must wonder how long he will continue to be effective going forward. Fabred Sullinmelo will learn from the best and give Boston an increased physical presence under the basket.
Every Eastern Conference contender must build to beat Miami, which, interestingly enough, is leading the anti-big movement. Boston would benefit from returning to a more traditional basketball format (point guard who passes, small forward who scores, bigs and centers to get the ball down low).
With teams across the NBA clamoring for L.A.'s Pau Gasol, Boston could become the longest team in the league.
Best-Case Scenario
The two split time during their first three years in the league, which allows Sullinger to remain healthy. Sullinger teaches Melo to be a better rebounder, and Melo returns the favor by coaching Sullinger through his weight loss.
Boston recovers from the Kendrick Perkins trade. Sullinger plays like Ben Wallace. And Melo becomes the next Marcus Camby.
Worst-Case Scenario
The somewhat risky picks fail. Sullinger becomes the next OSU big man to lose his career to injury. Melo looks lost on the floor and never elevates his game.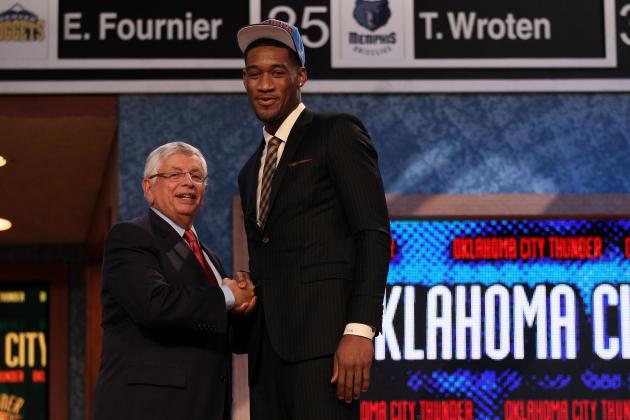 Elsa/Getty Images

At this point, it is difficult to predict how Jones will fit in with the Thunder, as the fabric of their team may be changing due to contracts. Regardless, OKC has made better draft selections than any other organization over the last three seasons.
How did everyone let them get this projected lottery pick? Come on! The guy oozes with athleticism!
Some wonder if the pro game will be too much for Jones, but Scott Brooks' crew seems like the perfect landing ground for any NBA talent. They are dedicated to improvement, everyone gets an equal opportunity to succeed and the plethora of other youngsters can put a newcomer's mind at ease. It will probably take a chunk of time before he becomes a starter, but OKC is becoming the deepest team in basketball.
Best Case Scenario
Jones is able to find a team niche that satisfies him. He quickly develops season averages of six rebounds and two blocks per game. Overtime, his offensive impact increases. At his peak, Jones plays like Tim Duncan has over the last two seasons.
Worst Case Scenario
Jones gets buried behind the likes of Perkins, Ibaka, and Collison and grows frustrated with his situation. When he is out on the court, Jones looks lost. He flashes some DeAndre Jordan or JaVale McGee on occasion but cannot put it all together to be a consistent contributor.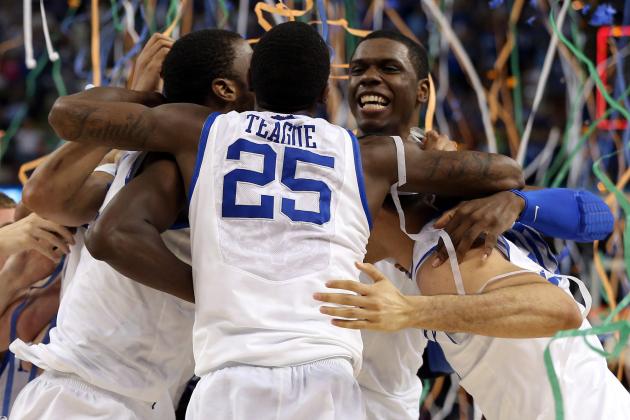 Jeff Gross/Getty Images

Not too much to say here. Teague gives the Bulls even more depth at the guard position and it seems pretty obvious that they will be operating a guard-by-committee system in Derrick Rose's absence. Hamilton, Watson, Lucas, Brewer, and now, Teague, will all cycle through the backcourt.
Once the 2011 MVP does return to the lineup, Chicago should be the deepest team in the Eastern Conference. Teague is effective when he drives to the hoop and he makes some good passes every game. It's hard to see a situation where this selection turns out poorly.
Best Case Scenario
Teague is given the perfect opportunity to improve and try new things while Rose is out. If Teague becomes more of a scorer than a distributor, he becomes the teams starting 2-guard. If Chicago sees him more as a drive-and-dish type, Teague is the first guard off the bench. A Sixth Man of the Year is plausible. I see a young Andre Miller.
Worst Case Scenario
Teague never becomes a standout, but is an essential role player on a playoff squad. Think of him as any one of the Lakers' guards over the last six seasons not named Kobe Bryant or Derek Fisher.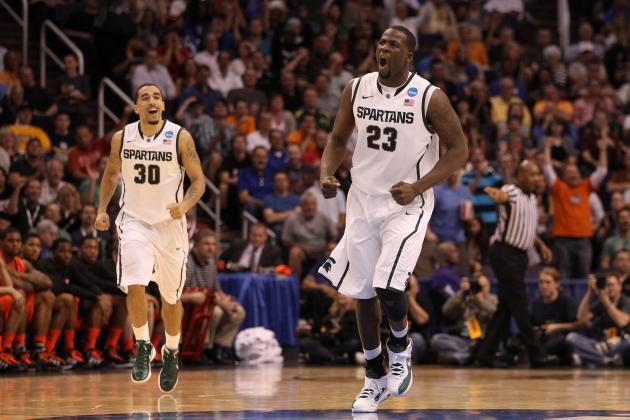 Christian Petersen/Getty Images

I saved the best for last. Draymond Green is the best value pick of the 2012 NBA Draft. Is he a little clunky? Sure. Is it hard to define what position he will play? Indeed. But was there any player more valuable to his team last season than Draymond Green was to Michigan State? Absolutely not.
Green's game is the most complete of anyone in the draft and he got it to that point through honest dedication. Over his four years at State, Green improved each season in his PPG (3.3-9.9-12.6-16.2), RPG (3.3-7.7-8.6-10.6), FT% (.615 - .672 - .683 - .723), and 3P% (.00 - .125 - .366 - .388). Scouts always talk about improvement; nobody has had better improvement than that.
Green is also a skilled passer and averaged about four assists per game over the last two seasons. There is simply no way I will be convinced that Green cannot thrive in the professional game.
Best Case Scenario
With all the talent on Golden State (Green joins the seventh selection, Harrison Barnes), somebody needs to step up and be the man. That player is Draymond Green. Green gets a little quicker and continues to improve his jump shot. When he takes off his NBA jersey for the final time, Green has several all-star appearances and multiple NBA championships.
Worst Case Scenario
Scouts have their jobs for a reason and although everyone loves to second-guess them and mock them when they are wrong, more often than not, their predictions are accurate. Green is an all-time great Spartan, but just doesn't have the body for NBA stardom. He sticks around the league for eight to 12 years, but only in a subordinate role.