College Football: 2013 Weekly Recruiting Roundup June 21-28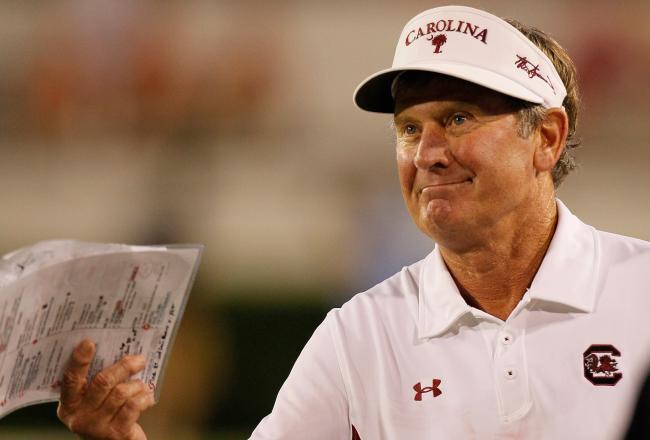 Kevin C. Cox/Getty Images
Every Thursday at Your Best 11, we hit the recruiting trail to give you a quick rundown of the biggest news in recruiting. It's a big world out there, and for your conference's specific needs, make sure that you check out the SEC Blog, the Big Ten Blog and of course, new to YB11, Erin Sorensen for the Pac-12, ACC, Big 12 and Big East.
It was a slow week in the SEC on the trail, and we're going to do something that we have never done before in the recruiting update—start with Vanderbilt.
The Commodores got two commitments this week as James Franklin continues to push the pedal to the medal in Nashville. Dominic Walker, a wide receiver from Florida, jumped into the boat, and fellow Floridian Landon Stokes, a defensive end, committed as well.
Also in the SEC East, we have Tennessee and South Carolina both ringing the commitment bell. The Volunteers got a pledge from Dan Skipper, a lineman from way out in Colorado, which proves that Tennessee is prepared to scour the nation to fill their coffers.
The Gamecocks did not go nearly as far, hopping just a state away to get Larenz Bryant, a linebacker and one of North Carolina's highest-rated players.
Staying in the southeast, we head down to Florida, where both the Hurricanes and the Seminoles got some commitments this week. Travis Johnson, a wide receiver from Tampa, and Alex Gall, a lineman from Cincinnati, both pledged to Al Golden and his staff at Miami. In Tallahassee, Jimbo Fisher pulled a big-time tight end from Texas, Christian Morgan, onto the commitment list.
From the east coast, we go to the west coast. Oregon, a team that's been slow on the trail this cycle, picked up two commitments this weekend. Matt Wogan, a punter from North Carolina, has verballed to Chip Kelly to go along with San Diego wide receiver Darren Carrington.
Fellow Pac-12 North squad, Stanford, added Peter Kalambayi, a linebacker from North Carolina, to their class. Not to be outdone, the Trojans continue their unreal hot streak by adding Sebastian Larue, another highly touted wide receiver, to their 2013 boat.
USC's big rival, the Notre Dame Fighting Irish, continued their recruiting hot streak as well. Brian Kelly picked up a verbal from Danny Mattingly, a linebacker who helps bolster that Irish defense for the future. If the name sounds familiar, it should—Danny Mattingly is the nephew of baseball great Don Mattingly.
We're going to wrap things up by keeping it all Midwest. Michigan added Channing Stribbling, a defensive back from Charlotte, NC, to their massive 2013 class.
Ohio State, a school pushing to keep the pace, added two big names to their 2013 push—Darron Lee and Michael Hill. Darron Lee is a likely defensive back at Ohio State, and there is no doubt that Michael Hill will be defensive lineman for the Buckeyes. Ohio State has plenty of solid targets on their radar as they push to catch Brady Hoke for February.
The Buckeyes and Wolverines are not the only two teams putting good classes together in the Big Ten. Bill O'Brien is doing good work in his first year at the helm. Zach Bradshaw, a linebacker, and Dorian Johnson, a lineman, both got on board with the Nittany Lions.
Wisconsin added two to their class—both big linemen. Matt Miller, an offensive lineman, and defensive tackle Sam Raridon both picked the Badgers this week.
Lastly, Sparty On is alive and well in East Lansing. Three commitments for the Spartans this week, and there is still plenty of time for them to continue to build their class. Dylan Chmura, son of former Green Bay Packer Mark Chmura, picked the Spartans as the place he wants to start his own legacy. Joining Chmura in pledging are Trey Kilgore and fellow wide receiver Jay Harris.
There is plenty of time left as kids flip their decisions and the uncommitted recruits look to sign. Next week should be interesting, as Nike hosts "The Opening" out in Oregon and the nation's best of the best gather to show off their skills.
This article is
What is the duplicate article?
Why is this article offensive?
Where is this article plagiarized from?
Why is this article poorly edited?