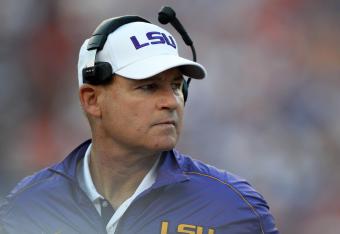 LSU head coach Les Miles
Jake Roth-USA TODAY Sports
Election season is typically the time where campaigning reaches an all-time high. But for SEC head coaches, the time to campaign for the future of the SEC's scheduling format is now.
The conference is expected to adopt a long-term scheduling format next week during the annual SEC spring meetings in Destin, Fla. That format could include the addition of a ninth conference game and/or the elimination of permanent cross-division rivalries.
LSU head coach Les Miles made waves after spring practice, when he voiced his displeasure for permanent cross-division rivalries within the SEC's 6-1-1 scheduling format. But he wasn't done.
Miles appeared on the Tim Brando Show on Sirius/XM radio and CBS Sports Network on Wednesday, where he made his case for the future scheduling format of the SEC.