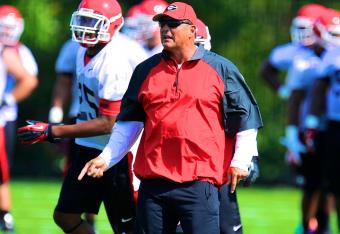 USA Today
Any changes on the Georgia staff will apparently have to wait a while.
One day after Georgia topped intrastate rival Georgia Tech 41-34 in double overtime, head coach Mark Richt told Seth Emerson of the Macon (Ga.) Telegraph and Columbus (Ga.) Ledger-Enquirer that the entire staff should be back.
"Yeah. Everybody should be back," Richt said. "I mean everybody's gotta do what they've gotta do, as far as if they have opportunities and all that kind of thing. But we've got some things we've certainly got to get better at."
Everybody includes defensive coordinator Todd Grantham, which is a mistake by Richt.