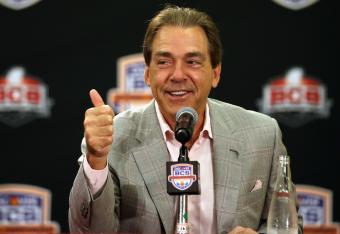 Alabama head coach Nick Saban
Streeter Lecka/Getty Images
With three straight 247Sports.com composite recruiting titles under his belt, Alabama head coach Nick Saban has established himself as not only the best coach in the country, but also the nation's unquestioned king of recruiting.
Just how good is it these days for Saban?
According to Mike Herndon of AL.com, Saban told fans at a Crimson Caravan event in Orange Beach, Ala., that all of Alabama's offers to quarterbacks in the class of 2014 are non-committable until Saban sees them work out personally at Alabama's camp.
Sure, the words "non-committable" and "offer" contradict each other, but semantics aren't exactly important in the recruiting game. After all, a commitment isn't a commitment until national signing day.