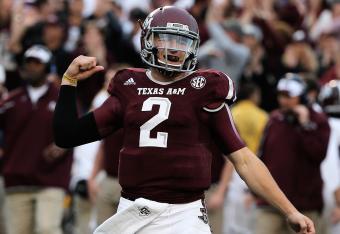 Texas A&M QB Johnny Manziel
Scott Halleran/Getty Images
Every Thursday on The SEC Blog, we feature questions from the Bleacher Report inbox, Twitter and email at bsallee@bleacherreport.com.
You have SEC questions, and I have SEC answers. Thank you for your questions. If I didn't get to them this week, they will be saved and used in the future.
And we're off!
I'd say both are very unlikely, but if I had to choose between those two, I'd say Alabama head coach Nick Saban leaving is slightly more likely than Texas A&M quarterback Johnny Manziel staying.
Manziel has done all he can at Texas A&M. He's helped the program transition to the SEC, won a Heisman Trophy, established himself as one of the most dynamic players in college football history and—most importantly—developed into quite a pocket passer during his redshirt sophomore season in College Station.