6 Reasons Why Nick Fairley Will Overcome Controversial Offseason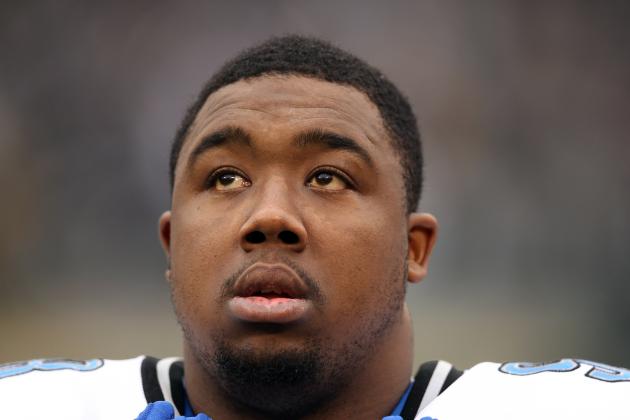 Ezra Shaw/Getty Images

Nick Fairley's career NFL statistics don't paint a pretty picture right now, especially if you go outside the white lines.
Zero games started, 10 games played, 15 total tackles, one sack, two offseason arrests. But hey, at least he wasn't called for any personal fouls (if only for a lack of snaps).
It has been a rough first year for Fairley. After being a relatively controversial first-round pick (how dare they spend first-round picks in two straight years on a defensive tackle when the secondary is bad?), he injured his foot in training camp, played sparingly in his first NFL season, and is now waiting on legal and NFL repercussions for repeated offseason arrests.
At this point, Fairley is very much like 2010 Matthew Stafford. The hope Lions fans have for him is based primarily on his high draft status and a flash-in-the-pan performance during his rookie season.
For Stafford, that was a miraculous 21-point comeback that ended with a separated left shoulder and a touchdown pass with no time left on the clock (in that order) against the Cleveland Browns.
For Fairley, that was a dominant single quarter against the New Orleans Saints, in which he tossed around some of the best interior linemen in football on the way to a sack and tackle for loss. Defensive tackles don't often take over ball games, and for one quarter, Fairley did.
The difference is, Stafford didn't get into all kinds of trouble between his rookie and sophomore season. Stafford just needed to get healthy. Fairley needs to get healthy and stay out of jail.
But despite Fairley's ability to get in repeated trouble in a short amount of time, I must stress the short amount of time. Fairley is just entering his first year in the league, he's 24 years old, and he theoretically has at least another 10 years to perform on the field and keep his nose clean off it.
Of course, that has to start this season, and here are six good reasons why he can and should.
Begin Slideshow

»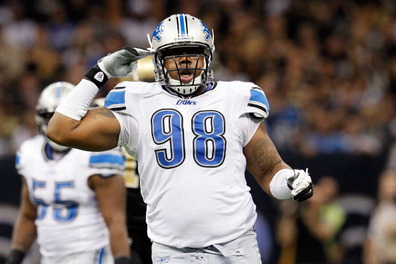 Kevin C. Cox/Getty Images

It's one thing to try driving under the influence and attempting to sneak home or wherever without anyone being the wiser.
It's still wrong, but I can understand how a 24-year-old millionaire athlete would think he could get away with it.
It's another thing entirely to get caught twice and see your name and reputation publicly tarnished as a result, and then try to get away with it again. That's the difference between a kid making a mistake and a chronic (no pun intended) problem child.
You could argue that Fairley didn't learn anything between his back-to-back arrests nearly two months apart, but his first arrest didn't set off a media firestorm. His second arrest, the Lions' fifth player arrest of 2012, has put incredible scrutiny on the Lions, as an extension of the discipline problems they displayed inconsistently in 2011.
Fairley might be a dumb kid for driving under the influence and possessing marijuana in the first place, but he's not stupid. He knows what it means to make the same mistake again with all eyes (within the organization and the media alike) on him.
Fairley's reputation can still be saved, but if he gets in trouble again, it may be too late for him, and if he doesn't understand that himself, somebody has surely let him know.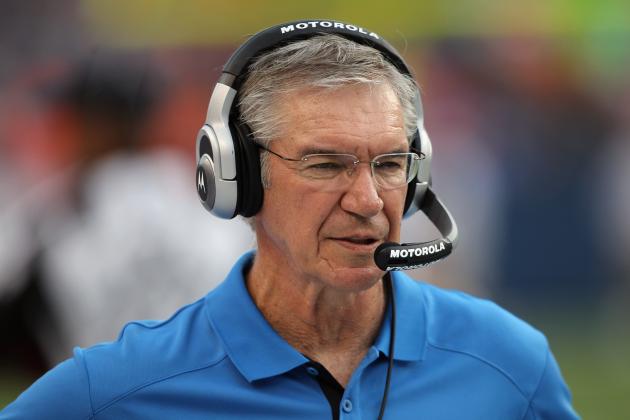 Doug Pensinger/Getty Images

The expectation was that Gunther Cunningham was going to tear into Fairley upon his unceremonious return to the team.
Instead, Cunningham decided to take the kid under his wing.
Cunningham is banking on the old fatherly adage that it's worse for players to see him disappointed than angry, and there is reason to believe him. After all, Cunningham has a history of success turning around worse cases than Fairley. He said so himself.
Ultimately, this is sort of an extension of my last point: Fairley is less likely to try sticking his hand in the cookie jar (or wherever he keeps his pot) when he knows somebody is watching him.
And that's not to say that Fairley is just some uncontrollable criminal who can't seem to drive sober or less than 100 miles per hour, only behaving when he knows he'll get caught. He's just young, and it takes kids some time to learn how to handle the rigors and expectations of the NFL, both on and off the field.
If he has his defensive coordinator looking out for him until he matures enough to look out for himself, that maturation process should go a lot faster.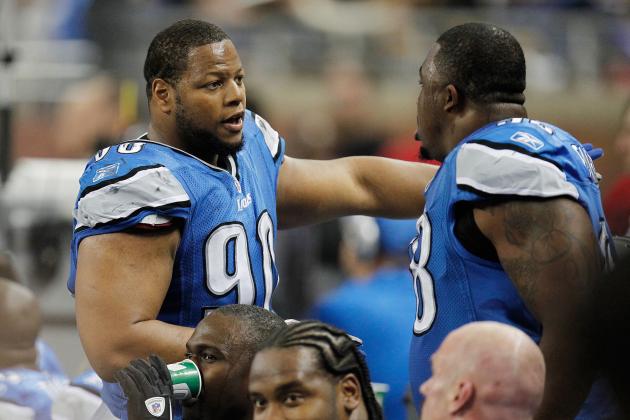 Gregory Shamus/Getty Images

I don't put much faith into public apologies.
Everybody makes them when they do something wrong, and they all sound the same: prepared by a PR department somewhere. They sound sincere, and sometimes they are at heart, but the wording is carefully crafted and chosen by guys whose job it is to manipulate public opinion.
And so while there was nothing particularly wrong with Fairley's apology, it's not going to get him over the hump of this horrendous offseason.
Luckily, Fairley is taking other actions to prove he's serious about repairing his image.
Most notably, Fairley decided to attend the NFL Rookie symposium as a second-year player (there wasn't one his rookie year because of the lockout), presumably to learn more lessons about the pitfalls of being an NFL player without experiencing them firsthand.
Now, let's be realistic here; it's not like the rookie symposium was the difference between him knowing and not knowing it's bad to drink and drive, or to speed through a neighborhood while high on pot.
Those are things you don't need an NFL orientation to learn.
However, I'm willing to bet Fairley wasn't thinking about how his reputation would suffer in the long term from his short-sighted decisions, or how fast that news would spread through the media.
Adjusting to being a public figure is not an easy thing to do. Being a public figure means some of the dumb things people do on a daily basis go from largely negligible to national headlines.
Fairley should understand that much now. If nothing else, he appears to be showing the willingness to reform and correct his actions, at least thus far.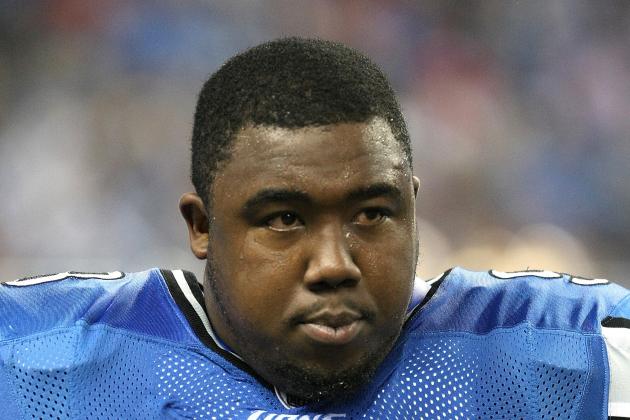 Dave Reginek/Getty Images

This is a small, semantic difference, and it might even be a weak overall argument, but I'm going to pose it just in case, because I think there might be something here.
With the rash of pot-related busts the Lions have had this offseason, it's tempting to think Fairley's two arrests were two pot-related arrests. That's not the case, as his second arrest was a alcohol-related DUI.
Now, is that better or worse? The correct answer is "no." Don't think for a moment that I'm sticking up for Fairley because he was only drunk driving and gunning it to 100 to try outrunning the police.
That would be an exceptionally ignorant point for me or anyone else to make. My point is not to say that it was somehow a moral step forward to drive too recklessly while impaired by alcohol, as compared to his previous arrest of driving recklessly while impaired by marijuana. The only positive spin is that he hasn't hurt anyone, and that's more a function of luck than anything else.
What I am saying is the charges are different, and that it appears that Fairley's issue might have more to do with a lack of maturity and social responsibility than it does some sort of actual drug addiction. This is important because with the right guidance, it's a correctable problem.
Drug addiction is, too, but it's much more complicated, and usually encompasses deeper issues anyway.
I can't claim to know Fairley personally, and if it turns out that he has deeper issues behind his actions, you can throw this slide out with the bathwater. But nothing to this point suggests he struggles with an addiction to anything except fast cars and bad judgment.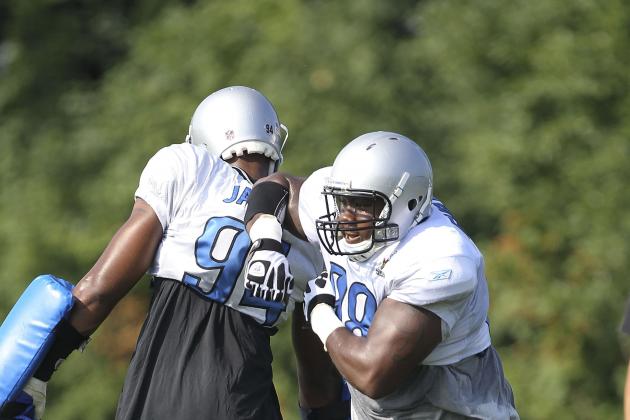 Leon Halip/Getty Images

It gets said repeatedly around this time of year, and it's true: Watching players working out in jerseys and shorts is no way to evaluate a football team.
It's a different game entirely one the pads go on, and so it's far too early to peg Fairley as an All-Pro, or any such nonsense.
But with that said, the Detroit Free Press reports Fairley looks really good in the early goings, at least in the ways a player can impress in pad-less workouts. One thing that does show up at this stage is athleticism and conditioning, and they have in a big way.
All this really does is confirm that Fairley is immensely talented, which is something we already knew. What we're waiting for is for him to prove it on the field.
When that happens, the rest of this stuff goes away, because as we've discussed before...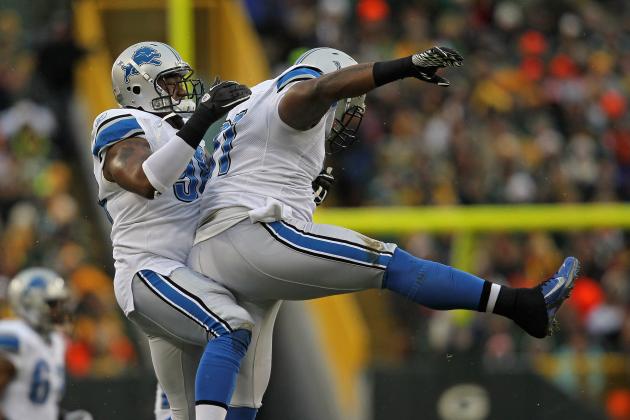 Jonathan Daniel/Getty Images

If this sounds familiar, then thank you. That means you're a loyal reader, and I truly appreciate that.
We've discussed this before, and it's no less true now than it was two weeks ago. Winning means positive spin, losing means negative spin. Period.
Case in point: How do you remember the Dallas Cowboys of the mid-'90s? As one of the greatest dynasty teams ever assembled, or as a bunch of cocaine-addled party animals who spent their glory years completely out-of-control off the field?
Because both are true.
Now, am I saying I want Lions players to get away with anything just because they're talented? Of course not, and we all know the kind of shenanigans the '90s Cowboys got away with would not go unpunished under the current commissioner.
But it does simply this whole situation for Fairley and the Lions. Making this whole situation go away for good is a two-step process.
1. Win football games.
2. I'll pass this one to Jim Carrey, whom I believe said it best (PG-13 language alert).
If Fairley and the rest of the Lions in question follow these two simple steps, this will turn into an inspiring, made-for-TV-movie success story by the end of the season.