Detroit Lions: 5 Reasons They Can Overcome Their Offseason Troubles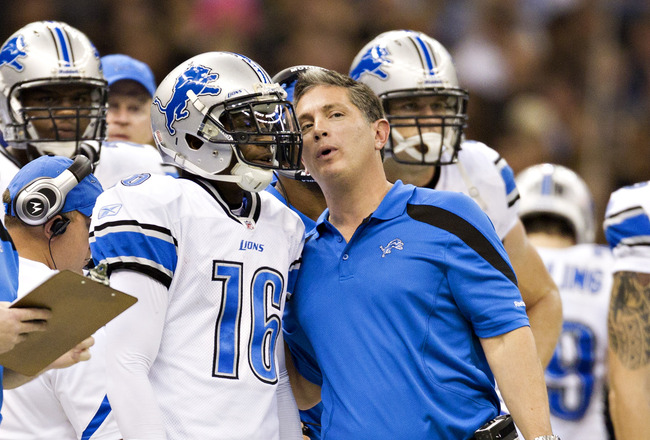 Wesley Hitt/Getty Images
For the last nine months or so, the Detroit Lions have been on the radar of officials in both the NFL and state law enforcement. In that time frame, "Lions" and "trouble" have been synonymous, and I'm not talking about the results of the pass-rush.
Johnny Culbreath, Mikel Leshoure and Nick Fairley have combined for a total of four marijuana-related arrests and a DUI (alcohol).
Titus Young has gone upside the head of both a teammate and opponent on separate occasions.
And then there's Ndamukong Suh, who despite a relatively quiet offseason, has plenty to answer for with just his on-the-field actions in 2011.
Those are just the biggest issues—we're not even talking about the personal foul epidemic throughout the team or Handshakegate.
The point is, the Lions have a lot left to prove on and off the football field. They made the playoffs as a wild-card team last year, but in decisively losing their first game against a team they had played (and imploded against) earlier in the season, they may have raised more questions than they laid to rest.
The 2012 season will be an opportunity for the Lions to build on their success in 2011 and lay some of those discipline questions to rest.
And here are five good reasons why they can.
Jim Schwartz
Ronald Martinez/Getty Images
You might say, "But wait, Dean, isn't Schwartz really partially responsible for all the discipline issues?"
Yes, he is. And that's exactly why it primarily falls to him to fix it.
I mean, it isn't as though Schwartz is a bad coach. He hasn't lost this team. If anything, his players adore him. Guys are even going out of their way to stick with the man in free agency.
That's why he has the power to fix the fact that Schwartz has been a little too nice and a little too understanding. He has looked the other way on a couple less-than-egregious offenses, with the expectations that the infractions were one-time things and players would learn from it.
What has happened is some players have taken the understanding nature of the coach and ran with it, turning it into a perception that there would be no punishment for poor decisions.
Schwartz can fix that perception in a big hurry by coming down hard on the players who have stepped out of line this offseason and continuing the "zero-tolerance" policy that seemed to clean up the Lions' play late last season.
It's not a question of whether Schwartz can keep his young team under control, it's a question of whether he will take the steps to do so. I understand that he doesn't want to penalize players for aggressive play, and I agree with that mantra, but that aggressiveness shouldn't be materializing after the whistle or behind the wheel of a car.
League Discipline Sending a Message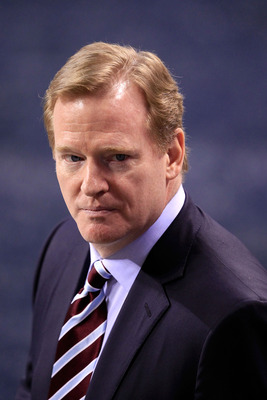 Chris Trotman/Getty Images
This is mostly speculative, because Mikel Leshoure only received his suspension last week, and aside from a prepared statement or two, we have no indication of how it will affect Leshoure's demeanor in the long term.
We also have no clue as to what suspensions Nick Fairley and Johnny Culbreath are looking at for similar indiscretions this offseason.
What we do know is that these players did something wrong and are now being appropriately punished for their actions.
Cause and effect. Crime and punishment.
And because these punishments are going to affect the team (by keeping them off the field) and the players' wallets (because of lost game checks), these aren't things that will just fade into the background. Fairley and Leshoure are expected to play major roles for the team this year, and you can bet the leaders in that locker room are going to let them have it for missing time.
The league suspension and punishment is also significant because punishment from within the Lions organization has been basically nonexistent to the outside observer.
Of course, things happen when coaches say something is being "dealt with internally." These guys aren't getting a pat on the rear and a warning of, "Don't get caught next time," in the coach's office. But we don't see that punishment, and it generally isn't as severe as what the league office hands down.
So, the hope here is that these players will clean themselves up, simply because it's too costly (financially and professionally) for them not to.
The True Nature of the "Personal Foul" Epidemic
First, watch this video. You probably remember it well.
Then tell me if that was worth a 15-yard penalty (and a league fine) for what Ed Hochuli called going "to the head of the back of the runner with his forearm."
Now, this isn't going to be one of those tirades where I talk about how the NFL is going soft. It's always going to be a dangerous game, but there's nothing wrong with trying to regulate what kind of damage gets done and how. This is no different from the crack-back block and "Night Train Necktie" getting legislated out of the game.
However, last I heard, there was no penalty for being freakishly athletic and strong, and delivering powerful blows to the opponents' shoulder pads. That's still a legal hit, regardless of how bad it looked. If you hadn't seen the flag or heard the announcers, you would look at that and say, "Wow, great hit," not "Wow, cheap shot."
Now, there are obvious notable exceptions (the Suh kick against the Packers, Gosder Cherilus' post-play shove against the Tampa Bay Bucs and pretty much the entire Saints regular-season game), but most of the Lions' personal fouls were incidental things during the play.
That's not to say they were all blown calls like the one here (or the hair-pull horse collar against Marion Barber). But a lot of them were borderline, or ticky-tack calls—brush-of-the-helmet type of stuff.
For instance, Suh had nine personal fouls called against him in 2011. Only the infamous "kick" happened between plays, while the rest were hard hits, tackles or mere cases of his hands finding the wrong spots at the wrong times.
Those are the kinds of penalties Schwartz is ready to accept, because trying to avoid those at game speed is just not feasible for a team that wants to play tough defense.
That's not to say Suh should just pull everyone down by the facemask, but if he's chasing a guy down, it might be the only thing he can get a grip on. It's football, it happens, and while it would be nice to give up less 15-yard freebies, I'll be satisfied with eliminating just the silly dead-ball ones for now.
Age and Maturity
Kevin C. Cox/Getty Images
Generally speaking, one doesn't normally need millions of dollars to find trouble in one's early 20s.
In fact, millions of dollars would actually make that trouble worse.
But generally speaking, one tends to have more money in one's early 30s than in one's early 20s, and there tends to be less of a trouble-seeking urge.
Generally speaking.
Now, none of the guys who got in trouble this offseason are in their early 30s yet; they're not even out of their early 20s. But the bright spotlight of the NFL forces guys to either grow up fast or fizzle out.
Because, as talented as these guys are, repeated offenses like these are not going to be tolerated by neither the team nor the league office. What good is a talented first-round pick if he's getting himself suspended every season?
No good at all—and this offseason should make that very clear to these kids. Nobody is irreplaceable, least of all unproven second-year players. The NFL is a business, and even the most talented employees can't make an impact if they can't show up to work.
If these guys wait much longer to get that message, the team will simply move on without them. These guys don't seem so much like chronic troublemakers as they do irresponsible kids. All they need to do is grow up a little.
Winning Fixes Everything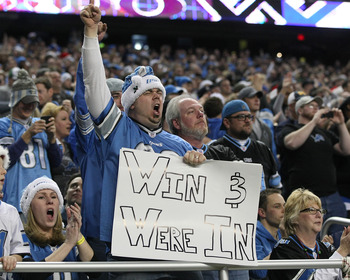 Dave Reginek/Getty Images
This may sound crass, but if the Lions open the 2012 with another 5-0 (or even 4-1) record, all this stuff will go right out the window, through the parking lot and into a gutter.
The biggest reason the Lions' offseason woes are such a big story is because there are no other stories.
I'm not trying to downplay the significance of DUIs and drug-related offenses. These are serious offenses that should be punished, and they are. But once the regular season heats up, these things will disappear, especially if things are going well.
I'm not saying that's the way things should be, but they are that way, because that's the way the news cycle works. If anything, if the Lions start winning, it will become the inspiring story of how a troubled team overcame offseason adversity.
Of course, this implies that the Lions will stay out of trouble, which is the only way any of this stuff works. The "troubled Lions getting in trouble with the law/NFL" storyline is entirely too juicy to pass up at this point, so the moment anybody steps out of line, that headline is coming right out of the arsenal.
I mean, look—I'm here writing about it in mid-June, and nothing has even happened recently.
But in a way, that's also why the Lions have such a great chance to turn this thing around. The Lions' offseason issues are so well-documented at this point that the issues could actually turn into a story with a positive spin.
This is how it works. The teams that win get positive coverage, the teams that lose get coverage pulling them apart at the flaws.
The Lions win, they're a great team that overcame a spat of offseason arrests and are now firing on all cylinders. They lose, and they're a mess of a team full of criminals, and Jim Schwartz has completely lost control of everything.
Even looking at the 2011 season, the Lions had personal fouls in just about every game they played, but two games stick out in particular: Thanksgiving against the Packers, and the ensuing week against the Saints.
Why do those games stick out? Because they were nationally televised, and the Lions committed personal fouls that had clearly negative effects in games they lost.
Why do we not hear hardly anything about Gosder Cherilus' equally unacceptable post-play personal foul in Week 1 against the Tampa Bay Bucs, one that came in a much more crucial point in the game than any of the aforementioned calls?
Simple—the Lions actually won that game in the end. Instead of being the game story, it was a footnote about how Cherilus almost let the other team back in it.
So, what the most "discipline-challenged" Lions need to do is lay low for now, keep their noses clean, accept their suspensions graciously and, when the time comes, go out there and perform. If they do that, this will all be forgiven and forgotten by this point next year, just like Matthew Stafford's injury concerns.
Because, like it or not, winning fixes everything.
Keep Reading

Detroit Lions: Like this team?