LeBron James: The Public Maturation of a Champion
June 22, 2012

Pool/Getty Images
The thing about the social media world today is that there is this phoniness to all of our dialogues now. We talk about sport stars and celebrities as if we truly know them when that could not be further from the truth.
I first heard about this phenom basketball player in Ohio back in 2002. As a high school superstar, his games were telecast on one of the many ESPN stations.
When LeBron James' mom took out a loan to buy her son a nice SUV, I heard about that. When he bought a couple of throwback basketball jerseys, I heard about that.
The kid signed a multi-million dollar shoe deal before he was even drafted. After the Cleveland Cavs made him the first pick of the 2003 NBA draft, he was anointed King and Chosen One.
For seven years, James had a blast in Cleveland. He lived up to all of the hype, which is amazing, and he made the Cavs a relevant franchise for the first time since Lenny Wilkens coached them and Mark Price was their floor general.
Even those glory years with Brad Daugherty and Larry Nance were nowhere near as exciting as the glory years Cleveland had with James. The Cavs twice had the best record in the league. LeBron put the Cavs on his back and took them past the Detroit Pistons in 2007 all the way to the NBA Finals.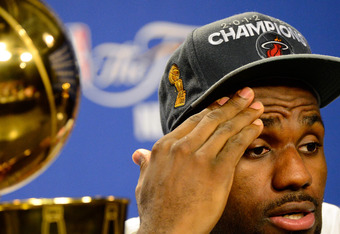 Ronald Martinez/Getty Images
James did it with a smile on his face and fun in his heart.
Then time reared its ugly head and things had to change. The Cavs saw the writing on the wall and they tried to bring in that second star to help LeBron. The Larry Hughes experiment was an epic fail. Mo Williams was little more than a role player who LeBron made into an All-Star. Shaquille O'Neal was brought in six months too late as the Cavs needed him in their 2009 loss in the Eastern Conference Finals to the Orlando Magic and Dwight Howard.
In 2010, the Cavs had a chance to bring in Amare Stoudemire but did not want to trade JJ Hickson to the Phoenix Suns. So Danny Ferry brought in Antawn Jamison, who is a nice player but was not the player that could put Cleveland over the top.
Now, if James just held a press conference after the 2010 season to let the fans of Cleveland know that he was leaving in his hunt for a ring. If he lamented that he did not want to have the careers of Charles Barkley and Karl Malone so he had to move on then that would have been mature.
The Decision was self-glossing and very immature to the point of being cruel to a contingent of fans. I am one of those fans of Cleveland and it hurt the way the summer of 2010 played out.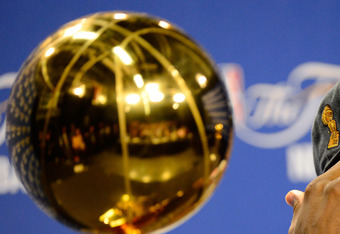 Ronald Martinez/Getty Images
I did take pleasure in 2011 when the Mavericks ran past the Heat in 6 games.
When LeBron chastised those who rooted against him after the 2011 Finals, he really sounded like a lot of people I have known over the years.
I would call those people angry and although I have never met James, he did come across as angry as he told all of his haters that their lives were nothing compared to his.
It was the low point for James and we were all witnesses to it.
The nice thing about reaching your lowest point is that it can only get better. James is human like we all are. The difference with his life over ours is that when we make a mistake, we do not have the whole world watching it.
James has been in the public eye for over a decade now and at the ripe old age of 27, it looks like he is getting it. I do not say finally getting it because even at 35, I still have issues with maturity that I am thankful are not broadcast on any 24-hour news cycles.
His behavior in the afterglow of the Heat's victory over the Oklahoma City Thunder showed a man who is thankful for his blessings.
James is a champion on the court and off of the court he is growing up. He has done it right before our eyes. We have all lined up to take shots when he messed up.
I am stepping up right now, as a Cleveland fan, to say that James is a champion and he earned it.