Carolina Panthers 2011-2012 Season Outlook
June 22, 2012

Streeter Lecka/Getty Images
Quick Review of 2011
Offense—No. 13 passing, No. 3 rushing, No. 7 total.
Defense—No. 24 passing, No. 25 rushing, No. 28 total.
After "earning" the top pick in the 2011 draft by going 2-14 in 2010, the Panthers posted a 6-10 record in 2011. They were led by top pick, super-rookie quarterback Cam Newton.
Cam Newton exceeded expectations by throwing for an NFL rookie record of 4,051 passing yards. He finished 10th in passing yards, and 15th in passer rating. He also led all NFL quarterbacks in rushing yardage. He rushed for 706 yards, rushed 51 times for a first down and scored 14 touchdowns.
Among his accomplishments were two 400-yard passing games (his first two NFL starts), he won the Offensive Rookie of the Year Award and played in the Pro Bowl.
However, even with the four-game improvement in wins and Newton's exceptional play, it could have been better.
The Panthers couldn't hold leads against the upper-echelon teams of the NFC. Against NFC playoff teams the Panthers were 0-6. Especially frustrating is that in five of those games, the Panthers had a lead. Three times they blew double-digit leads against eventual NFC playoff teams. They lost after leading by 13 against Green Bay, they led by 16 against Atlanta and 17 versus Detroit.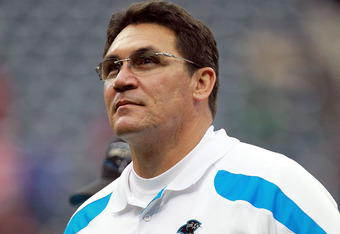 Ronald Martinez/Getty Images
The defense just couldn't hold leads. Despite new head coach Ron Rivera's defensive background, the Panthers were near the bottom of the NFL's defensive rankings. The lockout, injuries and lack of depth might have been the causes.
New Additions
OT Bruce Campbell, LB Philip Dillard, P Nick Harris, S Haruki Nakamura, LB Kenny Onatolu, G Mike Pollak, S Reggie Smith, RB Mike Tolbert, LB Jyles Tucker.
Draft Choices
LB Luke Kuechly, G Amini Silatolu, DE Frank Alexander, WR Joe Adams, CB Josh Norman, P Brad Nortman, S D.J. Campbell.
Undrafted Free Agents
WR Brenton Bersin, G Will Blackwell, DT Nate Chandler, WR Jared Green, WR Wes Kemp, TE Tarren Lloyd, RB Princeton McCarty, RB Tauren Poole, OT Matt Reynolds, RB Lyndon Rowells, DE Ryan Van Bergen, WR Rico Wallace.
Subtractions
G Mackenzy Bernadeau, LB Dan Conner, LB Omar Gaither, RB Mike Goodson, CB Cletis Gordon, WR Legedu Naanee, DT DeMario Pressley, G Geoff Schwartz, TE Jeremy Shockey, G Travelle Wharton.
Outlook for 2012
There is preseason excitement in Carolina. Now that we know what Cam Newton can do, there is more hope for the future, and the present, than there has been in the past few years.
Panthers fans are expecting a playoff berth. Expect a few experts to pick the Panthers to win the NFC South in the preseason publications.
This is based on Newton's potential and the perception that the dominant teams of the division, Atlanta and New Orleans, haven't made significant upgrades during the offseason. Then there is all the turmoil in New Orleans.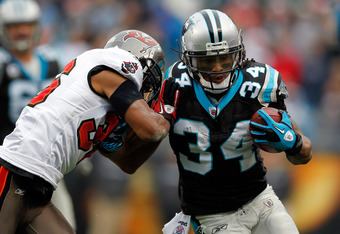 Streeter Lecka/Getty Images
While those teams may not have made improvements, there was a gap between the Panthers and those teams last year. Have the Panthers closed the gap enough to take the division?
One player who might help close the gap is running back Mike Tolbert. The Panthers were 3rd in rushing last year. With Tolbert, Jonathan Stewart, DeAngelo Williams and Cam Newton, the Panthers could be league leaders this year.
Even with the offensive talent the Panthers have, it might be up to the defense to close the gap. The defense must say healthy and play better, because the Panthers will face some of the best quarterbacks of the NFL this year. In addition to two games against Drew Brees, they will face both Eli and Peyton Manning and Philip Rivers. They also face Atlanta twice, Dallas and Philadelphia—all who have multiple offensive weapons to deal with.
Schedule
Sep.  9 at Tampa Bay
Sep. 16    New Orleans
Sep. 20    New York Giants
Sep. 30 at Atlanta
Oct.  7     Seattle
Oct. 21    Dallas
Oct. 28 at Chicago
Nov.  4 at Washington
Nov. 11    Denver
Nov. 18    Tampa Bay
Nov. 26 at Philadelphia
Dec.  2 at Kansas City
Dec.  9    Atlanta
Dec. 16 at San Diego
Dec. 23    Oakland
Dec. 30 at New Orleans
The Panthers will find out very quickly where they are at. The first month features all three division rivals, and the Super Bowl Champs. It won't get any easier the rest of the way.
A game of special interest occurs on November 11. The Denver Broncos come to town with former Panthers head coach John Fox. He will bring in his new quarterback—Peyton Manning.
The Panthers will have two prime-time games. They play the Giants on Thursday, September 20, and the Eagles on Monday Night Football November 26.
However, if the Panthers are contenders late in the season, look for them to get a Sunday Night "Flex" Game.
Prediction
The Panthers are a potential playoff team. They are also a potential last-place team.
That is not to say that they are a bad team, the schedule is just so brutal. If they get through the first month at 2-2 or better, it might be a good year. If it's 1-3 or worse, it could be a long season.
I am not sure how the NFC South race will play out. The Panthers could definitely be in the mix, but despite their problems, I still lean toward New Orleans at the present time.
The Panthers could actually be better, yet their record could be worse.
Nine wins is a possibility, but with their schedule, I am not sure they can win that many. Even if they are 9-7, will that be enough for a playoff spot?
While I like this team over the long-term, they might still have some growing pains to go through before becoming a contender.
All that being said, I believe they will win less than nine this year.