8 Reasons the New York Jets Should Be Optimistic Heading into 2012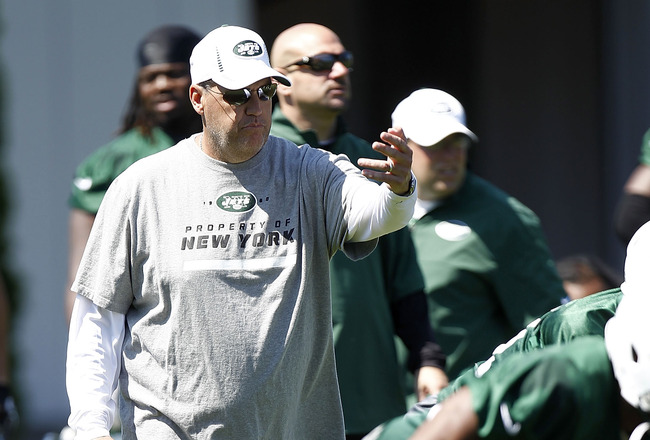 Jeff Zelevansky/Getty Images
Between the Tim Tebow craziness, the Darelle Revis holdout situation and the way things ended last year, it is very easy to be down on the New York Jets in 2012.
However, many forget that the Jets were still in the playoff hunt for the entire season and that they have a lot of elite talent on both sides of the ball. With a new, simpler offensive system, there is certainly a good chance that things can turn around for the green and white this season.
Here are some reasons why Jets fans should be optimistic heading into 2012.
New Offensive System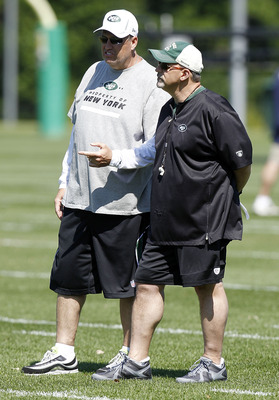 Jeff Zelevansky/Getty Images
In 2012, the biggest changes will happen on the offensive side of the ball as Tony Sparano brings his newer, simpler system to the Jets.
Sparano preaches a run-first, high-tempo, quick-read offense that should be a perfect fit for Mark Sanchez.
While Sanchez has been anything but consistent during his tenure in New York so far, he is at his best with a) a running game b) when making throws on the first read and c) in the two-minute drill.
In former O-Coordinator Brian Schottenheimer's system, Sanchez was bogged down with trying to make the perfect read and adjustment at the line of scrimmage.
Under Sparano, not only will the running game see more of an emphasis, but his style is perfectly tailored to work around Sanchez' strengths.
Healthier Pair of Guards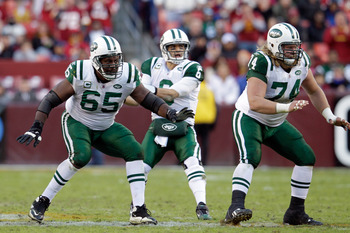 Rob Carr/Getty Images
While play-calling and a shift in offensive philosophy played a major role in the death of the "ground and pound" offense, the health of the Jets' interior line did Shonn Greene no favors either.
On the right side, Brandon Moore was one of the best pass-protecting guards in the game as he did not let up a sack all season. However, he was rated one of the worst run-blockers in the game by Pro Football Focus.
This is probably due to the surgery he had last offseason that caused him to miss some time in training camp. While he was not able to get the same kind of leverage as usual, he is a good enough technician to have still played at a Pro-Bowl level.
At the end of last season, the other Jets guard Matt Slauson revealed that he was dealing with some serious shoulder issues. The injury clearly had an impact on the amount of power he had in the run game.
To his credit, his pass protection greatly improved, but with a healthy shoulder, he should be a more complete guard in 2012.
Rex Ryan's New Approach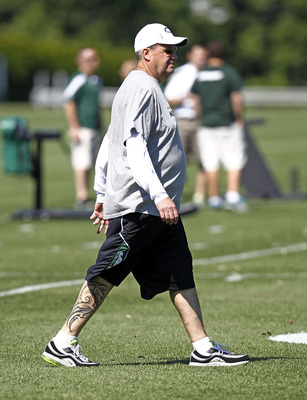 Jeff Zelevansky/Getty Images
Known for his hands-on approach, Rex Ryan took a more administrative role in 2011—and paid the price for it.
As he took a step back from actual coaching duties, his defense declined statistically, his quarterback began to regress and locker room issues suffocated the team.
Now, Rex is going to be much more involved on both sides of ball. He will run more meetings and call more plays on defense, which is great news for those who like to live and die by the blitz.
Going back to the blitz-happy days of 2009 would go a long way in terms of getting the defense back into the attacking mentality that helped them lead the league that same year.
Ryan will also attend more offensive meetings, which will allow him to keep tabs on his players and how they are interacting with each other and their new coaches. By sitting in meeting rooms and learning the offense, Ryan no longer has to stand on the sidelines with his hands crossed as his offense continues to sputter; he can help make adjustments and personnel changes if necessary.
Quinton Coples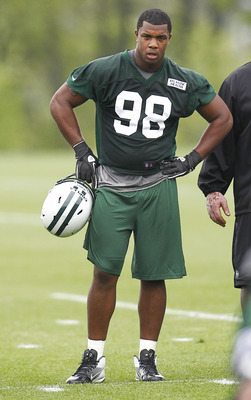 Jeff Zelevansky/Getty Images
Maybe I'm just weird, but I consider the selection of Quinton Coples in the first round to be much more fascinating than trading for some popular backup quarterback.
Assuming he lives up to being the player the Jets think he is, Coples could be just what the Jets need to get back to leading the league in defense.
Not only is Coples an interior rusher, which the Jets have lacked for quite some time, but he will see time at just about every position on the front seven, including outside linebacker.
The key to stopping elite quarterbacks like Tom Brady is to get pressure up the middle that they cannot step around, and Coples has the strength and athleticism to be the guy to provide that.
Combined with the amount of depth and youth the Jets have along the defensive line and their great coverage players, the Jets have a chance to be special on defense if Coples has a big rookie season.
Fewer Diva Receivers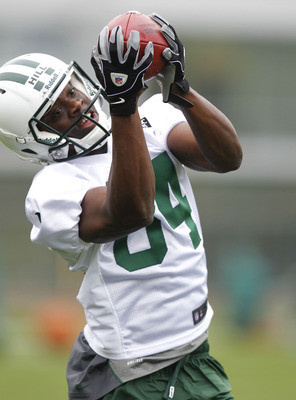 Jeff Zelevansky/Getty Images
Despite the presence of Santonio Holmes, who is now the poster child for diva wide receivers, the Jets smartly went younger at the position for two main reasons:
First, the Jets needed to get faster at the position. Plaxico Burress was a great red zone target, but he was unable to separate between the 20s, and hampered the Jets' vertical passing attack.
Second, younger receivers without a record of stardom do not demand targets like proven veterans do. It was clear that Sanchez had a tough time trying to keep all of his veteran receivers happy, and it clouded his mind while in the pocket.
Players like Stephen Hill and Jeremy Kerley are not going to complain if they do not get a certain amount of targets. As first- and second-year players, they will take whatever they can get and are just happy to be in the situation they are in. This will allow Sanchez to spend less time thinking about who's turn it is to catch the ball and more time throwing to the open receiver.
New Pair of Safeties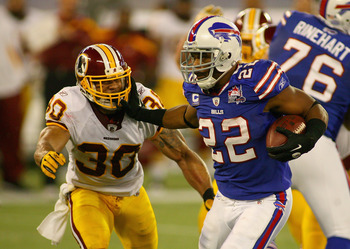 Rick Stewart/Getty Images
The safety position was perhaps the weak link of the defense last season as the Jets were consistently torched by tight ends and slot receivers.
The Jets addressed this issue both in free agency and the draft and have come up with a new starting safety tandem of LaRon Landry and Yeremiah Bell.
Unfortunately, both of these players are of the strong safety mold and are not ideal cover men, but Landry has played free safety in the past during his time as a Redskin.
This upheaval at the position will force Eric Smith, who had a bulls-eye on his back for offensive coordinators to pick on last year, back into his role as a nickel and dime player—a role in which he thrives in.
Even if the Jets did not get the cover man they were looking for, their safeties are much more talented this year and cannot be any worse than they were in 2011.
Underdog Role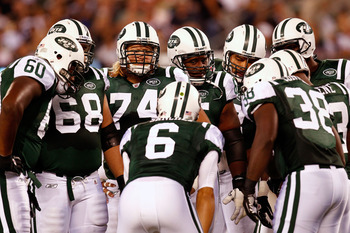 Jeff Zelevansky/Getty Images
Let's be honest; there are not many people picking the Jets to make a playoff run in 2012.
In a way, this works to the Jets' advantage. In 2009, the Jets rode their underdog role all they way to the AFC Championship game.
Since then, expectations have risen and the underdog angle has diminished, but the Jets are back in the same position they were in three years ago: Coming off a disappointing end to a season that started with Super Bowl hopes.
The Jets underwent major coaching changes with fewer expectations (outside of New York). If Rex Ryan plays this card correctly, it could be a huge motivating tool for the Jets this season.
Greater Team Speed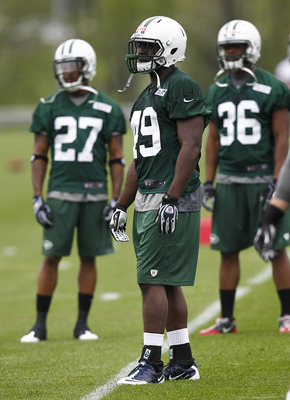 Jeff Zelevansky/Getty Images
Getting faster and more athletic was clearly a primiary goal of the Jets this offseason, evidenced by the way they drafted and approached free agency.
In particular, their age and lack of speed in the front seven hurt them in terms of covering tight ends and running backs out of the backfield.
Between drafting players like Quinton Coples, Stephen Hill and Demario Davis, the Jets are much more explosive on both sides of the ball. Coples and Davis will go a long way in terms of adding speed to their slow defense while Hill gives the Jets the deep threat they have been missing.
Keep Reading

New York Jets: Like this team?