NY Giants Defensive Line Looking Super for the 2012 Season
June 22, 2012

Thearon W. Henderson/Getty Images
In Super Bowl XLVI this past February, just as in Super Bowl XLII back in 2008, the New York Giants showed a blueprint for sustained postseason success in the NFL: Pressure the quarterback with the front four, and stout defense will follow.
The Giants defeated Tom Brady, Bill Belichick and the dynastic New England Patriots in both of those Super Bowls, and they come into the 2012 season with a potent core of young, dynamic talent on both sides of the ball.
But after some offseason uncertainty on their defensive line that saw Dave Tollefson depart for the Oakland Raiders, and Osi Umenyiora's contract status remain unresolved as the spring months wore on, the Giants have locked up their defensive line for next season.
And they look as strong as ever.
Umenyiora dismissed (not "fired") his agent, Tony Agnone (via NFL.com's Dan Hanzus), and then quickly agreed to a restructured contract for 2012, joining the team at OTAs a seemingly happy camper.
He spoke with Paul Schwartz of the NY Post regarding fellow defensive ends Jason Pierre-Paul and Justin Tuck, saying: "All of us are All-Pro players. You can't pay us all like All-Pros. [The Giants] had decisions to make and I completely respect them. If I had to pay two defensive ends top defensive end money, it would be JPP and Tuck."
What a difference $1.8 million makes.
According to Schwartz, Umenyiora will now make $6.5 million in 2012, up from the $4.7 million ($3.975 million base salary) he was slated to make in the final year of a seven-year contract.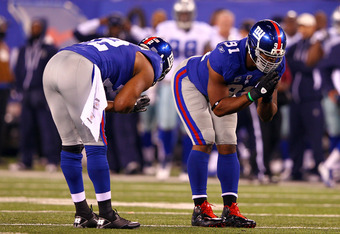 Al Bello/Getty Images
Not only that, but former Green Bay Packers executive and current ESPN NFL business analyst Andrew Brandt indicated on Twitter that Osi and GM Jerry Reese may have buried the hatchet. Brandt said that his sources told him Umenyiora negotiated the restructuring himself:
Hearing Osi's restructure was done directly between Osi and Jerry Reese and does not extend beyond 2012.

— Andrew Brandt (@adbrandt) June 1, 2012
While it was crucial that the Giants retain Umenyiora—as their defensive scheme relies on rotating their DEs to keep them fresh, sometimes playing three at once and moving one DE to the interior (the NASCAR lineup), while sometimes dropping DEs into coverage—he is right that the Giants should save the "top defensive end money" for JPP and Tuck.
Pierre-Paul had a breakout campaign in 2011, starting 12 games, playing in all 16 and recording 16.5 sacks. He also blocked Dan Bailey's potentially game-tying 47-yard field goal attempt to preserve a key Week 14 comeback victory.
Tuck, a team captain, battled through numerous injuries, playing in 12 games and recording just five sacks. But he had 11.5 sacks in 2010 and 12 in 2008, and is a key physical force up front.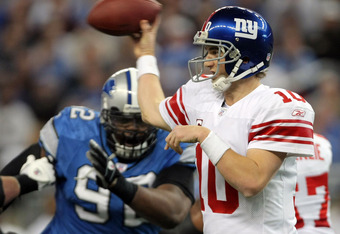 Harry How/Getty Images
While Umenyiora played in just nine games after missing the start of the season following knee surgery, he brought down the quarterback nine times and contributed to the defensive line rotation at a crucial juncture.
When Tuck was seeing fewer snaps with injuries of his own, Umenyiora stepped up during the Giants' stretch run. He also recorded 3.5 sacks in the playoffs.
So now that the Giants' "Big Three" are confirmed to be back on the defensive line together, who will be joining Osi, JPP and Tuck?
On the day the draft started, the Giants added a player before a pick had even been made, inking 12-year veteran defensive tackle Shaun Rogers (via NY Daily News). The former Lions and Browns player takes up plenty of space in the middle, tipping the scales at around 350 pounds and measuring 6'4".
He joins last year's starters Chris Canty and Linval Joseph on the interior.
As Giants.com's Dan Salomone points out, Rocky Bernard is set to return, and will find a familiar face alongside him in Rogers. The pair played high school football against one another in Texas.
Bernard and Rogers carried the rivalry over to the college level, representing Texas A&M and Texas respectively. They now find themselves as teammates after playing for over two decades in the NFL between them.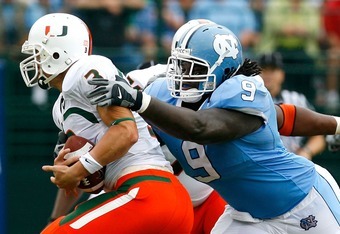 Kevin C. Cox/Getty Images
There is also last year's second-round pick Marvin Austin. The defensive tackle tore a pectoral muscle in the preseason of his rookie year and did not play in 2011.
After also missing his senior year at North Carolina due to suspension, he is eager to get back on the field and make a contribution (via The Star Ledger's Jorge Castillo).
He made a tremendous impact for the Tar Heels, and was projected to go in the first ten picks of the draft until his suspension for receiving improper benefits caused him to miss 2010. He will look to bring that tremendous potential to the field for the Giants in 2012.
Rounding out the new faces on the D-line for Big Blue is German-born Markus Kuhn. The 26-year-old defensive tackle was taken in the seventh round of this year's draft out of North Carolina State.
In college, he proved to be a powerful player on the interior who was also quick off the snap (per CBSSports.com).
While he is eager to get into the mix, he will have to wait until his work visa is granted before taking part in on-the-field activities (via The Star Ledger's Jorge Castillo).
And it was reported last week that undrafted Justin Trattou, a Jersey boy from Don Bosco Prep, and 2010 sixth-round pick Adrian Tracy are expected to compete for the fourth defensive end spot (per Casey Sherman of Giants101.com). Tracy offers some versatility as he can also play linebacker.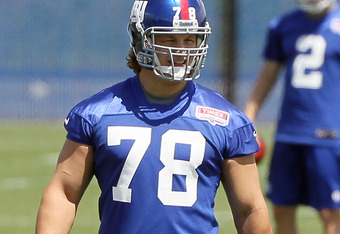 Jim McIsaac/Getty Images
Also on the 90-man roster are Dwayne Hendricks, Craig Marshall, Martin Parker, Matt Broha and Adewale Ojomo, but they may have trouble cracking the final 53-man roster barring an injury higher up the depth chart.
The Giants do have an extremely tough schedule ahead in 2012—including home games against the Packers, Steelers and Saints, plus away games at the 49ers, Ravens, Falcons and Bengals, each of which made the playoffs—and they will also have to play against Cam Newton once, and both Michael Vick and Robert Griffin III twice each.
But their recipe for success remains constant: Pressure the quarterback with the front four, and stout defense will follow.
Add to that their elite quarterback, Eli Manning, and a plethora of weapons on offense, and 2012 could hold another epic title run in store.
Boasting a defensive line grouping made up of proven veterans, rising stars and younger players with tremendous potential, the New York Giants just may have the superb formula for a repeat in 2012.
Follow me. I taught LeBron to play with his back to the basket.