Tour De France: The Unfair Consequences of Cycling's Doping Scandals
June 17, 2012

Spencer Platt/Getty Images
On May 30 this year, Andy Schleck was awarded the yellow jersey for his inherited victory in the 2010 Tour de France following the disqualification of Alberto Contador for doping during the race.
The ceremony, which took place in Schleck's home town of Mondorf in Luxembourg, was a small and quiet affair with cycling and government dignitaries in attendance.
It was a world away from the adulation that should have been his on the Champs Elysees.
Schleck expressed his disappointment to CyclingNews.com, "It's nice to accept this jersey, but for me it doesn't change anything – it's not like a win. It's not the same sensation as climbing on the podium."
To The Guardian, he put it into clearer perspective, "It is not the same as to take the jersey on a podium in the tour, you don't have the podium girls, everything around is different."
Ah, so the podium girls are the key and not the hundreds of thousands of fans lining the famous avenue.
Schleck joins Oscar Pereiro—who inherited his yellow jersey from serial doper and liar turned snitch, Floyd Landis—in suffering the disappointment of a low-key acknowledgement of their victories.
While Schleck still has the opportunity to win on the road—although not this year—Pereiro will never know the feeling of riding that final stage in yellow, gaining the congratulations of his peers, sipping the champagne while riding and hearing the roar of acknowledgement from that massive crowd.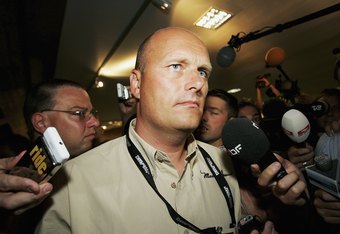 Bryn Lennon/Getty Images
It's monumentally unfair and it's something that can never be replaced by a private ceremony with has-beens and stuffed shirts.
With news that Lance Armstrong's doping charges could see him stripped of his seven Tour de France victories, we could be faced with four new riders joining that club (Jan Ullrich, who finished second to Armstrong on three occasions, at least won the 1997 race in his own right).
Alex Zulle (1999), Joseba Beloki (2002), Andreas Kloden (2004) and Ivan Basso (2005) will have missed their chance for that moment in the spotlight.
Despite that, it is something the TdF director Christian Prudhomme could easily rectify. Where the new winner is still competing, they could be given a special jersey for the final stage to participate in the informal celebrations that take place early in the stage, and they could be presented with their official yellow jersey on the podium prior to the current year's presentations.
Where the rider has since retired, as would be the case with those potentially inheriting Armstrong's jerseys, they could be given a celebratory victory lap and still have their presentation on the podium.
Then again, it opens another can of worms.
Jan Ullrich, who could potentially become a four-time winner of the race (potentially a five-time winner if Bjarne Riis ever gets stripped of his title), has himself been disqualified for involvement in doping.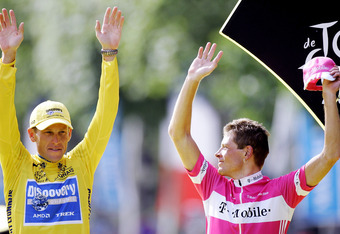 Friedemann Vogel/Getty Images
Does it really make sense to punish one wrong-doer by rewarding another?
Some would argue that no matter who ends up in the yellow jersey, they have probably doped at some stage in their career. That's probably unfair on some riders, but it's easy to understand where the sentiment comes from.
Of course, this is all theoretical. Armstrong has yet to be found guilty of anything and even if he is, it's difficult to see how the reportedly positive results from 2009 and 2010 could lead to stripping of results from 1999-2005, unless they can build a compelling case around witness testimony.
Bjarne Riis wasn't stripped of his 1996 title despite openly admitting to using performance enhancing drugs, and whilst Tour organizers have taken Riis off their winners list, the UCI has refused to officially strip him of the title.
And they wonder why cycling has a bad reputation.