The Difference Between 'Best' and 'Most Important': JPP Ranked Ahead of Eli
June 15, 2012

Al Bello/Getty Images
I swore to myself that I'd abandon NFL Network's embarrassing list of the top 100 players of 2012 the moment Tony Romo came in 91st. But then Eli Manning was ranked 30th last week, and I couldn't resist. 
Now, one week later, we've got confirmation that NFL players rank Jason Pierre-Paul ahead of Manning. Or, at least, the small number of players who voted do. Either way, we have something that needs to be addressed. 
The natural debate, now, pounced on already by NFL Network and NFL.com, is JPP vs. Eli. Who is the better Giant?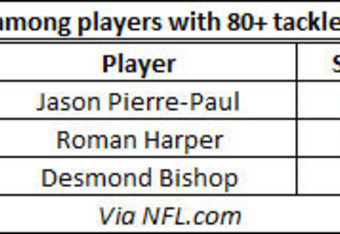 The answer is Pierre-Paul. 
You have to consider the words here: best players in the game, not most valuable or most important.
We concluded last week that Manning might be a top-five quarterback, but Pierre-Paul is much more dominant among players at his position. 
Simply being the best at your position shouldn't always be enough to get you ranked ahead of an elite quarterback, because more weight has to be given to quarterbacks than any other position in the game. That said, though, defensive end/3-4 outsider linebacker is the second-most important position, which is why it's acceptable for a freakishly-talented sack master like Pierre-Paul to rank ahead of Eli.
As I detailed last week, the 23-year-old is one of the most consistent, versatile and dangerous players in the game. He's got the numbers and the visual proof.
And for those who want to behead me for failing to appreciate Manning's playoff success, shouldn't Pierre-Paul get a lot of credit for last year's Super Bowl run? You can't use team success to build up one player and not others.
For obvious reasons, Manning is much more valuable, but that's about supply and demand.
The Giants have two great pass-rushers in Osi Umenyiora and Justin Tuck, as well as a stellar defensive system. They'd be better off without JPP than without Manning; I don't think anyone will argue against that. But I also doubt anyone would disagree with the notion that Pierre-Paul is a better all-around player.
Well, except maybe this girl:
(Hat tip to my former colleague and current friend, Sean Tomlinson, for the video, which was about 87.3 percent of the inspiration for writing this post.)