Eli Manning's No. 31 Ranking Another Reason to Ignore NFL Network's Silly List
June 7, 2012

Jeff Zelevansky/Getty Images
According to the portion of players who voted to rank the NFL's top 100 players for NFL Network, reigning Super Bowl MVP Eli Manning was the 31st-best player in football in 2012.
That, of course, is completely ridiculous. Then again, we probably shouldn't have expected anything but ridiculous from a list that placed Tony Romo 91st, 36 spots behind return man Patrick Peterson and 46 spots back of fullback Vonta Leach.
It should also be noted that this list didn't include Manning at all one year ago. Yeah, last year's list was a farce, too, which is why I had expected NFL Network to put a stop to the madness in 2012.
I figured they were a bit embarrassed by the outrage, which is why it's now virtually impossible to find the 2011 list on NFL.com. But no, they needed their controversial, arbitrary dead-of-the-offseason filler. 
Players evaluating their peers is simply an awful idea. A lot of them admittedly don't watch a lot of games and there's no way of knowing whether they're biased against rivals or players they don't like. There's no accountability because it's anonymous, and there's also no way of knowing how many of these guys take the process seriously.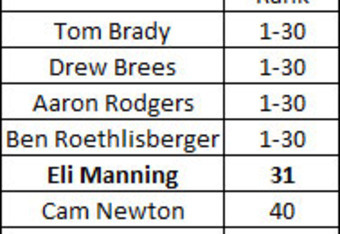 Since very few fans do, I highly doubt players would.
And don't even try to use the trite notion that only those who play(ed) the game know it well enough to cast judgements. That's just a defense mechanism relied upon by thin-skinned pro athletes too myopic or ignorant to notice that many of the game's greatest talent evaluators aren't NFL alumni.
To the players' credit, Manning was ranked fifth among quarterbacks, which isn't far from right. He passed for nearly 5,000 yards and had the fourth-highest yards-per-attempt average in football during an impressive, yet somewhat inconsistent regular season.
Then, of course, he led the New York Giants on a spectacular Super Bowl run. In the playoffs, Eli had a nine-to-one touchdown-to-interception ratio, completing 65 percent of his passes and posting a passer rating of 103.3.
So unless the players were under the impression this was like the AP awards voting and they couldn't consider postseason results, ranking Manning 31st among everyone in the NFL makes little sense.
But maybe this indicates that there's a general bias against quarterbacks. Aaron Rodgers, Tom Brady, Drew Brees and Ben Roethlisberger are the only pivots ranked ahead of Manning on this year's list.
I've got no problem with the first three signal callers finishing higher, and while Big Ben being ranked ahead of Eli doesn't make a whole lot of sense, he's at least a two-time champion coming off an impressive season in which he put up 4,000 yards despite being hampered by injuries.
The reality is that there should be more than four quarterbacks in the top 30. 
Brady, Brees and Rodgers should be top five. Eli, Romo, Roethlisberger and Matthew Stafford should be top 15. Peyton Manning, Philip Rivers, Michael Vick and Cam Newton should be top 50. 
By ranking Manning 31st, the voters have again indicated that they fail to grasp, or at least refuse to acknowledge, the importance of quarterbacks in the modern NFL. As a result, we have another reason to reject the NFL's most absurd piece of television programming.