San Francisco 49ers Have a 'Window' for Reaching the Super Bowl
June 15, 2012

Ezra Shaw/Getty Images
Every sports team has its day. The strength and success of any team ebbs and flows like life itself.
There are so many variables in putting a successful team together that the lack of any one may send the team down from the heights. Like seasonal plants, teams come into flower and fade out of fame as their composition and attitude changes.
NFL teams are not immune. It takes the right owner, for a start. Add the right coaching squad, the right personnel, the right ideas and the right spirit. Then add a dash of luck and the right bounces of an oblong ball on uneven surfaces and over-eager hands and you might have a successful NFL franchise. That is, successful at least for a year or two.
That is the reason that the Super Bowl has rarely featured the same winning team two years in a row, and not ever the same team three years in a row. There are streaks, of course. In NFL jargon and lore, they are described as dynasties, although describing a sports team as a dynasty is a bit much for any history professor to stomach.
This is natural. Teams that have winning records fall out of the top tier over time. Time erodes. Skill fades. People move on.
It is deucedly difficult to keep a successful team together. Players get injured, get old and retire, find better-paying jobs through free agency or quit to devote their lives to another career. Coaches get tired of the 24-7 pace and either move on or retire. Owners get bought out. Great players lose their mojo. Things happen. Time erodes the franchise.
Justin Smith, probably the finest 49er defensive tackle (and defensive end) since Bryant Young, (1994-2007), talked with his teammates about this special time in the 49ers' history:
"The mind-set that I've kind of been spreading a little bit to the guys is, you know, your team isn't always stacked forever," Smith said. "...You have certain windows. And you don't want to get into, 'Is this our window? Do we have two years, three years?' I wouldn't say that. I know with some of the guys that we have and with free agency and all that, we're not going to be able to keep this team together forever."
The San Francisco 49ers are in a window of time where they can be great again, like they were in the '80s.
They have a superb and experienced defense that is completely intact for the second year in a row. The defense has so many stars that one would have to list 11 names here, with honorable mention of several of the deep backups for the starters. Second in the NFL last year in points allowed per game (14.3) and first in the number of rushing yards allowed per game (73), the defense is solid and has been welded into a spirited and cohesive group of guys on a mission: stop the opposing offense and get them off the field.
The offense, which took some criticism in 2011, still made very few mistakes and played well enough—even with major holes in its skill set—to win 13 games in the regular season and a hard-fought playoff game against a premiere team.
With new tools added during the offseason, like "Christmas presents," as Alex Smith would comment, the offense promises to score more than in 2011 and be more successful on both third downs and within the red zone.
In spite of a tougher schedule, the 49ers appear to be in that rare "window" where the team can take it all. They have an inventive and inspirational coach in Jim Harbaugh. They have arguably the NFL's best defensive squad.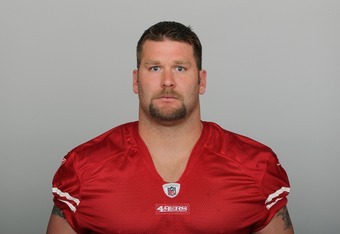 Handout/Getty Images
They have a quarterback who is steady, impeccable and unflappable (even after 44 sacks in 2011) who is improving in skill. They have added great receivers in free agents Randy Moss and Mario Manningham and a potentially great receiver via the draft in A. J. Jenkins to join an already accomplished Michael Crabtree.
The rushing game has been reinforced with Brandon Jacobs and LaMichael James to add to the accomplished Frank Gore (over 1,200 yards in 2011) and up-and-coming Kendall Hunter.
The offensive line has been reinforced with Alex Boone favored to fill the right guard slot.
It looks like this upcoming season is the window for the 49ers to shine again. All the elements seem to have come together in one of those rare combinations of management, personnel and spirit. The omens are good.
Enjoy it while you can, fans. These windows in time do not last forever and are normally short in duration.
Remember everything about this time. It will be important later when you are telling the stories to your grandchildren.