Spain v Republic of Ireland: Rating the Spanish Players in Euro 2012 Group C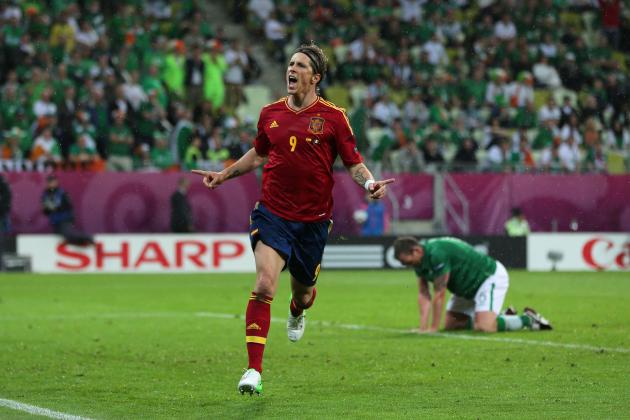 Alex Grimm/Getty Images
El Niño is back!
Well, that was more like it, Spain.
La Furia Roja played like the defending European and World champions as they took care of the Republic of Ireland 4-0 in their second group stage game in Euro 2012 on Thursday.
Fernando Torres was "El Niño" Torres of old as his brace lead the way. Goals from David Silva and Cesc Fabregas helped Vicente Del Bosque's squad move into first place in Group C with one game to go.
Xavi, Andres Iniesta and the defense frustrated the Irish as the Spanish controlled the ball possession to a tune of 62 percent to 38 percent.
Iker Casillas did not see much his way but when he did, he stood his ground.
So how would I rate the Spanish in the game against Republic of Ireland on a one to 10 scale?
Here are my ratings for each Spanish player in their 4-0 beating of Ireland.
Begin Slideshow

»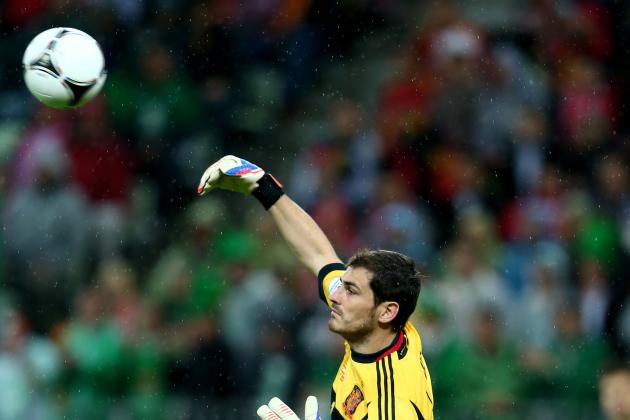 Michael Steele/Getty Images
Saint Iker
Iker Casillas: Not very active first half for Iker as Spain controlled the ball possession.
Great save on Robbie Keane in the second half of the game.
Iker made the saves when he needed to, but overall he had a quite game—and that's a good thing.
I give Iker a 10 because he got the shutout—albeit Spain dominated ball possession and he didn't have to do much. But when he did, he was Saint Iker for Spain as usual.
Rating: 10
Alvaro Arbeloa: Had another solid performance in the first half.
Alvaro had a great shot in the 48th.
Great block on Robbie Keane in the 65th minute.
Alvaro has played exceptionally well in the first two games at Euro 2012.
Rating: 7
Sergio Ramos: Quiet first half for Ramos.
Quality play in the second half as he blocked an Ireland cross, just barely avoiding a head-to-head collision with Casillas.
In the end, Ramos had a much improved game than the one he had against Italy.
Rating: 8
Gerard Pique: Good block by Gerard at the six minute mark.
Came up and took a fine shot on the 16th minute.
Good block on Robbie Keane in the closing minutes of the first half. Still shaky at times, but overall Pique had a decent game.
By the way, he looked weird without a beard. Maybe Shakira asked him to shave it.
Rating: 7
Jordi Alba: Great give and go with Iniesta in the 38th minute.
Alba would come up and give Spain and extra threat on offense throughout the game.
Good game from the little Valencia man.
Rating: 8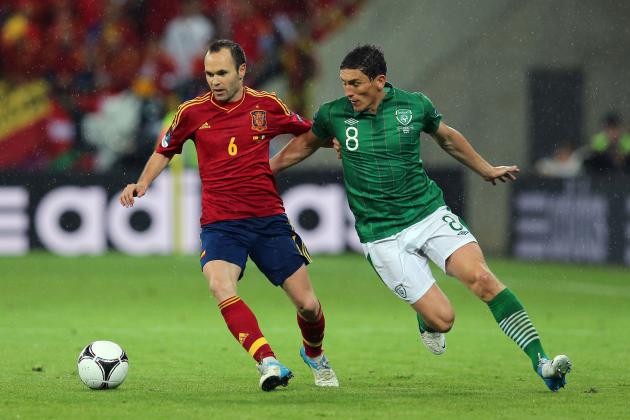 Alex Grimm/Getty Images
Iniesta handles the ball.
Sergio Busquets: Like Sergio Ramos, a quiet first half for Busi as well.
Busi missed a tough shot in the 63rd minute. He has been slipping at times in these past two games. He may need to adjust his boots.
Rating: 7

Xavi: continued his great play from last game into today's game. Controlled the offense and was the leader La Roja always needs.
Had a great shot blocked in the 44th minute.
Great pass to Arbeloa in the 48th minute. It is evidently clear that Spain's heartbeat is Xavi Hernandez. As good as Andres Iniesta has played, the architect of La Roja is Xavi and he will dictate how far Spain will go in this Euro 2012.
I'm still a bit concerned that Del Bosque's team may become too over-reliant on Xavi, but so far it's looking good.
Rating: 9
Xabi Alonso: Great passing in the first half.
Missed a good shot in the 45th minute.
Xabi picked up a yellow card in the 54th minute. Xabi has not been at his best in these first two games.
Like the first game against Italy, Xabi had an average game.
With Cesc Fabregas playing better than Xabi, Del Bosque may want to consider adding Cesc into the starting XI and sitting Alonso. Cesc brings offense and if Spain gets the lead on an opponent, Del Bosque can sub in Xabi to bring in a CDM to protect the lead.
Rating: 6 ½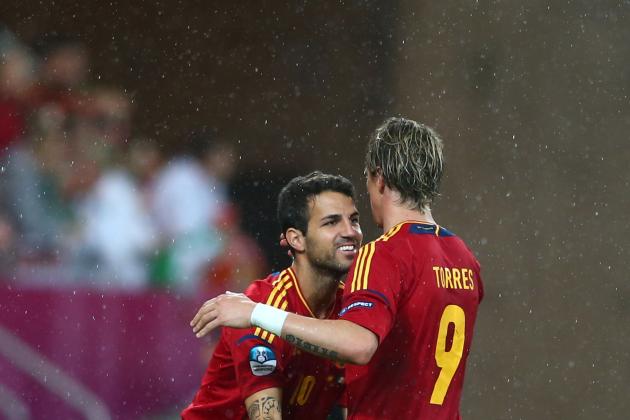 Michael Steele/Getty Images
Funny looking picture of Cesc and Torres.
David Silva: Hustled to try and get the ball to Torres early in the first half.
Struggled very much late in the first half with bad passes and losing the ball.
Got an easy goal after faking out an Irish defender and the Irish keeper Shay Given to make it 2-0.
I would give Silva a seven, but the goal gives him a boost in rating.
Rating: 8
Andres Iniesta: A bit sloppy at first but took a great shot at the goal in the 23rd minute.
Began to take on defenders one-on-one late in the first half.
Andres had some good shots blocked by the Irish defenders.
Iniesta along with Xavi and Silva are simply taking all these defenders on and creating goal-scoring opportunities for La Roja.
Rating: 8
Fernando Torres: Golazo de Torres at the four minute mark. Torres looked like the Torres of old as he battled the Irish defense and launched it passed the keeper.
Fernando got his brace at the 70th minute as Torres has onside and put it past the keeper.
Yup, I'm going to do it: I'm giving Fernando Torres a 10!
El Niño is back.
Let's hope he stays "back" for the rest of Euro 2012.
Rating: 10
Cesc Fabregas: Came in for Torres.
What a wonderful goal Cesc has in the 83rd minute as he took the corner kick, passed one defender and absolutely slammed the ball to the far post as it hit the woodwork and into the back of the net.
Two goals in two games for Fabregas.
Vicente Del Bosque may want to consider moving either Xabi Alonso or Sergio Busquets to the bench and place Fabregas in the starting XI in a future game.
Rating: 9
Javi Martinez: Javi came in for Xabi Alonso who had a yellow card to his name.
Didn't do much then again, he didn't need to do much. Got a yellow card in the 76th minute.
He's still young player in need of more time on the pitch with the national team. He gets a lower rating only because of the yellow card that he pick up.
Rating: 6 ½
Santi Cazorla: Came on for Andres Iniesta in the 80th minute.
Like Javi Martinez, didn't need to do too much. Had a shot at goal in the 82nd minute just before Cesc's golazo. It was good to see Santi get some time on the pitch.
Rating: 7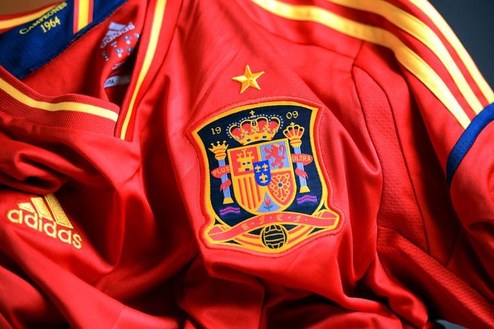 Photo courtesy of AFP. http://noticias.prodigy.msn.com/deportes/eurocopa/features/eurocopa-2012-las-playeras
Overall, my final rating for the entire team is an 8.5. I know I may be tough on them, but I feel like there is still room for improvement.
Torres had a great game, but as well all know, he needs to be consistent for this team. Torres is the No. 1 striker on Del Bosque's team and will need to come through for Spain as they move further into the tournament.
Look for players like Juan Mata, Alvaro Negredo and Fernando Llorente to finally get some playing time in the final group stage match against Croatia.
A Spain victory would clinch Group C for La Roja; a tie would go to tiebreakers.
Let's make it easier for all of us, Roja; beat Croatia!
Spain face off against Croatia on Monday, June 18 at the Arena Gdansk.
¡Vamos Roja! ¡Vamos España!
Xoel, The Voice of FC Barcelona on Bleacher Report and Featured Columnist for Spain for Euro 2012.
Follow me on Twitter:@XoelCardenas
Don't forget to check out my other columns:
FC Barcelona: 5 Ways Lionel Messi Can Build on a Monster 2011-12

Spain vs. Italy: Grading the Spanish Players in Euro 2012