5 Ways Lionel Messi Can Build on a Monster 2011-12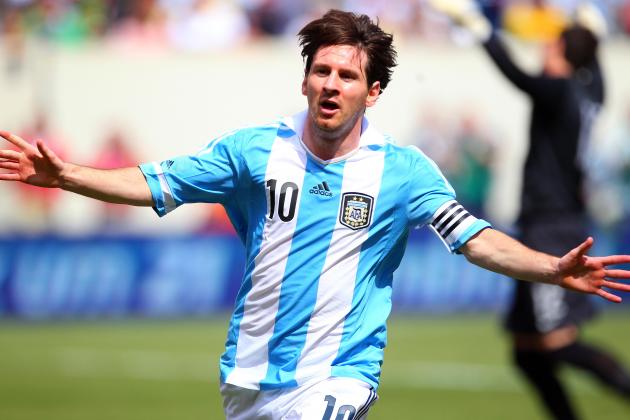 Rich Schultz/Getty Images
Messi
Lionel Andres Messi had arguably the greatest individual season in football history. Messi shattered various records, including scoring a mind-blowing 73 goals and 29 assists in all competitions.
But as successful as Messi's season was, it was not considered a successful season for FC Barcelona, as the Catalan club lost La Liga to arch rivals Real Madrid and were eliminated by eventual champions Chelsea in the UEFA Champions League semifinal. Messi also struggled with the Argentine national team in 2011, as his team was eliminated from the Copa America in Argentina.
So what can Messi do to build on his 2011-12 season while at the same time help out FC Barcelona and his national team?
It's not like we can ask Leo to score more goals and have more assists than he had last season. But it'd be nice if he did.
But there are other things he can do.
Here are five ways Lionel Messi can help build on a monster 2011-12 season.
Begin Slideshow

»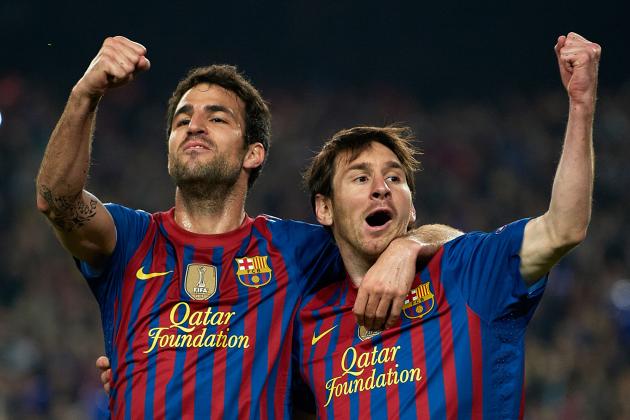 Manuel Queimadelos Alonso/Getty Images
Cesc and Leo
At the beginning of last season, Leo had great on-the-pitch chemistry with then-newly acquired Cesc Fabregas. The former Masia teammates seemed like they had been playing together for years, as Messi set up Cesc and vice versa on offense. Cesc set a FC Barcelona record when he scored in four consecutive Liga games.
But the chemistry soon faded away due to Barcelona's struggles along with injuries to other players, forcing Fabregas, a midfielder, to play forward. Cesc would struggle for the rest of the season as Messi continued to play solid.
It just seemed like Cesc's game couldn't fully fit in with the team's rhythm.
One way Messi can build on his previous season is by getting that on-the-pitch chemistry they had at the beginning of last season for this upcoming season. Messi obviously has automatic chemistry with Xavi and Andres Iniesta—now it's time for Messi to help Cesc step his game up. With Xavi seeing more limited time to keep him fresh, Cesc is going to play more at midfielder and Messi can work with Cesc on on-the-pitch timing and instinct.
I'm not saying this is an easy task—teammate chemistry takes time to develop, sometimes years. But we have seen the Messi-Fabregas combination work magically on the pitch only after one year, and a major part of Barcelona's future success is going to rely on the combination of Lionel Messi and Cesc Fabregas along with the other mids.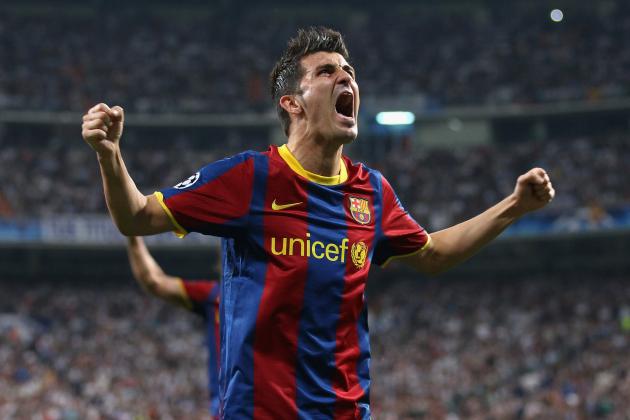 Alex Livesey/Getty Images
Villa is coming back.
David Villa was missed terribly. El Guaje was lost for the season when he broke his tibia at the 2011 FIFA Club World Cup. Villa tried to come back to play for Spain at Euro 2012, but he was not 100 percent ready to go and missed being a part of La Roja.
Now Villa will make his comeback and look to show he's still one of the best strikers in the world.
So where does Lionel Messi fall in all of this?
One thing Messi can do to build on last year's success is help David Villa by facilitating Villa with the kind of passes we all saw in their first year together (2010-11).
We all remember how Messi set up David Villa for two goals in the famous 5-0 defeat of Real Madrid. El Guaje, for as good as he plays at LW and setting up his own plays, really performs better when a teammate sets up opportunities for him. Messi is going to need to find him and help him find the back of the net.
One aspect where Messi will improve by having David Villa back is that Leo will not have to take on the striker role if Barcelona find themselves in a position like they did against Chelsea where a natural striker was needed. In situations like the Chelsea game, Villa could move up to striker and Messi could play further back, where he can set up plays instead of having to both set up plays and be responsible for scoring goals.
"Parking the bus" must be defeated.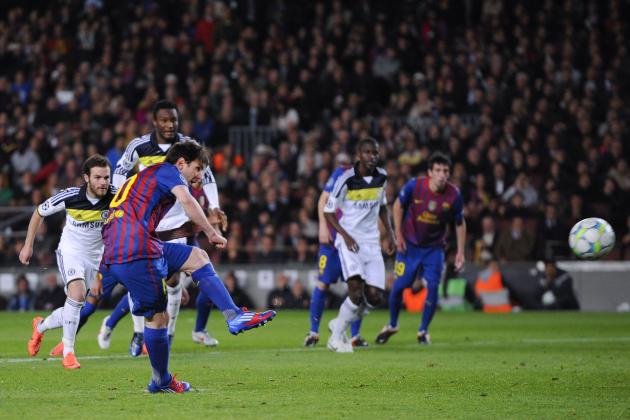 David Ramos/Getty Images
Messi's miss versus Chelsea.
OK, this one is a tricky one.
It's tough to ask the world's best player to change a part of his game.
But Leo, you need to improve your penalty-kick game.
Don't get me wrong—I know it's not as easy as it sounds and I know I've never had to take a pressure PK like Messi has had to take.
Does a pressure PK on FIFA 12 count?
But one of Messi's greatest weaknesses is him at the penalty spot.
Messi's approach is just to slow, and he tends to drag his feet when approaching the ball.
Leo needs to speed up his approach because with his slow approach, it forces Messi to either power up, decreasing the shot's accuracy and increasing the chance of overpowering the shot, or hit a weaker shot that increases the chance of the shot getting stopped by the goalkeeper.
Messi's PK style is not the best, to say the least.
Messi needs to work on PKs because his misses have cost Barcelona games in the past, not to mention perhaps a shot at the UEFA Champions League title this past season.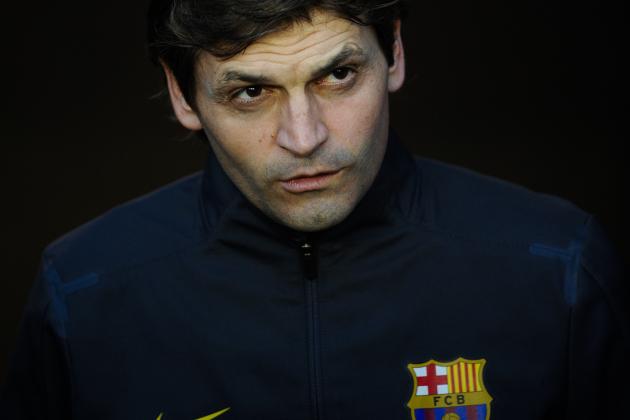 David Ramos/Getty Images
Tito
One way Leo Messi can build on his previous season is to build a solid trust and understanding with his new manager, Tito Vilanova. Even though Messi has known Tito for almost four years now, their working relationship will certainly change now that Tito is the boss.
We have all read stories on how teams have had issues when the star player and manager have not seen eye to eye. While I doubt Messi and Tito will have any issues, it's best that Leo take the lead and show full trust in Tito from the start.
There are going to be comparisons between Tito and Pep Guardiola. If the team struggles, many will begin to criticize Vilanova and say he ain't no Pep.
No one will ever be Pep.
In a recent interview with Sport.es (via Goal.com), Messi stated that although Tito and Pep have their differences in personality, Leo hopes Tito is there for a while.
"I am staying at Barcelona and I hope that everything will be the same without Pep. Tito has a completely different personality, but I hope that he remains in charge for a long time. That would mean things are going well."
Tito will be successful if Messi can help the new manager by continuing to build on their relationship, which will show trust in the new manager and will radiate to his teammates, the media and to all Barcelona fans.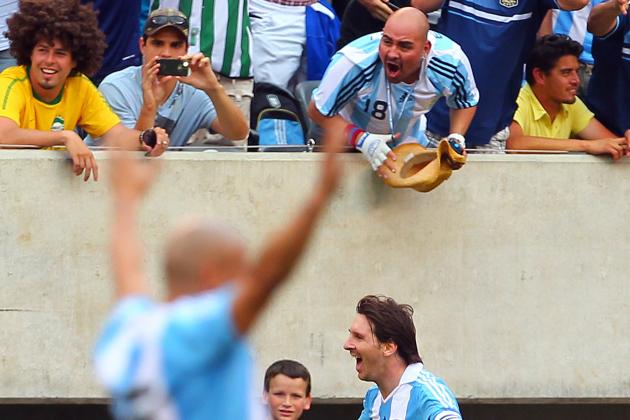 Rich Schultz/Getty Images
Messi scores!
It feels like Lionel Messi has been criticized on his play with the Argentine national team ever since he put on the Albiceleste. Disappointing outcomes in the 2010 FIFA World Cup and last year's Copa America in Argentina have led people to conclude that Messi cannot lead Argentina to any titles anytime soon.
If Messi wants to build on his 2011-12 season, he will need to continue his recent setup in leadership that he has shown with the national team.
In February, Messi—now as captain of the national team—grabbed his first international hat trick, as he led Argentina passed Switzerland in a friendly match. Leo set up his teammates with assists and grabbed a goal of his own, as Argentina stomped Ecuador 4-0 in their first World Cup qualifier of the year.
Messi had one of his best games playing for his country last week, picking up hat trick—topped off with an incredible golazo for the game-winner—effectively bringing his team back to defeat Brazil 4-3 in a "friendly" match between the rival countries.
Argentina has four more World Cup qualifiers left in 2012: vs. Paraguay (Sept. 7), at Peru (Sept. 11), vs. Uruguay (Oct. 12) and at Chile (Oct. 16). Messi is going to have to continue his leadership as Argentina will look to sit comfortably in the CONMEBOL standings.
Messi doesn't have to score all the goals for Argentina; he just needs to continue doing what he has been recently doing—setting up his teammates, which will eventually lead to him getting goals of his own.
One last thing that may not hurt is if Messi was a bit more vocal to his national team teammates as well. In a recent interview, Diego Maradona expressed his desire to see Messi lead Argentina.
"He is a very quiet kid, he earned the captaincy by virtue of his play and all his goals and maybe with time he will learn to lead, to shout or head meetings like captains do—but this will come with time."
This Argentina team is Messi's, and he needs to continue to lead all the way to Brazil 2014 and beyond.
Xoel, The Voice of FC Barcelona on Bleacher Report and Featured Columnist for Spain for Euro 2012.
Follow me on Twitter:@XoelCardenas
Don't forget to check out my other columns:
FC Barcelona: 25 Questions We'd Love to Ask Lionel Messi