New York Giants Schedule Analysis: An Extremely Tough Ride, Especially at Home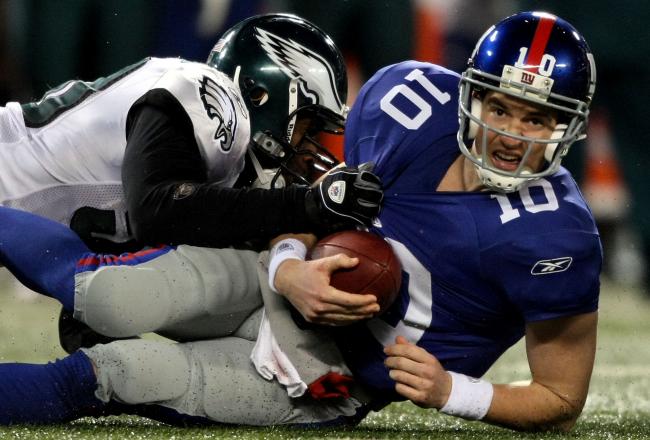 Eli might face just as much pressure this year, if not more.
Nick Laham/Getty Images
Based solely on what happened in 2011, the New York Giants have the most difficult schedule in the NFL. That makes sense considering they won the Super Bowl, but it's also just luck of the draw.
All four teams in the NFC East face fairly difficult schedules in 2012, mainly because they drew an out-of-conference division (the AFC North) that had three playoff teams last season. The Giants were hit particularly hard because they have to face the conference's top two seeds from last season—Green Bay and San Francisco—while the rest of the division avoids both of those teams.
In such a tight division, that could be a back-breaker for the Giants, who not only have the strongest opponent win-loss record from 2011, but also play 13 teams who outscored their competition by a combined 546 points last season, according to my pals at Blogging the Boys.
The next-toughest schedule in that respect belongs to Arizona, but the Cardinals' opponents were only plus-336 in that category, a drop-off of 210 points from where the Giants' opponents are at.
But as we've noted in our schedule previews all week, a lot changes from year to year, so the G-men might not be as unlucky as it looks. Let's assess New York's schedule by predicting which of its opponents might be primed to improve, which might be on the verge of dropping off and which should be expected to remain pretty much the same.
Which Teams Are Expected To Be Better?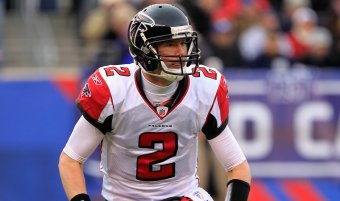 Chris Trotman/Getty Images
Panthers: They won four of their last six games in 2011, and now, Cam Newton enters 2012 with a full offseason under his belt. This is a .500 team at the very least.
Buccaneers: It's almost logistically impossible for the Bucs to be any worse than they were in 2011. The game's in Week 2, with the Giants well-rested and at home, but New York was only 4-4 at MetLife last season.
Cowboys: They beat Dallas twice in the final month of the 2011 season, but improvements to the defense indicate it could be a tougher ride this time.
Redskins: Robert Griffin III, Pierre Garcon, Josh Morgan and a healthy batch of quality backs, plus the return of Trent Williams and Fred Davis from suspension. They should win more than five games. Plus, don't forget that Washington won both of its matchups with the Giants last season.
Eagles: The "Dream Team" won its last four games of 2011 and is expected to make a big run this season. Much better than 8-8.
Falcons: I don't know that they're much better than they were last year, but they certainly aren't any worse than 10-6. This is a team that won 13 games in 2010. The again, look what the Giants did to them in the playoffs last year....
Which Teams Might Be Worse?
Saints: Impossible to tell what this Saints team will look like in 2012, especially in December, when they meet the Giants. But if I had to bet, I'd guess they take at least a small step backward.
Which Teams Should Be About the Same?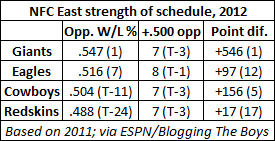 Browns: With a rookie quarterback and lots of holes on both sides of the ball, they don't appear as though they're about to take off, but they also shouldn't be worse than 4-12.
49ers: It's hard to improve on 13-3, but there's no reason to expect them to stumble.
Packers: It's hard to improve on 15-1, but there's no reason to expect them to stumble.
Steelers: They've lost some veterans, but none of those losses causes me to believe they'll be any worse in 2012.
Bengals: Andy Dalton and A.J. Green should only get better, so I definitely don't see Cincinnati taking a step backward, but I'm not convinced the Bengals will be much better than 9-7.
Ravens: I had the Ravens in the "worse" category in my analyses for Dallas and Philadelphia, but I think they'll look a lot like a 12-4 team against the Giants. The difference is that they're at home, and it's late in the season, so Terrell Suggs should be back for Baltimore.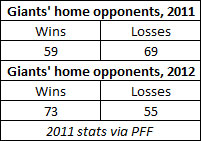 I still think the Cowboys will play more improved teams than the Eagles and Giants this year, but maybe that's just a result of those teams having slightly harder schedules.
Plus, I have the Giants playing only one team on the decline. That number will obviously be higher by the time things happen, but it's still a factor because I see two teams on the verge of a drop-off on the schedules the Eagles and Cowboys are about to play.
What does all this mean? It means the Giants will almost undoubtedly have one of the hardest schedules in the league—and surely the hardest in the division—in 2012.
Looking at potential hiccups
The Giants seemed to play all of their worst games of 2011 at home. They went 4-4 in Jersey despite playing only one team (Green Bay) that finished with a winning record. That's why it concerns me a little that they play only three sub-.500 teams at MetLife all year.
They best team they beat at home last season was 8-8 Dallas, with the other three teams they beat there going 14-34. This year, they'll have to overcome the targets on their backs at home while battling teams that had a combined record of 73-55 last year.
Technically, the worst team they play at home during the second half of their schedule is Philadelphia.
What is the toughest game on New York's schedule?
Looking at where they could excel
There's little reason to believe they can't or won't start 4-1, and maybe even 5-0. Defending champions simply don't lose prime-time home openers, so they should be able to beat the Cowboys Week 1, and then they have Tampa Bay and Cleveland at home in two of their easiest games of the year, Week 2 and Week 5.
The biggest concern is they play back-to-back road games in Carolina and Philadelphia in Week 3 and Week 4. Not only did the Giants beat the Eagles on the road last year, but they also won their second straight road game on two of three occasions.
So there's a real opportunity to jump out and send a message early. Then again, they did that with an 11-1 start to follow up their last Super Bowl victory and ended up one-and-done in January.
Looking at opposing pass-rushes
A lot of the talk is about New York's potent pass-rush, but it should be noted that this team struggled badly against quality rushes in 2011. The offensive line was ranked dead last by Pro Football Focus in terms of pass blocking efficiency, and their worst games of the year offensively came when the Seahawks, Eagles, 49ers and Redskins brought heat.
This year, the heat will be turned up a little. While the Giants' 2011 opponents averaged 31.1 sacks, their 2012 opponents averaged 32.4 sacks last season. Not a huge difference, but it's an indication that they won't be getting an easier ride when it comes to trying to limit pressure this season.
This article is
What is the duplicate article?
Why is this article offensive?
Where is this article plagiarized from?
Why is this article poorly edited?

New York Giants: Like this team?