FC Barcelona Transfer News: FC Barcelona Signs Jordi Alba
June 28, 2012

Martin Rose/Getty Images
After many months of speculation, rumors, and back-and-forth negotiations, Jordi Alba is finally coming home.
FC Barcelona and Valencia CF have agreed on the transfer of left-back Jordi Alba to Barcelona for a fee of €14 million.
Here is the official statement from FCBarcelona.com:
FC Barcelona can announce that it has reached an agreement today with Valencia CF for the transfer of player Jordi Alba. 

The operation will cost 14 million euros and he will sign a contract for the next five seasons.
At 23, Alba brings the youth, speed, and playmaking ability the Barça back line desperately needs.
Alba returns home to Catalunya after coming through Barca's Masia youth system. In 2005, Alba was released from FC Barcelona and signed with UE Cornellà. After two years there, he signed with Valencia on 2007.
Alba played winger most of his career but was later moved to left back by then Valencia manager Unai Emery. Alba's game grew quickly and he became one of Valencia's key players.
He had a great 2011-12 La Liga season as he took on a greater role coming up to help on offense while still playing excellent defense. This caught the attention of several clubs in Europe including Manchester United and Arsenal.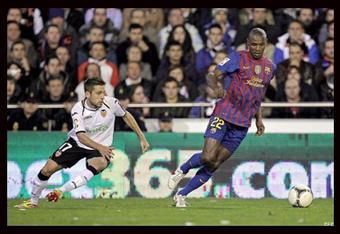 FC Barcelona would come into the picture around mid-March, when they announced that Éric Abidal would undergo a liver transplant. The Frenchman underwent a successful liver transplant surgery on April 10.
The most important news was that he would be ok, however, the business of football continued and Barça president Sandro Rosell knew he needed to find a new left-back for the future.
Enter Jordi Alba.
Rumors about him returning to his childhood team had been going around for months. Alba himself shunned talked about rumors, while his impressive play during Euro 2012 qualifiers and friendly matches quickly raised the Spaniard's stock.
The last two weeks finally saw his imminent move to Barcelona as vice president Josep Maria Bartomeu and Valencia president Manuel Llorente began to discuss a fee for the transfer, with Barca looking to pay €8 million while Valencia were asking for €15 million.
According to Sport.es, the player himself began to tell his national team teammates on June 4th that Valencia and Barcelona were negotiating his transfer and that "everything was going well."
Heading into Euro 2012, many were wondering if the left-back would be a bit shaky in his first tournament with the national team.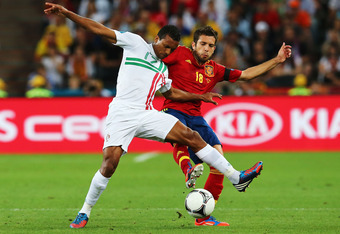 Martin Rose/Getty Images
Alba, however, showed he was more than ready for Euro 2012 and has played fantastically for La Furia Roja. Without a doubt, Alba has been the left-back of the tournament.
Now, after months of rumors, speculation,and negotiations, Barcelona and Valencia came to the €14 million agreement and Jordi Alba will be wearing blaugrana this upcoming season.
It is rumored that, with Alba's performance at Euro 2012, Valencia raised their asking price past €15 million which led to Barcelona raising their offer from €12 million to €14 million.
I think Alba has shown at Euro 2012 he is worth every euro Barcelona has just spent on him.
As a Barcelona fan, I'm very happy he is home. If you have read my articles throughout last season, you know I was very critical of the Barcelona defense (minus Éric Abidal and his situation).
Jordi is a perfect fit for FC Barcelona.
He's a LB/LWB that has shown he can come up and contribute to the offense. His style of play fits Tito Vilanova's system (a continuation of Pep Guardiola's) and would be a great complement to Dani Alves on the opposite side, giving el blaugrana two back-line threats in Alba and Alves.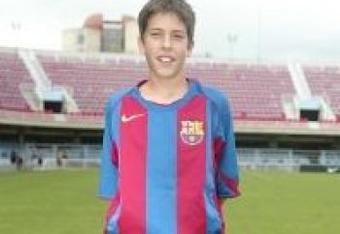 We've seen how he works on the left side of the pitch with Andres Iniesta at Euro 2012 as well.
At 5'7", Alba is not the tallest defender but his speed makes up for that.
One thing Tito Vilanova will have to work on in the preseason is how to manage both Alba and Alves' offensive attacks. Both love to come up and play offense and that could lead to the back line being exposed, as having two attacking full-backs could cause problems with counterattacks.
The focus for Sandro Rosell and FC Barcelona now turns to getting a new center-back this summer. Personally, I'm glad the club is finally spending money on the defensive side of things. 
Alba will officially sign his contract and have his official presentation next week at the Camp Nou.
When asked by MundoDeportivo.com about how he feels about being transferred to FC Barcelona, Jordi Alba said, "I am happy to be coming back home."
On behalf of all Culés, Welcome Home Jordi Alba!
Visca el Barça!
Xoel, The Voice of FC Barcelona on Bleacher Report and Featured Columnist for Spain for Euro 2012.
Follow me on Twitter:@XoelCardenas
Don't forget to check out my other columns:
Euro 2012: Ranking Barcelona's Players Thus Far
FC Barcelona: Tracking The Latest Rumors, News, and Updates 6/19/12