Euro 2012: Ranking Barcelona's Players Thus Far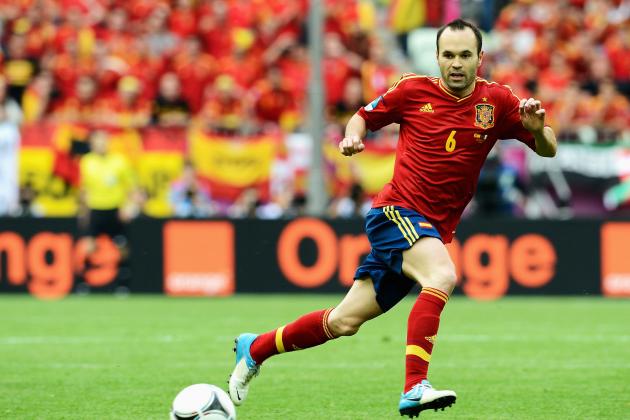 Claudio Villa/Getty Images
Don Andres
Spain are looking good so far to win their second straight European championship as La Furia Roja take on Portugal in the semifinals of Euro 2012 on Wednesday.
FC Barcelona is very well represented at Euro 2012, as El Blaugrana currently have seven players in the tournament—all of whom are obviously on the Spanish national team.
Some of the Barça players have shined, while others have had a Euro to forget—like Ibrahim Afellay, who, like his fellow Dutch squad members, did not play well to say the least.
I decided to rank the Barcelona players' performances thus far. I used the A–F grading scale. Regardless of what grade the Barça players currently have, they all need to have "A"-quality performances if Spain are going to get past Portugal, defeat the winner of Italy vs. Germany in the Euro 2012 final, and win their second consecutive European title.
By the way, Afellay gets an "F."
Here's a ranking of the FC Barcelona players at Euro 2012 thus far.
Begin Slideshow

»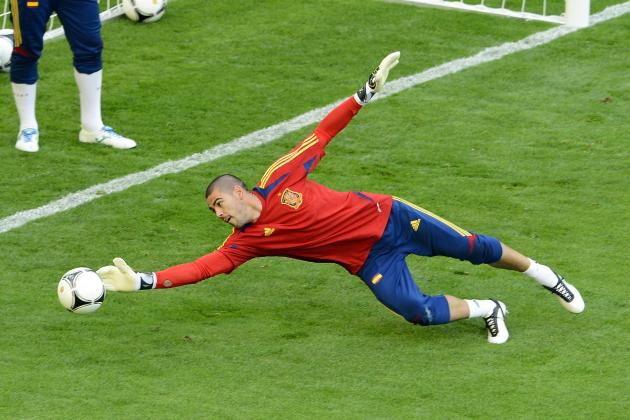 Claudio Villa/Getty Images
VV
Victor Valdes has not seen any playing time in this tournament, as he shouldn't when you have arguably the best goalkeeper in the world on your team in Iker Casillas.
I'm sure VV has been helping Casillas and his other teammates during training. This is the second major international tournament he has been a part of (the other being the 2010 FIFA World Cup), and even though he is not playing, I'm sure it's a good experience.
Victor Valdes gets an "Audit" on this one; I can't give him an "A" since he hasn't played, but I can't give him an "F" for the same reason. It's essentially like VV is auditing a class.
Victor Valdes: Audit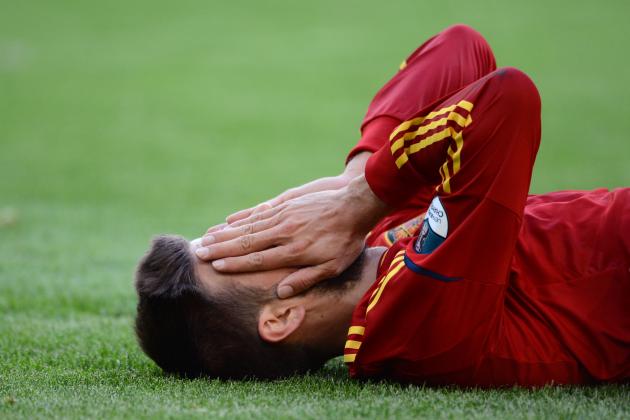 Jasper Juinen/Getty Images
Piqué
I don't know what's going on with Gerard Piqué, but it looks like he left his game at Camp Nou.
Piqué has had a worse Euro 2012 than any other FC Barcelona player. He got off to a bad start against Italy as Shakira's boyfriend allowed Antonio Di Natale to get past him for an Italy goal. He was shaky throughout the game. Gerard had an improved game against the Republic of Ireland.
But Piqué struggled again in the game against Croatia, as demonstrated by his unawareness of where the opponents were on the pitch.
In the quarterfinal game against France, Gerard had a rough first half, making a terrible pass which gave the ball away in the fourth minute. Iker had to send the ball away as Pique again was shaky in the seventh minute.
But I'll give him credit that he had a better second half as the French tried to begin their attack.
Overall, Gerard Piqué has to be the second-best centre-back for Spain after Sergio Ramos, who himself struggled in the opening game against Italy but has turned things around—even bailing out Piqué on several occasions in games.
I'm giving Gerard Piqué a "D" for poor. He's going to have to be consistent if Spain are going to stop the attack of Cristiano Ronaldo and Portugal in the semis.
Gerard Piqué: D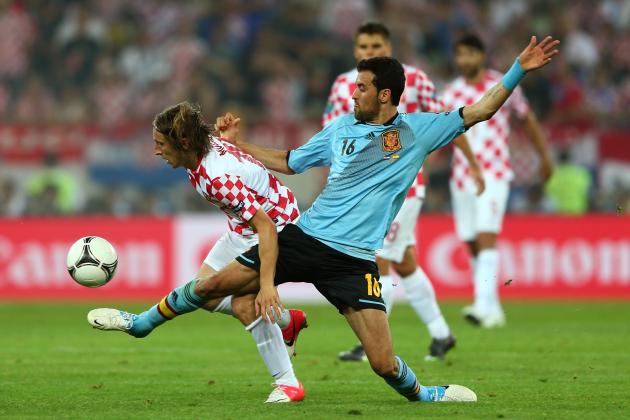 Michael Steele/Getty Images
Busi
Sergio Busquets has had a quiet Euro 2012.
In the opening game against the Italians, Busi was off his game, making one bad pass after another. Italy and their midfielders kept the pressure coming on Sergio, as well as the other Spanish mids. A quiet game against Ireland followed and after that, an average game against Croatia.
Busi had another average game in the quarterfinals, as he held his own against Les Bleus.
As you could imagine, I'm giving Sergio Busquets a "C" grade for average. Having an average Euro 2012 is not a bad thing for Busi. All that is asked is that he doesn't make too many bad passes and continue to be the calming presence he always is on the pitch.
Sergio Busquets: C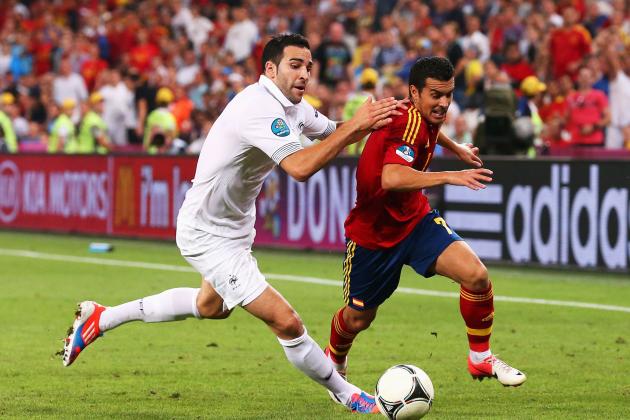 Alex Livesey/Getty Images
Pedro
Pedro has only made one appearance in this European championship, when he came on as a substitute for David Silva in the 65th minute of Spain's 2-0 victory over France.
Even though Pedrito played a bit over 25 minutes in the game, he looked good as he brought speed and, of course, got the penalty called in his favor when Anthony Réveillère tripped him inside the box in the 90th minute. Xabi Alonso converted the PK and sealed the victory for La Roja.
Look for Vicente Del Bosque to consider Pedro for minutes against Portugal and in the final championship game, if Spain are able to reach it.
Pedro, along with Jesus Navas, gives Spain speed, more dynamic action on the pitch, and is able to get into open spaces for his teammates to find him—something Fernando Torres has not been able to consistently do in this Euro 2012.
Pedro: B-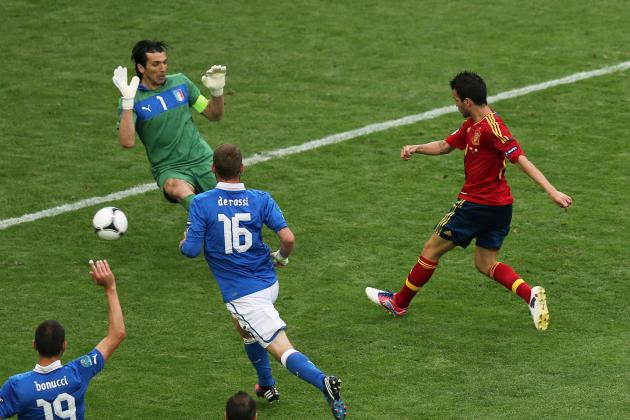 Alex Grimm/Getty Images
Cesc beats Buffon.
Coming into this Euro 2012, not many knew how Cesc Fabregas was going to be used by Del Bosque. With an already-crowded midfield, it looked like Cesc would be used as a left winger, as he was used for most of the season at FC Barcelona.
However, Del Bosque surprised everyone by putting Fabregas as a "false nine" in the opening game against Italy.
Cesc started off terribly as he kept coming back to midfield to try and help set up the offense. Cesc did not play well for most of the first half, but he turned it around later in the half. Cesc got the equalizer in the second half of that game after a fine pass from David Silva found him, putting it past Buffon to make it 1-1.
Cesc continued his good play in the Ireland game when he orchestrated a wonderful goal off the post late in the game. It was Fabregas' pass that set up Andres Iniesta, who stayed onside and passed it for Jesus Navas to score in the 87th minute and defeat Croatia in the last group-stage game. Fabregas had a relatively quiet game against France as he rotated throughout the Spanish offensive line to try and set up plays.
Overall, Cesc has had a very good Euro 2012. He has played well in a role he is not used to playing. I'm sure his talent plus his experience as a LW at Barcelona this past season helped him with this.
Cesc Fabregas: B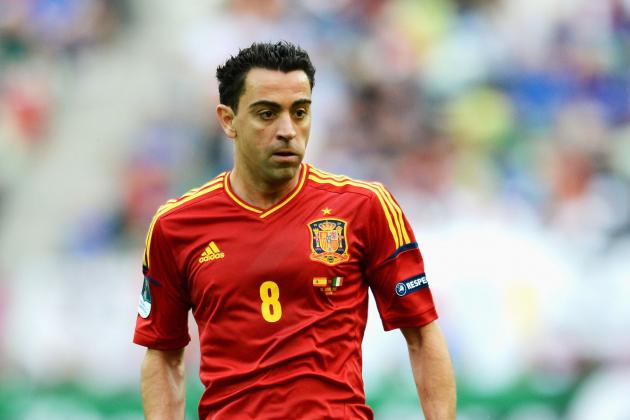 Jasper Juinen/Getty Images
Xavi
We come to the man that is the architect of the Spanish offense: Xavi.
Xavi began this tournament as usual, controlling the tempo and setting up the offense. In the Italy game, we all saw how the Spanish team relied on Xavi to set up the offense. Xavi demanded the ball and controlled things for Spain.
Against Ireland, Xavi continued to control things for La Roja as he looked to set up David Silva, Fernando Torres and his Barça teammate Andres Iniesta.
Things changed for Xavi in the Croatia game as he had a bad game. He had a quiet first half in that game and made several bad passes in the second half.
In the quarterfinals against France, Xavi did not have a big attacking role, but rather a more of a controlling midfield role. Xavi stayed in the middle of the field and was the "safety net" that he has always been. Many times throughout the game, both the forwards and the defense would pass it to Xavi to get things back under control.
Xavi, like Fabregas, is having a very good Euro 2012 and is certainly going to need to come up big against Portugal and in the final, if Spain is able to reach the championship game.
If Iker Casillas is the heart of this Spanish national team, Xavi is certainly the brains.
Xavi: B+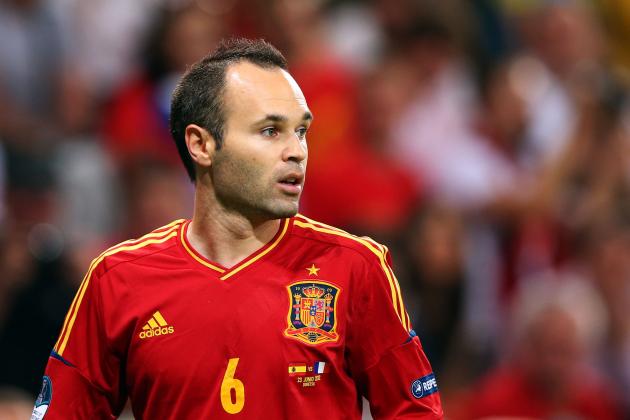 Alex Livesey/Getty Images
Don Andres
Andres Iniesta has had the best Euro 2012 of any FC Barcelona player. His playmaking, ball control, ability to elude defenders and vision to set up his teammates have been some of the main reasons Spain is only two wins away from a second European title.
Andres was the Italians' biggest nuisance throughout the opening game. Iniesta took many good shots in that game. The Italian defenders were constantly worried about Iniesta, and it was his great play that lead the offensive opportunities, along with Xavi setting up plays.
Iniesta started off slow against Ireland but ended the game strong as Don Andres was taking on Irish defenders one-on-one.
He showed his grace and elegance again in the Croatia game, as Iniesta continued his great control of the ball and attacked, along with Silva. It was Andres who stayed onside and passed the ball to a wide -open Navas for the lone goal of the game to defeat the Croatians.
We have witnessed a great left-side combination of Jordi Alba and Andres Iniesta throughout Euro 2012. It was Don Andres' through ball that set up Jordi to cross the ball to Xabi Alonso for the goal against France.
The combination of Andres Iniesta and Jordi Alba will certainly be something special to watch when Alba, as expected, joins FC Barcelona this coming season.
Grande Don Andres, the FC Barcelona player who has performed the best in Euro 2012.
Andres Iniesta: A
Xoel, The Voice of FC Barcelona on Bleacher Report and Featured Columnist for Spain for Euro 2012.
Follow me on Twitter:@XoelCardenas
Don't forget to check out my other columns:
FC Barcelona: Latest Transfer Rumors and News 6/19/12
FC Barcelona: 5 Ways Lionel Messi Can Build on a Monster 2011-12